Kashmiri Chai or Pink tea recipe with a detailed illustration. Like many, I also came across this tea for the first time at one of the weddings. Getting a good Kashmiri tea in Karachi could be difficult and I had to go really far to get it. So making my own as per my taste was a quest.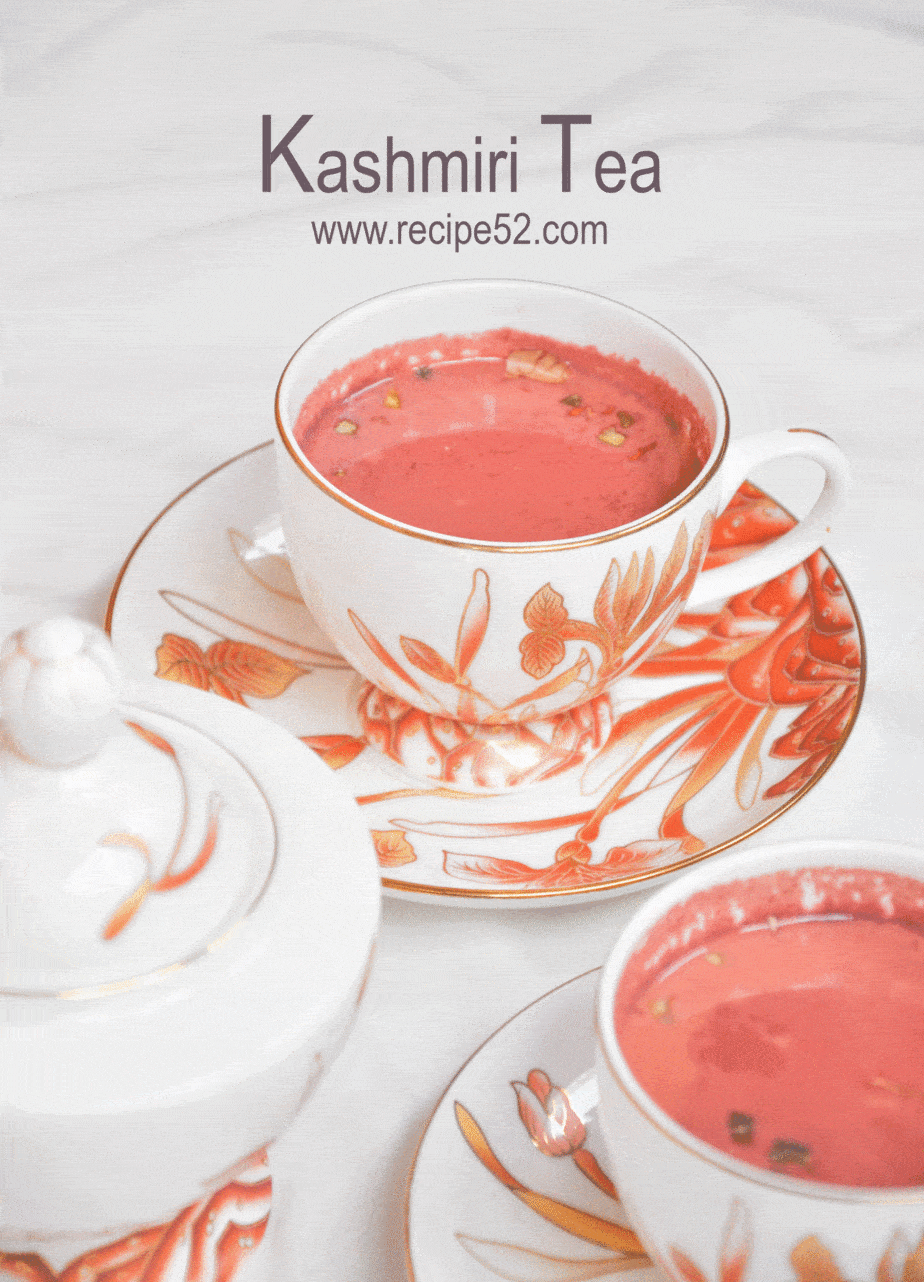 In order to develop a deep pink color naturally, I did three attempts. The pink or gulabi color that developed in the third attempt was worth it. I have tried to give a detailed pictorial step by step so you can make it on the first try.
Many people complain Kashmiri pink tea is just like 'badaam pista doodh' or 'hareera'. That is because many restaurants serve a very milky Kashmiri tea. The Kashmiri tea with less milk has a more intense Kashmiri tea flavor and warmth. So I like my homemade Kashmiri tea more than what is served at 'dhabba' or cafe.
Kashmiri tea has very low-caffeine like other green tea compared to black tea. So doesn't hinder your sleep like black tea or chai.
What more? It is quite nutritious and rich in milk, cream, nuts, and spices. Some people call it healthy for its nutritional richness but I feel it is quite dense in calories and not great for regular consumption if you want to lose weight.
Kashmir and Pink Kashmiri tea
Kashmir is heaven on earth and their culture, jewelry, and food all are fascinating. Even the Kashmiri people are very hospitable and beautiful.
In the authentic Kashmiri tea, salt is added and it is called noon chai. But some non-Kashmiri people in my city (Karachi) add both salt and sugar so it's up to you. In Kashmir, where the temperature drops below zero degrees they add cream and butter along with powdered dry fruits to the tea. This makes this tea ideal for winters as it is filling and body warming. In my city, the temperature hardly goes below 10 degrees so we enjoy it without fats (like cream and butter) and with little dry fruits. So you adjust that too as per weather in your city.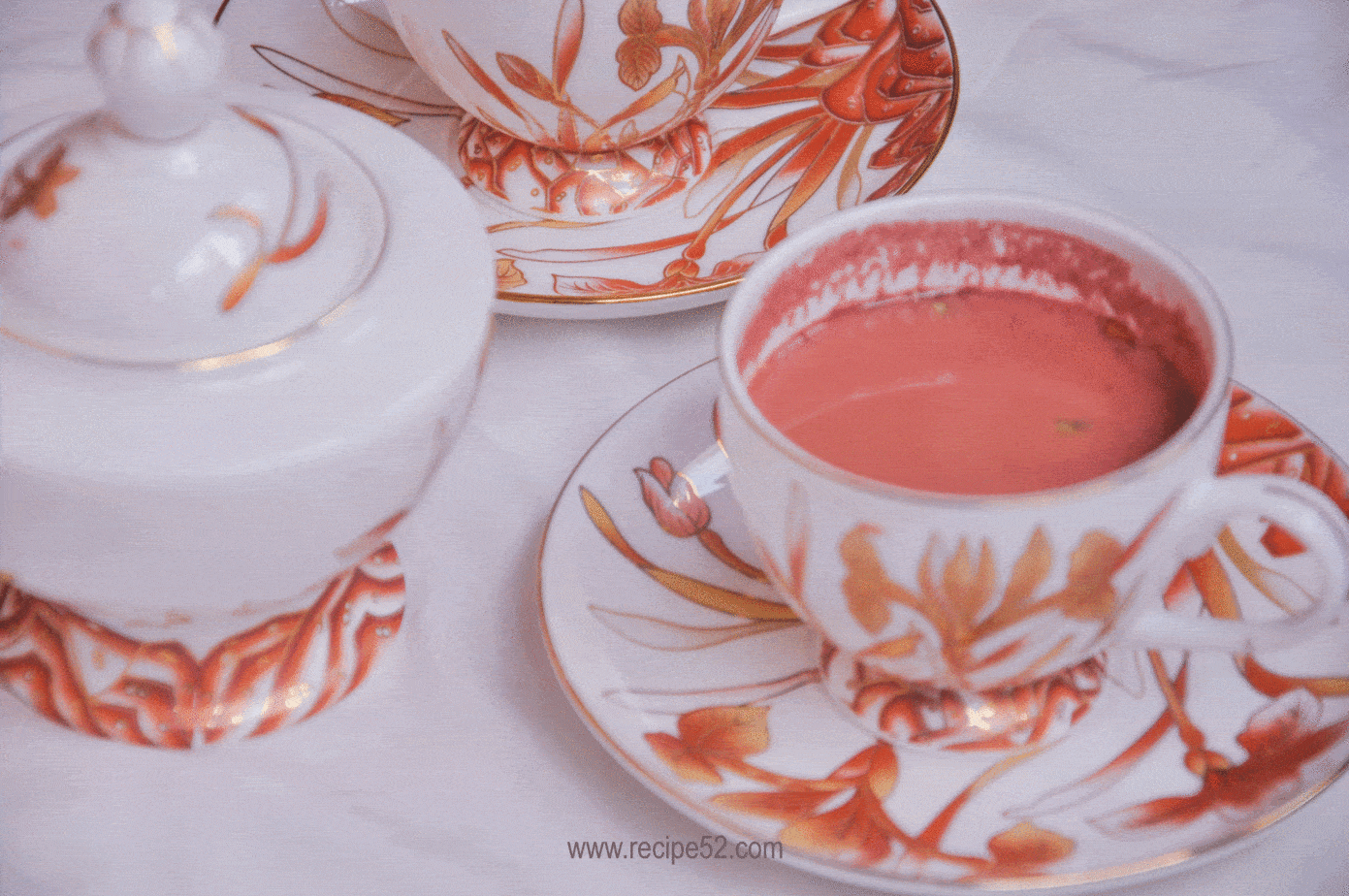 Tips for beginners
The pink color in Kashmiri tea is the reaction of chlorophyll present in tea. So basically you have to cook the tea enough to get all the chlorophyll released into the water. You also need a little baking soda in tea to accelerate the reaction. A pinch is enough. Do NOT add more than that as too much baking soda can spoil the taste.
Kashmiri Tea not turning pink
This process of cooking pink might take place in 30 minutes and sometimes may need 45 minutes. If all water has evaporated and still you don't get a reddish color then add more water and cook more. Once the reaction has completed and we have a deep red color. We have to add ice-cold water. This shocks the tea and we get deeper red color.
I'm trying to explain this so you can handle it if something goes wrong.  Like normal chai you can adjust the milk, sugar, and spices to your taste. I added only two spices but you can add more or none at all.
Can I make Kashmiri Tea with Green Tea?
Yes! you can make it with green tea too. Use good quality pure green tea. The cooking might be longer up to 1 hour until you see desired maroon color in Kehwa.
How to make it?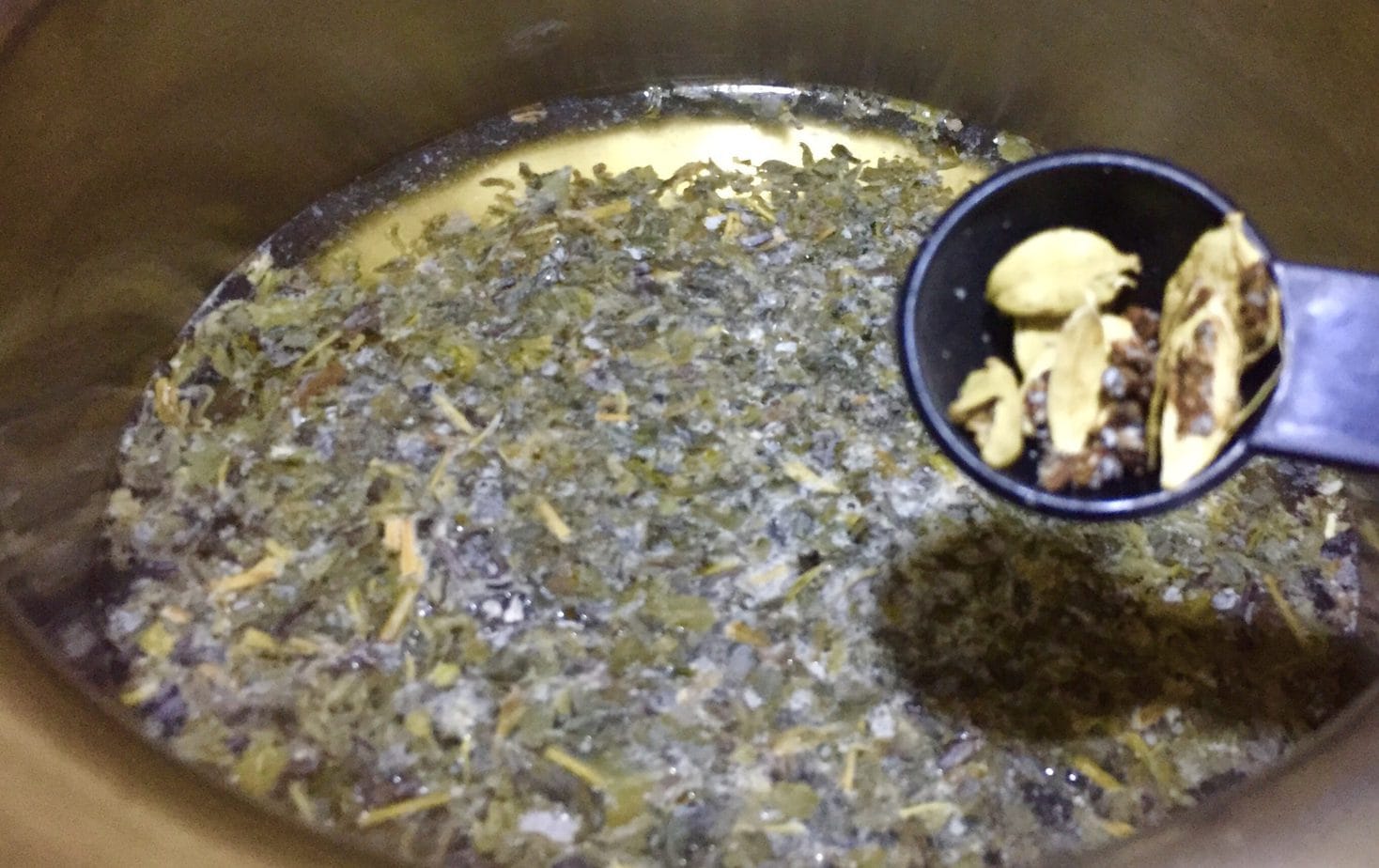 Take water and add Kashmiri tea leaves. Add cardamom.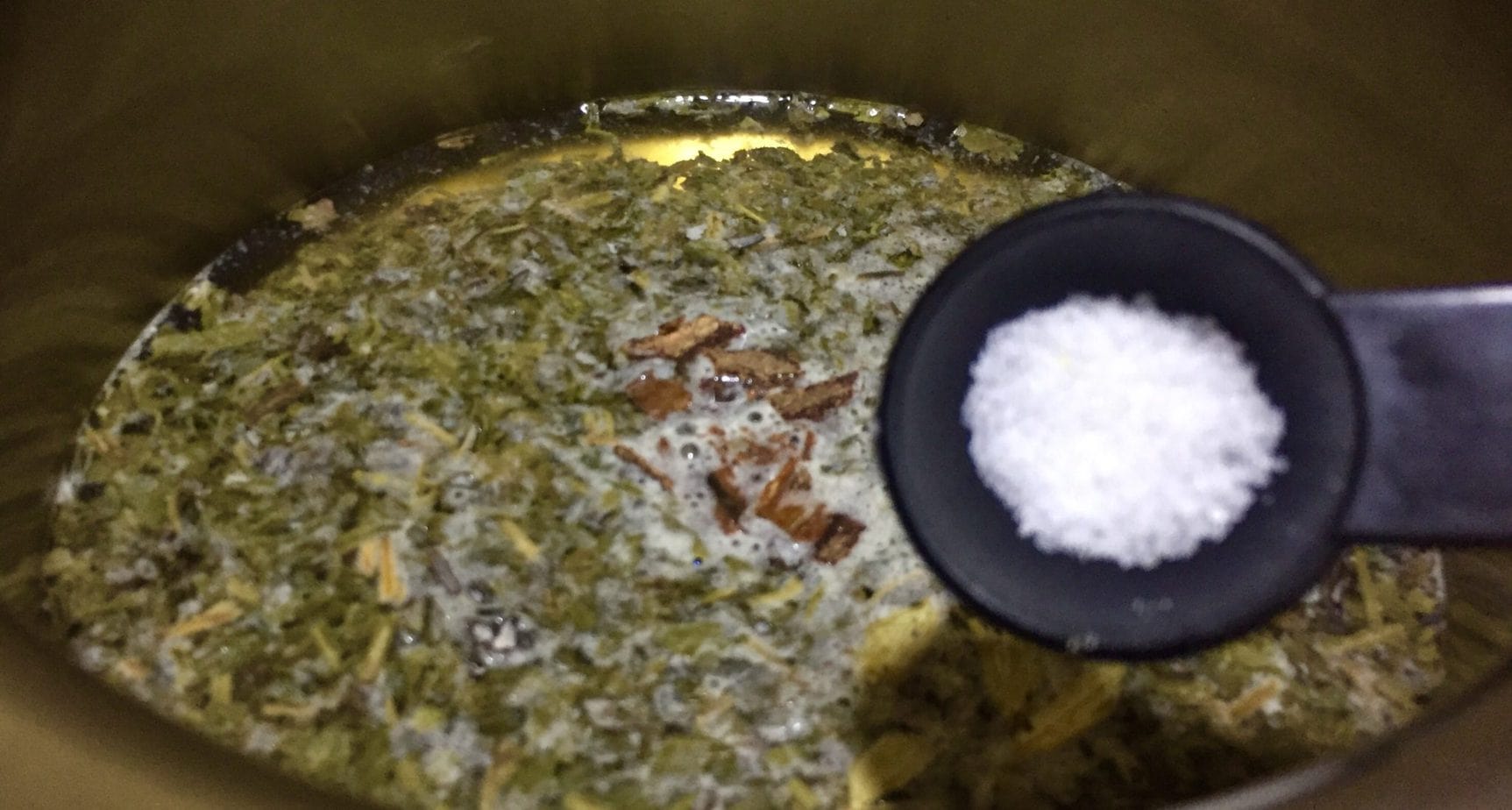 salt, cinnamon and bring it to boil.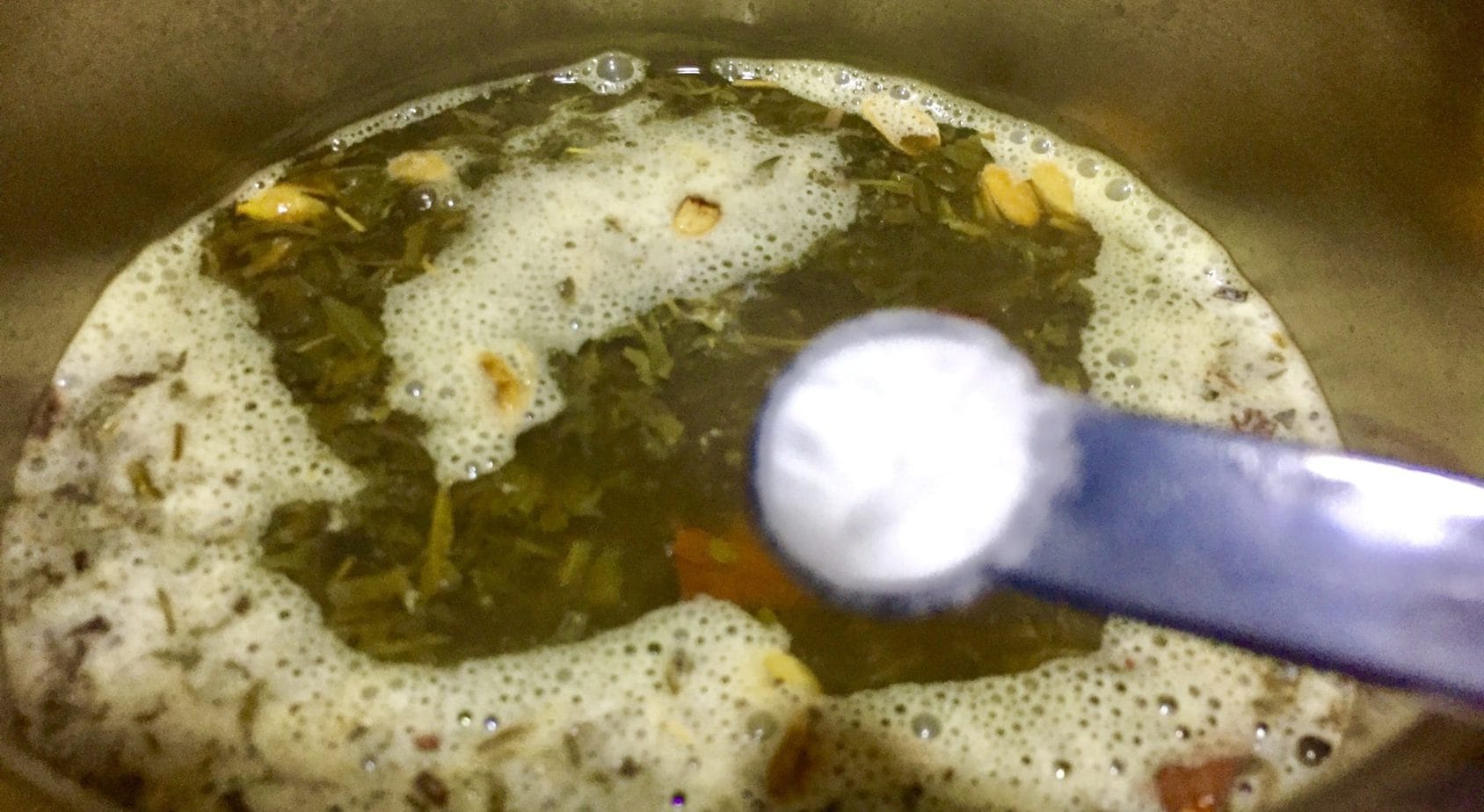 Add ⅛ teaspoon of baking soda, you can skip baking soda if you decide to cook longer for 45-60 minutes.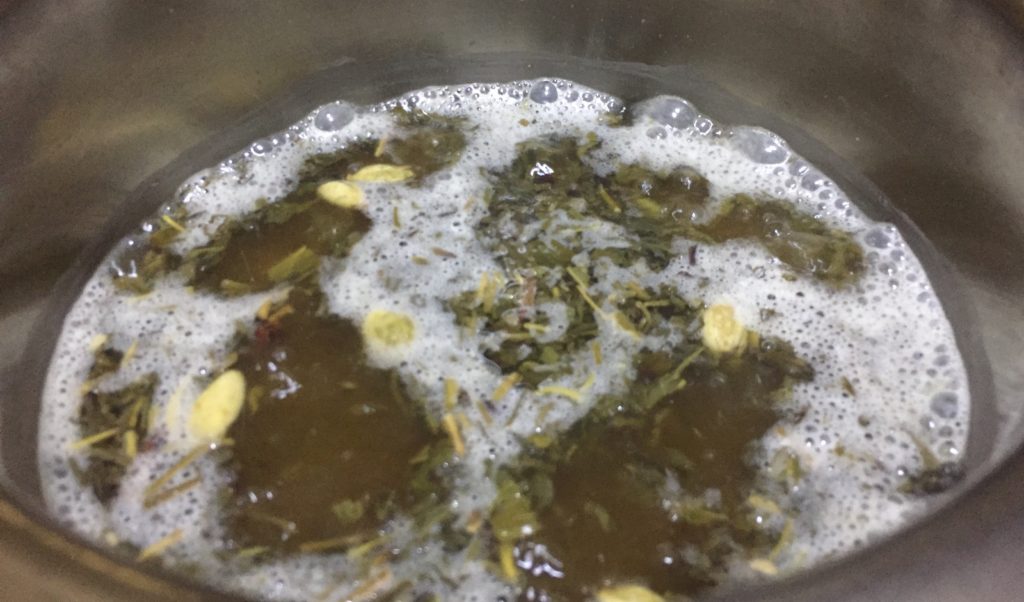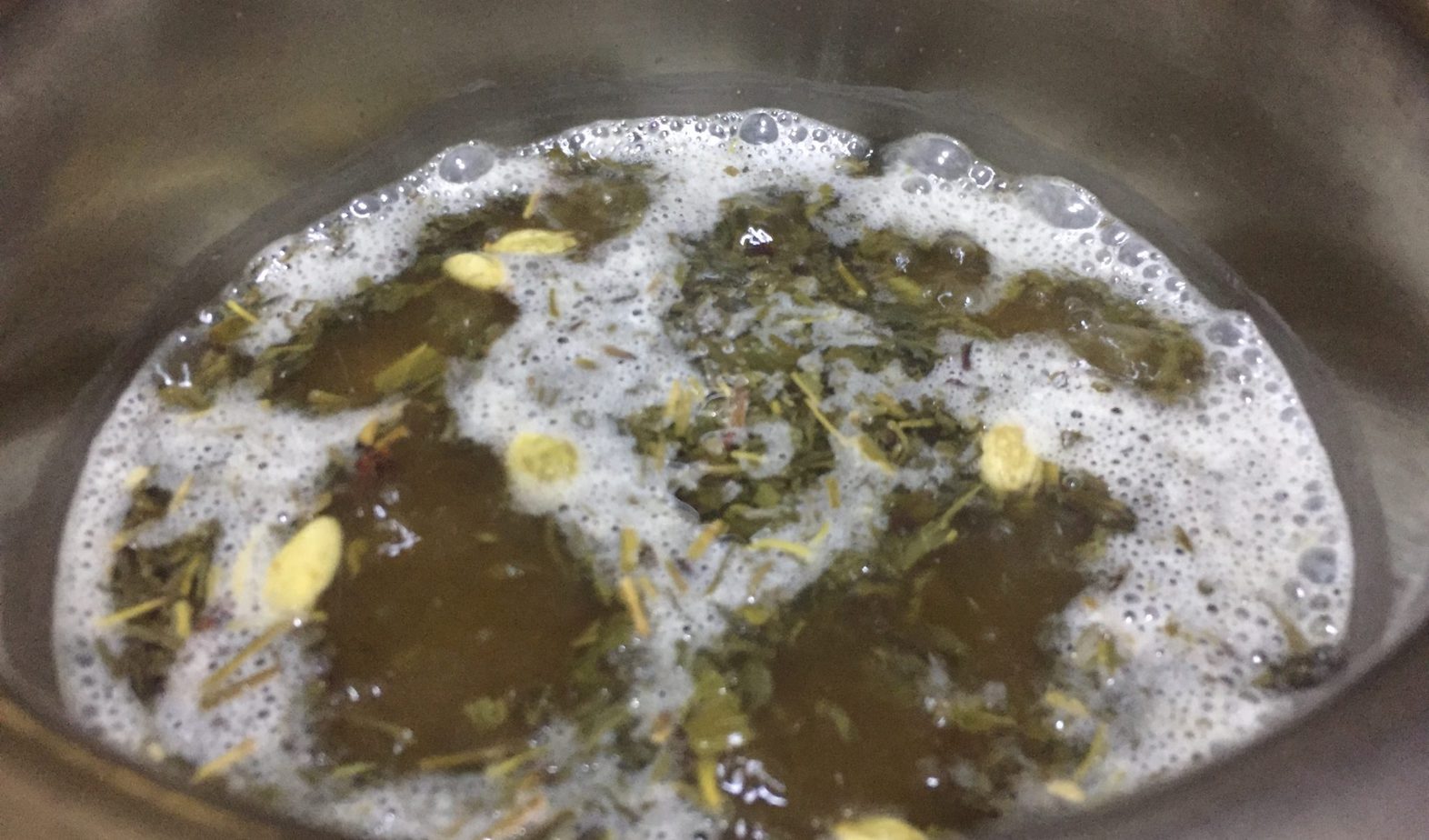 Let it boil on medium flame.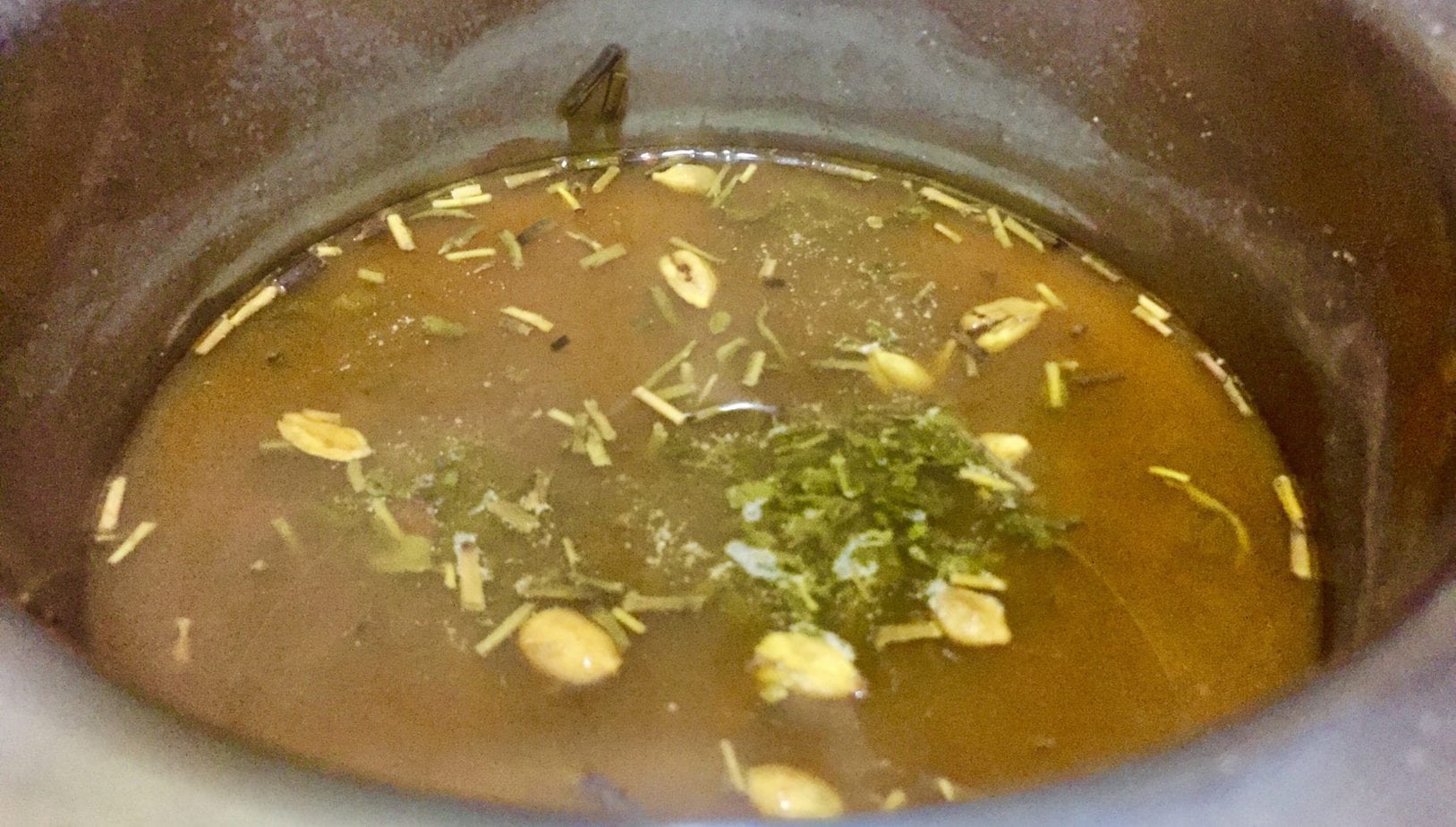 The color changes. Continue boiling.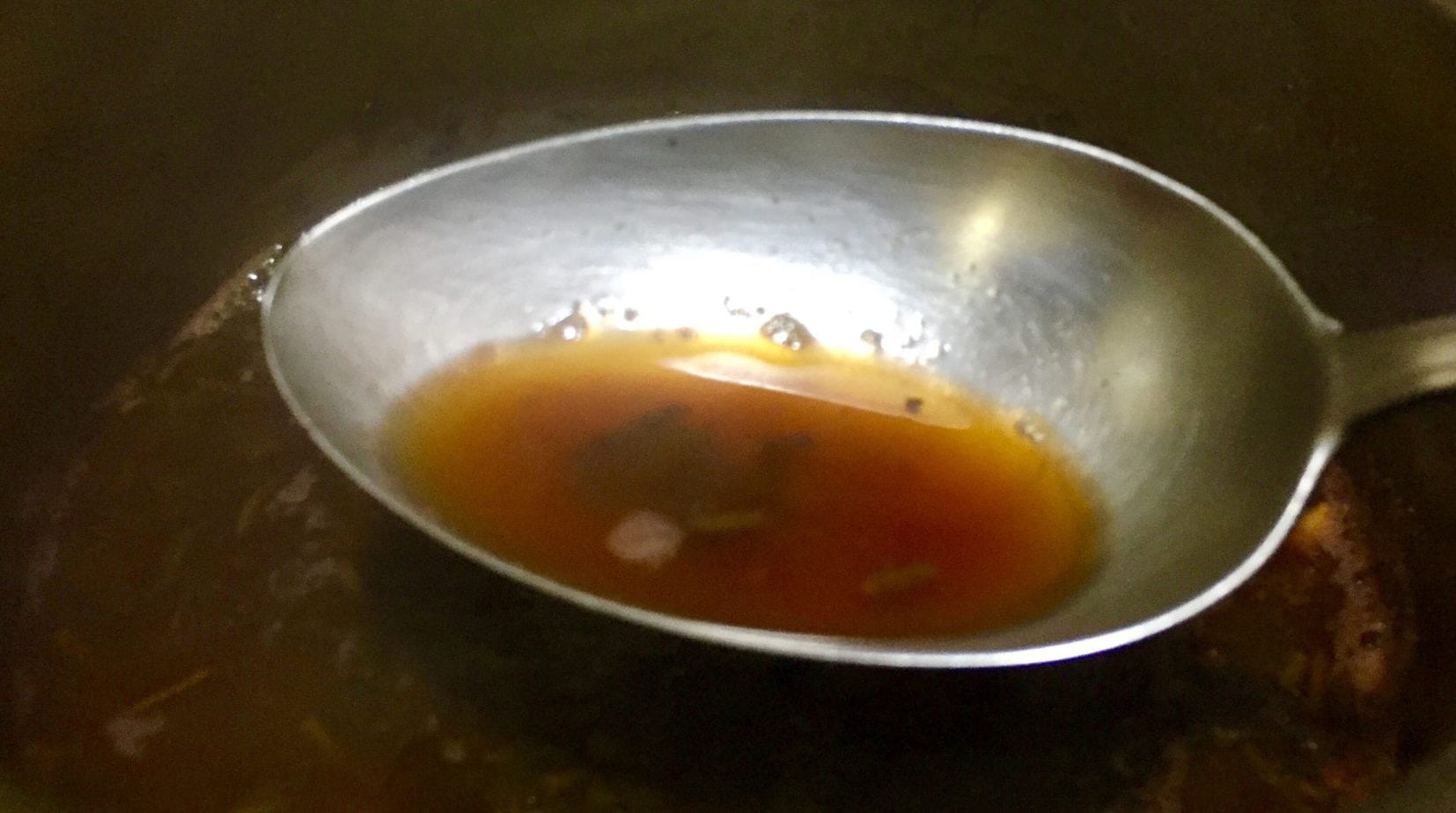 You can see a slight pink color at this stage but keeping cooking,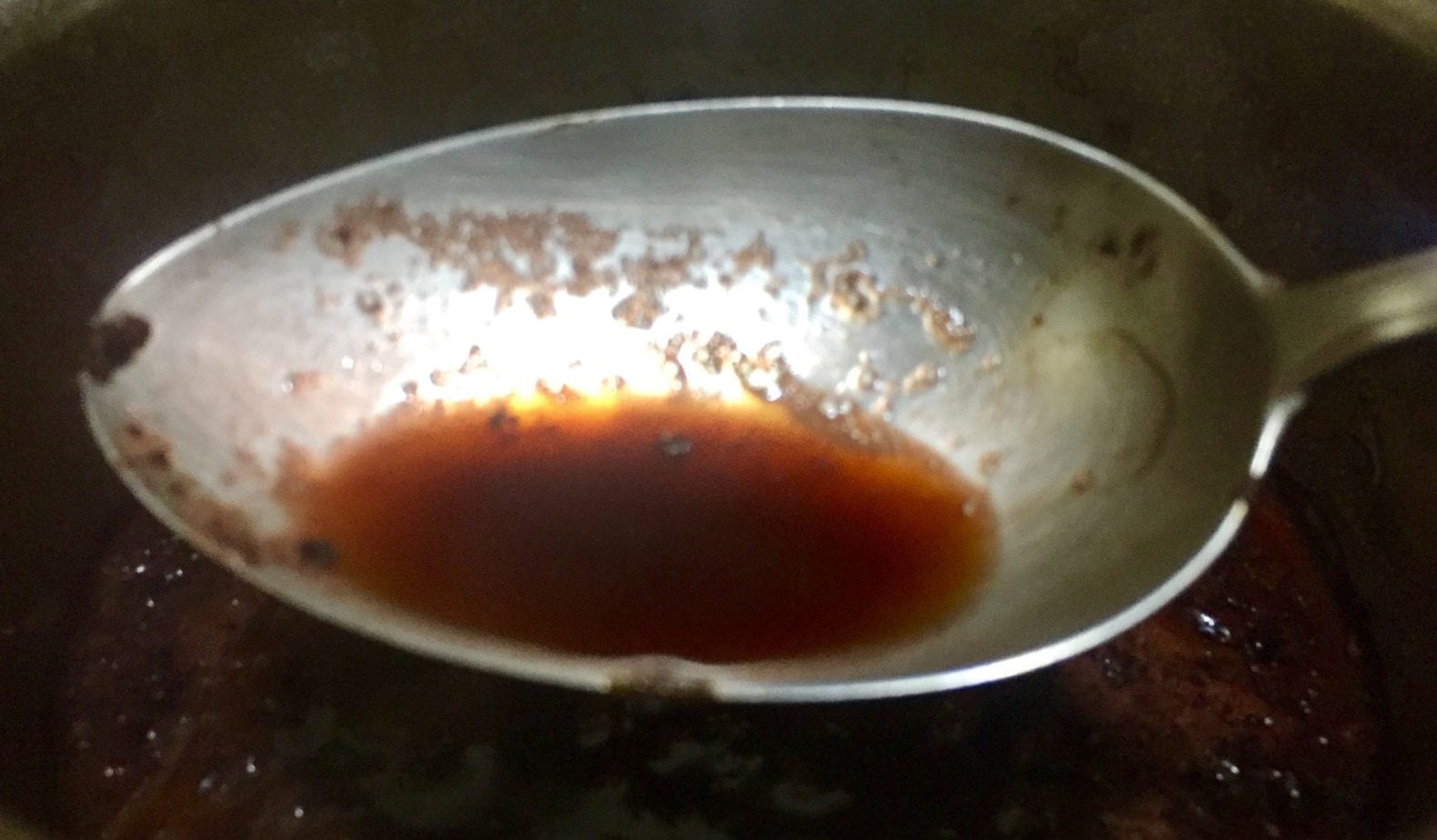 The water is reduced to half. And the color is deep red.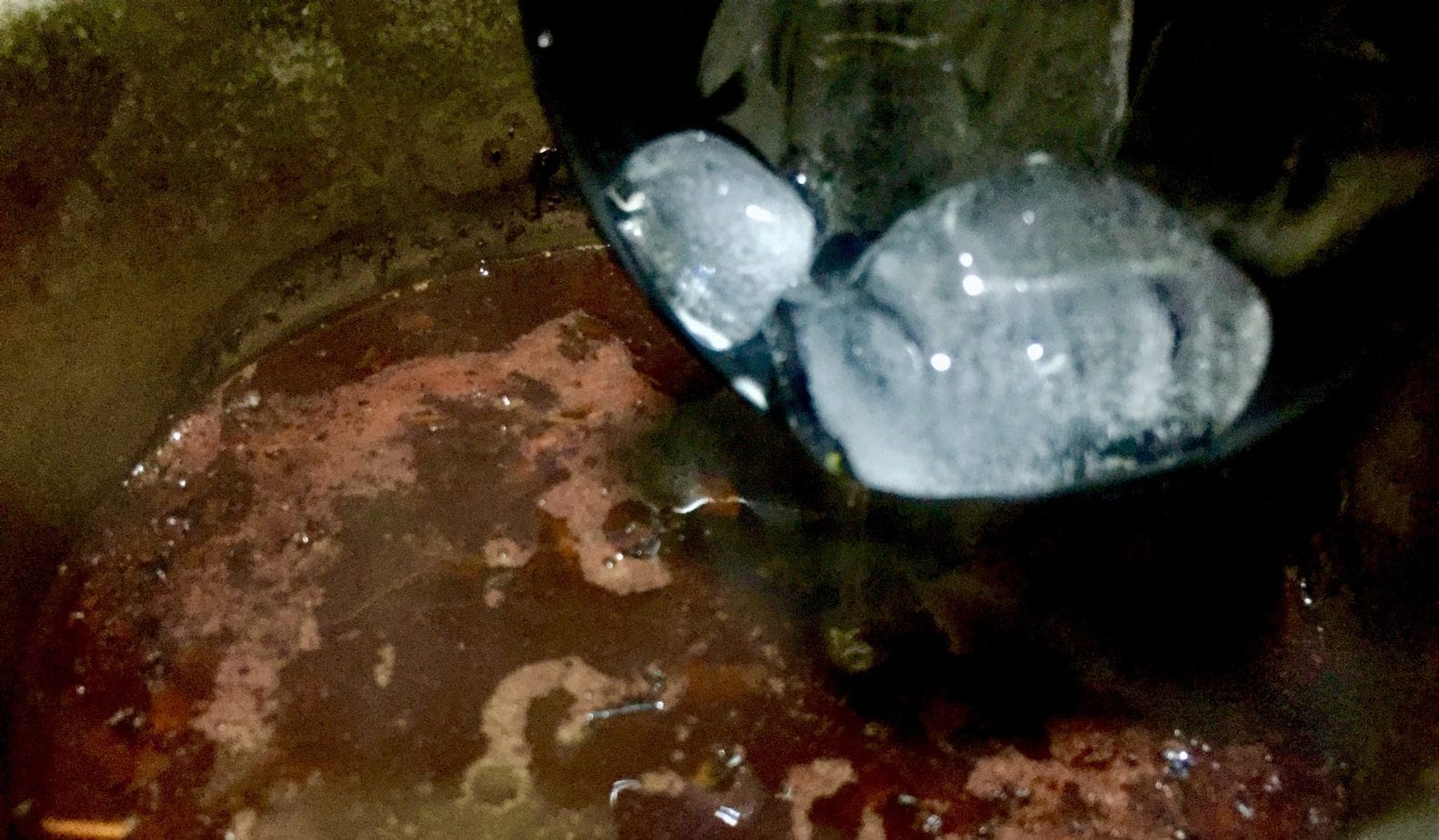 Add icy cold water. And mix well for 1 minute.
Kehwa of Kashmiri tea is ready. You can strain and after cooling you store in fridge at this stage.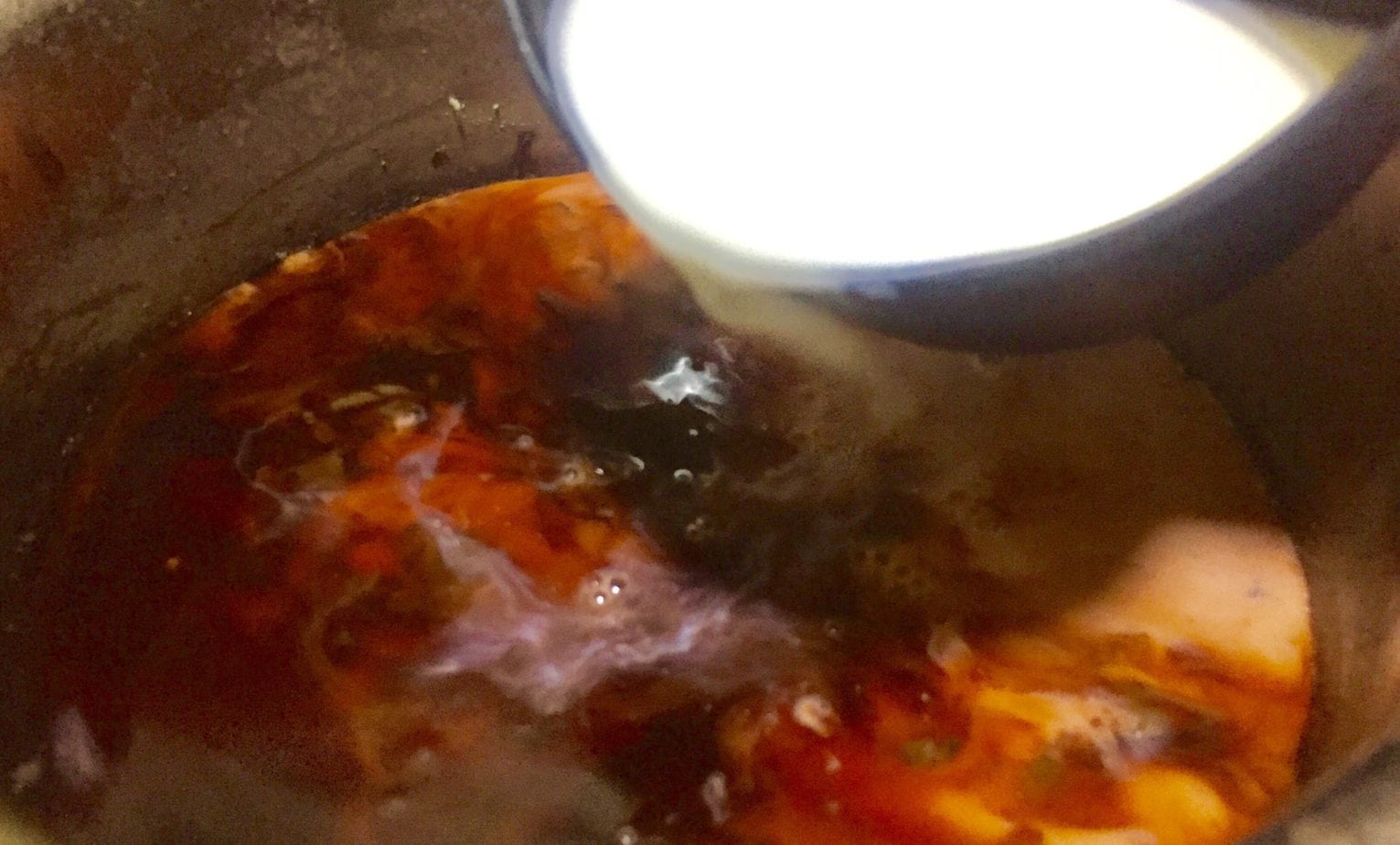 When you wish to make the tea add milk about ½ cup or more for each serving,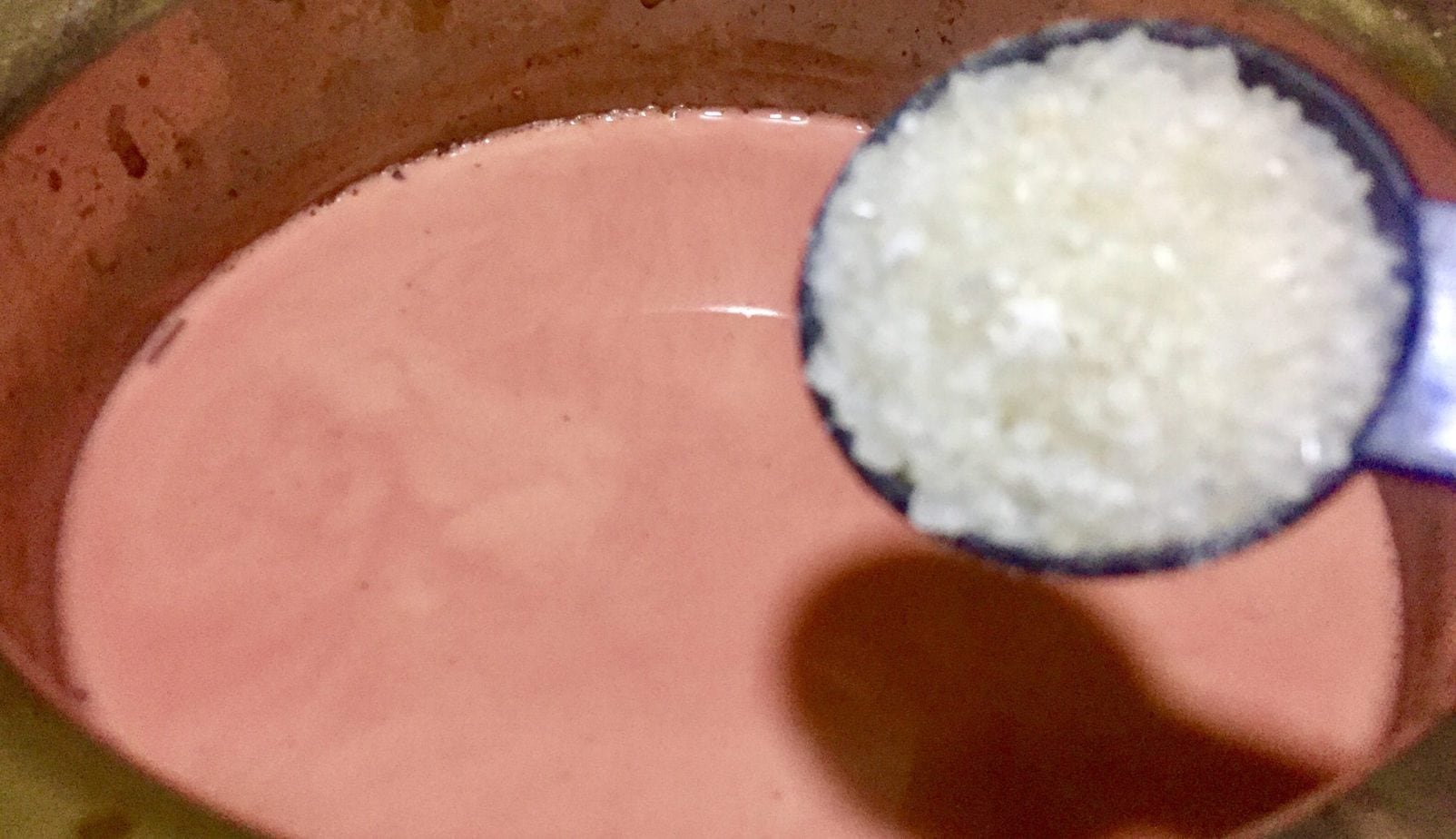 A beautiful pink color is visible. Add sugar 1 teaspoon for each serving.( Add only if you like it sweet, authentic Kashmiri tea is saltish and not sweet.)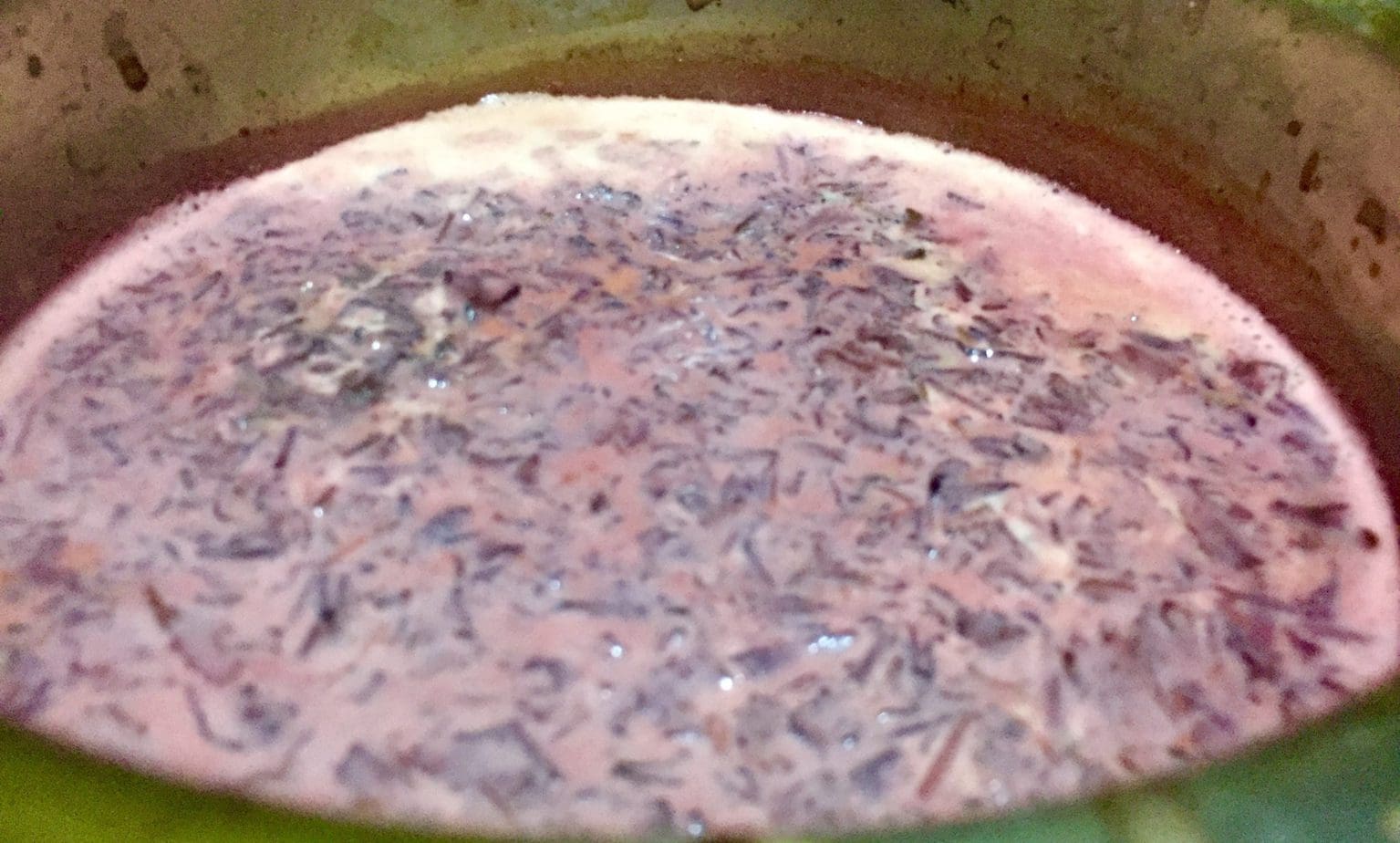 Boil for another few minutes. Strain and add ¼ teaspoon pistachio and ¼ teaspoon almond in each serving. Serve hot.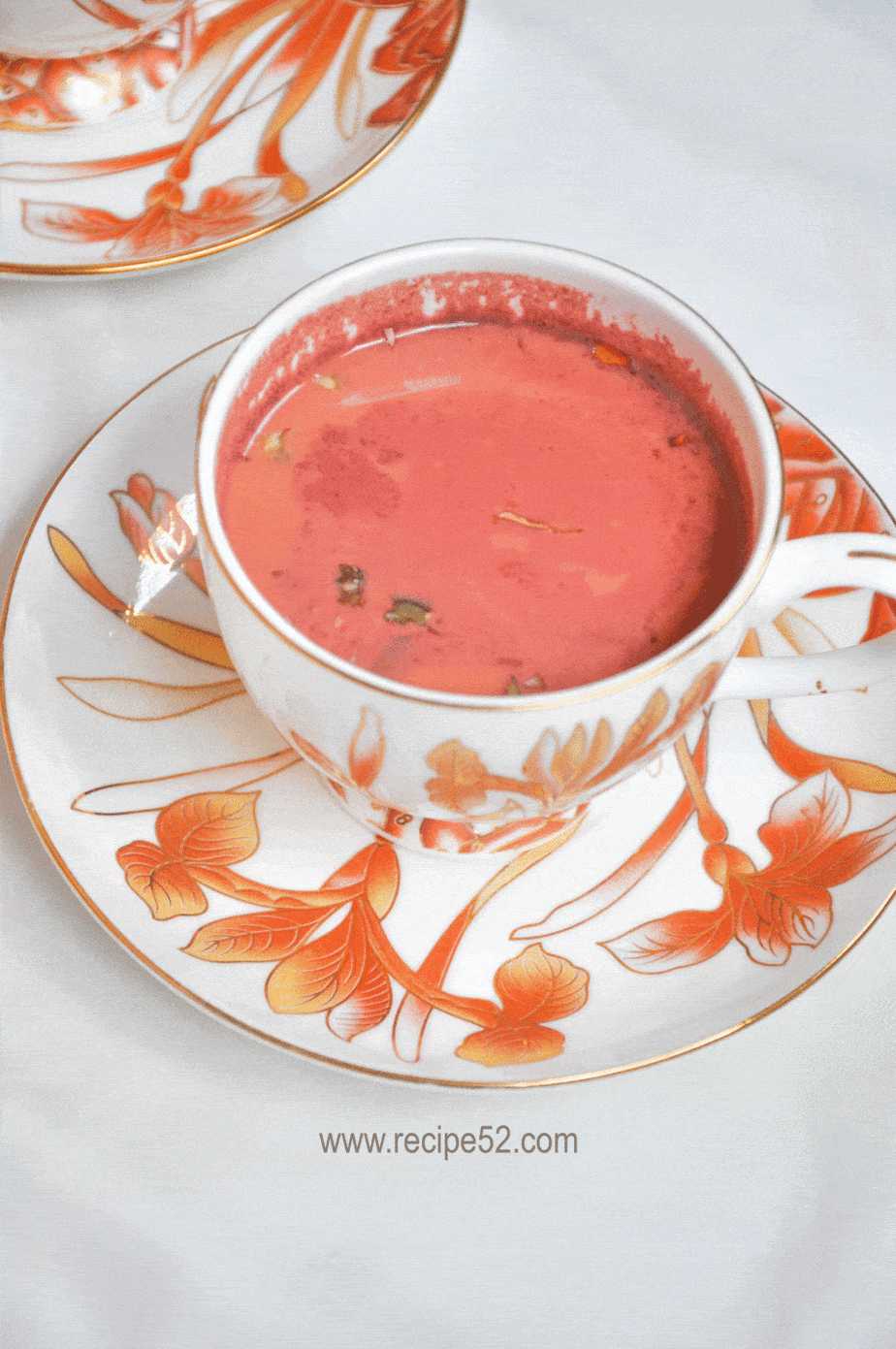 Hungry for more tea? Check these!
If you like the pink tea recipe is your favorite? I'd LOVE to hear your feedback in the comments. Your 5-ratings motivate me to do my best. Stay connected for more recipes and videos on Facebook, Instagram, Pinterest, and Youtube.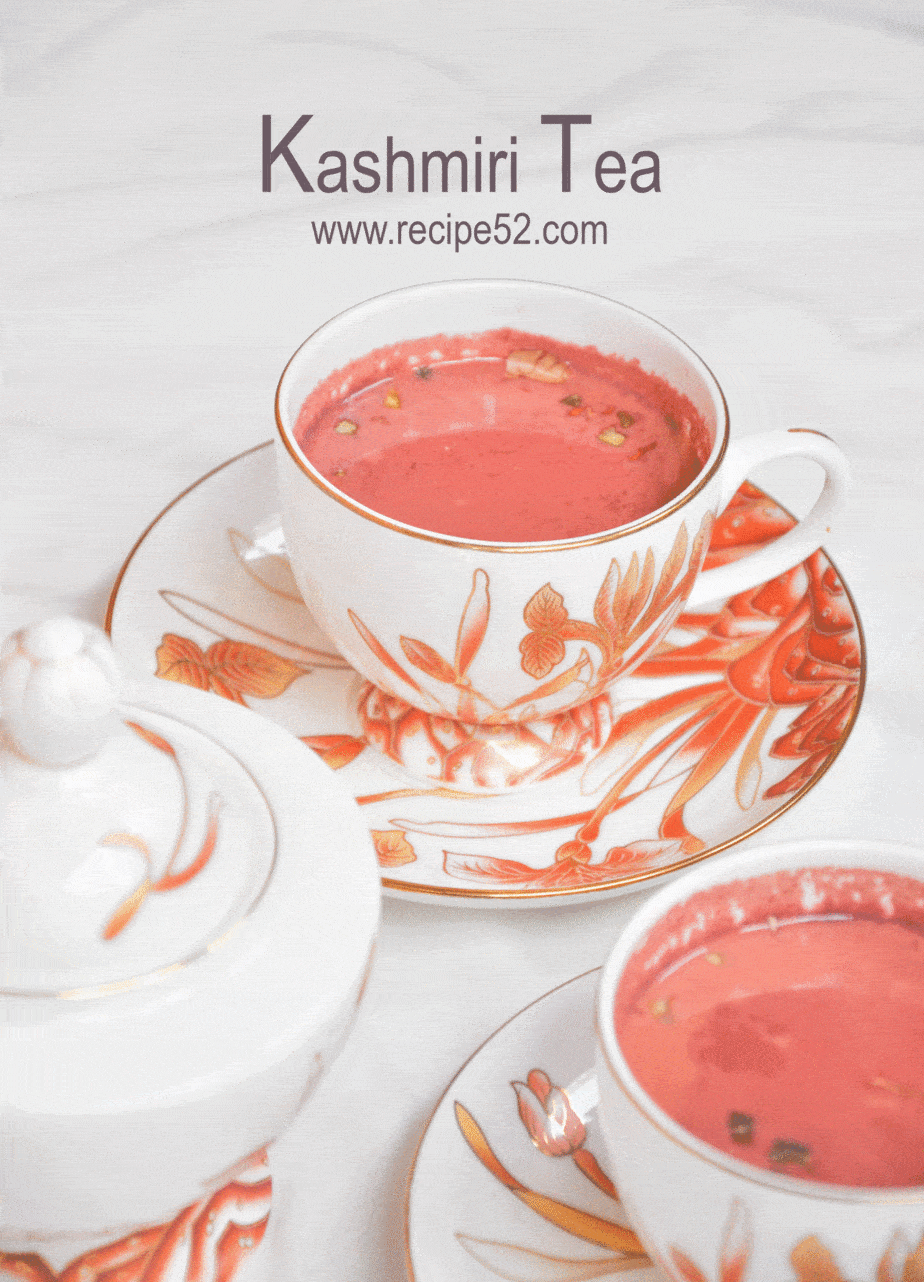 Kashmiri Chai Recipe (Pink Tea)
A hearty and delicious tea that is meant to sipped slowly in winter nights.
Print
Pin
Rate
Ingredients
2

cups

water

3

tablespoon

kashmiri tea leaves

9

green cardamom

,

,crushed ( choti elaichi)

3

inch

cinnamon

,

,broken into chip (dal cheeni)

¼ to ½

teaspoon

salt

⅛- 1⁄4

teaspoon

baking soda

,

(khane ka soda)

1

cup

cold water

,

(pani)

3 to 4

tablespoon

sugar

,

(cheeni),( optional, since sugar is not added in Kashmiri tea but some non kashmiri people like it sweet.)

2

cup

milk for strong or 3 cup milk for light

,

(dhood)

½

cup

cream

,

optional

1

tablespoon

grounded pistachios

,

(pista), optional

1

tablespoon

grounded almonds

,

(badaam), optional

* For authentic taste and aroma use Kashmiri tea. If not available use pure green tea leaves can also be used.
Other variations ( in some regions these ingredients are also added)
4

jasmine flowers

,

(chambeli)

1

star anise

,

(badyaan phool)

4

cloves

,

(laung)
Instructions
In a wide based skillet, take water, Kashmiri tea leaves, salt and cardamom, cinnamon.

Bring it boil and let it boil for a minute. Now add baking soda.

Cook more till you get deep red color and water is reduced to half. (20-30 minutes)

Add ice cold water in boiling hot tea. Mix well for 1 minutes.

Kehwa is ready. You can strain, cool and store in fridge for 3-4 days.

When making tea add milk, sugar (if using) and powdered dry fruits to kehwa.

Cook for another 2-3 minutes and serve. Garnish with more nuts.
Notes
Update :For best results use Kashmiri tea, if you don't have Kashmiri tea, you can use green tea instead, but in my personal experience green tea does give a very similar taste to kashmiri tea but fails to give pink color. Although, you can add pink food color. But that is a fix and not authentic way.
Nutrition Information
Calories:
178
kcal
,
Carbohydrates:
15
g
,
Protein:
2
g
,
Fat:
13
g
,
Saturated Fat:
7
g
,
Polyunsaturated Fat:
1
g
,
Monounsaturated Fat:
4
g
,
Cholesterol:
34
mg
,
Sodium:
4026
mg
,
Potassium:
125
mg
,
Fiber:
2
g
,
Sugar:
10
g
,
Vitamin A:
448
IU
,
Vitamin C:
1
mg
,
Calcium:
60
mg
,
Iron:
1
mg