Give yourself some lift of mood with this soothing and relaxing ginger green tea that is made in just 5-minutes and it is just so healthy and good for sore throat and body pain! This tea is our bedtime ritual for years.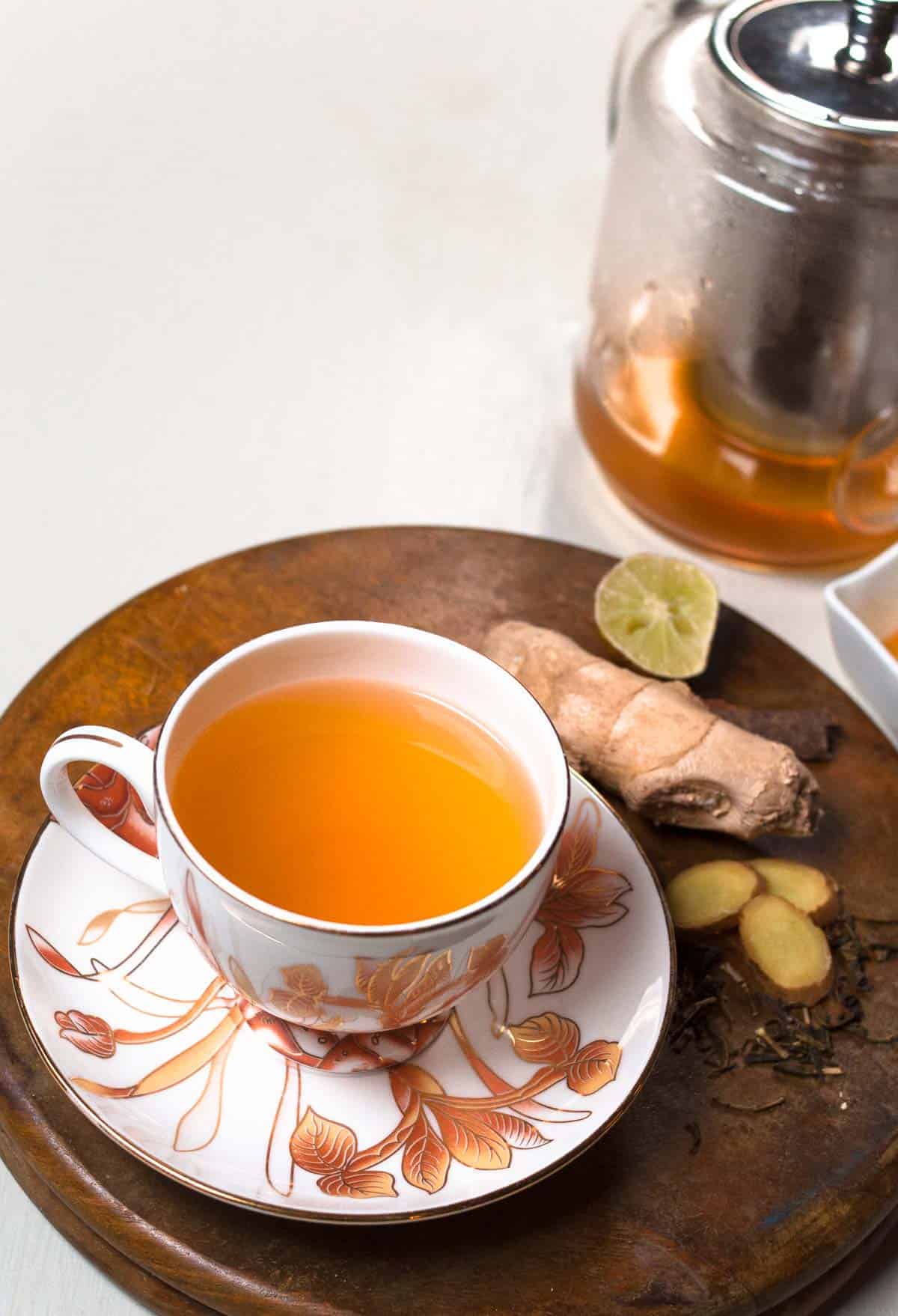 Green ginger tea is a variety of green tea mixed with ginger root. It is made with grated ginger, green tea leaves, lemon, and honey. Sometimes, cinnamon is also added. It is full of immune-boosting, warming, relaxing flavors and nutrients to soothe your fatigue and refresh your brain.
Ginger contains phytonutrients known as gingerols which that responsible for their anti-inflammatory and anti-microbial effects. This green tea made with ginger can also help weight loss which makes it a perfect detox tea.
I simply can't praise this tea enough. This is our winter ritual to enjoy a cup of tea before going to bed.
Here are other favorite teas for winter pink tea, ginger milk tea, ginger turmeric tea, chocolate tea, and orange peel tea.
Jump to: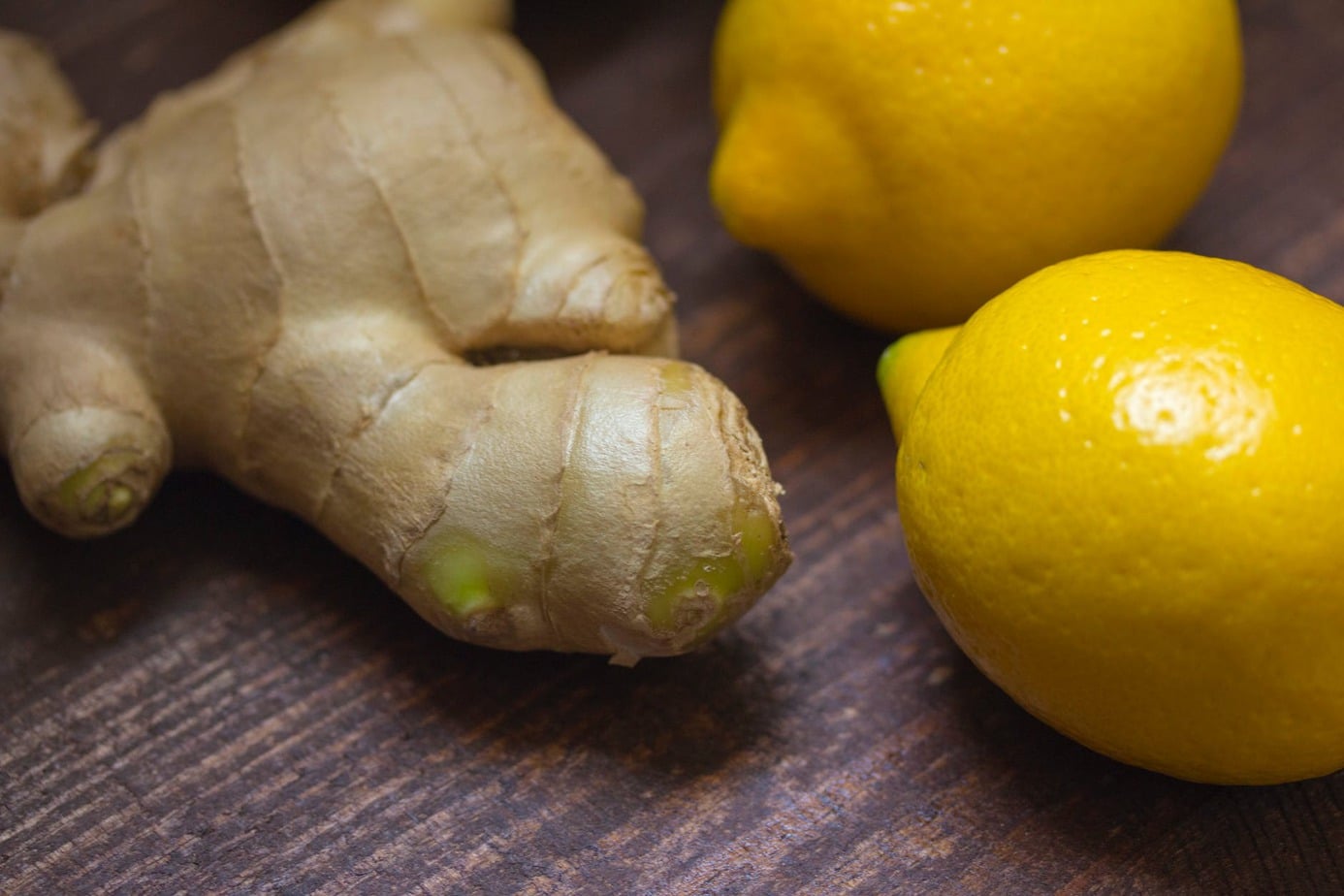 Benefits of Ginger
Ginger is a root used as a spice. It is one of my favorite spices that has a slightly tangy taste when added to tea, below are a few reasons to enjoy this tea. You can find the benefits of ginger at Healthline.com.
Relieving headache
motion sickness and nausea
Indigestion, stomach discomfort
asthma
Immunity
Cough and cold
Relieves stress
Menstrual pain
Reduces inflammation
Blood circulation
weight loss
I have mentioned the benefits of ginger above which is our main ingredient but we all know tons of benefits of consuming green tea, lemon, and honey in moderation.
We are having this tea for at least 10 years and this is the first thought when we feel the slightest discomfort in the throat.
Ingredients
The ingredients of ginger green tea are simply a staple in most homes. That is fresh ginger root, green tea leaves, lemon juice, and a sweetener.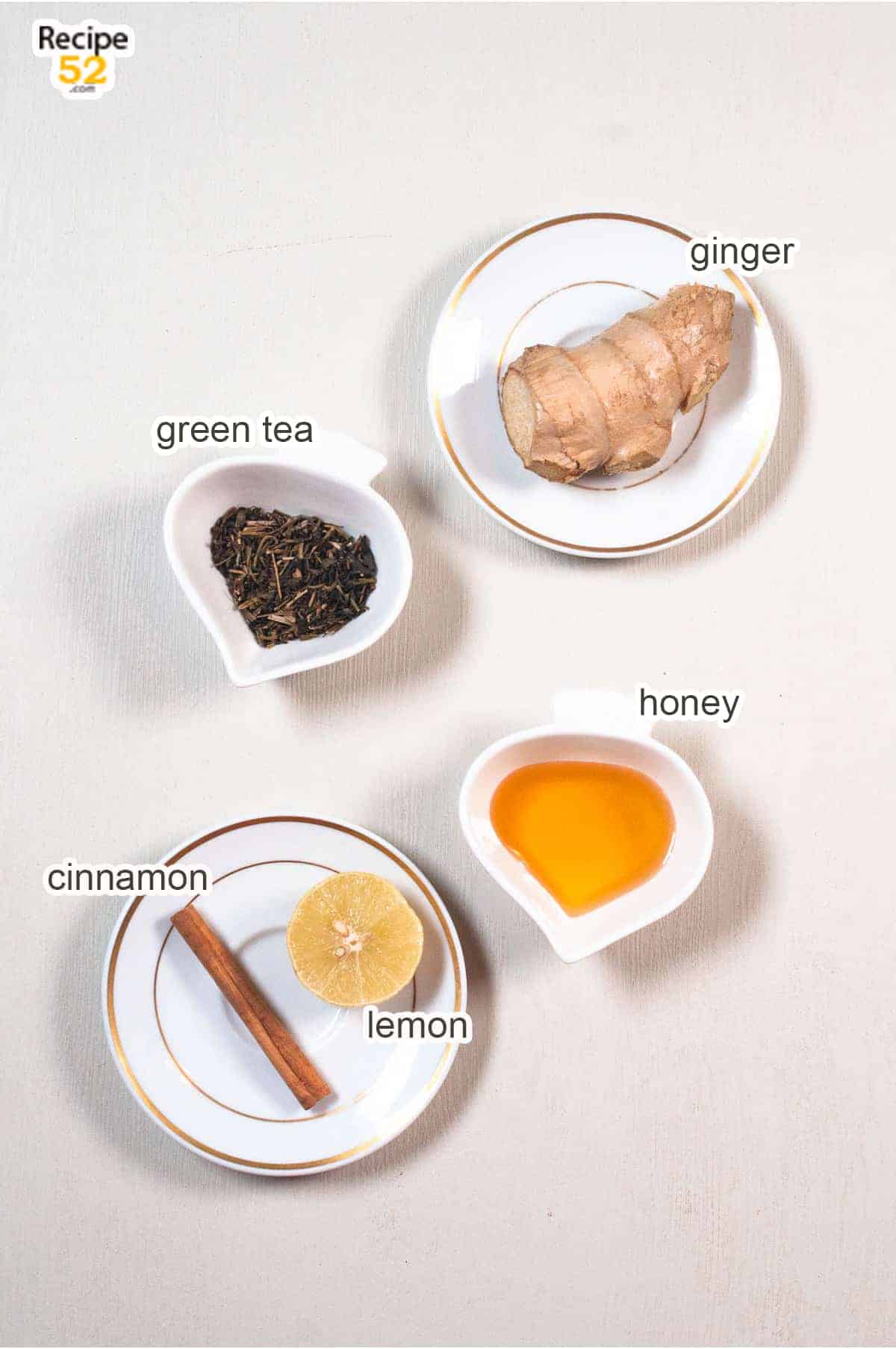 Ginger: For this tea, grated or crushed ginger works best. You may chop ginger finely with a knife or in a food processor if the grating is difficult for you.
Finely thinly sliced ginger can be used too but for maximum flavor, grated it best. Fresh ginger is alway better than ginger powder.
Green Tea: Use loose and real green tea for the best taste.
Sweetener: We like honey, sugar, or jaggery best. You can use any sweetener.
Lemon juice: Use freshly squeezed lemon juice.
Cinnamon: A cinnamon stick is optional. And you can substitute stick with cinnamon powder.
How to make it?
What makes this tea even more special is that you can make minor changes and keep it interesting all the time.
In the below recipe, it shared only a ginger cinnamon combo, but actually, we enjoy it with cardamom and fresh mint too. Both ginger and green tea are very forgiving and happily mingle with other spices and sweeteners.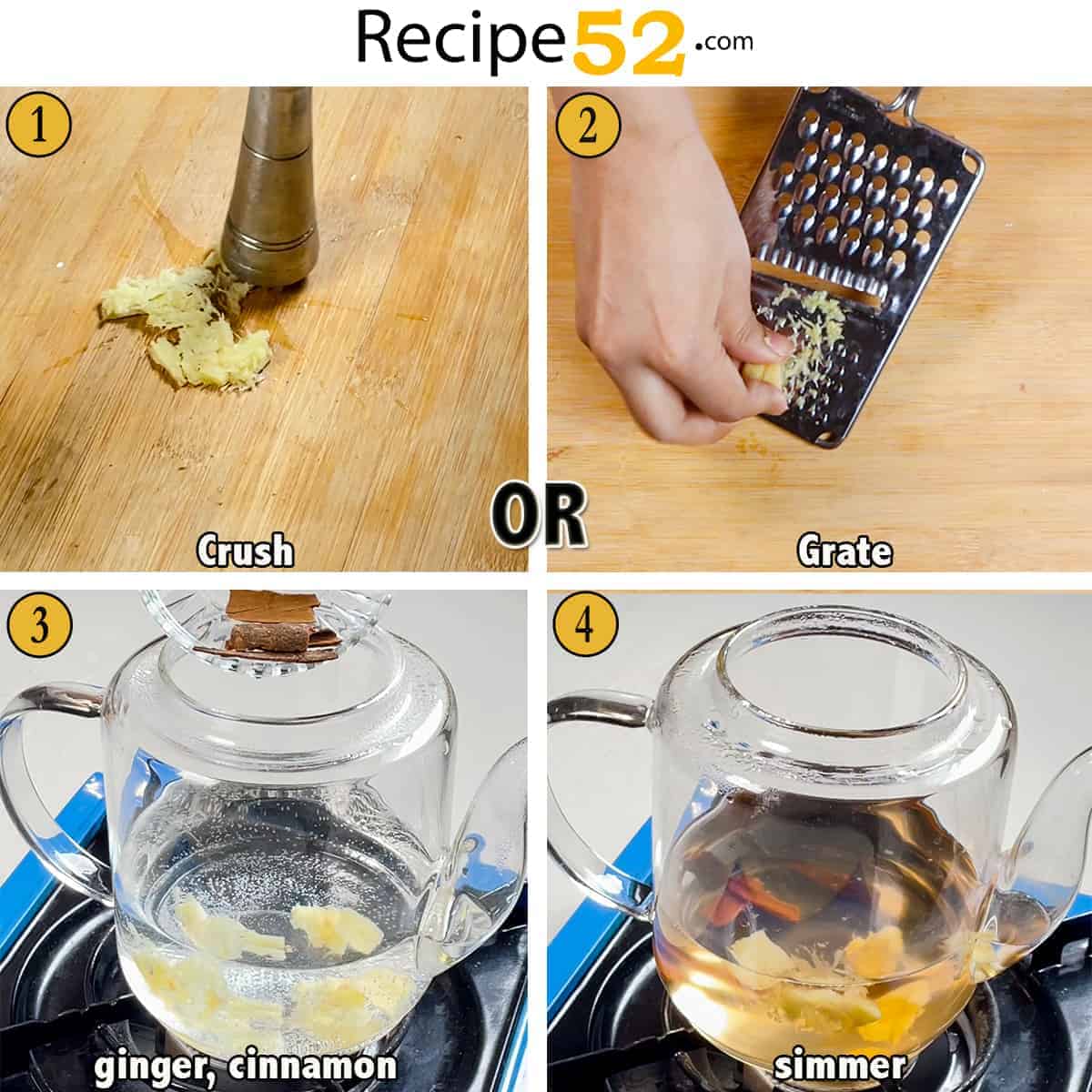 Peel ginger and crush it with a metal pounder or pestle. I find it easiest to do.
Alternatively, you can grate the ginger.
Boil water with ginger and cinnamon. (Pro tip: You can add more spices like cardamom, turmeric, fennel, and mint also at this stage.)
Let the water come to a boil then reduce heat and simmer for 5 minutes until the color of the water changes slightly and the spices have released their flavors.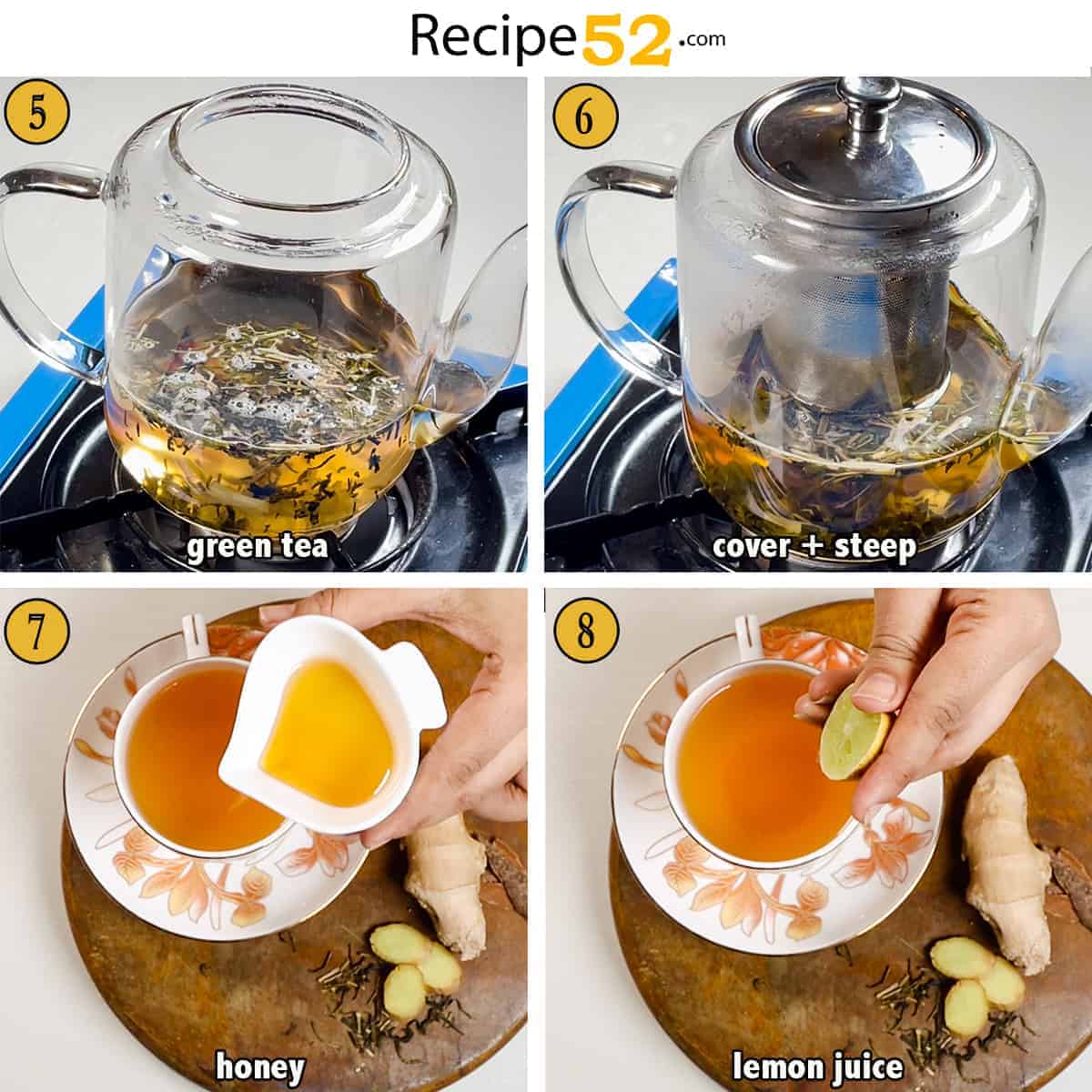 When the color changes add the green tea and cover the pot. (Protip: If using any sweetener other than honey like sugar, brown sugar, maple syrup, stevia, or jaggery add it now.)
Turn off the heat and steep for 3-4 minutes. Strain and serve hot.
Add honey after serving. (Heating honey is not recommended in Ayurveda.)
Add lemon. You can add more or less lemon to taste or skip it too if you have a sore throat.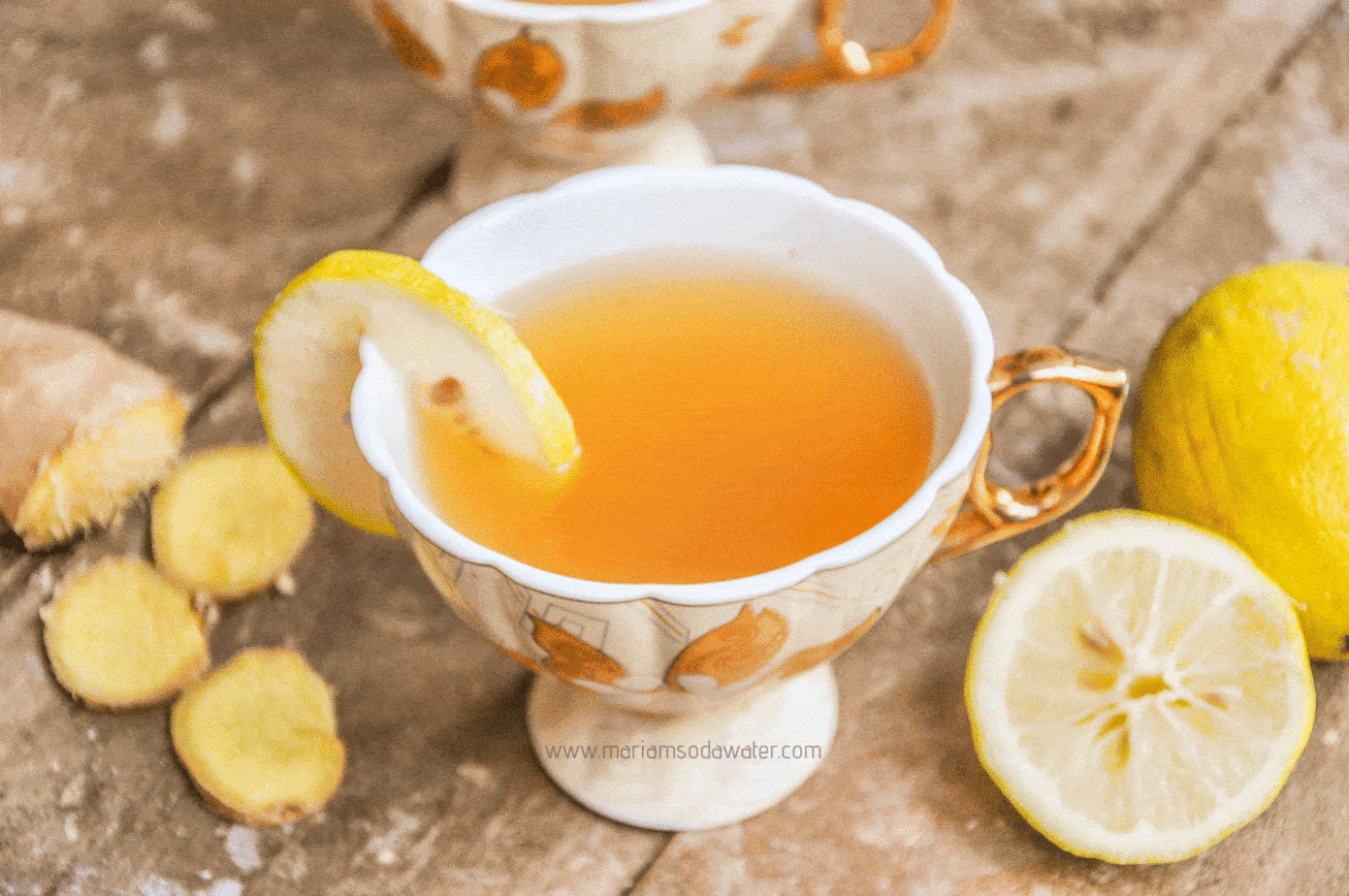 Now, I love variety like anyone. I just can't go to the kitchen and cook the same tea every day with the same passion every day. When it comes to green tea, I'm not satisfied until I have tried every known or imaginable combination.
Variations
Then sticking to one best ginger green tea versions is not fun as you can always change ingredients as per your mood and body requirements.
When you have a cold, ginger green tea seems best.
When you have a headache, a robust ginger milk tea never lets you down.
On a tiring day when you want to relax, aromatic ginger and cardamom tea seem to be a hit.
And after a spicy dinner, ginger mint tea is a good option. As mint also helps with bloating and acidity.
For heartburn, the ginger fennel cinnamon mint tea combo kicks it.
So you see how would you decide the best. After giving good thinking to this post, I thought to leave it to the readers.
Does anyone else also feel the same as me? For other optional combinations, I have suggested ingredients with the measures. You can also make simple ginger, honey, and lemon tea like simplysensationalfood.com makes it.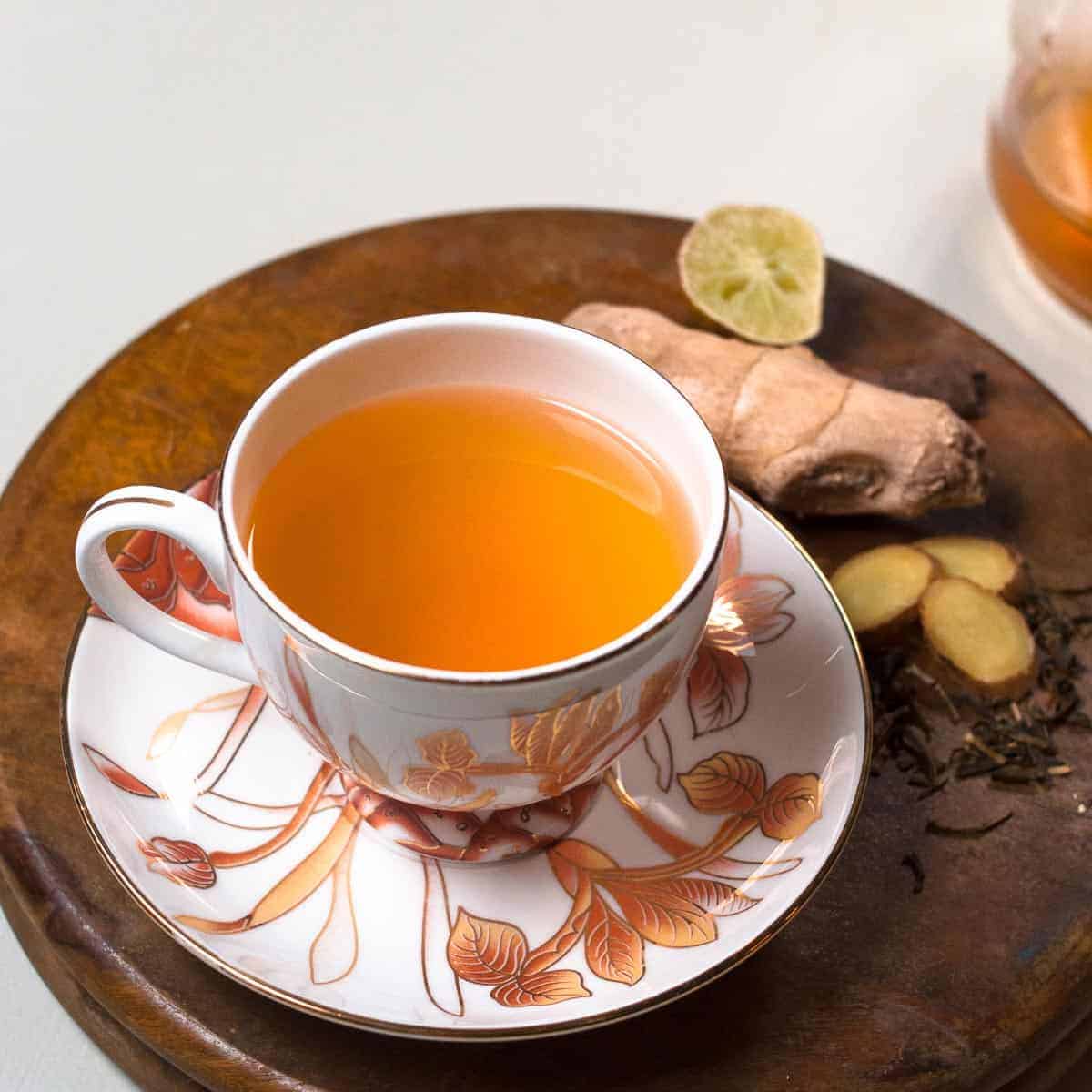 How to store?
Freshly grated ginger is best but you can have it finely chopped in a mixer and store it in an airtight container in the fridge for 2 days or more.
Leftover ginger tea without green tea can be stored in the fridge. Add ice cubes and enjoy Ginger Ice tea.
FAQ
Can I add ginger to green tea?
Green tea is good but when mixed with ginger, Ginger green tea is best. Full of immune-boosting, warming, relaxing drinks to soothe your fatigue and refresh your brain.
How much ginger should I add to my green tea?
For light ginger tea, add 1 teaspoon of grated ginger to make a cup of tea. For a stronger ginger flavor, you can add up to 2 teaspoons to a cup of ginger green tea and steep it for longer.
How do you make ginger green tea taste better?
You can make ginger tea taste better by adding any sweeter like honey, sugar, stevia, or maple syrup. A few drops of lemon juice can also add that tangy boost. If you want a more subtle boost of flavor and aroma add cinnamon powder or mint leaves or cardamom powder.
Can make green with ginger powder?
Yes! you can make green tea with ginger powder as well but the taste won't be as intense as fresh ginger.
Hungry for more drinks? Check these!
If you try this recipe, I'd LOVE to hear your feedback in the comments. Your 5-ratings motivate me to do my best. Stay connected for more recipes and videos on Facebook, Instagram, Pinterest, and Youtube.
📖 Recipe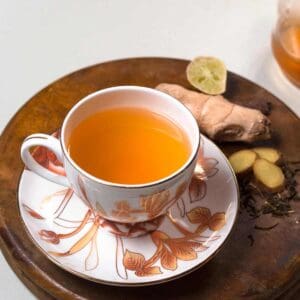 Ginger Green Tea
I have shared my best combination for cold weather but make adjustments to suit your taste.
Print
Pin
Rate
Ingredients
2¼

cups

water

1

tablespoon

ginger for strong or ½ tablespoon for light

,

crushed or grated

1

inch

cinnamon stick or ½ teaspoon cinnamon powder

2

teaspoon

green tea

,

or tea bags

4-6

drops

lemon juice

,

or to taste

1½

tablespoon

honey

,

or any other sweetener to taste
Instructions
Fill two cups of water to the brim and pour in pot or kettle. Bring it to boil.

Add freshly grated or crushed ginger and cinnamon to the kettle and simmer on medium heat for 5 minutes until color changes.

Now add green tea. Cover the kettle and turn off the heat. Let the tea steep for 3-4 minutes. Reheat if needed before serving.

Add honey and lemon juice to individual cups and place a strainer over them. Pour hot tea over it. Mix and serve.
Notes
If you want to make ginger tea without sweetener, add less ginger or it will get very spicy.
You can use 2 teaspoon ginger powder instead of fresh ginger, but fresh is recommended.
Other optional spices and herbs: You can add any of these at step 2 along with grated ginger.
10 mint leaves
¼-½  teaspoon green cardamom powder or 3-4 pods cardamom, crushed to open the pods and used with seeds.
½ tablespoon fennel seeds.
1 tablespoon grated fresh turmeric or ½ teaspoon turmeric powder
Nutrition Information
Serving:
1
cup
,
Calories:
52
kcal
,
Carbohydrates:
14
g
,
Protein:
0.1
g
,
Fat:
0.04
g
,
Saturated Fat:
0.01
g
,
Polyunsaturated Fat:
0.01
g
,
Monounsaturated Fat:
0.01
g
,
Sodium:
15
mg
,
Potassium:
29
mg
,
Fiber:
0.4
g
,
Sugar:
13
g
,
Vitamin A:
2
IU
,
Vitamin C:
1
mg
,
Calcium:
15
mg
,
Iron:
0.1
mg