These salted caramel brownies are my new show-off brownies that are great for potluck and game night. I can't recommend this brownie more! They taste amazing, I mean out of the world and ultimately fudgy, absolutely dense, rich, and decadent with rich cocoa taste.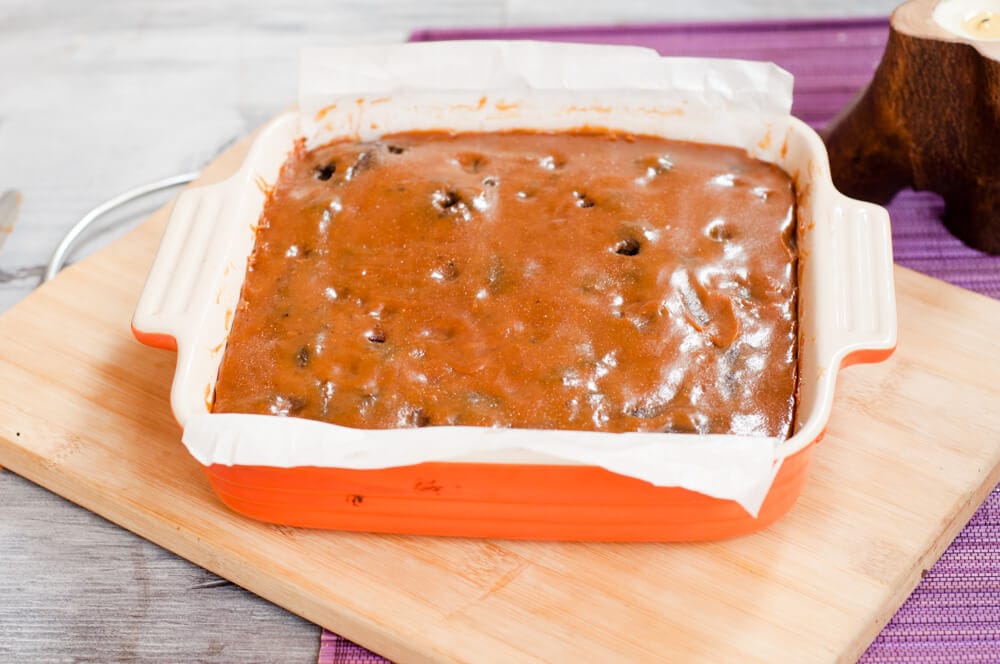 I have mentioned many times about different versions of brownies, l make on Instagram. I wasn't sure which one to share first so I did a poll on Instagram and most of you voted for salted caramel brownies, so here's the long-due post. You can follow me on Instagram here.
Usually, people use store-bought caramels (caramel toffee) for salted caramel brownies. But I thought to make it completely from scratch.
Firstly, because salted caramel is so easy to make and you can easily make it when brownies are cooling on the wire rack.
The ingredients for salted caramel sauce are so basic and easily available.
And what is more important is the taste. The homemade caramel sauce is not too sweet. Absolutely balanced sweetness and delicious. 
What makes these brownies so good?
To attain this extra dense texture, I'm not adding baking soda.
I reduced an egg which gives a more cake-like texture and lifts the brownie.
Then, I added brown sugar which is moister and has a richer taste compared to white sugar.  
For a richer taste, I replaced some flour with cocoa powder and increased the fat in the recipe. So that's what you get.
Another change is using a slightly deep dish for an extra thick brownie so you can dig that moist texture when you take a bite.
Tips
While the recipe is simple and gives very good results.
 Use the right size of the dish! I used a 9x9 square dish. You can replace it with 8 x 10 rectangle dish. Fill the tray less than 1 inch deep so you don't have a very high brownie.
Do not over-mix any ingredients, this can create too much air in the batter and lift the brownie.
Leaving an extra edge of baking paper on the sides helps you pull out brownies from the tray without any hassle.
I still wish to warn you from overbaking. Set an alarm for 25 minutes this is important because this alarm can give you the best result every single time. So make that a habit. 
Remember for moist brownies, we need an under-baked brownie. That's the brownie is set in the center but not dry. Since the brownie will continue to cook in the hot dish we want an under-baked brownie.
To check the doneness of your brownie: Insert a toothpick right in the center of the cake. If you see liquid on the stick. Cook for another 5 minutes. If it shows dense crumbs. Your brownie is perfectly baked. If the toothpick comes out clean. Your brownie is overbaked. Another tip is center will be set from the top but slightly jiggly.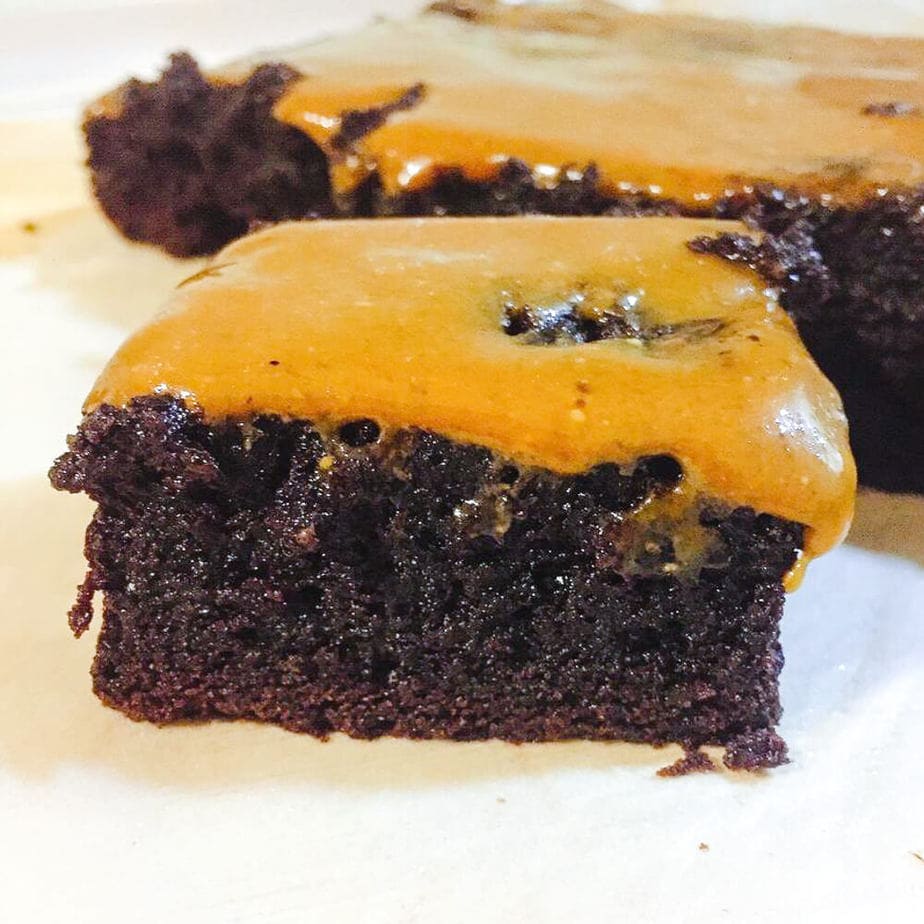 Tips to make
The most important tip is that all ingredients are measured and kept with you before you begin. Then melt the sugar on high heat but reduce the heat as soon as it is fully melted. Then let the sugar turn light brown and add butter. Do not let sugar turn dark brown or overcook or let it smoke. Because your sauce will turn bitter in taste and will give you a burnt taste. 
Use salted butter and also add extra salt for a salted taste.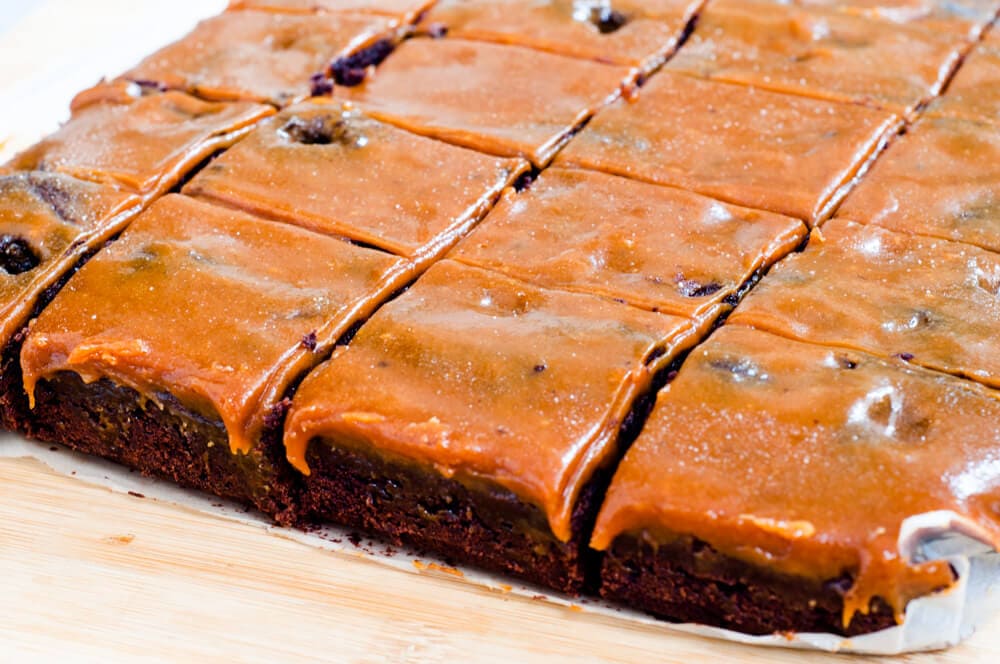 Ingredients:
Brown Sugar: You can switch brown sugar with white sugar with little compromise in taste. So you use 2 cups of white sugar instead of brown sugar. 
Bittersweet chocolate: I used dark chocolate compound for these brownies and they taste amazing. Try to use good quality chocolate for the best taste. I used unsalted butter but you can use salted butter too. Skip the added salt in the brownie batter.
How to store?
You can store these brownies at room temperature for 2 days. Or keep it in the fridge for 5-7 days. 
You can also freeze these brownies. Thaw them completely and heat lightly in the microwave before serving. If freezing, the best way would be to freeze the brownie without caramel sauce. Store caramel sauce in the fridge. It'll be good for up to 20 days. Pour warm caramel sauce on warm brownies and serve.
Looking for a different brownie recipe? Check these.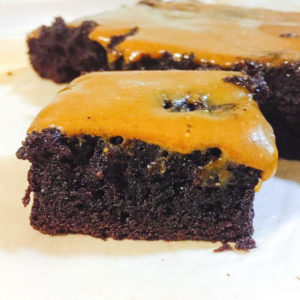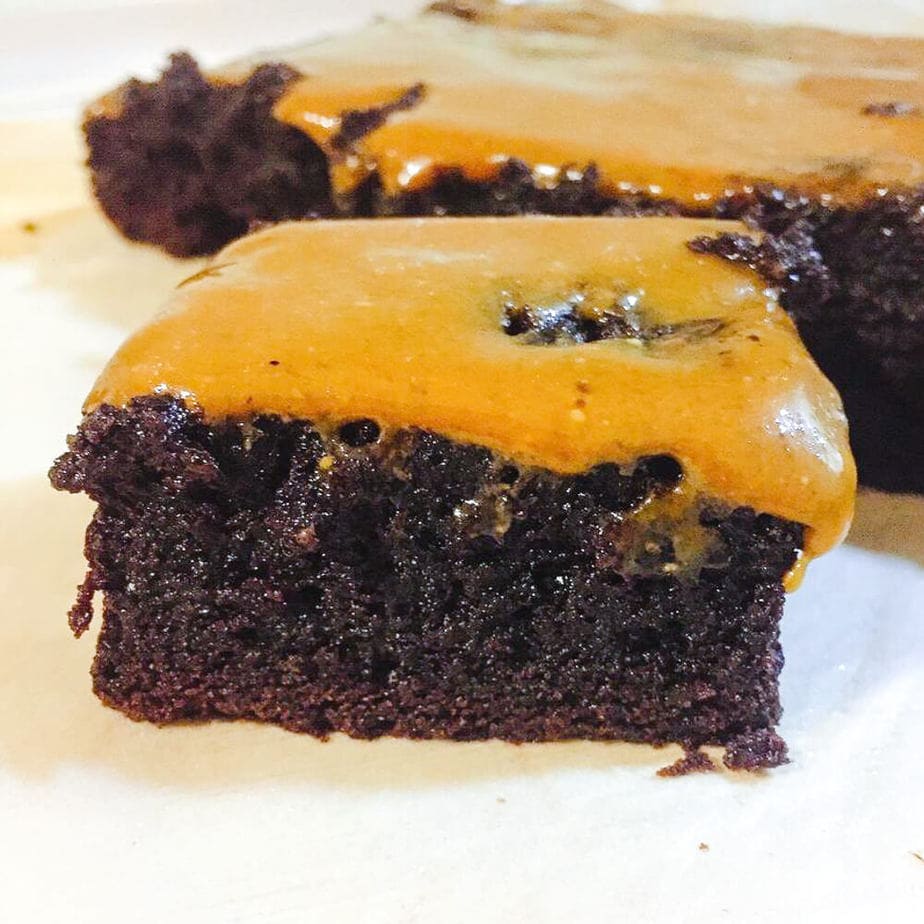 Salted Caramel Brownie
These brownies are ultimately fudgy, absolutely dense, rich and decadent with rich cocoa taste. Just make sure not to over bake it!
Print
Pin
Rate
Equipment
9 x 9 inch baking tray or 8 x 10 inch baking tray.
Ingredients
For brownies
⅔

cup (4 ounce)

bitter sweet chocolate

,

(100 grams)

¾

cup

unsalted butter

,

(170 grams)

1

cup

powdered sugar

,

(138 grams)

1

cup

brown sugar, loosely packed

,

(200 grams )

3

egg

¾

cup 

cocoa powder

,

(70 gram)

1

cup 

flour

,

(114 grams)
For Salted Caramel sauce
¾

cup

granulated sugar

4

tablespoon

salted butter

,

(60 grams)

6

tablespoon

cream

½

teaspoon

salt or less
Instructions
For Brownie
Preheat oven at 350 F and line a 9 x 9 inch or 8 x 10 inch baking tray with baking paper.

In a heavy bottom pan on low heat, melt butter and chocolate.

Whisk in brown sugar and white sugar.

Transfer the mix to a mixing bowl.  Add eggs, salt. Whisk lightly until combined.

Sift flour and cocoa powder in the bowl and incorporate with help of a spatula. The mixture will very thick now.

Transfer the brownie batter to the baking tray.

Bake for 25-30 minutes until center is just set. Test by inserting a toothpick after 25 minutes. If you see liquid batter on it. Cook for another 5 minutes. If you see goey crumbles on toothpick. Immediately remove the brownie from oven and let it cool.
For caramel sauce
In a heavy bottomed pan melt sugar on high heat until melted.

Reduce heat and keep stirring until color changes to light brown.

Immediately add butter. B careful as this can cause splutters.

Keep stirring.As soon as the butter is completely melted add cream and salt.

Turn off heat and keep stirring until the sauce stops bubbling.
To assemble:
Spread warm sauce on the brownie in the tray.

Let the caramel sauce set on the brownie.

Then, remove brownie from tray and slice into 2 x 2 inch squares.
Nutrition Information
Serving:
1
g
,
Calories:
667
kcal