Looking for goodies to treat your guest in the festive season? Want them to be firm at room temperature? These Oreo Truffles with condensed milk work perfectly. They have a deep oreo flavour with bite sized caramelised sweetness of condensed milk. Because these oreo balls are without cream cheese you can keep them at room temperature for 2 days.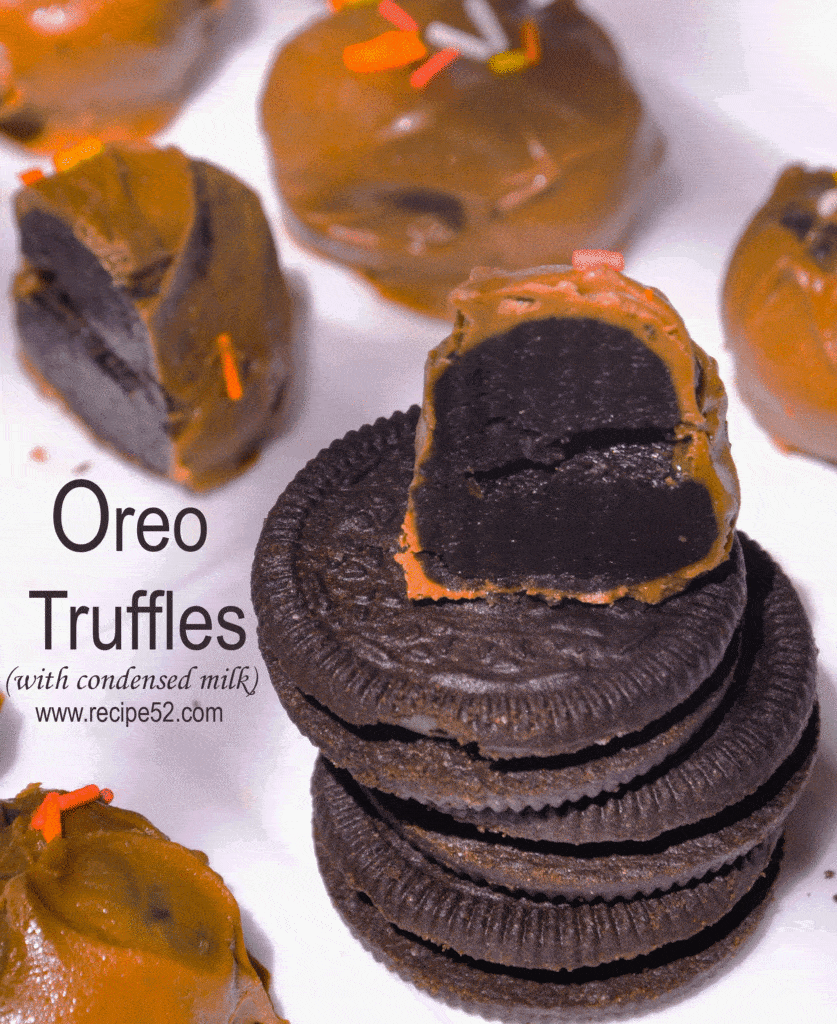 Oreo Condensed milk Truffles or balls
This 3-ingredient recipe is simple and no-cook. Just dump oreo and condensed milk in a bowl and mix. Coating with chocolate can take some time but doing it in a mug keeps it easy. And the finished looks are totally worth it.
Tips and Variations
Oreo balls with condensed milk are sweet so I suggest making small servings.
You can add less condensed to reduce sweetness. If the mixture is still crumbly add little milk, 1 teaspoon at a time to bring it together.
If making a double of this recipe, work in 2 batches as the dough gets crumbly if kept for a long time. However, you can add little milk to bring it together.
You can use other oreo flavors too, oreo gold and so on.
If you like the chocolaty taste, you can mix some chocolate chips, nuts, or golden raisins in the condensed milk-oreo dough.
I used milk chocolate for coating, You can use dark or white chocolate or chocolate chips too. Just stick to premium quality for the best taste.
How to store Oreo Condensed milk balls?
These oreo condensed milk balls can be stored at room temperature for 2 days or in the fridge for 2-3 weeks. You can freeze them for 3-4 months. While Oreo balls with cream cheese have to be stored in the fridge. These Oreo truffles with condensed can be stored at room temperature, make sure to temper the chocolate so it doesn't melt at room temperature.
How to make Oreo balls with condensed milk?
Let's begin the fun! I love making truffles.
Unwrap all Oreo cookies.
Grind them in a mixer with its creamy filling. The mixture should be fine for easy rolling.
Add condensed milk little by little and mix well. Keep adding condensed until it forms a cookie dough-like mixture. ( If you like it less sweet, you substitute a little condensed milk with 2 teaspoons of milk.)
The mixture should be  soft and pliable, not at all crumbly.
Make 1 inch balls and set on a tray.
Melt chocolate on a double boiler or in the microwave with an interval of ten seconds and stirring in between. I used a large mug because it allows the ball to dip in completely. Drop each ball in chocolate and lift it with a fork. Keep each ball on the cookie sheet lined with butter paper again.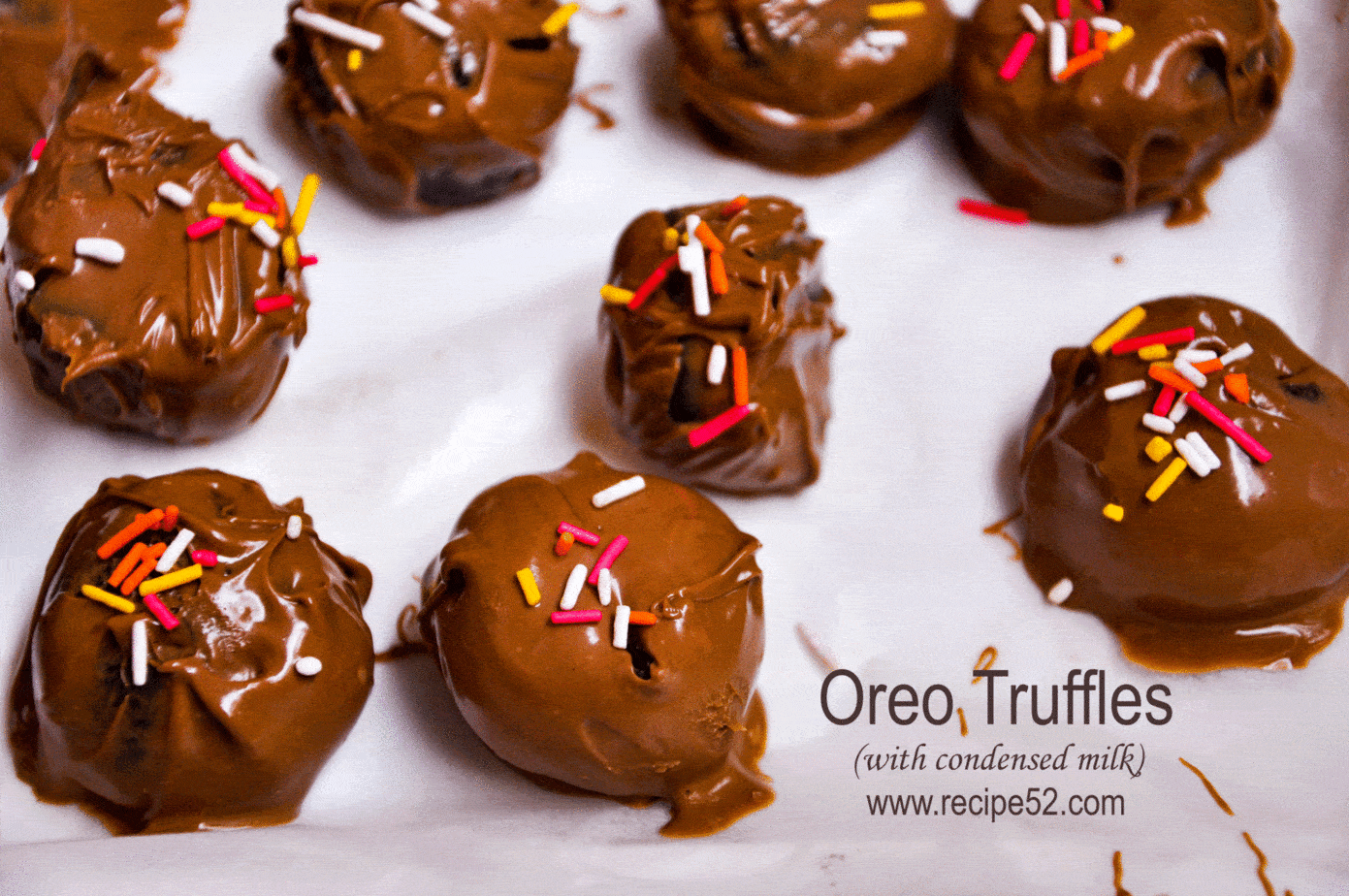 Let the chocolate set completely at room temperature before transferring to the airtight container. The setting takes 6-8 hours.
If you wish to store it in the fridge. Transfer to the fridge immediately and oreo condensed milk truffles will set in 15 minutes.
Hungry for chocolate goodies? Check these!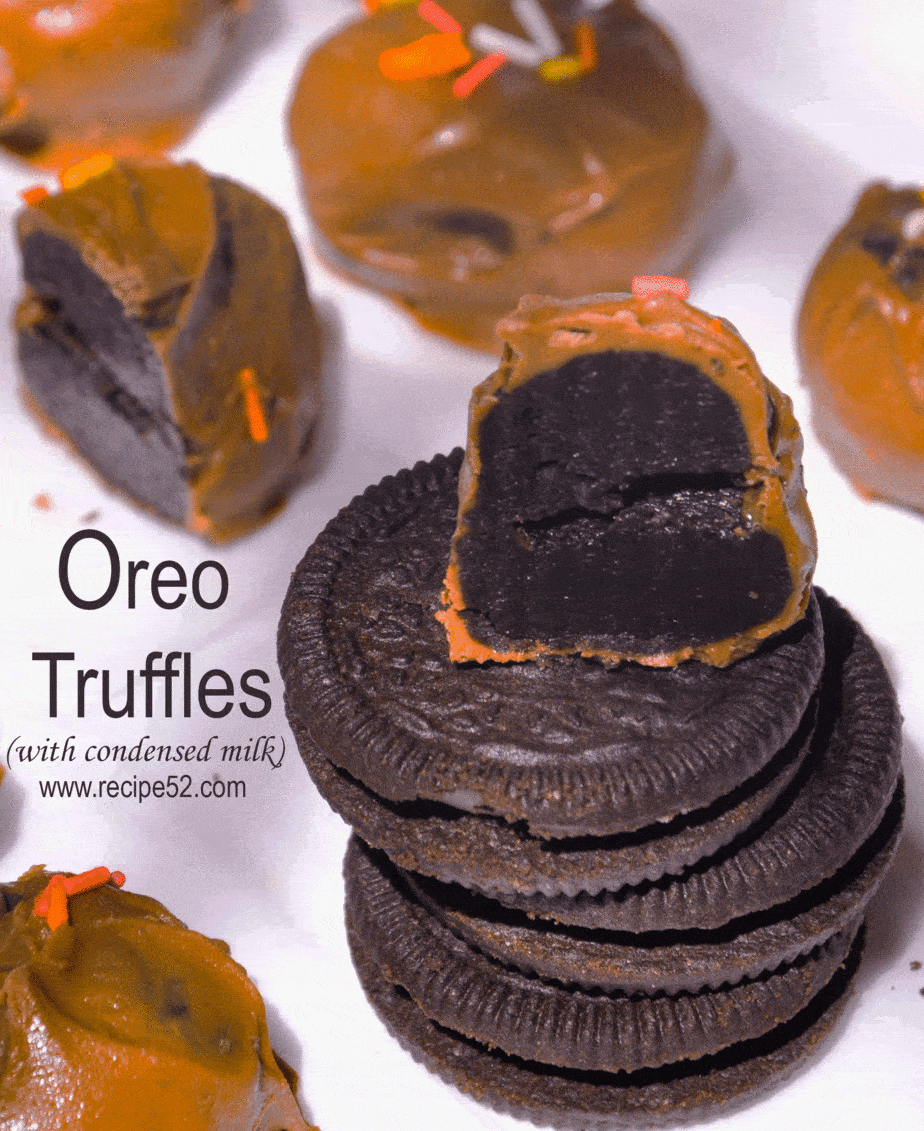 Oreo Condensed Milk Truffles
This makes these bite sized balls really great for serving in parties. So Oreo, so chocolaty!
Print
Pin
Ingredients
356

gm

1 packet Oreo

,

(36 cookies)

¾

can

condensed milk

,

at room temperature

400

gm

chocolate of your choice

,

bitter or semi sweet or milk chocolate or chocolate chip
Instructions
Crush Oreo cookies with its cream filling in an electric mixer to make a fine powder.

Pour ½ condensed milk first. Mix well and then add more to make a fine paste like a cookie dough. (Adjust condensed milk measures, if required.)

Make 1 inch balls with mixture. Work quickly as the dough tends to get dry and crumbly.

Freeze the balls for 20 minutes.

Melt the chocolate in narrow bowl or mug in a microwave. Heat with interval of 10 sec and stirring in between. Or melt chocolate on a double boiler.

Dip each ball in the chocolate and lift each truffles with the help of fork place it on the butter paper.

Sprinkle color sprinkles immediately while chocolate is soft. Oreo condensed milk balls are ready.
Notes
Let the chocolate set naturally on the butter paper and then store in a air-tight container.
Stays good in fridge up to 2-3 weeks.
Nutrition Information
Serving:
1
truffle
,
Calories:
129
kcal
,
Carbohydrates:
18
g
,
Protein:
2
g
,
Fat:
6
g
,
Saturated Fat:
3
g
,
Trans Fat:
1
g
,
Cholesterol:
3
mg
,
Sodium:
58
mg
,
Potassium:
84
mg
,
Fiber:
1
g
,
Sugar:
14
g
,
Vitamin A:
22
IU
,
Vitamin C:
1
mg
,
Calcium:
28
mg
,
Iron:
1
mg