Making strawberry jam without pectin is so easy that if you will make it once, you will want to make it every year when fresh strawberries are available. It requires only three ingredients, a pan, and a potato masher. And you just can't go wrong with this jam.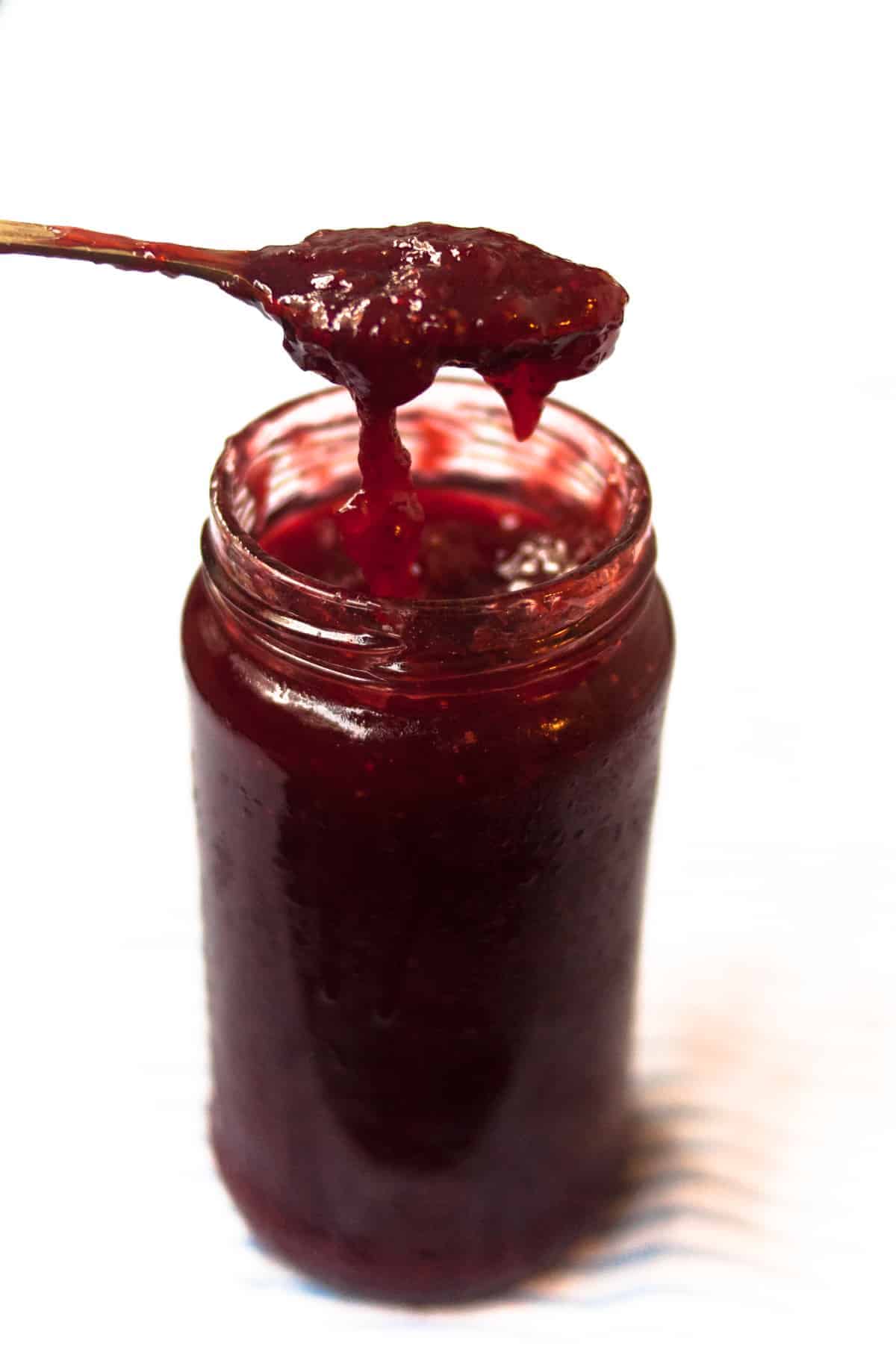 Even if jam making is not your thing, this jam is a must-try, what more? It is a great way to preserve the natural goodness of strawberries. You can use it in cakes, pies, strawberry mousse, desserts, shakes, and syrups.
Why I highly recommend making your own jam is that you can control sugar and spreadability to your choice. You can also make a low-sugar strawberry jam by adding less sugar. My favorite homemade jams are plum jam, orange jam, peach jam, kiwi jam, and apple jam.
Jump to: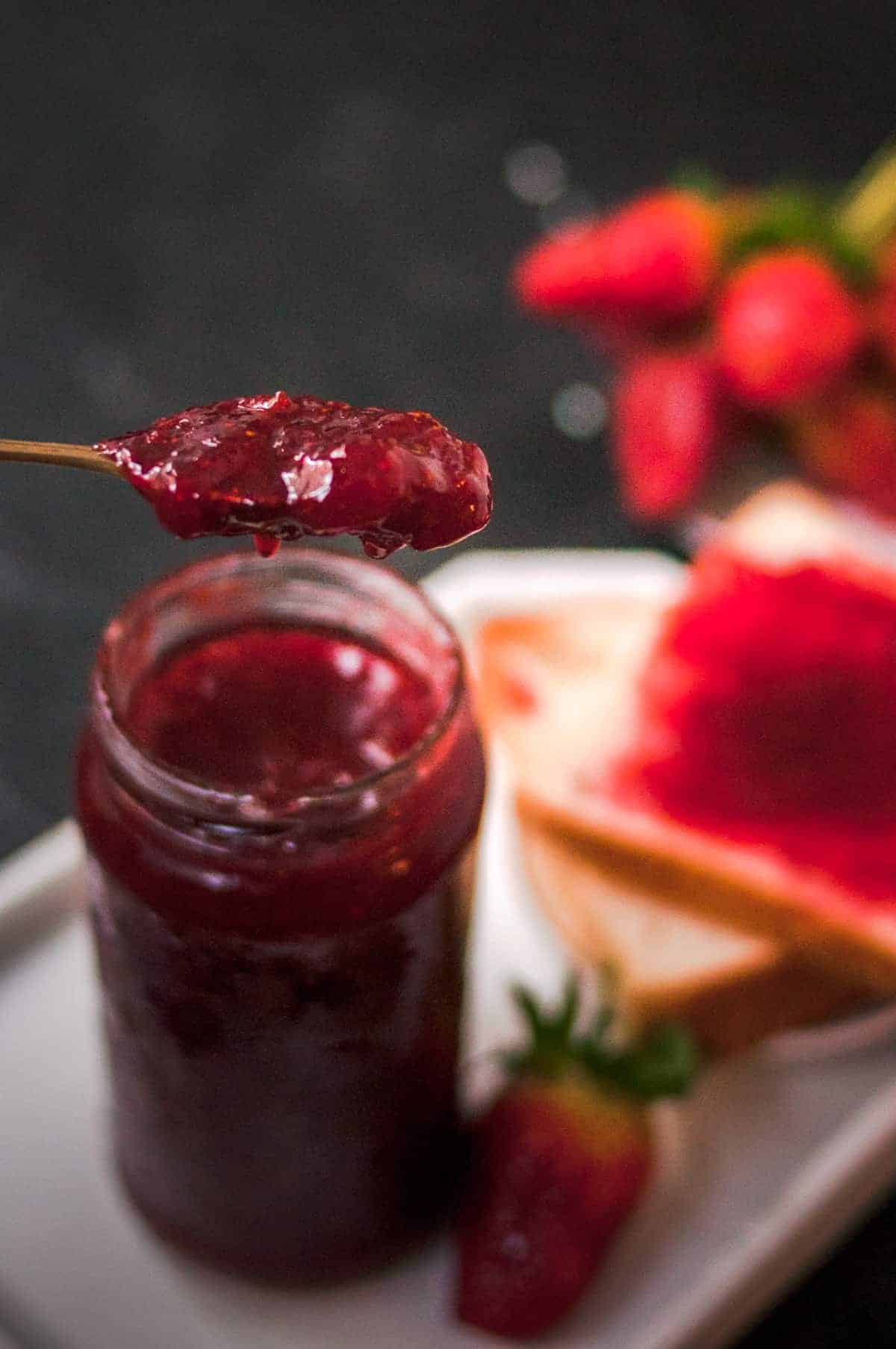 Why this no pectin recipe works?
One more important thing for a no pectin jam is firm but ripened fruit. Pectin is high in slightly under ripened fruit and reduces as the fruit ripens. For strawberry jam ratio of sugar and strawberry is important for the best taste experience.
3:2 ratio is more old fashioned strawberry jam ratio that is high in sugar and produces jam that is sweet just like commercial jam. This ratio is good for pectin jam as it retains more water with less cooking and gels quickly. (750 gram strawberries to 1 pound sugar or simply 2 cups sugar)
2:1 ratio works best a no pectin jam for kids and gives a thick and reasonably sweet jam. (1kg strawberries to 2 cups sugar.)
4:3 ratio makes low sugar strawberry jam good for weight watcher that still gels but will have slightly low yield. (1kg strawberry and 1.5 cup sugar.)
Ingredients
This jam has only three ingredients that are strawberry, sugar, and lemon. This is a small batch freezer jam recipe that can be doubled or tripled and canned easily.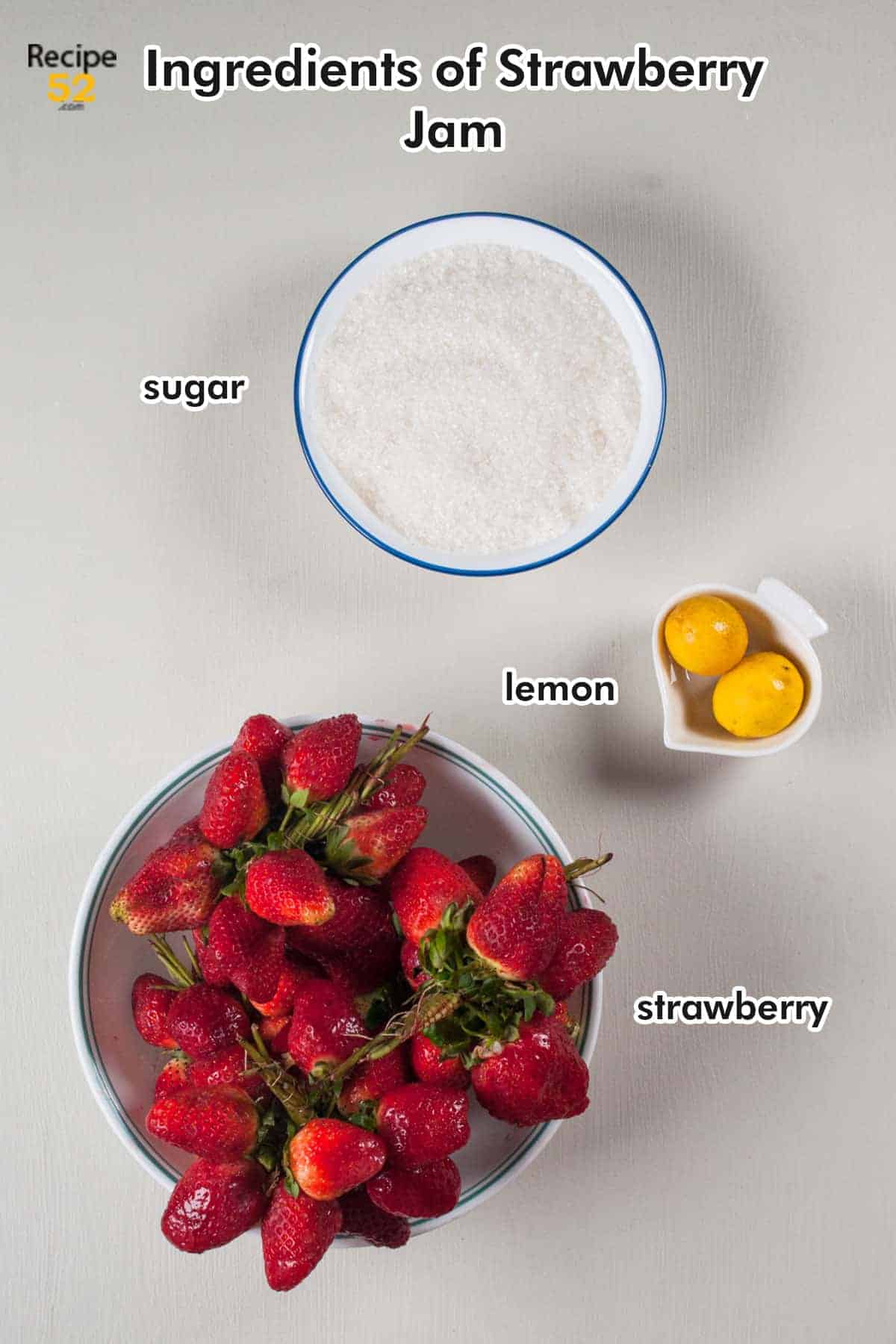 Strawberry is the main ingredient so the taste of strawberry will reflect in the resulting jam. Try to use a sweeter variety of fully ripened but firm strawberries.
Firm fruit is high in pectin and pectin reduces as fruit ripens. So never use over ripened mushy strawberry for jam. It won't set well. Do have a look at my favorite strawberry ice cream and strawberry mint lemonade.
Sugar is a natural preservative in a jam, you need a certain amount of sugar to makes jam, especially if making no pectin jam. The amount of sugar that goes in jam also depends on the sweetness of the fruit.
Low-Sugar Strawberry jam: The best thing is to use atleast 1.5 cup sugar for 1 kg strawberries in the begining. Add more sugar after tasting. Always taste test jam by dipping a slice of toast as the jam would taste very sweet on its own and less sweet as a jam on toast.
You can even add less sugar, remove the half jam for yourself, and then add more sugar in the remaining jam for sweeter jam for kids. So you can play around.
Lemon is high in pectin and the acidity in lemon helps make the natural pectin in the fruit available for jam to set.
How to make?
The sterilization step is optional if you intend to store the jam in the refrigerator or freezer. If you opt for canning then wash two jars (500 ml each) thoroughly with soapy water.
Then sterilize jars in boiling water for 8 minutes. Also, boil the metal lids. Alternately, you can place washed jars while they are still wet in the baking tray. And roast jars in a preheated oven (160-180 C) for 15 minutes.
Dry on a clean towel. Let air dry naturally. Also, keep a few little plates or saucers in the freezer for Cold Plate Test.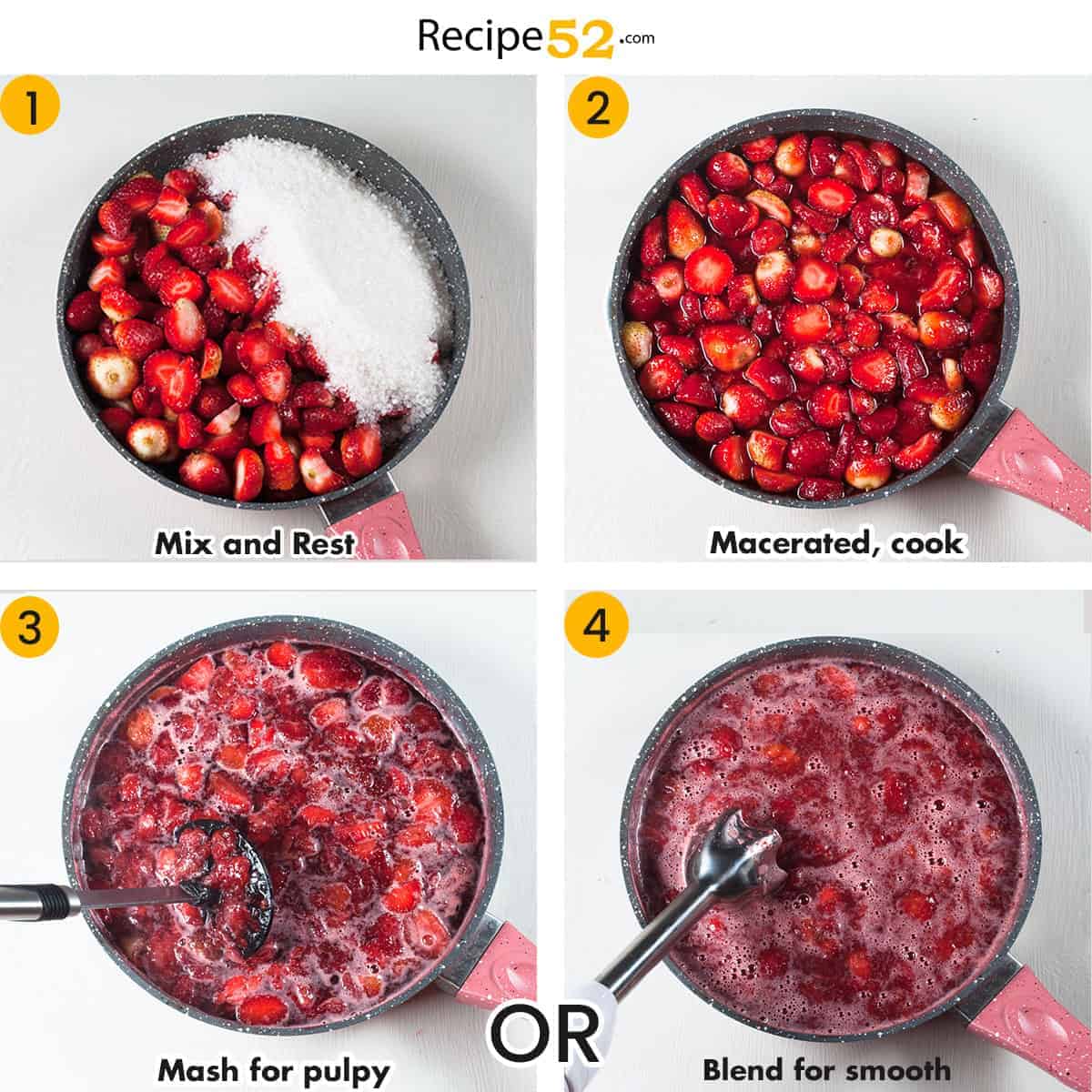 Wash strawberries and transfer them to a colander so excess water is draied. Remove stems and hull the strawberries. If your strawberries are large consider chopping them in chunks for easy mashing. Transfer strawberries to a wide and thick based pot or pan. Add sugar and lemon juice and mix well.
Keep the pot in the fridge overnight to macerate. The sugar will draw out strawberry juices that help them jam set better. You can cook right away too but keeping in fridge helps. I usually plan cooking jam when I have some other work in the kitchen.
Next day cook strawberries on medium low heat for 20 minutes. When strawbberies are very soft, mash the strawberries with a potato masher.
You can also blend with immersion blender too if you like homogenised jam. I prefer doing just few whizz to break the fruit.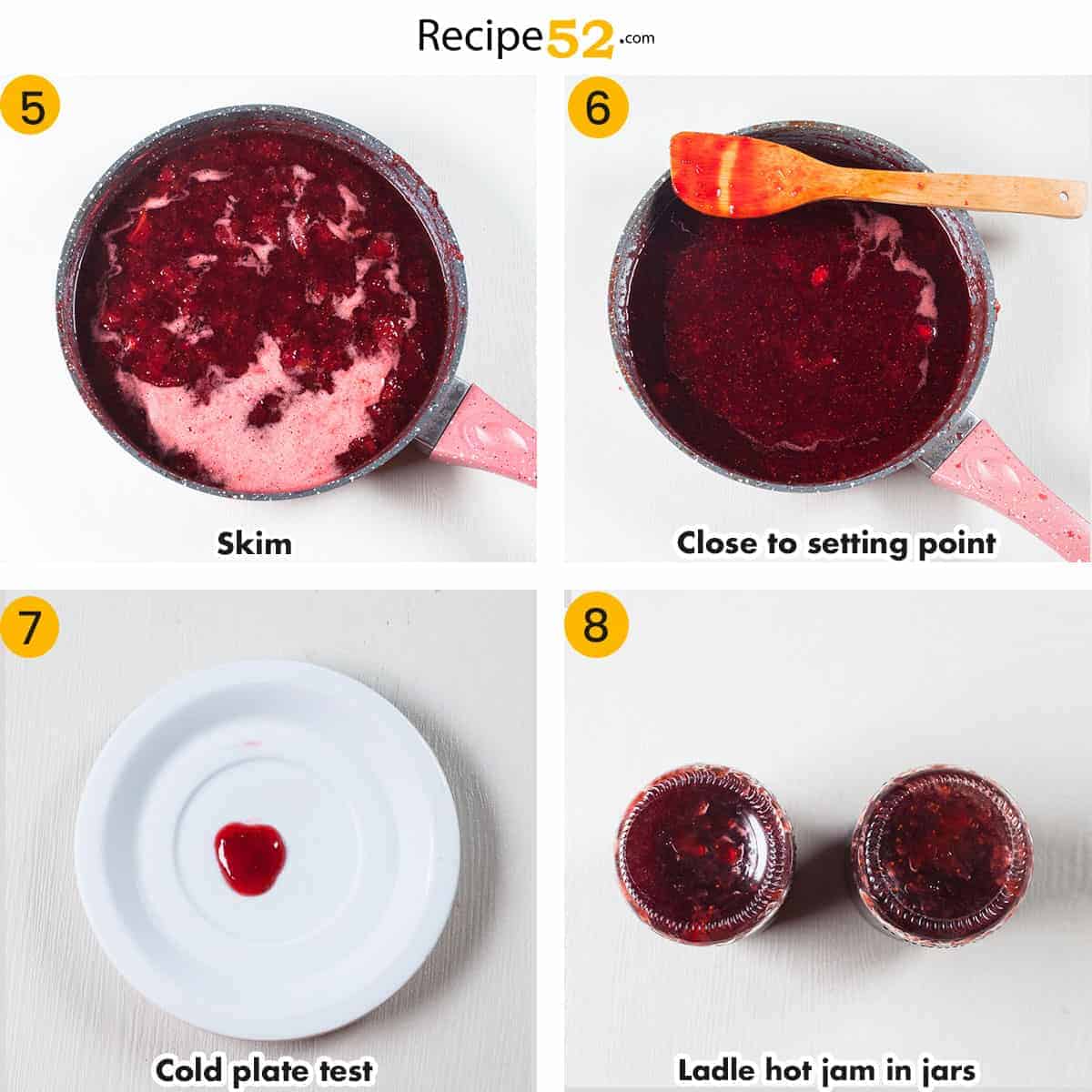 Skim the pinkish layer of foam from the top of the jam.
Jam is reduced now and is close to setting point when jam starts to coat the spatula.
Test the jam on frezzer cold plate by putting a large drop of jam on the cold plate. Let the jam set for 30 secs. The jam is thick with no water a round. You can also draw a line through the drop. Line shouldn't meet.
Fill hot jam in sterilised jar. Turn the jars upside down which create a vacuum and seal the jar. This also help avoid condensation on the lids. This method is not replacement for canning anyway.
Store this no pectin strawberry jam in the fridge if consuming immediately. Or follow proper sterillization steps and seal it for canning and follow water bath procedure if intending to store in the pantry. If you find canning overwhelming, freeze the extra strawberry jam.
How to store?
This strawberry jam without pectin has thick spreadable consistency and a love deep red color. Not to mention the alluring strawberry aroma. Like all no pectin jam, it will be thick in the jar but it will not set like regular pectin jam. Check for more information on jams storage at Nigella and Nytimes.
Homemade refrigrator strawberry last for 2 months or more in the fridge without preservatives, if jars were clean and dry while filling jam and hot jam was filled in the jar. Clean and dry spoon is used to serve each time.
If you want freezer strawberry jam, store jam in freezer for 6 months or more. Although they never last that long.
If you intend to seal and store jam at room temperature in pantry. Then follow proper canning steps and store jam in the fridge after opening.
Recipe FAQs
Do I need to wash strawberries before making jam?
Yes!, the strawberries that come from the farm or your own vines would have some dust on them. It is better to wash it and let it drain in a colander so a lot of water is not going in the jam.
Why do put lemon juice in jam?
For lemon juice add some pectin to the jam by making the jamming environment acidic and helping to activate the natural pectin in strawberries. If your strawberries are sweet and less tangy, lemon juice adds a nice tartness to jam making it more palatable.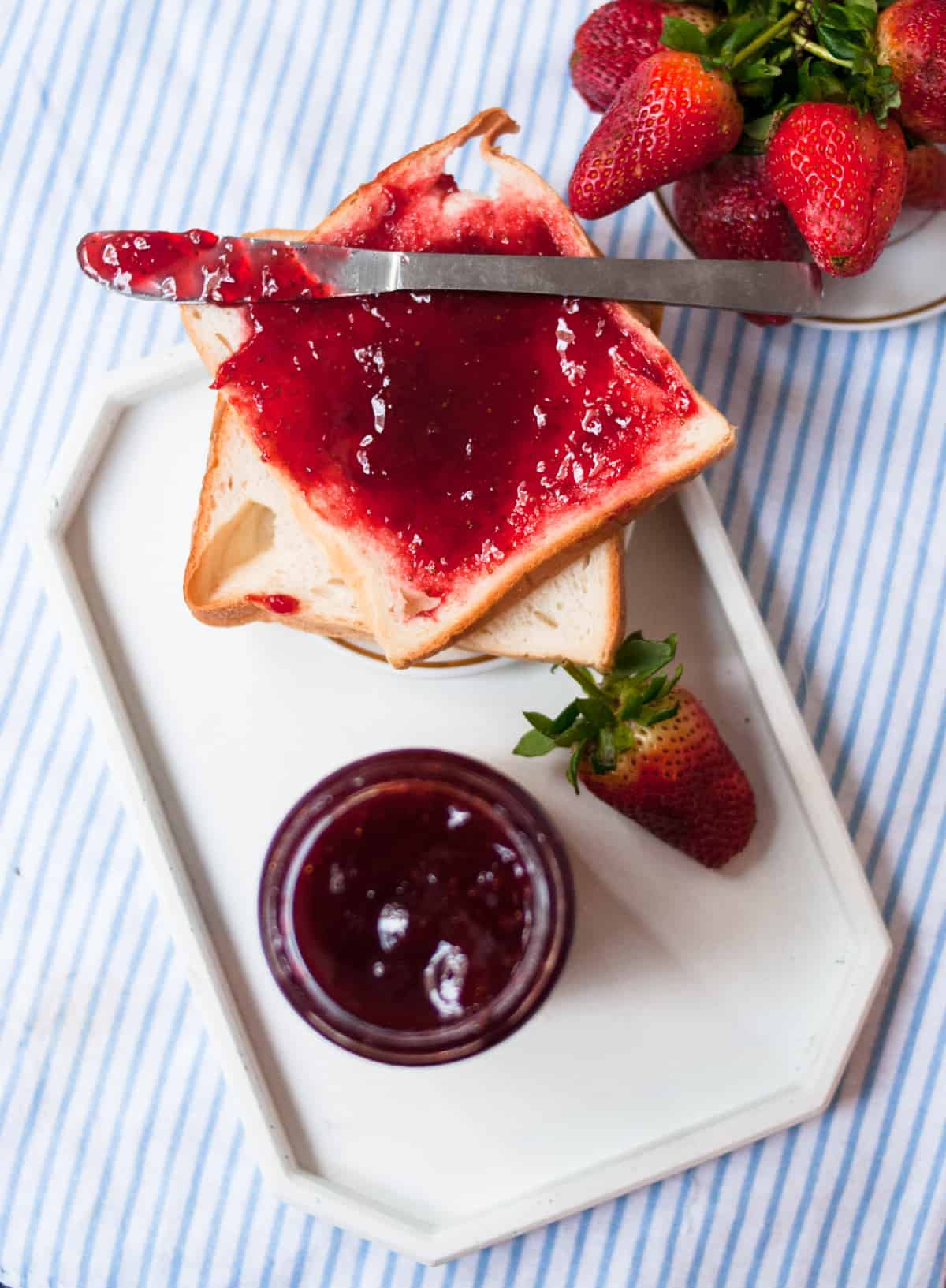 How to use?
Strawberry jam without pectin is just like strawberry preserve that can be used in other recipes like ice cream and mousse.
It can be used in jam biscuits, on shorbread, on toast, as filling, and with yogurt in parfaits.
You can blend the jam with water, lemon, and sugar to make strawberry lemonade.
Hungry for more? Check these!
If you try this strawberry jam without the pectin recipe, I'd LOVE to hear your feedback in the comments. Your 5-ratings motivate me to do my best. Stay connected for more recipes and videos on Facebook, Instagram, Pinterest, and Youtube.
📖 Recipe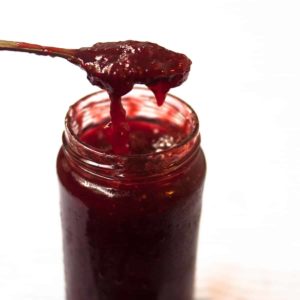 Strawberry Jam without Pectin
Nothing beats the goodness of homemade strawberry jam. Making strawberry jam without pectin is so easy that if you will make it once, you will want to make it every year when fresh strawberries are available.
Print
Pin
Servings :
35
servings (550 ml)
Ingredients
1

kg

strawberries

,

hulled (2.2 pounds= about 1 kg)

1.5 to 2

cups

sugar

,

see notes

2

tablespoon

lemon juice
Instructions
Sterilization:
Boil water in a large pot. Immerse your 250 ml jar completely in hot water. Sterilize the jar by boiling for 8 minutes. (You can also use old jam jars.)

Lift the jar with tongs and place it on a clean white towel upside down. Do not touch with hands. Let it dry naturally.
Making Strawberry Jam
Take strawberries, sugar, and lemon juice in a thick-bottomed and wide pan or, pot. Mix well and leave it overnight in the refrigerator to macerate.

The next day, cook strawberries and sugar on medium heat until they are soft for 20 minutes.

Mesh the strawberries with a potato masher. You can also blend it for a smooth jam. Protip: Do a taste test now and adjust sugar if needed.

Cook for another 20 minutes on medium-low heat till mixture is reduced. Skim the foam from the top and discard.

When the jam starts to cover the spatula, do a cold plate test by dripping a large drop on the freezer cold plate. Let it cool. The drop should be jam-like with no liquid separating on the sides.

Fill hot jam in the sterilized jar. Turn the jars upside down to create a vacuum seal. Let the jam cool completely before placing it in the fridge or freezer. Your strawberry jam is ready.
Storage
Store in the fridge for 2 months or freeze for 6 months. Or follow proper sterilization steps and seal it for canning and follow the water bath procedure for 10 minutes if intending to store in the pantry for 6 months period.
Notes
Strawberry: Try to use a sweeter variety of fully ripened but firm strawberries. Firm fruit jam will set better than mushy or frozen fruit jam.
Low- Sugar Strawberry jam: The best thing is to use at least 1.5 cups of sugar for 1 kg strawberries in the beginning. Add more sugar after tasting.
Sugar ratio for a without pectin strawberry jam.
2:1 ratio works best for kids and gives a thick and reasonably sweet jam. (1kg strawberries to 2 cups sugar.)
4:3 ratio makes low sugar jam good for weight watcher that still gels but will have a slightly low yield. (1kg strawberry and 1.5 cup sugar.)
Nutrition Information
Serving:
1
tablespoon
,
Calories:
42
kcal
,
Carbohydrates:
11
g
,
Protein:
1
g
,
Fat:
1
g
,
Saturated Fat:
1
g
,
Polyunsaturated Fat:
1
g
,
Monounsaturated Fat:
1
g
,
Sodium:
1
mg
,
Potassium:
41
mg
,
Fiber:
1
g
,
Sugar:
10
g
,
Vitamin A:
3
IU
,
Vitamin C:
16
mg
,
Calcium:
4
mg
,
Iron:
1
mg