Strawberry jam recipe with photos of each step. Making strawberry jam is so easy that if you will make it once, you will want to make if every year when fresh strawberries are available. It requires only three ingredients, strawberries, sugar and lemon. In equipment only a pan and a potato masher is required. And you just can't go wrong with this jam.
Why I highly recommend making your own is that you can control sugar and spreadability to your choice. You can use it in cakes, pies, dessert, shakes and syrups in place of fresh strawberry and sugar. You can also make a low sugar , all natural strawberry jam by adding less sugar. When I share my recipes, I like to suggest alternatives too.
Ratio:
For strawberry jam ratio of sugar and strawberry is important.
3:2 ratio works best for kids and gives a thick and reasonably sweet jam. (1 ½ kg strawberry and 1 kg sugar)
2:1 give less sweet jam good for weight watcher and diabetic adults. (1 kg strawberry and ½ kg sugar)
For lemon juice if your strawberry are tangy add less and if they are ripe and sweet then you can add more lemon juice. I have tried both ratio. 3:2 gives thick texture and tastes very close to commercial jam without preservatives and flavors.
Even if your jam is less sweet, you can reheat jam in a pan and add more sugar. Heat till sugar dissolved on low flame. You can burn extra water if you want thicker jam. Or you can add extra water, if your jam is too thick. So you can fix the jam later too. You can even add less sugar, remove half jam and then add more sugar in remaining jam for sweeter jam for kids. So you can play around. Here's a complete recipe of 3:2 ratio, hopefully it will turn out good.
My other similar recipes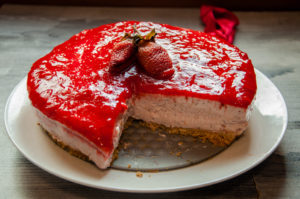 How to make strawberry jam without pectin
Strawberry jam recipe without pectin
Nothing beats goodness of homemade strawberry jam.
Click stars to rate this recipe!
Print
Pin
Ingredients
750

gram

strawberries

,

,hulled

500

gram

sugar

2

tablespoon

lemon juice
Instructions
Sterilization:
Boil water in large pot.

Immerse your 750 ml jar completely in hot water.

Sterilize jar by boiling for 8 minutes. (You can also use old jam jars.)

Lift the jar with tongs and place on clean white towel up side down. Do not touch with hands.

Let it dry naturally.
Strawberry jam
Take strawberries in pan and add sugar, leave it overnight in refrigerator.

Next day, cook strawberries and sugar on low heat until they are soft for 30 minutes.

Add lemon juice and with a potato masher mesh the strawberries. You can also blend it.

Cook for another 30 minutes on medium low heat till mixture is reduced to 1/3 volume.

Do a cold plate test by dripping a large drop on freezer cold plate. Let it cool. The drop should be jam like.

Fill hot jam in the sterilized jar. Let the jam cool completely before placing the lid. Your strawberry jam is ready.
Notes
Storage:
You can store jam in fridge for up to 3 months.
You can also freeze extra jam.
Step by step strawberry jam recipe without pectin.
Wash strawberries.
Remove stems to hull the strawberries.
Add sugar, mix well and keep in fridge overnight. You can cook right away too but keeping in fridge helps.


Next day cook strawberries on medium low heat.
After 30 minutes, Add lemon juice.
Mesh the strawberries with a potato masher. You can blend with immersion blender too but meshing works best.
Jam is reduced to 1/3 now.
Here's the cold plate test. I am holding the plate vertically but jam doesn't drip. Fill hot jam in sterilised jar. Place the lid only after jam is cool. (As condensation from hot jam can gather on the lid).
Pin this image for later reference!
Like, Comment, Subscribe to let us know your opinion and request. We are working everyday to bring best taste with easiest recipe.