Easy Strawberry Mousse Dessert with Jello and evaporated milk. The mousse is so light and airy! Assemble in less than 25 minutes.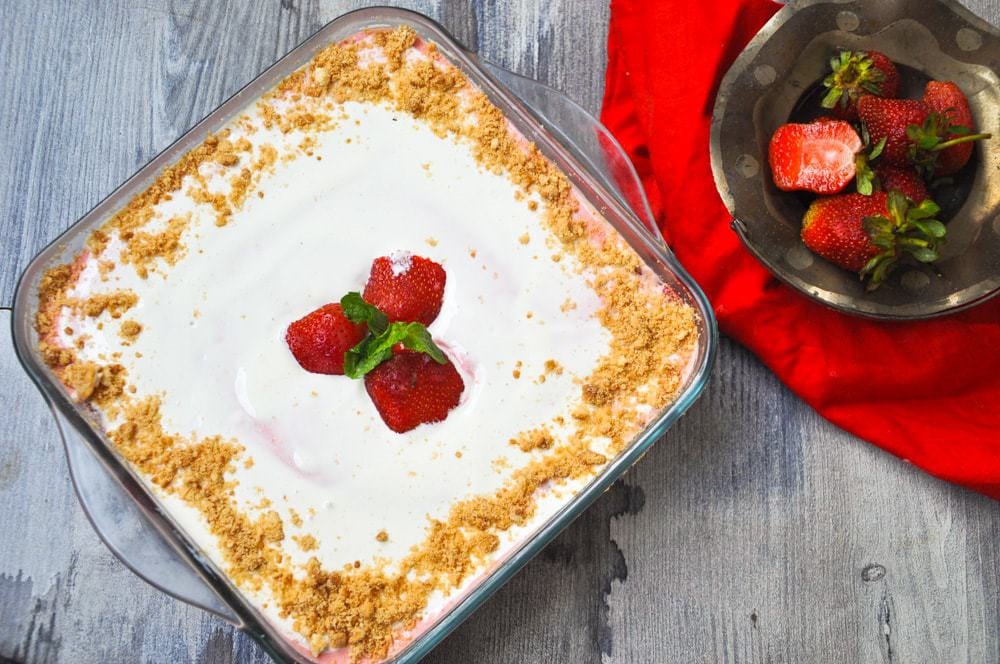 Strawberry Mousse with Jelly is an easy and delicious no-bake dessert that can be served in a group or in single servings.
Jump to:
Why this is the best mousse?
This Strawberry Mousse is soft, spongy, and airy as any Mousse should be. The Jelly or jello helps to set the sweet dish. This Mousse has a deliciously sour tinge and lovely pink color.
The layer of crumbs underneath the soft spongy soufflé gives a delightful depth to this dessert. I've used a little cream to give a final finish to this dessert. But you can use whipped cream or cool whip too.
The best thing about this strawberry dessert is that you can use fresh or frozen strawberries. You can also use strawberry preserves or strawberry sauce. 1 cup or less of any of these should be good. Adjust sugar in the recipe as needed.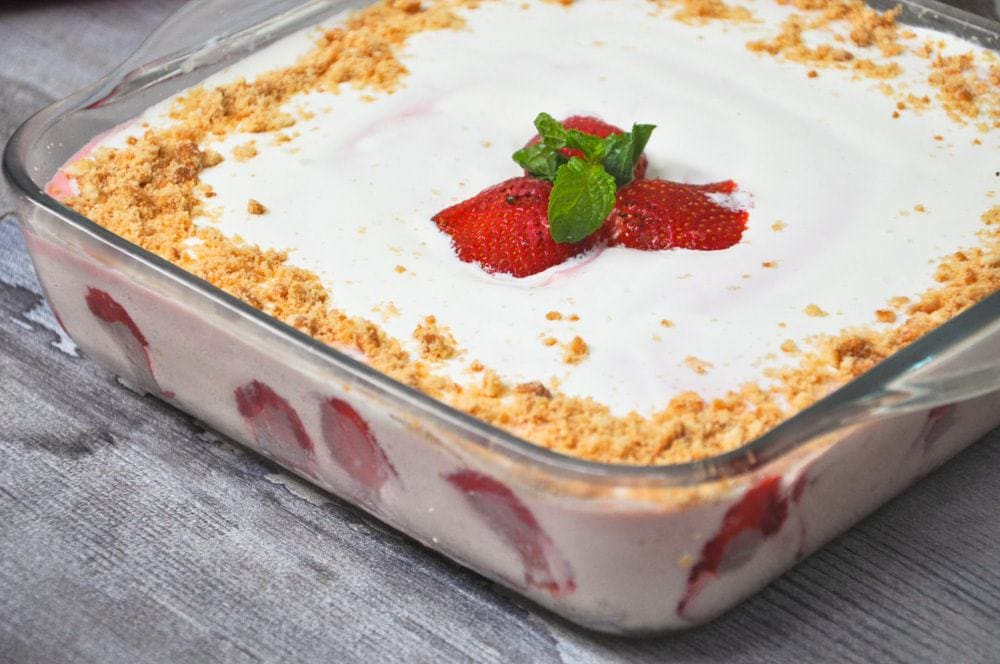 How To Make?
We begin making this dessert with strawberry sauce. You can use strawberry jam (pectin-free) or strawberry puree, or store-bought strawberry sauce too. Make sure to adjust sugar as needed in the Strawberry Mousse with Jello recipe.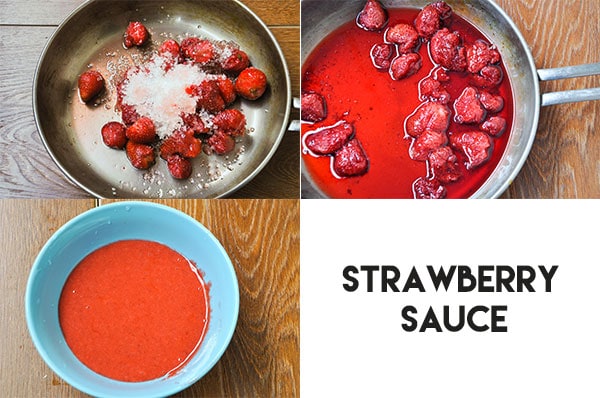 To make the strawberry sauce just cook strawberry with sugar for 10 minutes until strawberry is soft and sugar melts. Cover the lid while cooking. Then blend the strawberries into a smooth puree and set aside. You can also make this sauce 1-2 days ahead and store it in the fridge.
You can substitute this sauce with any real strawberry sauce or puree or strawberry preserve. Adjust or skip sugar as needed in the recipe.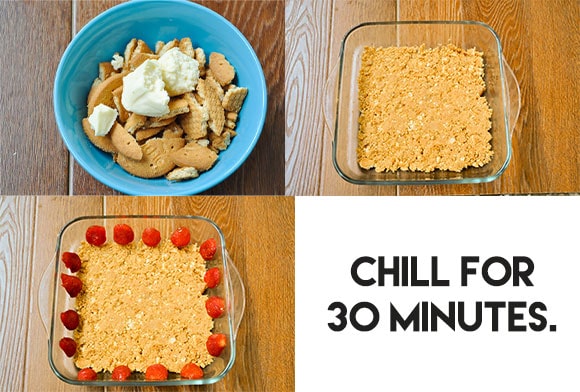 This is a simple biscuit base. Just process biscuit and butter in a food processor until combined. Then spread the crumbly mixture in a 8 X 8 square dish. Press the mixture with a flat mug or something similar. (Use normal biscuits if not on a gluten-free diet.) Let the dish for 30 minutes in the freezer. Then spread the strawberry halves around the dish as shown in pic. The Biscuit base is ready. (Do not freeze strawberries with base.)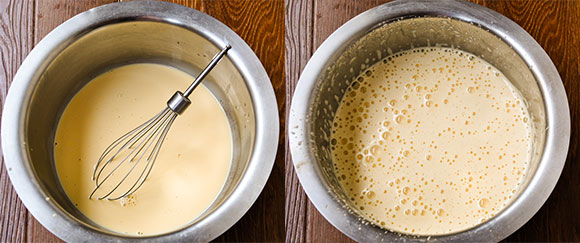 The trick to soft, airy Strawberry Mousse with Jello is evaporated milk. Empty evaporated milk in any steel bowl or vessel. Also, keep the whisk attachment in it and chill in the freezer for 30 minutes. Then beat the milk for 3-5 minutes until fluffy and doubled in volume. (You can also keep the steel bowl over ice water bath if the kitchen is warm.) Set in the fridge again until needed.

Mix Strawberry jello crystals with water and bring to boil. When jello crystals have melted add the lemon juice. Set aside. (From this stage, you need to hurry up a bit, as we need to finish mixing before jello cools. Or alternatively, keep jelly in a hot water bath so it remains warm.)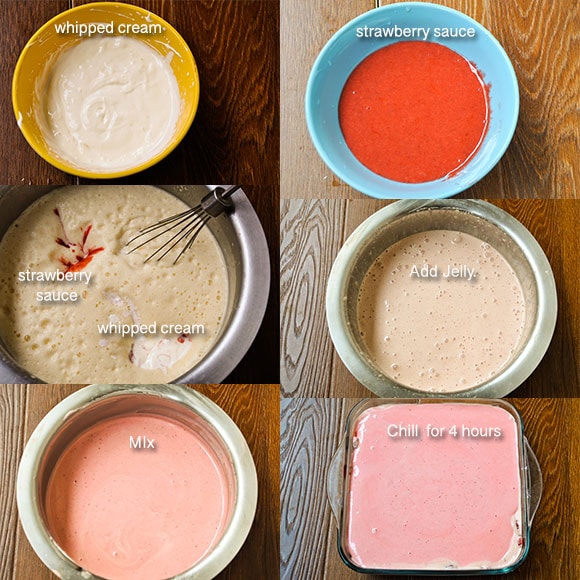 Whip cold cream until it reaches soft peaks. (Use good quality fresh cream for best results, tetra pack cream will work too.)
Mix whipped cream and strawberry sauce in the doubled evaporated milk. Next, add the warm jelly. Mix with a spatula until just combined.
Transfer Strawberry Mousse over the biscuit crumb. (I had a little more than the dish capacity so I transferred it to an extra bowl.)
Chill in the fridge for 4 hours or preferably overnight. Smear with some fresh cream. Decorate the sides with crushed biscuits and center with fresh strawberry halves and mint leaves.
Serve Strawberry Mousse with Jello chilled. Pop in the freezer for 30 minutes before serving, if needed.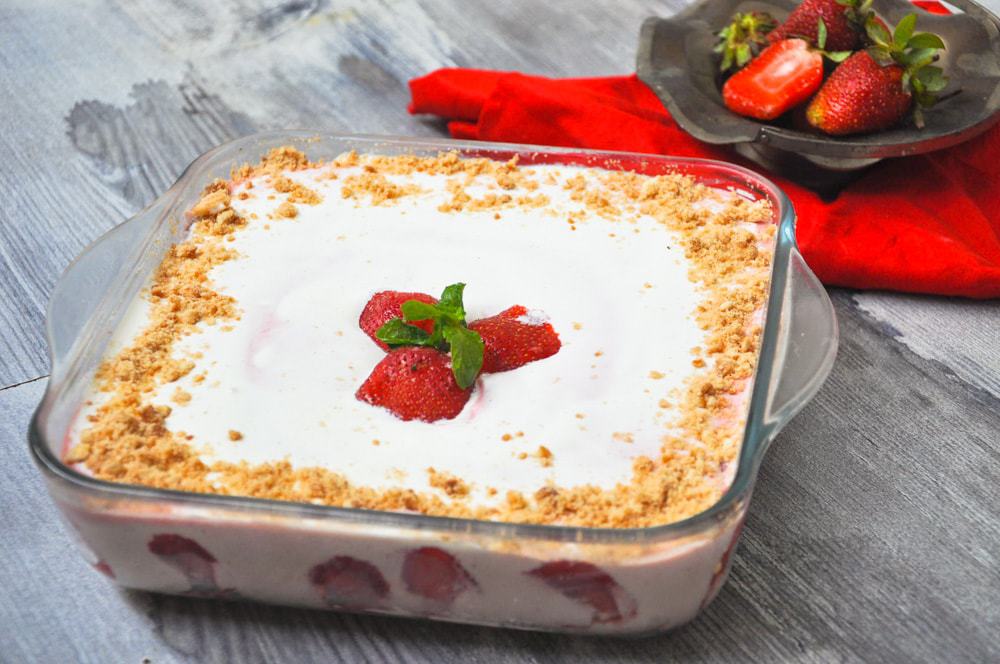 Variations and Tips
Now, I want to reveal the most interesting part of this recipe. You can make this Strawberry Mousse with various fruits and here is how to do it.
Replace 1 cup strawberry with 1 cup of any fruit pulp or juice (like orange, lychees, grapefruit, pomegranate, pineapple, mango, guava, kiwi, etc)
Cooking fruit pulp is recommended as enzymes in some fruits like pineapple and kiwi can hydrolyze Gelatin protein in jelly, (and stop the soufflé from setting) Cooking helps break these enzymes and so we know the souffle will set easily.
In the recipe below, I cooked jelly separately because I had to blend the fruit but if you are using fruit juice like pomegranate, lemon, or orange juice, you can cook your jelly, fruit juice, and sugar together.
I've used strawberry jelly in the recipe, so use the jelly/jello of the same flavor as fruit. If jelly of that fruit is not available, then use lemon jelly instead.
Lastly, if you love richer souffle, you can replace the sugar in the recipe with condensed milk.
If you like intense fruit taste, you can also add juice powder of the same flavor like orange juice powder with orange juice and orange jelly for intense orange flavor.
Hungry for creamy NO-BAKE dessert? Check these.
If you try Strawberry Mousse Dessert with Jello recipe, I'd LOVE to hear your feedback in the comments. Your 5-ratings motivate me to do my best. Stay connected for more recipes and videos on Facebook, Instagram, Pinterest and Youtube.
📖 Recipe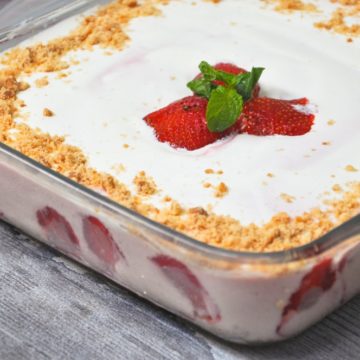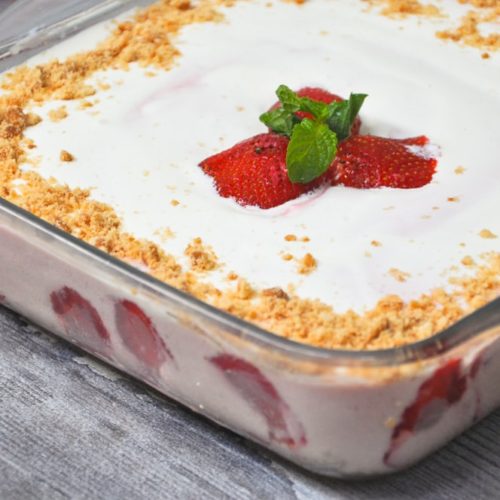 Strawberry Jello Mousse
This recipe makes a soft mousse that is jiggly. Use 1 ½ packet jelly for firm Mousse.
Print
Pin
Rate
Ingredients
Strawberry sauce (fruit pulp)
1

cup

strawberry

,

hulled and chopped

6

tablespoon

sugar
For Biscuit base
16

Digestive biscuit

,

or any wheat biscuits

3

tablespoon

butter

8

strawberries

,

hulled and cut in half
For Soufflé
1

packet (80 grams )

strawberry jello

,

(regular jelly)

½

cup

water

4

tablespoon of

lemon juice

1

can

evaporated milk

,

chilled

1

cup

cream

,

chilled
Garnish
4

tablespoon

fresh cream

2

nos

strawberry

2

nos

Digestive biscuit

,

crushed
Instructions
For strawberry sauce:
Cook the chopped strawberry with sugar for 10 minutes on medium low heat until sugar has melted and strawberries are soft. Blend the strawberry into a smooth sauce and set aside to cool.
For Biscuit Base:
Crush biscuit and butter together in food processor. Spread biscuit in a 8 inch square dish. (You can also make 8 individual servings. )

Place strawberry halves on the sides of the dish. Place the dish in the fridge to chill for 30 minutes.
For Souffle
In a pan mix jelly content, water and lemon juice. Bring it to boil and cook until gelatin crystals are dissolved. Set aside to cool. (We want it warm but not hot).

In a large bowl, beat chilled evaporated milk with whisk attachment of beater or food processor until doubled in volume. Set aside.

Beat chilled cream in a bowl until it reaches soft peak.
Assembling:
Pour strawberry sauce and whipped cream in doubled evaporated milk. Beat with whisk just until combined.

Nowl, mix in the jelly with a rubber spatula.

Pour souffle mixture over biscuit base and set in the fridge for 4 hours.

After souffle is set smear the cream over souffle and garnish with crushed biscuit and fresh strawberries.
Notes
You can skip the base and make a baseless souffle.
This dessert can yield 1 medium and 1 small dish.
This dessert can also be made in the springform pan by using 1½ packet jelly.
Check the tips section above the recipe card to see how to make soufflé with fruit other than strawberries.
Nutrition Information