Soft buttery melt in the mouth spinach combined with the mellow sweetness of potatoes and rolled in the garlicky spiced curry, yes we are talking about Pakistani Aloo Palak. Just 30 mins recipe bursting with flavors.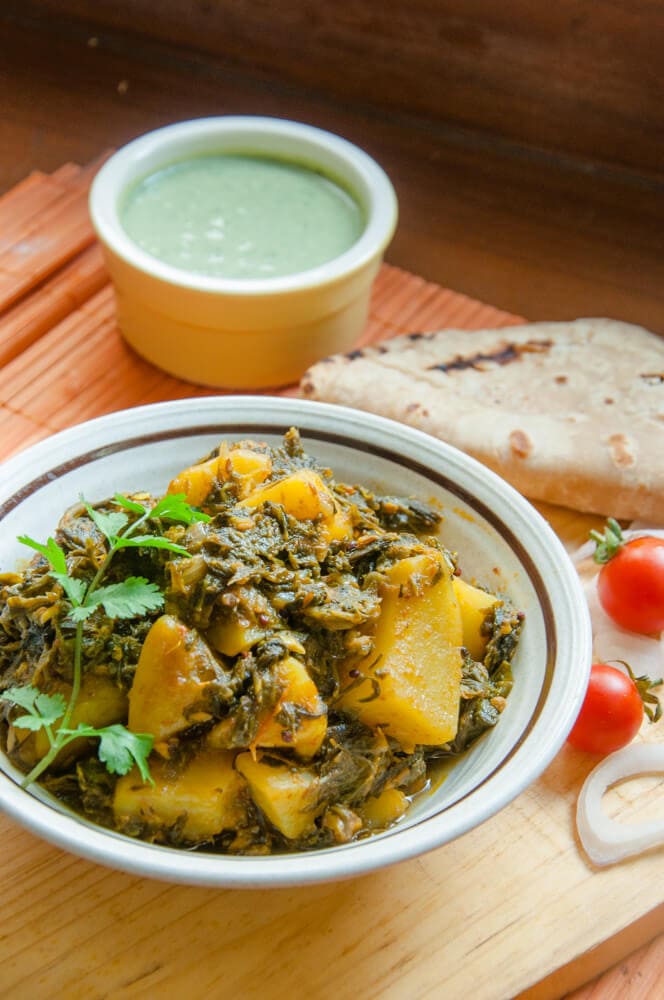 This is a really easy peasy and tasty recipe of Aloo palak with photos of each step. Now if you don't know what is aloo palak then let me introduce it. Aloo and palak both are Hindi/ Urdu words. Aloo means potato and palak means Spinach in English. The curried potato and spinach are called aloo palak. Other ingredients used to make aloo palak are onion, garlic, and a few other Indian spices.
Aloo Palak is widely eaten in South Asian countries like India, Pakistan, Bangladesh, and Nepal as everyday vegetarian food. And who doesn't know Palak/spinach is a highly nutritious vegetable; full of iron and folic acid. Let's get some iron power. Check the benefits of spinach here.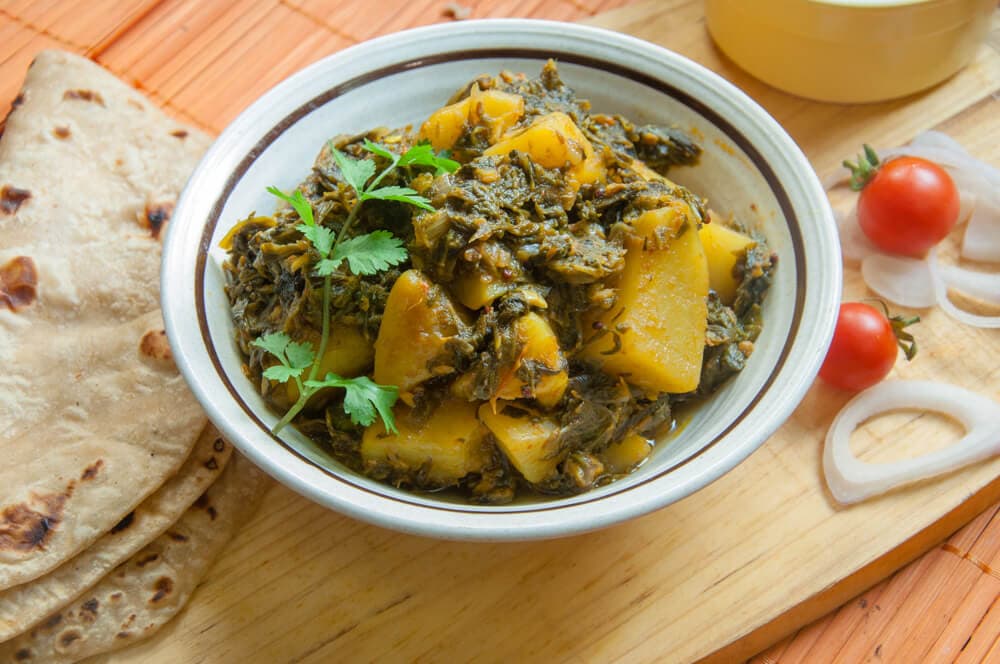 Is palak and saag same thing?
Are you confused? Let me clear all doubts. Palak is referred to spinach alone. Sarson is called mustard green in English. Saag is mixture of spinach and mustard greens cooked together. Saag is widely eaten leafy green in Punjab, a province of India.
So yes, palak and saag taste different for any South Asian taste buds. Palak / spinach is sweeter compared to mustard green which is subtly bitter. And saag is a merry combo with more depth of flavors. The cooking method of palak, sarson or saag is almost same.
How to make it?
Step 1: Fry garlic, cumin, mustard, fenugreek and pepper in a pan. Let these spices pop.
Step 2: Then add green chili paste, ginger paste, tumeric, salt, and coriander powder. Stir and sizzle for another few seconds.
Step 3: Now add chopped onions. Fry onions till they get soft. (3-4 minutes)
Step 4: Add chopped tomatoes and dried fenugreek leaves. Simmer the gravy for 5 minutes. Chop spinach while gravy sizzles.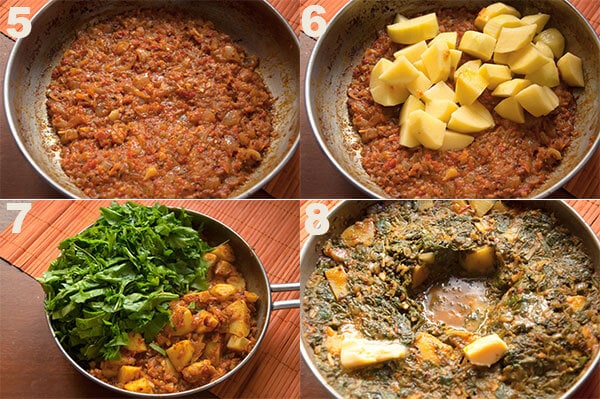 Steps 5: Now most of tomato water has dried and you should a see little oil in the sides of pan.
Step 6 and 7: Add potatoes and chopped spinach to gravy and cover the pot without stirring for 5 minutes. Let the spinach get soft. Now you can easily mix it well. Cover again and cook till spinach and potatoes are tender. (15 minutes).
Step 8: Add butter and dry water on high heat till you see oil on the sides of pan. (bhunna) 2-3 minutes.
Garnish with sliced green chilies and serve with plain yogurt or raita.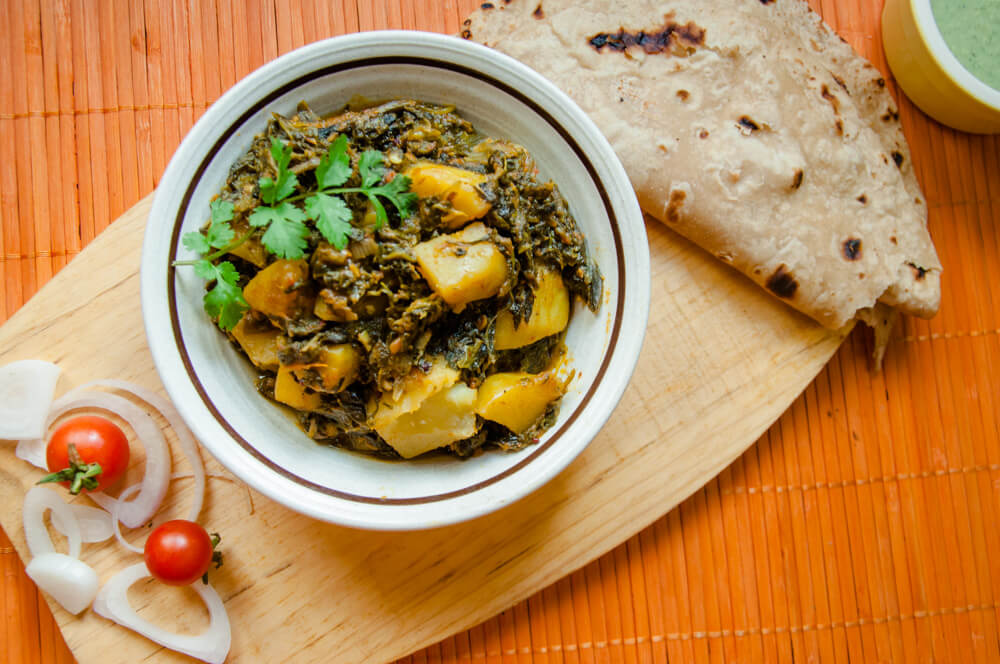 Tips
Try to use fresh, organic, and smaller spinach leaves. They are soft, less bitter, and taste great.
Always remove stems from leaves. In fact, if using spinach with large leaves. Fold the side of each leaf and pull the stem upward to the tip of the leaves to remove the midvein. The midvein of leaves (if thick) do not get tender even after cooking and spoils the texture.
Wash fresh spinach in a large vessel. Pick the leaves from water leaving dust particles in the bottom of the vessel. Repeat this at least 2 times, preferably until water runs clean.
Adding little butter and bhonofying gives the spinach a very buttery taste.
Add tomatoes in aloo palak. Some people make aloo palak without tomatoes but I recommend trying this version with tomatoes. You won't regret it.
Mustard seeds and Fenugreek seeds in this recipe add both taste and health benefits. Plus, your kitchen will smell like an Indian restaurant. But if you don't have any of the two ingredients, just skip it.
Have aloo palak it with roti, plain rice or khichri ( lentil rice), pickles, kachumbar or yogurt. And treat yourself with a hearty Pakistani spinach potato curry.
What to eat with Aloo Palak?
Pakistani Aloo palak is very can be eaten with nay bread or flatbread like naan, roti or chapati. I can be paired plain or zeera, khichdi, or pulao.
How to store?
Aloo palak can be stored in the fridge for 2-3 days. After that, it won't taste so good. You can freeze palak for 2 months. I suggest remove the potato and freeze the palak alone as potatoes tend to get mushy upon defrosting.
What to do with leftovers?
You can mix leftover aloo palak with meat curry or chicken curry to make palak chicken or palak gosht. Similarly, you mix it with vegetable curry too. Palak tastes great in curry but remember that palak will alter the color of dish and taste too.
You can dry out all water in palak. Then mash potatoes in the palak and make aloo palak paratha. You might need a few adjustments like adding chilies slices and finely chopped onion. I like to add some shredded too. This makes a delicious snack or quick lunch utilizing the lefovers.
Hungry for more Indian Veggie recipes? Try these.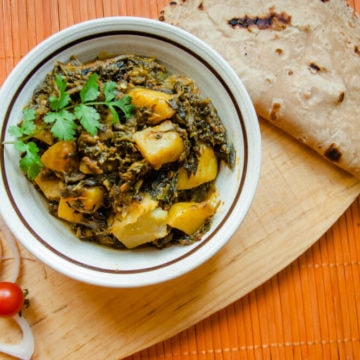 Pakistani Aloo Palak Recipe
Use fresh organic and baby spinach and bhunofy Pakistani aloo palak well. You'll end up polishing your plate.
Print
Pin
Rate
Ingredients
4½

cups

Fresh spinach without stems

,

tightly packed ( see notes for measures in grams)

4-6

tablespoons

oil

,

less or more to personal preference
Spices
3

cloves

garlic

,

finely chopped

1

teaspoon

cumin

,

(sabut zeera)

½

teaspoon

fenugreek seeds

,

(methi dana)

½

teaspoon

black mustard seeds

,

(sabut kali rai)

4

pepper corns

,

(kali mirch)

1½

tablespoons

coriander powder

,

(dhanya powder)

½

teaspoon

turmeric powder

,

(haldi)

1

teaspoon

ginger paste

,

(adrak)

1 to 1½

tablespoons

small green chili paste

,

adjust to spice preference

1

teaspoon

dry fenugreek leaves

,

(sukhi meethi)

¾

teaspoon

salt

,

or to taste
Vegetables
2

medium (250 gram)

onion

,

roughly chopped

3

medium (200 gm)

tomatoes

,

chopped or puree

3

medium (300 grams)

potatoes

,

peeled and sliced

1

tablespoon

butter

,

optional
Garnish
2

medium

green chilies

,

thick slices for garnishing
Instructions
Wash spinach leaves in a large vessel and drain water in a colander.

In a pan, fry garlic on a medium low flame for 10 sec. Then add whole spices (cumin, fenugreek seeds, mustard seeds). Let them pop and then add powdered spices, coriander and turmeric.

Finally, add wet spices, green chili and ginger paste. Fry well so the flavors are released.

Add chopped onion and salt. Fry till onions are soft, around 3-4 minutes.

Now, add tomatoes add dry fenugreek leaves. Cover and simmer for 5 minutes on medium low flame till tomato soften and color darkens.

While gravy is simmering, chop spinach leaves,. Add potatoes and spinach leaves to the gravy too, cover and cook for 15 minutes.

Add butter and fry on high for 2 minutes untill oil release.

Garnish with green chilles and serve.
Notes
Spinach Substitute:
If measuring fresh spinach with large leaves and stem, weigh 750 grams for this recipe, then remove them stems.
If measuring baby spinach, or spinach without large stem. Use 450 grams for the recipe.
If using frozen spinach, use 450-500 gram.
If using blanched or boiled spinach, measure 1½ cup tightly packed.
Nutrition Information
How do make your palak sabzi? I'm waiting to read your responses in comment.