I love mix vegetable curry, I can climb Nanga Parbat (base camp only) and scream that I love this mixed vegetable curry recipe. And that I'm very particular about mix vegetables. This post is intended less to just tell my mix vegetable curry recipe but more to shows you what numerous options you have to make this curry interesting every single time. YUM! And in every season you can add your fresh vegetables and herbs in-season.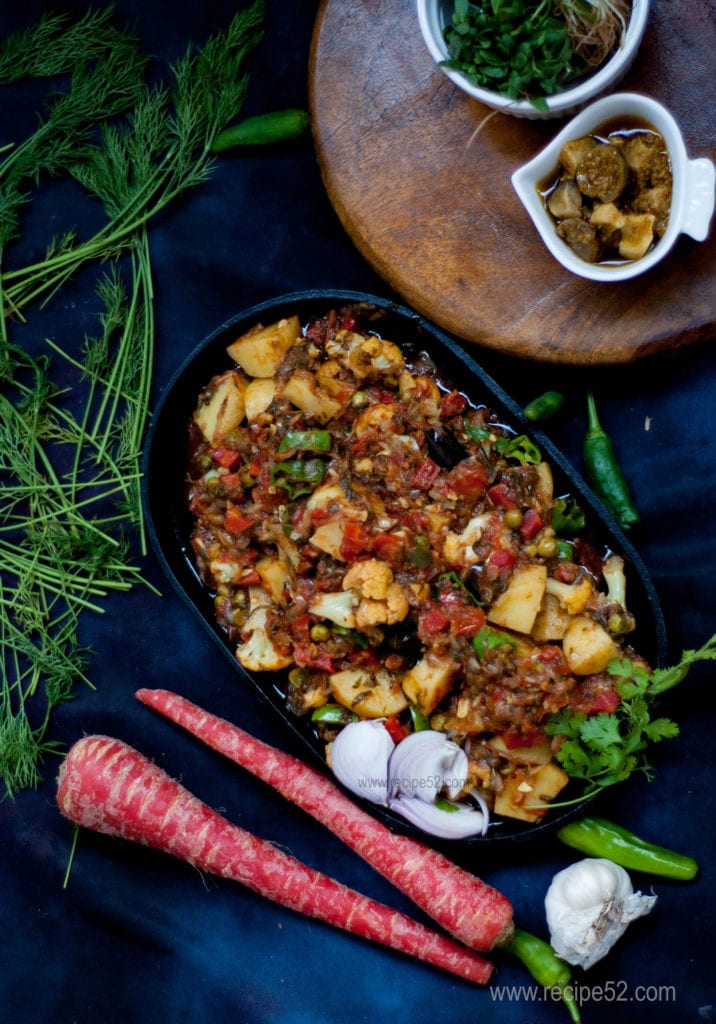 One more reason why I love mix sabzi is that every bite brings a different vegetable and so every bite tastes different. Isn't that a delight? Well, I love my vegetable curry as much as my meat. I have a sweet tooth, a meat tooth, and a desi tooth. Pretty much of a foodie, no?
Some people eat very selective vegetables. For them, mix vegetable curry comes in handy when you can add so many vegetables to your diet and all at once and eat a little of all vegetables. This recipe is also useful when you have only 1 or 2 pieces left of all vegetables in the fridge. You can fix them all in one curry before you go for the next grocery trip.
Mixed Vegetable Curry
Mixed or mix vegetable is a typical Indian sub-continental onion tomato curry with loads of mixed vegetables. Read the benefits of eating vegetables here.
If you are of desi origin and looking for mix vegetable curry. I can tell you, this is a very intimate dish. Yes! there are literally hundreds of variations of different region both in spices, veggie options, herbs and cooking style. You have to call your mom, granny or aunt for you family recipe.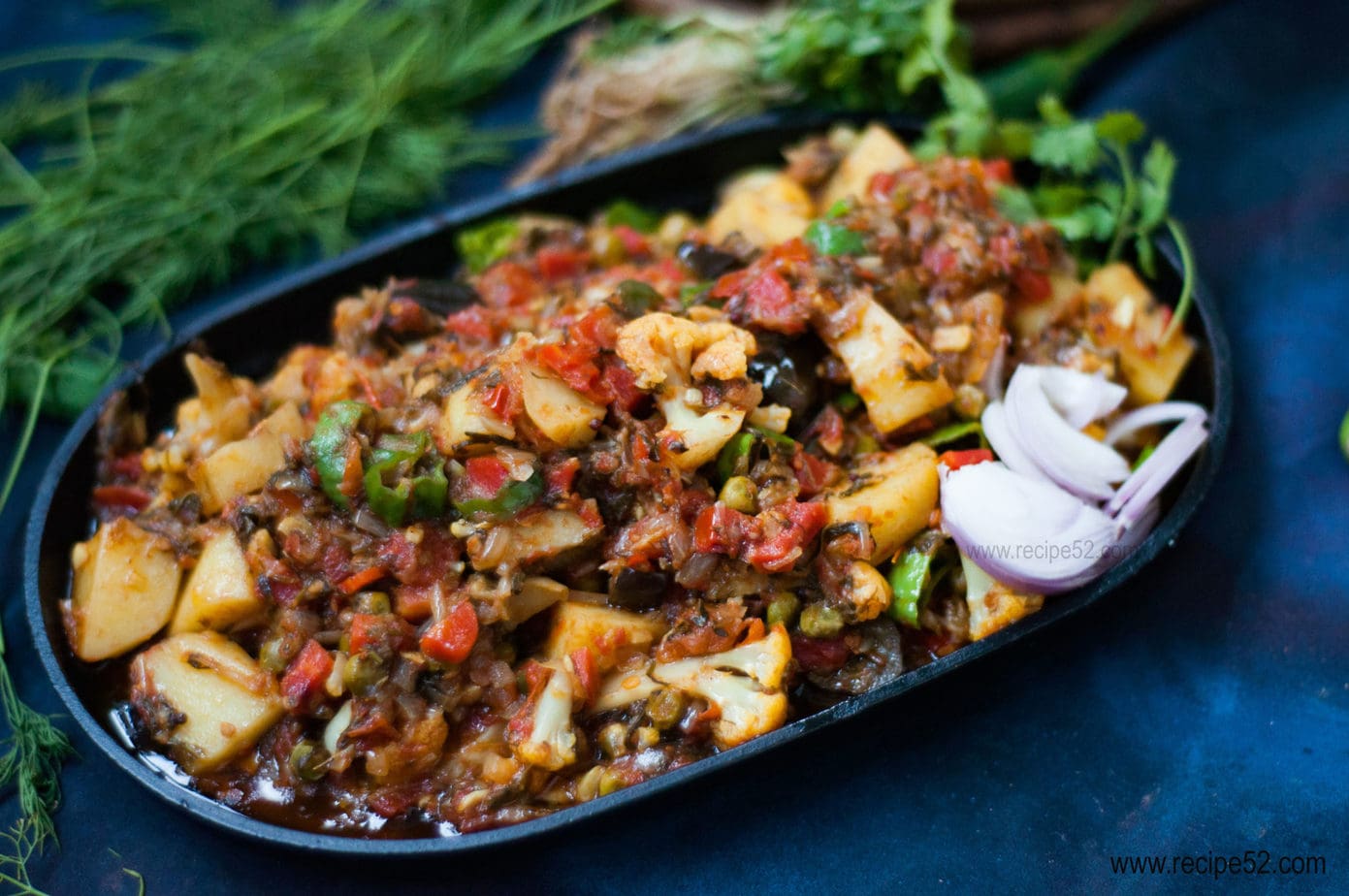 Variations for Mixed Sabzi or Sabji:
Below is my best version of this Pakistani mix vegetable curry and the list of veggies, herbs, and spices. It is my little endeavor to show you what possible options of ingredients go well so you recreate your own the best version.
Veggie option:
Carrot, cauliflower, potatoes are must in a mixed veg curry. Other common additions are bottle gourd, spinach, green pea, clustered bean, and eggplant. Cabbage, drumsticks, mushrooms, corns, zuchinni, french beans, baby corn, asparagus, broccoli are less common but delicious choices to add to this curry. So bottom line is add whatever vegetable you have in hand and you like best.
Lentil options:
I know, this might seem super unusual to Pakistanis but mung dal or whole green lentils and lobia go very well in mixed vegetable. You can simply boil lentils with salt turmeric. Then add it to curry along veggies.
Dairy Additions:
Another regional variation that I learned from Tarla Dalal's cookbook was the addition of cream, coconut milk, or yogurt to mixed vegetables. The below Pakistani mix sabzi version is non-dairy.
Nut:
Amongst nut cashew or almonds are usual additions when making shahi vegetable curry.
Greens:
In this recipe, I'm using fenugreek and dill leaves. Both herbs add a distinct aroma to the sabzi but if you do not like both, feel free to skip it.
Tips to make best mix vegetable curry:
Freshness of ingredients really matters. Try to use freshest vegetables and freshly chopped ginger and garlic. If you have to use frozen veggies, frozen pea and frozen spinach work well. Try to use all other veggies fresh.
Vegetables are delicate, if reheated again and agin they lost both taste nutritions. So try to serve in 2-3 hours of cooking the curry.
Keep vegetables chunky and avoid over cooking as no one enjoys over cooked and mushy veggies.
How to make mix sabzi Pakistani Style
This is my mother in law's mixed vegetable curry recipe that is very similar to Punjabi style and quite perfected so follow it completely. The spice level in this recipe is mild so add more green chili if needed.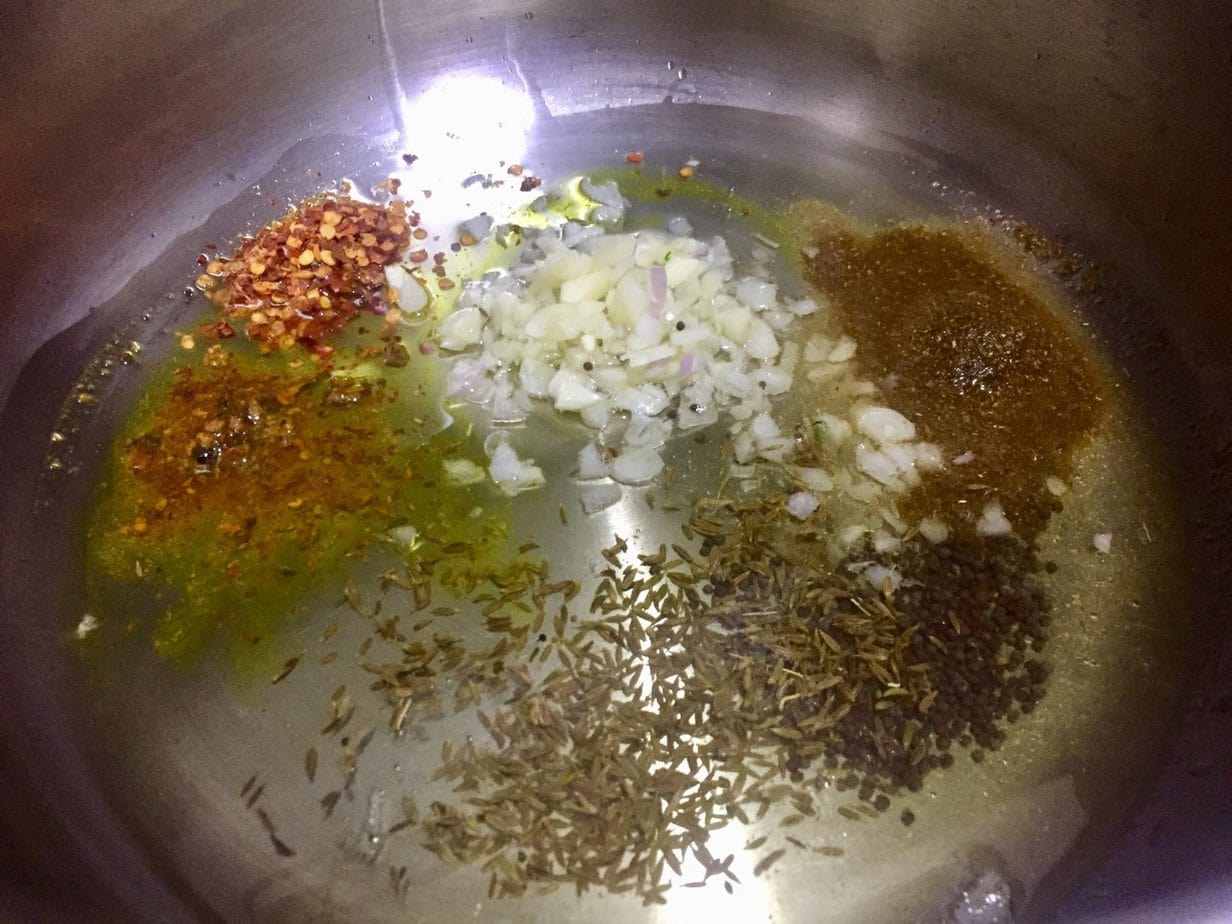 Fry all spices in oil on medium heat for 1 minute until spices sizzle.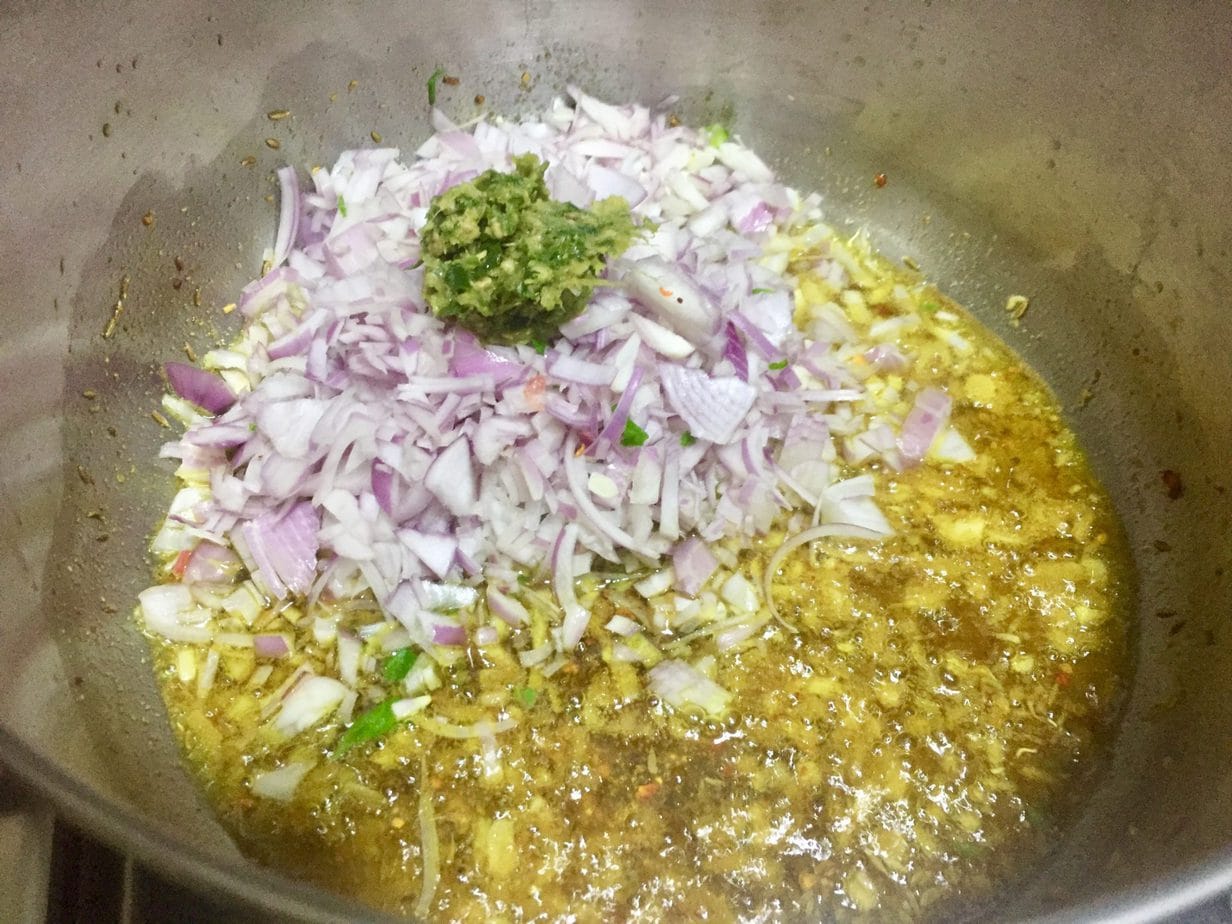 Add onion and green chilli paste and cook for few minutes until onions are transparent.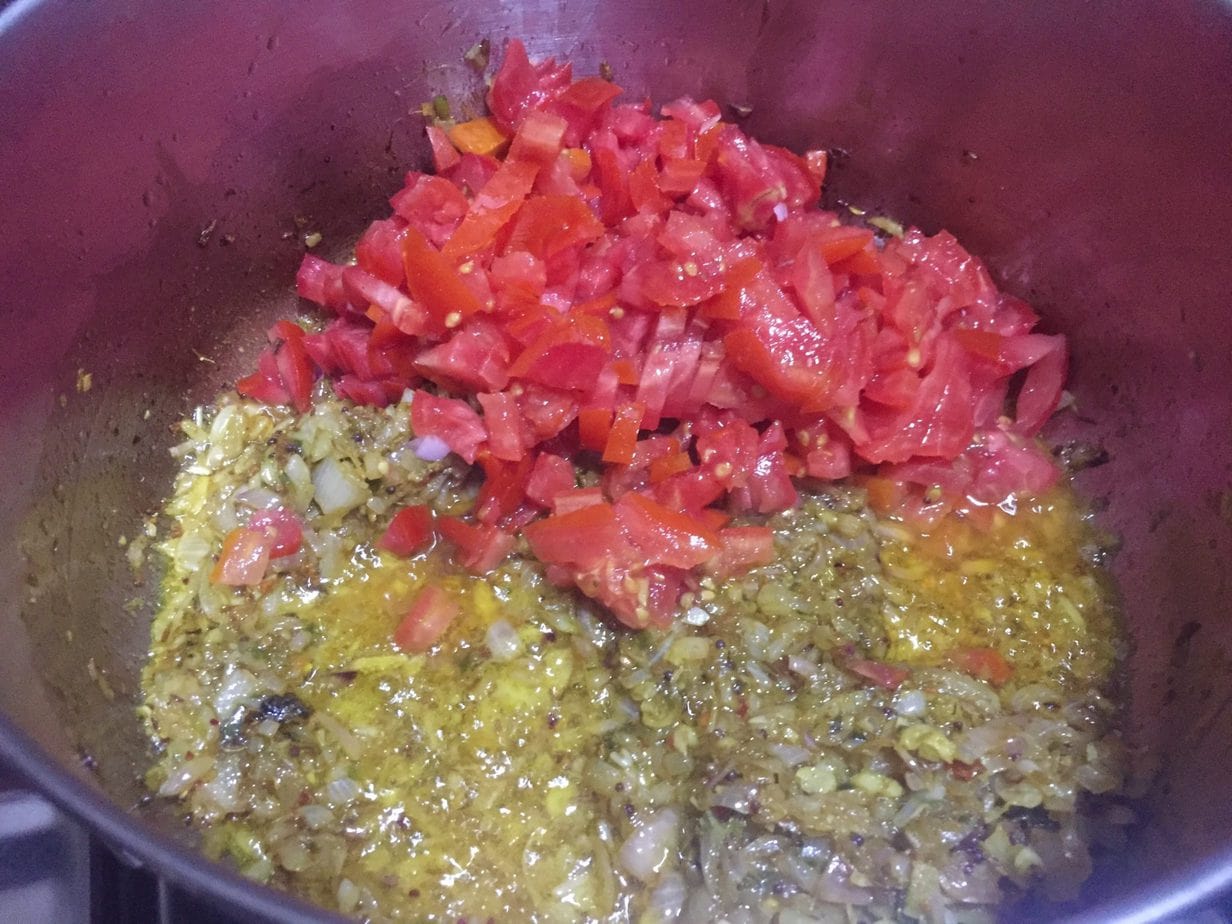 Add tomatoes, cover and cook for 5 minutes until tomatoes are soft. ( YOu may use pureed tomato or tomato paste.)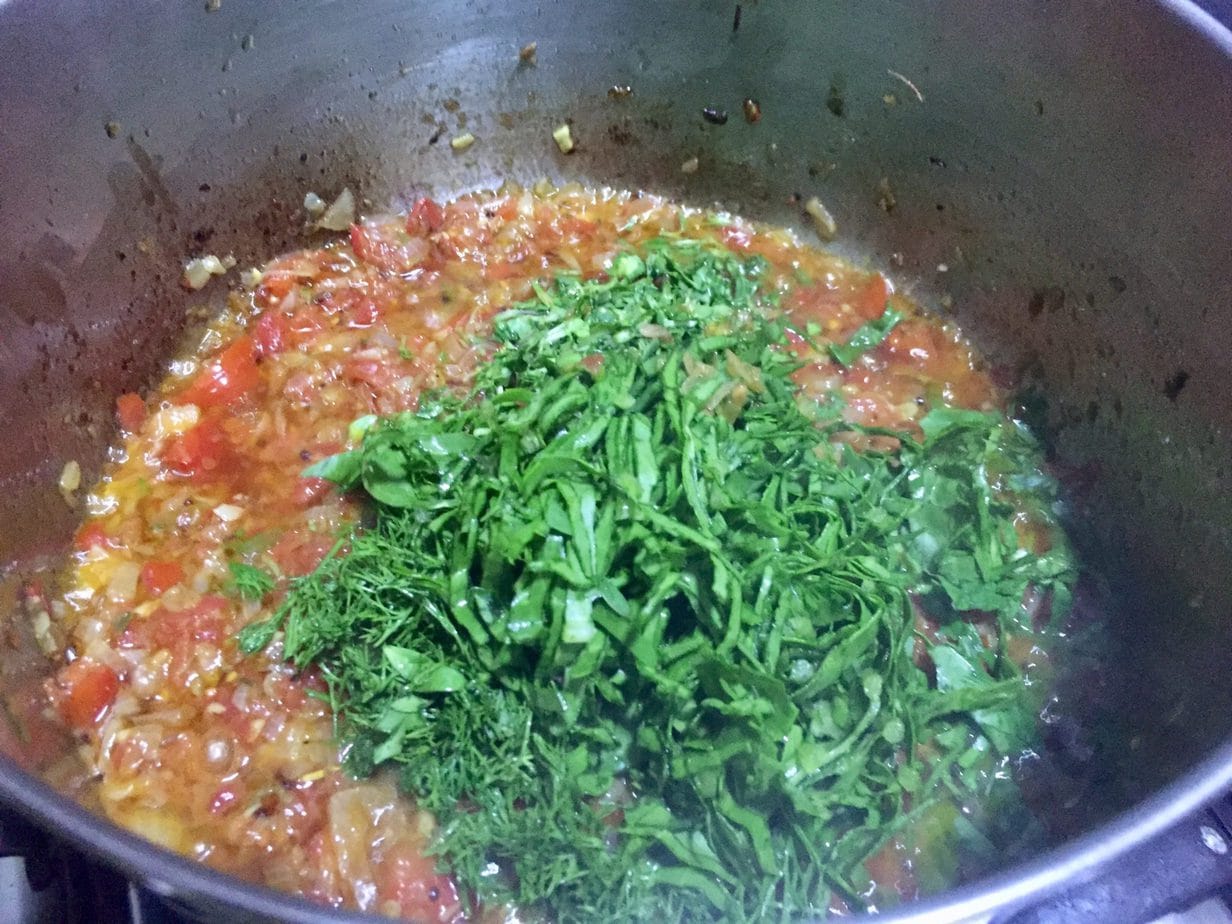 Throw in the greens; spinach, dill leaves and fenugreek leaves.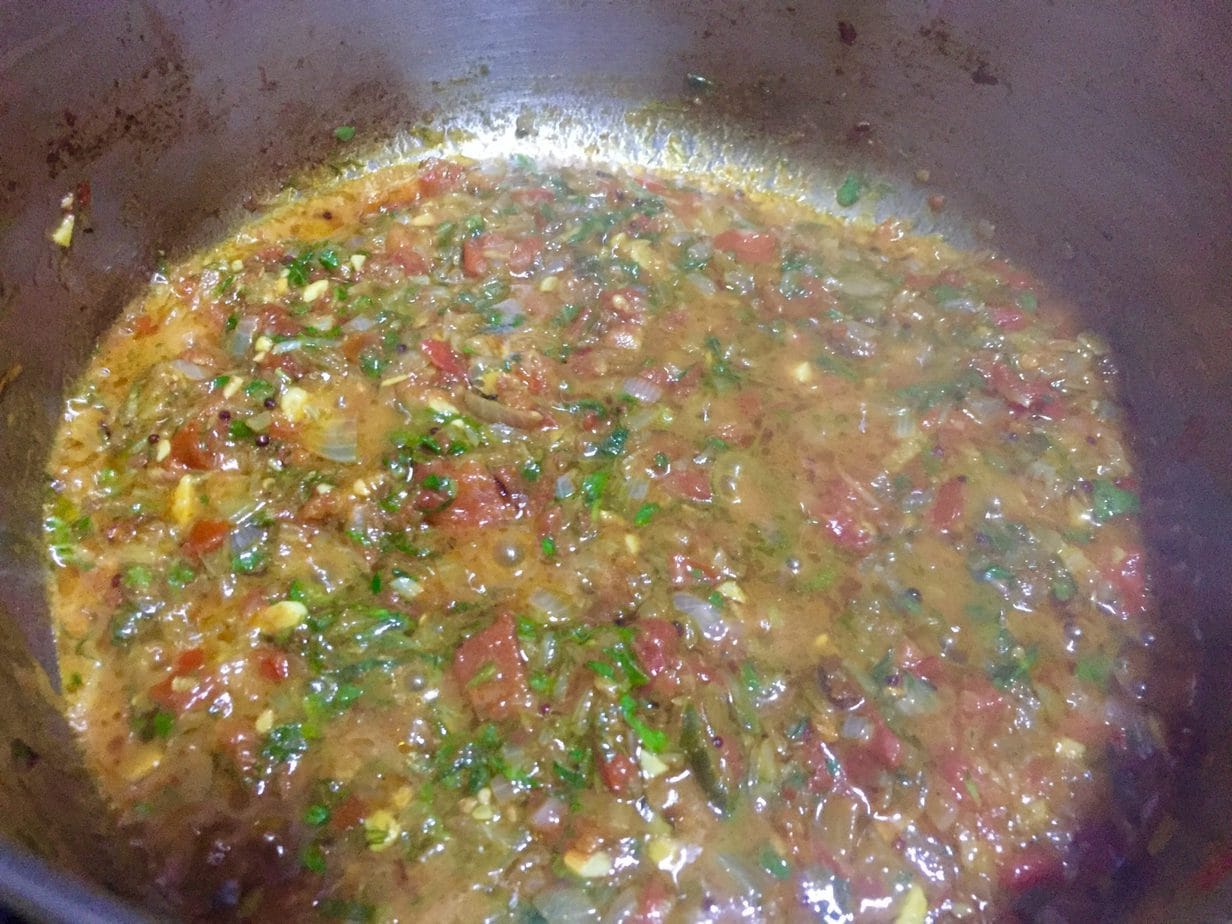 Cook for few minutes.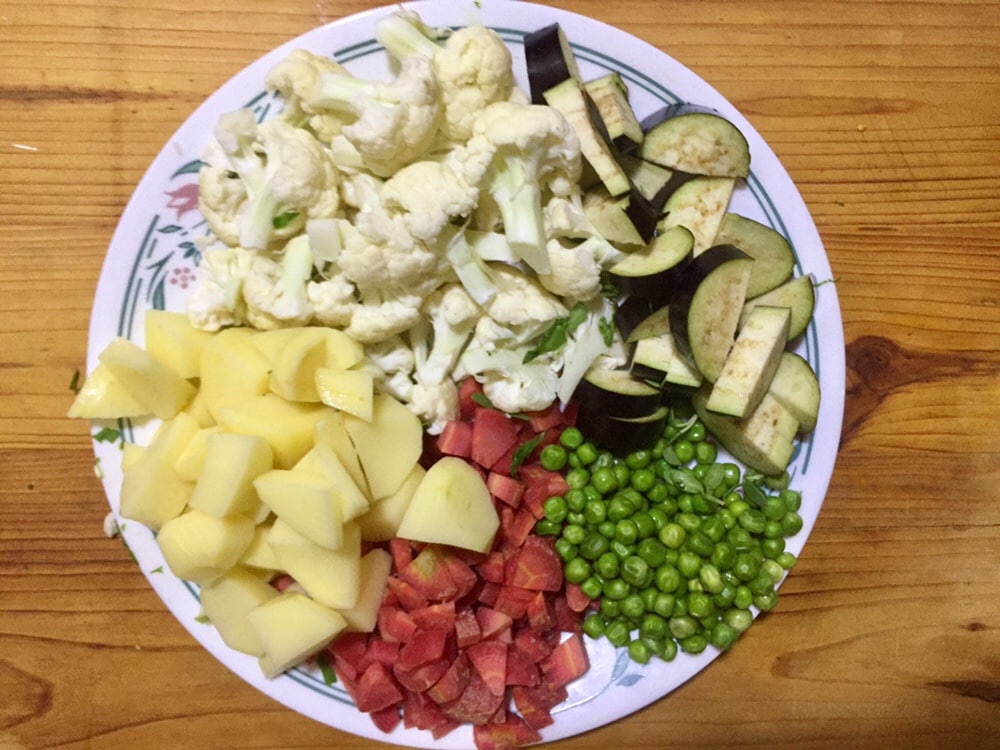 Now, it is time to add veggies. Mix well and cook for 20 minutes on low heat until potatoes are tender.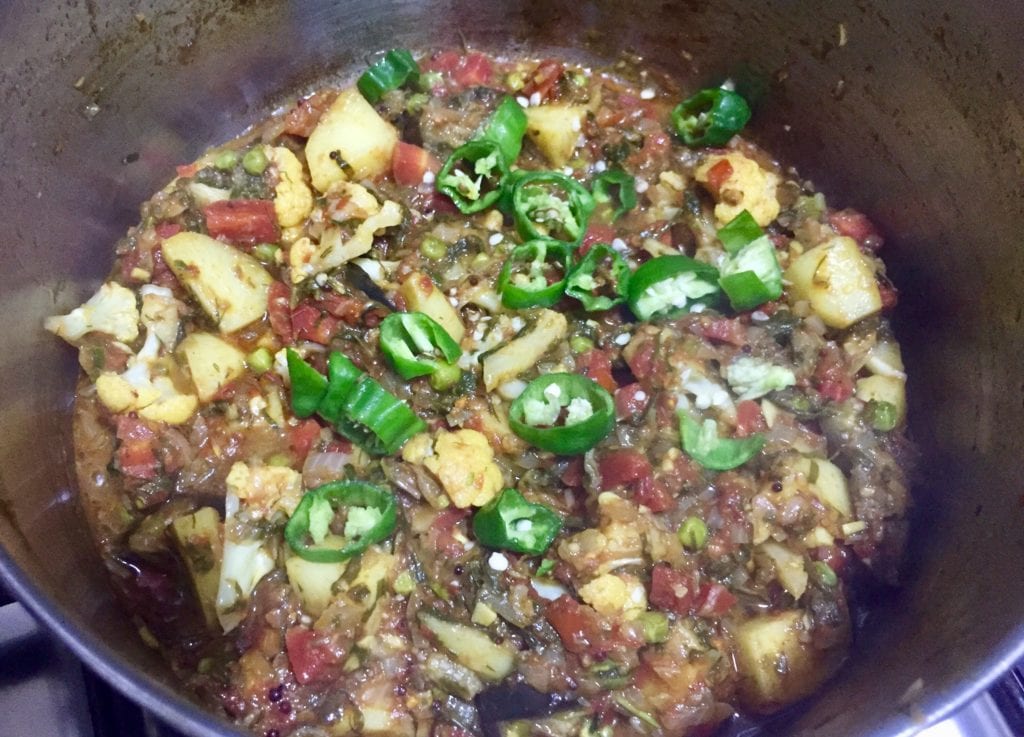 Dry out excess water if any on high heat. When oil separates Mix vegetable curry AKA mix sabzi is ready. Serve with roti, khichri and dahi.
I like mix sabzi with green pulse khichri, kachumbar and plain yogurt. How do you like your? Which chutney or pickle? I would love to know in comments.
Hungry for more veggies? Try these!
Mix Sabzi
This is a comforting blend of vegetables seasoned with herbs and spices that can be served with roti, rice or khichri. Enjoy with yogurt and pickles.
Print
Pin
Rate
Ingredients
Fat
½

cup

vegetable oil

,

(tel)
Spices
1 ½

tablespoon

freshly chopped garlic

,

(lahsun)

1

tablespoon

crushed red chilli

,

(kuti lal mirch)

1

tablespoon

coriander powder

,

(dhanya)

½

teaspoon

cumin seeds

,

(zeera)

½

teaspoon

turmeric powder

,

(haldi)

1

teaspoon

mustard seeds

,

(rai)

½

teaspoon

Garam Masala Powder

,

(garam masala)

1 ½

tablespoon

green chilli paste

,

(hari mirch)
Vegetables
2

(200 grams)

onion

,

(piyaz)

4

(200 grams)

tomato

,

(timatar)

1 bunch

(125 gram)

spinach

,

(palak), stem removed and chopped

2

tablespoon

fenugreek leaves

,

(meethi bhaji)

2

tablespoon

dill leaves

,

(suva bhaji)

2

(125 gram)

carrots

,

(gajar), cut in small cubes

½

(125 gram)

cauliflower

,

(phool gobi), cut into small florets

2

(200 gram)

potato

,

(aloo), cut in cubes

1

(50 gram)

brainjal

½

cup

boiled green pea

,

(matar)
Garnish
Fresh coriander / cilantro

,

to garnish

Ginger

,

cut in julliene, optional

Chilies Slices

,

to garnish
Instructions
Fry garlic, crushed red chillies, coriander powder, cumin seeds, mustard seed and all spice powder in oil for 1 minutes on medium heat.

When spices sizzle, add onions and green chilli paste. Fry for few minutes until onions are soft then add tomatoes and mix well. Cover and cook for another 5 minutes.

Now, add spinach, dill leaves and fenugreek leaves, cook for 2 minutes.

Mix in chopped carrot, cauliflower, potato, brinjal and green pea.

Cover and cook on low heat for 20 minutes. When veggies are cooked. Sear , (bhonofy) on high for few minutes until oil separates.
Nutrition Information
Calories:
274
kcal
,
Carbohydrates:
7
g
,
Protein:
2
g
,
Fat:
28
g
,
Saturated Fat:
22
g
,
Sodium:
55
mg
,
Potassium:
138
mg
,
Fiber:
3
g
,
Sugar:
2
g
,
Vitamin A:
866
IU
,
Vitamin C:
10
mg
,
Calcium:
31
mg
,
Iron:
1
mg