If you love your beefsteak and like some chilies in your food, this beef chilli dry recipe will charm you with its deliciousness in every bite. This is hot and spicy Chinese beef recipe has very few ingredients, comes together in 30 minutes.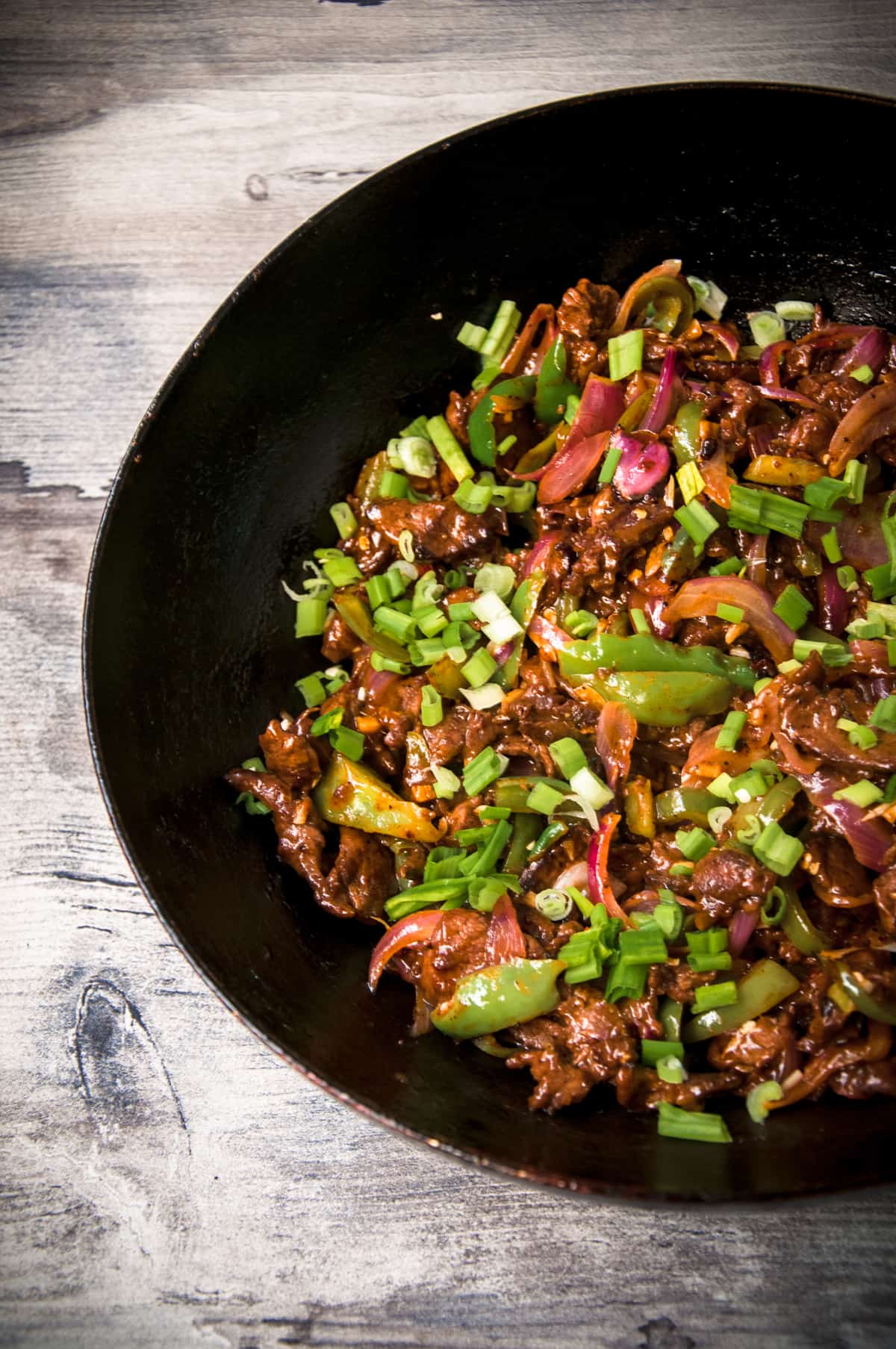 Beef Chilli Dry is stir-fried beef rolled in Chinese sweet and spicy veggies sauce. The beef is mixed with sliced, chilies, bell pepper, onions and green onions.It is usually paired with fried rice.
This Beef chilli dry recipe will remind you of hot and spicy Chinese stir-fried beef. The recipe is not traditionally Chinese, in fact, originated in South Asia from some ethnic Hakka Chinese chefs
As the Indo-Chinese cuisine flourished in Kolkata in un-divided India many new recipes originated to please the local taste buds.
While chicken and vegetarian Indo-Chinese dishes are more famous in India, this beef chilli dry is more of Pakistani-Chinese and shows the love of Pakistani for beef. You can read more about Indo-Chinese cuisine here.
Jump to:
Why does this recipe work?
Try these techniques and this beef chilli dry recipe will work for you just like it does for me.
Velveting: We coat the meat slices with cornflour not for crusting but for velveting; it is a Chinese technique to tenderize the meat and retain its juices. Read more at Bonappetit.com
Shallow frying technique: Most recipes call for deep or shallow frying when velveting. I've been experimenting a lot with it and found frying meat in 2-3 tablespoons in batches provides similar results with less oil. We'll discuss it in detail below.
Frying in batches: Frying in 2 batches in a wok or large frying pan works best. Fry on high heat so you have golden and crispy edges.
Ingredients
The ingredients of beef chili dry are Beef, ginger, garlic, green onions, onions, capsicum, chili, vinegar, pepper, brown sugar, soy sauce, ketchup, oil and cornflour.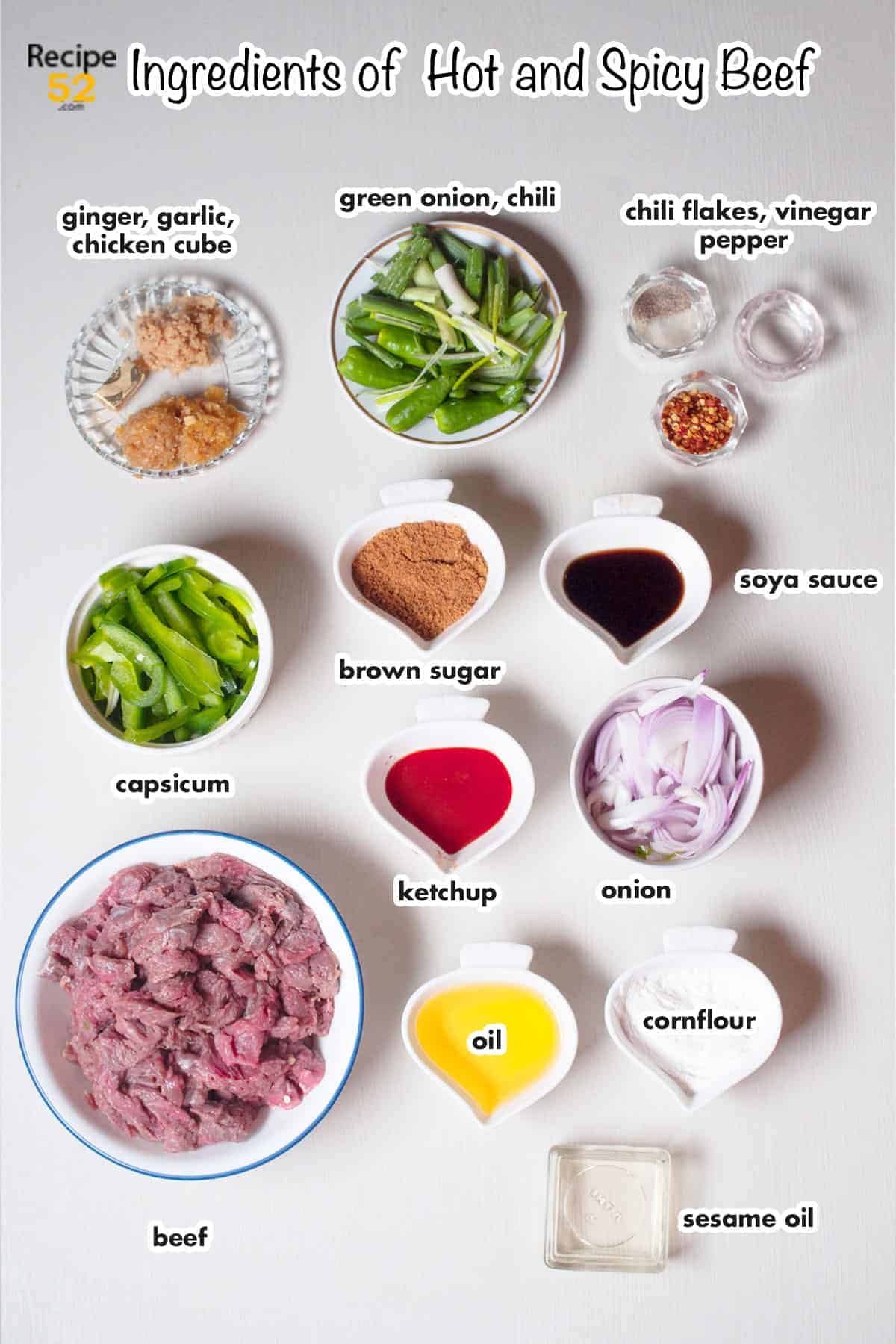 Best beef cuts to use
The cut of beef you use is most crucial in any stir fry beef recipe like Spicy Mongolian Beef Recipe. Look for quick-cooking frying beef cuts like tenderloin (under-cut), sirloin, or flank steak. A good soft and juicy bite is the charm of this recipe. You can learn more here at Delicious Magazine.
How to use economical cuts of beef?
Avoid stewing beef (like Nihari cuts) for this recipe which has a long cooking time. Now, let's be frank! Few of you would still want to use boneless (economical stewing) beef cut to make beef and chili dry, regardless of how much I dissuade you.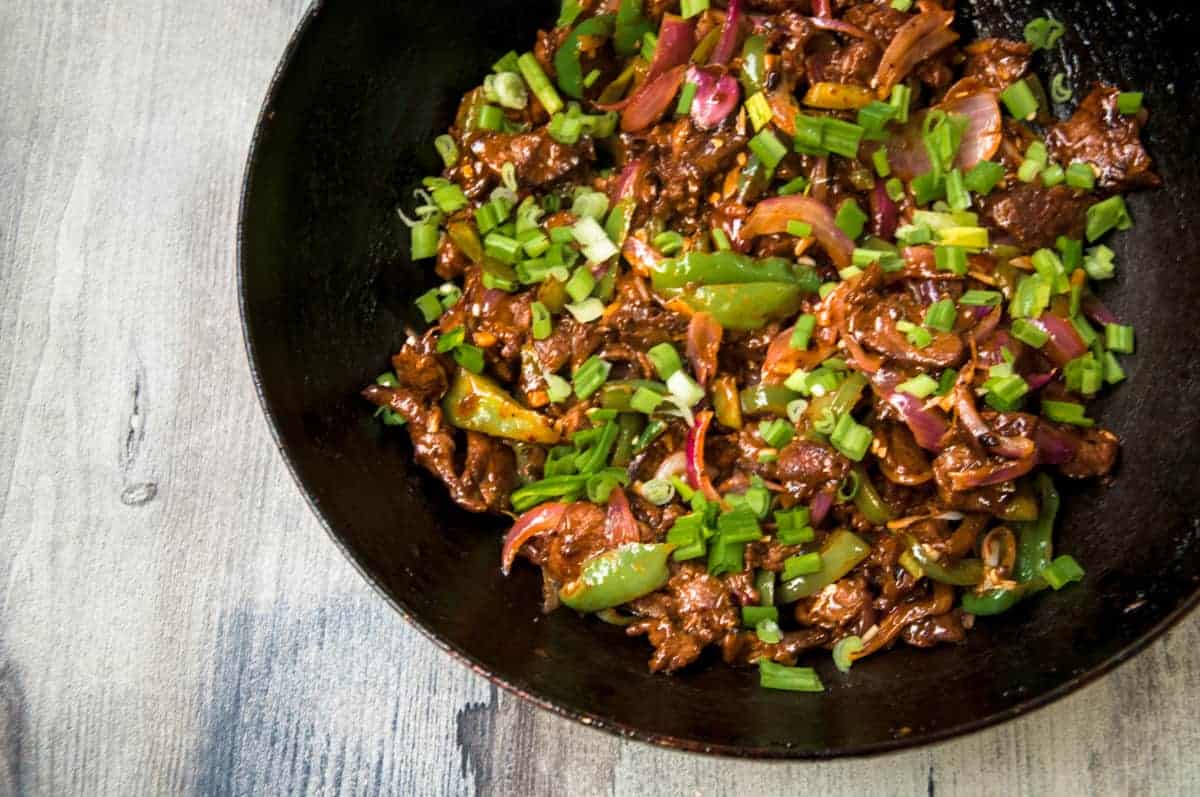 So here's the right way to do it. You need to slice beef and tenderize beef slices with baking soda. Use ¾ teaspoon baking for every 250 grams of meat. Just sprinkle baking soda on the meat and toss it. Then let it rest for 30-40 minutes. After that wash the meat thoroughly. Then you can proceed with the recipe. Read more at Recipetineats.com.
How to cut beef?
As a rule of thumb, you always slice meat against the grains. Grains are lines on the meat and you need to slice the meat against those lines. This makes the meat less chewy to bite.
How to make it?
Making Chinese hot and spicy beef or beef chilli dry is very easy. Begin with stir-frying the beef.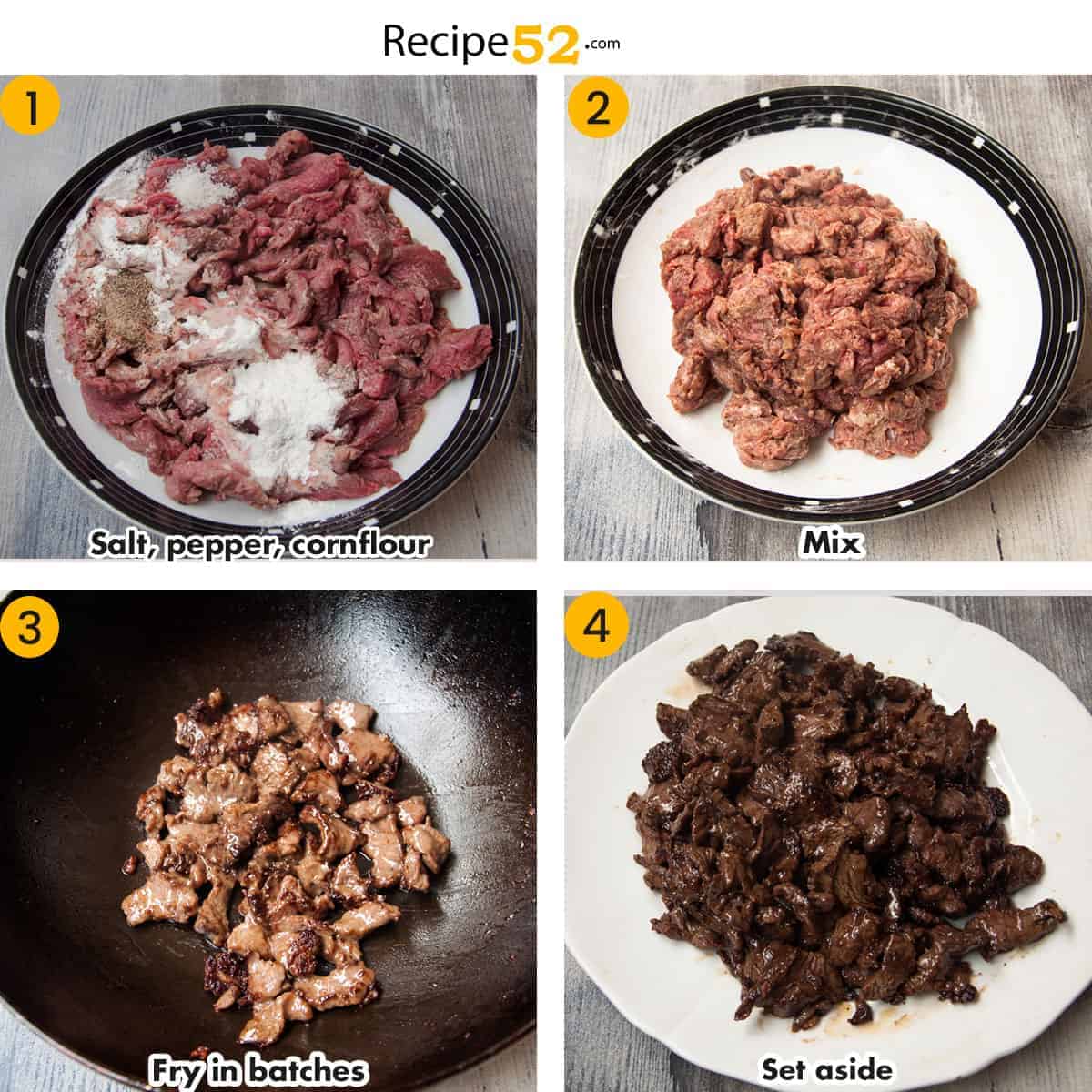 Whatever beef cut you choose, flank steak, sirloin, or tenderloin (also called under-cut) cut it across the grains. Wipe off any water with a kitchen towel. Add cornflour salt and pepper to the beef strip.
Mix well. ( We are coating it with flour for velveting not crusting.)
Fry meat in 3 batches in a nonstick pan with just one tablespoon of oil until golden. Add more oil as needed to fry. Most recipes call for shallow or deep frying but, this is a healthier way to do it and gives the same result. If there are some burnt bits in the pan, wipe off the pan with a tissue before adding another batch of beef.
Then gather all fried beef strips on a plate and set them aside. WOOH, we are done halfway.
Fry ginger, and garlic in little oil for 1 minute until you see it is about to turn golden then add all the remaining ingredients of seasoning and give it a stir.
When you see a few bubbles on the side of the sauce add the veggies and stir-fry on high heat for 1-2 minutes until onion slices soften a bit.
Add the fried beef and mix well.
Make a cornflour slurry by mixing cornflour and water. Add to the sauce. Cook until the sauce turns translucent and shines.
Give the beef chilli dry a few stirs on high heat to develop that exotic aroma then garnishes it with green onions (green parts only) just before serving and serve immediately.
Expert Tips
Veggie options: The usual veggies in beef chilli dry are onions and capsicum. You can skip veggies altogether or reduce them too. If you love veggies then you can select and add these too.
Match stick Carrots
cellary stalk, julienned
Colored bell peppers for more color
Brocolli
Baby corns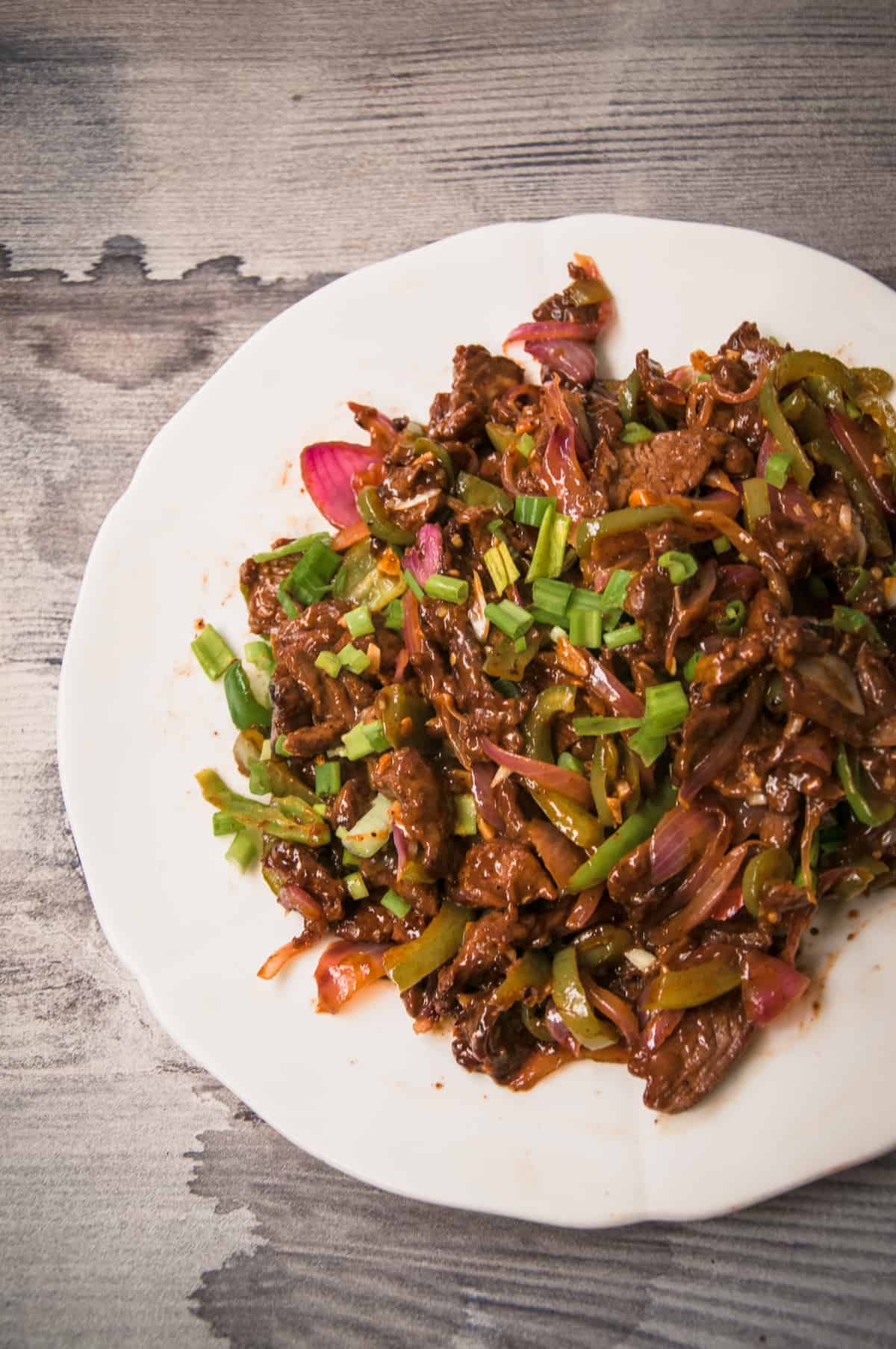 Recipe FAQ
What can be eaten with hot and spicy beef?
Chinese style hot and spicy beef pairs best with rice. You can choose from Veg Fried rice, garlic rice, herb rice, or just plain rice.
How to scale this recipe?
If you scale this recipe to 2 X. just be sure to cook in batches or in two separate woks. This is necessary that you don't overcrowd the food.
How to store beef chilli dry?
You can store beef chili in the fridge for 2-3 days to freeze it for 2 months.
Hungry for Beef? Check these!
If you try this beef chilli dry recipe, I'd LOVE to hear your feedback in the comments. Your 5-ratings motivate me to do my best. Stay connected for more recipes and videos on Facebook, Instagram, Pinterest, and Youtube.
📖 Recipe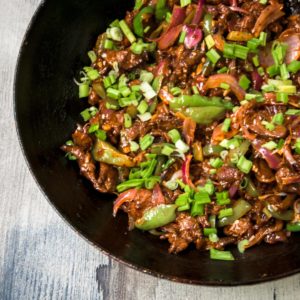 Beef Chilli Dry
Read notes for the cut of beef and adjust chilies to taste.
Print
Pin
Rate
Ingredients
For beef
500

gram

beef

,

use tenderloin, sirlion, undercut, flank steak or frying beef, see notes.

3

tablespoon

flour

½

teaspoon

pepper

½

teaspoon

salt

1

tablespoon

soy sauce

Few

tablespoons of

oil

,

to fry
For stir fry
2

tablespoon

sesame oil

,

or any neutral oil

1½

tablespoon

minced garlic

1

tablespoon

minced ginger

2

tablespoon

chilli garlic sauce

,

or 1 tablespoon sweet chilli sauce

½

chicken cube or bullion

,

see notes.

2

tablespoon

soy sauce

2

tablespoon

brown sugar

,

or 1 tablespoon regular sugar

1

tablespoon

vinegar

½

tablespoon

red chilli flakes

,

use less or skip as per heat preference

1¼

cup

thickly sliced onion

,

about 1 large onion

1

cup

thickly sliced capsicum

4-6

green chillies

,

deseeded, julienned (skip to reduce spice)

1

tablespoon

cornflour

,

mixed in ¼ cup water

¼

cup

green onions

,

sliced to garnish
Instructions
Cut beef steak into thin strips by cutting across the grain on meat. Transfer to a mixing bowl and pat dry with a kitchen towel, if moist.

Add cornflour, salt and pepper, mix well.

Heat 1 tablespoon oil in a non-stick pan or wok. Add ⅓ of beef strips and fry for 1-2 minutes on medium heat until golden.

Add another 1-2 tablespoon of oil and fry another batch of the beef strip. (If the pan has any burnt bits, wipe it with a paper towel before introducing the second batch and add 1 tablespoon oil or as needed to fry.)

Similarly, fry all the strip in 3-4 batches without crowding the pan, set aside.

For stir-fry

Heat 1 tablespoon oil in the same pan. Fry ginger, garlic for 1 minute until sizzling hot.

Add chicken cube, soy sauce, chili garlic sauce, brown sugar, vinegar, and red chili flakes, mix well.

Stir in sliced onion, capsicum and green chilies, fry for 2 minutes until slightly soft.

Add the fried beef and mix well. (If your beef is under-cooked, you can cook for 2-3 minutes by covering the pot on medium heat.)

Make cornflour slurry by mixing cornflour and water. Add to the wok. Cook for 1 minute until sauce thickens and shines.

Just before serving toss garnish with sliced green onions (green parts only) and serve.
Notes
Beef: Choose any frying beef that has low cooking time and will be cooked easily in 2 minutes. Do not overcook beef just a light golden juicy look is best. If you use stewing beef it will be hard then you must tenderize it before frying. But I recommend avoiding it.
Veggie options: Mushroom, matchstick carrots, broccoli, baby corn, and colored bell are the best options.
Chicken bullion: In Chinese stir-fries, Ajinomoto is added which is unhealthy. I recommend using MSG-free chicken or beef broth cube or paste or powder. If you wish to use fresh liquid beef broth instead, use low-sodium and dry out the excess fluid on high heat before adding veggies.
Nutrition Information
Calories:
501
kcal
,
Carbohydrates:
27
g
,
Protein:
25
g
,
Fat:
32
g
,
Saturated Fat:
11
g
,
Polyunsaturated Fat:
4
g
,
Monounsaturated Fat:
14
g
,
Trans Fat:
2
g
,
Cholesterol:
89
mg
,
Sodium:
1839
mg
,
Potassium:
579
mg
,
Fiber:
4
g
,
Sugar:
12
g
,
Vitamin A:
499
IU
,
Vitamin C:
41
mg
,
Calcium:
62
mg
,
Iron:
4
mg