Origin
Chicken Nihari Recipe originated around the end of eighteenth century in Nawab's Kitchen. (Nawabs were semi- autonomous rulers of princely states of South Asia in Mughal times and also after that period.) After Partition of India and Pakistan, the dish got extremely popular in Pakistan, specially in Dehli and Karachi. Karachi foodies love spicy food and Karachi Nihari is all about spices. Here's you can read more about nihari at Dawn blogs.
What is Nihari called in English?
Nihari comes from Urdu word Nihar, which means morning. In those time Nawabs would have Nihari in breakfast. There is no particular word for nihari in English but it is basically a smooth flour based spicy beef stew.
Traditionally, Nihari was cooked overnight for 5-6 hours and served in the morning. Today, when people move to healthier and easier options for breakfast, Nihari is eaten more frequently as main course than breakfast.
Which meat is best for Nihari?
While Nihari is best made with beef shin or shank and bone marrow. 'Nalli' is Urdu word which means bone marrow. So a beef or lamb nihari is cooked with beef or lamb bone marrow.
What is Nalli Nihari?
After nihari is cooked, bone marrow is taken out of nihari and added in serving bowl. Like, you serve nihari in a bowl, then add soft fatty extract of bone marrow (bone is discarded) on top and finally, you add garnish and tempering. This is called nalli nihari. So Nihari with nalli (bone marrow extracts) is nalli Nihari. Simailarly, cooked brain is also served over the Nihari, it is called Maghaz nihari. 'Maghaz' means brain in Urdu.
With innovations in cooking and growing consumption of chicken. People also make quick and easy chicken Nihari at home.

Nihari Masala Tips
Since, we a grinding whole spices with load of fibre, it is very important to sieve the masala to get a fine masala powder and smooth texture of stew.
Another tip, you can always substitute whole spice for grounded spice and grounded spice for whole and so adjust recipe to available pantry supplies. Like, if you don't have whole Kashmiri chilli, you can also use ground Kashmiri chilli.
Always remember whole spices ( when grounded) are stronger in flavor than store brought ground spices. Just like freshly crushed pepper is strong than store bought ground black pepper.
Lastly, try to make Nihari 4-6 hour ahead and let it sit for several hours for enhanced flavours. People usually prepare it a day ahead and store in fridge until next day. Beef Nihari can be frozen too for 1 month or more.
Which flour is used in Nihari?
Usually, whole wheat flour is used to thicken nihari gravy, but some people also use plain flour. If you want to make gluten free nihari you can use any gluten free flour to thicken nihari till desired consistency is reached. For a Keto Nihari, you can use almond flour to thicken the gravy. Corn starch or Corn flour is usually not used. Because cornflour doesn't provide the nutty flavor that you get by roasting wheat flour or cooking wheat flour for very long. Hence is cornflour is not recommended.
My other similar recipes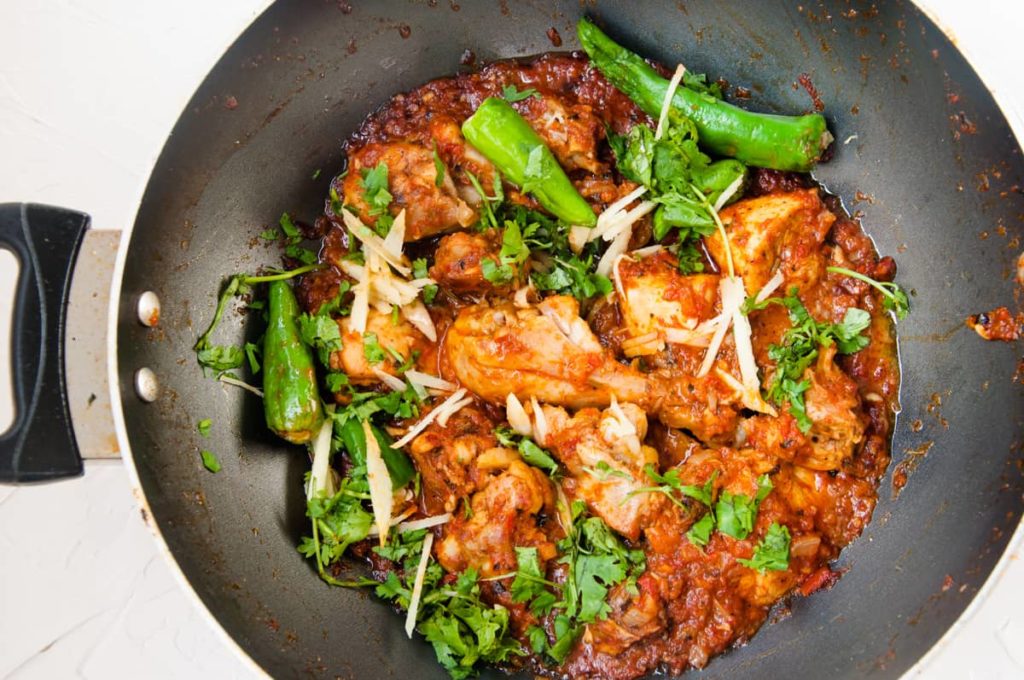 How to make Chicken Nihari ?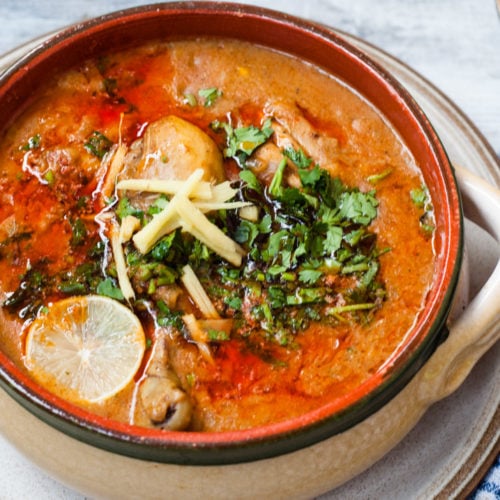 Chicken Nihari Recipe
Give your family a spicy curry treat. Serve with lots of lemon juice and ginger.
Click stars to rate this recipe!
Print
Pin
Ingredients
Nihari Masala Ingredient: (We need only half of this spice mix for this recipe.)
Whole spices
1

teaspoon

cumin

1

tablespoon

coriander

2

tablespoon

fennel seeds

1

inch

cinnamon stick

½

black cardamom

3

green cardamom

3

cloves
Powdered spices
1

tablespoon

Kashmiri chilli powder

1

teaspoon

red chilli powder

½

teaspoon

turmeric powder

½

teaspoon

salt
Chicken Nihari Ingredient
500

grams

skinless chicken

,

,cut into pieces

⅓

cup

oil

1

medium

onion

,

,finely chopped

2½

tablespoon

Nihari Masala

,

(recipe given above, you can also use ready spice mix)

1

tablespoon

ginger garlic paste

½

tablespoon

green chilli paste

½

cup

yogurt

,

,whipped

⅓

cup

wheat flour

Water as needed

2

tablespoon

Lemon juice

2

tablespoon

ghee or butter

A pinch

Kashmiri chilli powder
Garnish
1

inch

ginger

,

,cut in julienne

Fresh coriander

,

,finely chopped

4

lemon wedges
Instructions
For Nihari Masala
In a pan roast whole spices for 30 second then add powdered spices. Roast for another few second and remove from heat.

Transfer to a food processor and grind finely. Pass the spice mix through a fine seive. Grind the coarse remains again and seive once more. Now, discard the coarse remains. Store spice mix in air tight jar until needed.
For Nihari
Heat oil in a pot and add chopped onion. Stir and cover the lid. Cook for 5-7 minutes on medium heat until very soft.

Now, add chicken, Nihari spice mix, ginger garlic paste, green chilli paste and 1 cup water. Mix well and cook for 10-15 minutes.

In another pan, roast wheat flour for 1-2 minutes on medium heat until fragrant. Transfer flour to a bowl. Add 1 cup water to wheat flour and mix well. Make smooth paste with batter like consistency.

Add wheat paste and yogurt to the chicken pot and mix well.

Add 1 cup water and lemon juice. (Add less or more water as needed, Nihari should have desired consistency at this point).

Mix well and cover the pot. Let it simmer for another 5 minutes on very low heat until bubbling hot. Nihari is ready.
To serve
Heat 2 tablespoon of butter or ghee on a pan and add a pinch of Kashmiri chilli powder.

Simultaneously fill Nihari in serving bowl, garnish with ginger and coriander leaves. Pour heated butter the garnish and serve with lemon wedges.
Notes
Try to make Nihari 4-6 hour ahead and let it sit for several hours for enhanced flavours.
You can substitute my Nihari masala with store bought Nihari Masala to save time. Add more masala if needed.
If you make Nihari frequently , I suggest double or triple the recipe and make big jar of spice mix and store in fridge or freezer. This stays good for up to a year.
Chicken Nihari Recipe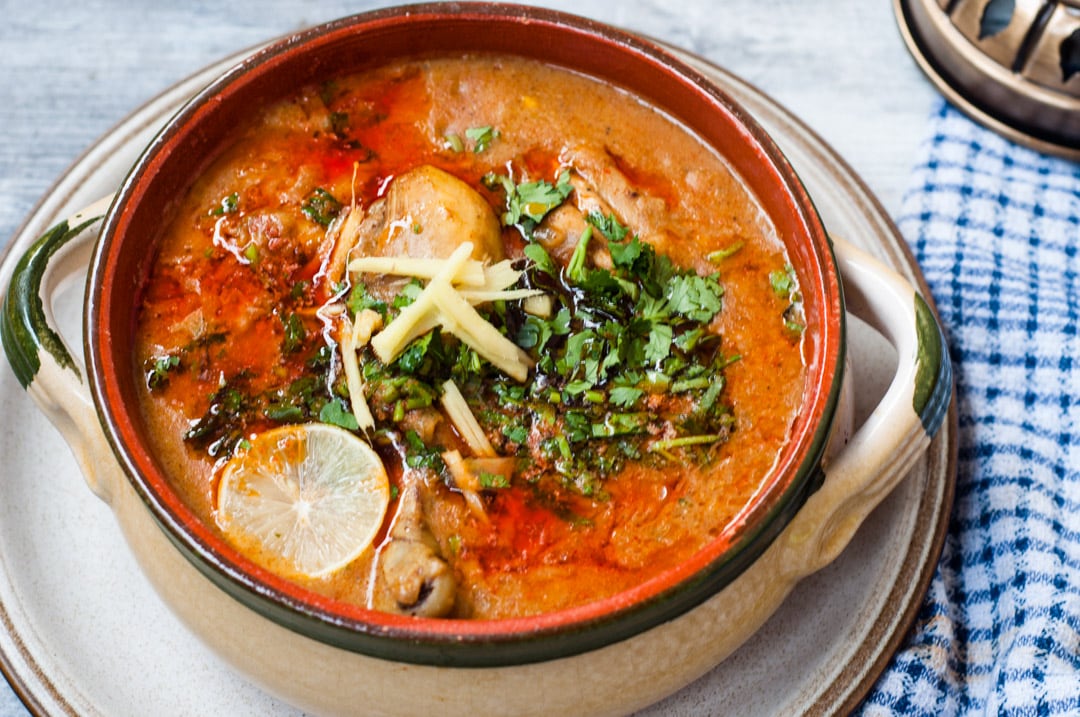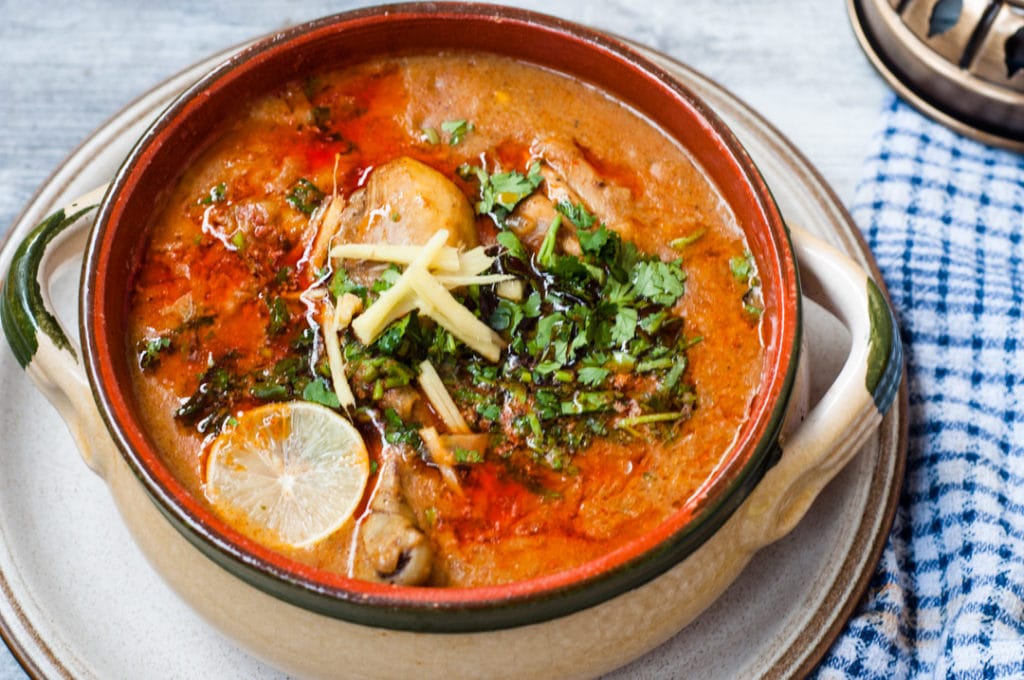 Pictorial Recipe of Chicken Nihari
Method to make Spice Mix
Take whole spices in a pan and dry roast for a minute on medium heat.
Add powdered spices, and roast another for 2-3 seconds. Remove from heat and transfer to a food processor.
Grind into a fine powder.
Sieve the spice mix through a fine strainer. Grind the remains left in the strainer once again. Sieve once more and discard the remains.
(Fennel seed are difficult to ground smoothly and they will spoil the texture of nihari. So sieving is important.)
You'll need only 2.5 tablespoon of this spice mix for this recipe.
Method to make Chicken Nihari
Heat oil in a vessel and add chopped onion.
Mix and cover the pot, cook on medium heat for 5-7 minutes. (Adjust heat if needed.)
The onions are very soft now and and very likely to dissolve easily.
Now add chicken, spice mix, green chilli, ginger and garlic paste. (Use only two and half tablespoon of prepared spice mix.)
Cook on high flame for 3-5 minutes until color of chicken changes, then add 1 cup water.
Cover and cook the chicken for 10-20 minutes on medium until tender.
While chicken cooks, roast wheat flour in a pan until fragrant. Transfer flour to a bowl. (For a gluten free or keto nihari, you can use gluten free flour or almond flour respectively.)
Mix 1 cup water in roasted wheat flour and make a smooth paste. Set aside.
When chicken is cooked add yogurt.
Also add wheat paste (flour slurry). Mix well and add water to thin out the gravy to desired consistency. (Sorry for the blurred images. )
Add lemon juice, and let the nihari simmer for few minutes. A little layer of oil will rise on the top.
To Serve
Fill Chicken nihari in serving plate , garnish with corriander, chillies and ginger slices. Then heat little butter or ghee in a vessel and add a pinch of kashmiri chilli. Pour heated butter over nihari and serve.
Pin this image for later reference!
Like, Comment, Subscribe to let us know your opinion and request. We are working everyday to bring best taste with easiest recipe.