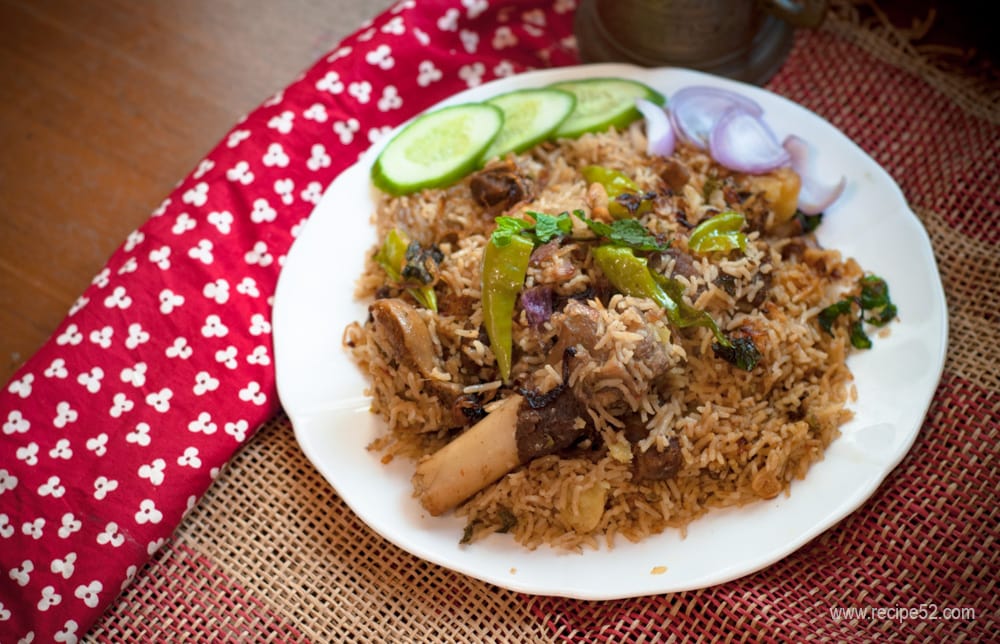 Recipe of Mutton Yakhni Pulao with photos of each step. I'm so please to share this recipe. I tried this recipe twice and it turned out really good. If you like it please share your opinion in comments, that's a great motivation.As a family tradition, we make yakhni pulao on Eid ul Adha.
What is Lamb/ Mutton Yakhni Pulao?
'Yakhni' mean bone broth while 'Pulao' is a aromatic rice dish. Aroma in pulao is attributed to whole spices, kept in a spice bag or sachet d'épices. To make pulao you need to cook pre-soaked rice in a soupy curry. You can know more about origin of Yakhni Pulao here.
I have made this Yakhni pulao in 'Bohra style'. I'm very fond of garnishing so I've added fried onions, garlic, green chillies and mint. But, Yakhni pulao tastes yummy on it's own too.
Taste of yakhni pulao:
Generally, Yakhni pulao is not very spicy but this one is moderately spiced. You may use less green chilli paste if you like it less spicy. What makes pulao yummy is striking aroma and broth flavored rice.
Color
If you like cream coloured pulao then skip the tomato that gives it a darker color. I've tried this pulao without tomato too. I feel one without tomato is also lovely to look at and great in taste.
Tip for making Yakhni Pulao:
Thing with making pulao is that the rice grain should be well separated. Now, that's a thing you learn with a little practise.
Meat
While making Yakhni, keep in mind we need half-cooked meat. Since, we will cook it in spices and then when we make pulao it will be cooked again for 10 minutes. So, if you overcook your meat it will come off bone and loose all its texture. So meat should be almost cooked but not very soft.
Salt:
This is the most important ingredient. Since, all water will absorbed by rice, we need to keep the Yakhni salty like a bit salty soup. You can taste Yakhni right before adding soaked rice to check salt.
Rice for Yakhni pulao
Best tips I could share is use Sella basmati rice if possible. The sella basmati rice unlike normal basmati has longer cooking time which makes sella rice less vulnerable to get sticky and over cooked. However, basmati also works well.
Water Level of gravy in yakhni polao
Second tip, is keep the water level 1 inch above the rice layer when you add rice in yakhni to make pulao. When rice have puffed and water is not visible above rice, lower heat and cover the lid. (Dum dena)
Always add less water:
Now, if you're still not sure how much water is required in gravy to cook rice. Add less water since you can always add more water if rice are still under-cooked and all water dries.
How to fix more Water in Pulao!
If you've accidentally added extra water in Yakhni, you can remove extra Yakhni with a ladle but that's not the best way as you remove some of delicious flavor too.
Like always, I've shared tips to resolve mishaps in advance. Below is the recipe in-detail. I hope it turns out good for you in first attempt.
How to make Lamb or Mutton Yakhni Pulao Recipe
For Spice Bag
Have a look at the spices we will need for the muslin bag. Transfer all spices to a piece of cheesecloth (or thin cotton fabric) of about 6x6 inches. Tie the ends of cloth tightly with a cotton thread to make a muslin spice bag.
For Yakhni (Broth)
Now, in a stainless steel or non stick pot, take meat, salt, ginger, garlic , onion and spice bag. Pour 4 cups water in the pot and bring it to boil.
Soak rice
Once, yakhni start boiling, reduce heat to low and cover the pot tightly. Cook for 30-45 minutes until meat is half cooked.
Soak Sella basmati rice for 45 minutes. (Basmati rice will need just 20 minutes so soak it after preparing garnish) .
Garnish:
All these garnish are added flavor but if you find them too much work, you can skip it and garnish with ready fried onions and mint only. You can also use half boiled potatoes instead of fried potato.
While yakhni takes some time to cook, I always use this time to make the garnish. Now, take ¾ cup into the pan. Fry garlic on medium heat until crispy golden. Remove garlic on a kitchen towel. In same oil fry green chilies for a few seconds. Remove chilies on the kitchen towel.
Okay, then fry potatoes in same all turning them from side to side. Keep these aside for later use. Remember, we need just half fried golden potatoes, they'll be cooked further in Pulao. (Mine are over fried because I was busy taking photos but you be careful. 🙂
Finally, fry a sliced onion in same oil until golden. ( Do not waste this flavored oil use in pulao.) Put all garnish in a plate and set aside.
Assembling Pulao
When Yakhni is ready, squeeze the bag tightly to extract all juices. Remove the spice bag and discard.
Strain Yakhni to separate meat.
Yakhni is ready. Set aside.
In a thick bottomed pot for Pulao fry a sliced onion on medium heat until very soft and translucent. (Use the remaining oil of garnish, we need ⅓ cup oil for pulao.)
The green paste is green chili, garlic and ginger grounded together. These are spices for pulao. Put spices and meat in a pulao pot. Mix well and fry for 5-7 minutes until oil separates. Add tomato and dried plum. Mix and cover the pot so the tomato softens. Cook for 3 minutes on medium heat.
Now mix in whipped yogurt and cook another 2-3 minutes.
Add yakhni.
Add potato.
Add soaked rice.
Add ½ bunch mint leaves and save rest for garnish.
Now check the level of gravy above rice. It should be 1 inch. I added one cup water to make in one inch. Also taste salt at this stage. The gravy should taste like saltish soup since rice will absorb all salt.
Cook pulao on medium heat and stir occasionally. Look carefully, rice grain are short and needs more cooking.
(But if your rice are almost cooked like the photo below shows long grains; and the pulao still has yakhni like in above photo. Then remove extra yakhni with a laddle. This will save your pulao from getting mushy.)
When most of water has dried and rice are almost done, cover the pot tightly and cook for 7 minutes until rice are almost dry but slightly sticky. You can see rice need just steaming to absorb remaining water.
(If your rice is still uncooked and all water is absorbs; you can add a little extra water. I'm telling you this on safe side but the 1 inch level above rice is quite perfect, so no need to worry.)
If your pot doesn't have really heavy bottom then you can put a girdle under it. I've also put a heavy mortal and pestle over the lid so steam doesn't escape. This is called 'Dum'. We will dum pulao for 7-10 minutes. I suggest after dum rest rice for 10 minutes before serving. Garnish with fried chillies, garlic, onions and mint.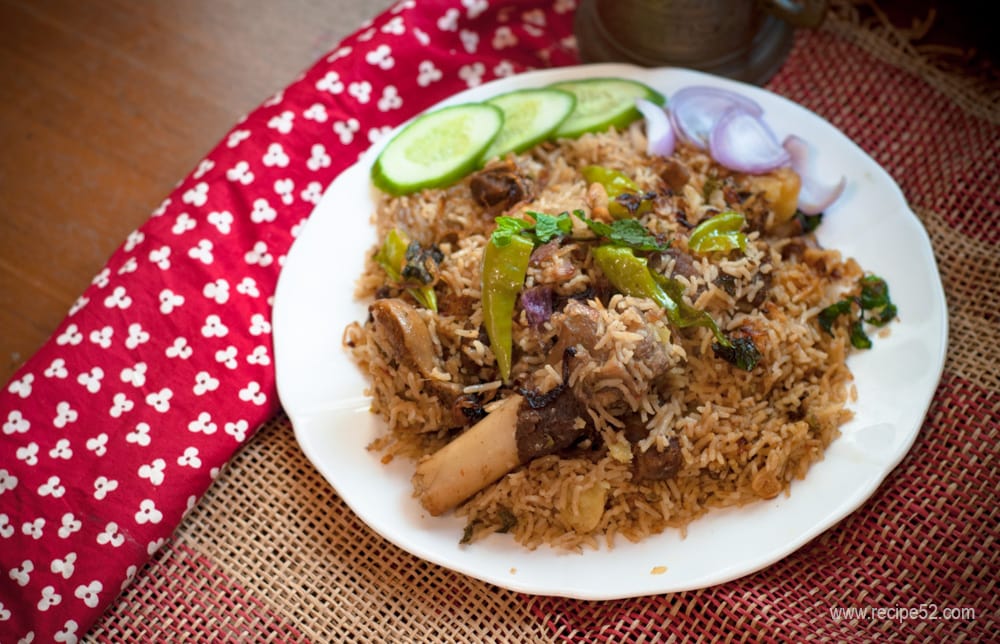 Like always, dear followers, I've shared all tips so you can control things while cooking. And so you know techniques beyond recipes. Please share this recipe to help us reach more people or pins for later use.
Hungry For more Rice? Check these!
Mutton/Lamb Yakhni Pulao Recipe
Moderately spiced and aromatic rice dish.
Print
Pin
Ingredients
For yakhni
750

grams

mutton with bones

,

beef, lamb can be used as well
Spices for muslin bag
½

tablespoon

black pepper

,

(kali mirch)

3

tablespoon

coriander seed

,

(dhanya)

2

tablespoon

fennel seed

,

(saunf)

2

inch

cinnamon

,

(dal cheeni)

1-2

black cardamom

,

(bari elaichi)

4

green cardamom

,

(choti elaichi)

1

bay leaf

,

(tej patta)

1

star anise

,

(badiyaan phool)

7

clove

,

(laong)
Other
1

small

onion

,

, cut four pieces

1

inch

ginger

,

sliced

6

clove

garlic

,

sliced

4

cup

water

Salt

,

to taste
For Garnish
½

cup

oil

6

green chilli

,

slit in two and de seeded

4

medium

potatoes

1

onion

,

sliced

5

garlic

,

chopped

1

bunch

mint leaves
For Pulao
2½

cup

Sella basmati rice

,

,soak for 90 minutes or use Basmati rice soaked for 20 minutes

2

medium

onions

,

sliced
Pulao Spices
1½

tablespoon

green chilli paste

1½

tablespoon

ginger garlic paste

10

whole

black pepper

5

cloves

1

inch

cinnamon

1

teaspoon

cumin seeds

½

tablespoon

coriander powder
Other
1

tomato

,

chopped (optional)

6

dried plum

,

(aloo Bukhara)

1

cup

yogurt

¼

teaspoon

cardamom powder

,

(elaichi powder)
Instructions
Make a clean piece of muslin cloth (6x6') and put all spices of muslin bag in it. Tie it tightly with cotton thread.
For Yakhni (Broth)
Put meat, muslin bag, garlic, ginger, onion ,water and salt in a stainless steel pot. Bring it to boil then cover the lid tightly and cook for 45 minutes on medium heat.
For Garnish
While Yakhni cook prepare garnish. In a pan take oil and fry garlic for 1 minute until crispy golden and remove on a kitchen towel.

In same oil fry green chillies for 30 second and put next to garlic on kitchen towel.

Now, fry potatoes until golden for 7 minutes. Keep turning from side to side.

Finally, fry onion slices until golden and remove another kitchen towel with all strand separated. ( Use remaining oil to fry onion slices of Pulao)
For Pulao
When Yakhni is ready. Strain Yakhni in colander. Squeeze the muslin bag tightly and discard. Keep Yakhni aside.

In a thick bottomed pot, fry onion slices on slow heat for 10 minute.

Mix meat and pulao spices in pulao pot with onion and fry on medium heat for 5 minutes.

Now, add tomato and dried plum, mix well and cover pot for 5 minutes until tomato softens and oil separates on the sides of pan.

Add yogurt and cook for another 2 minutes.

Finally, add Yakhni, soaked rice and mint leaves. Dip a finger or spoon in pot to check level of Yakhni above the rice layer. It should be 1 inch. If less add more water to make it 1 inch. Keep stirring occasionally.

Boil rice on medium heat until most of water is absorbed. Cover the lid and reduce heat to slow. (You may keep a griddle under the pot) Cook for 5-7 minutes. All water should be absorbed. Rice will be slight sticky but give another 10 minutes resting before serving and you'll see all grains separated.

Dish out rice in a plate and garnish with fried onions, garlic, chillies and fresh mint leaves.
Notes
You may use 50 grams Karan instead on aloo Bukhara and tomato. This makes delicious karan pulao.
If you like whitish pulao then just skip tomato.
Nutrition Information
Calories:
753
kcal
,
Carbohydrates:
113
g
,
Protein:
23
g
,
Fat:
24
g
,
Saturated Fat:
3
g
,
Trans Fat:
1
g
,
Cholesterol:
41
mg
,
Sodium:
254
mg
,
Potassium:
1256
mg
,
Fiber:
12
g
,
Sugar:
12
g
,
Vitamin A:
345
IU
,
Vitamin C:
45
mg
,
Calcium:
204
mg
,
Iron:
5
mg