Finally, sharing the most awaited recipe of the blog Daal Chawal Palidu. It is a traditional Bohra feast. Daal Chawal Palidu also known as DCP has two versions. One is vegetarian which is more common and has layered lentil and rice. This one that I'm sharing is a non-veg version with mutton/lamb. And trust me with mutton it tastes out of the world (confession: I'm a fan of anything mutton.)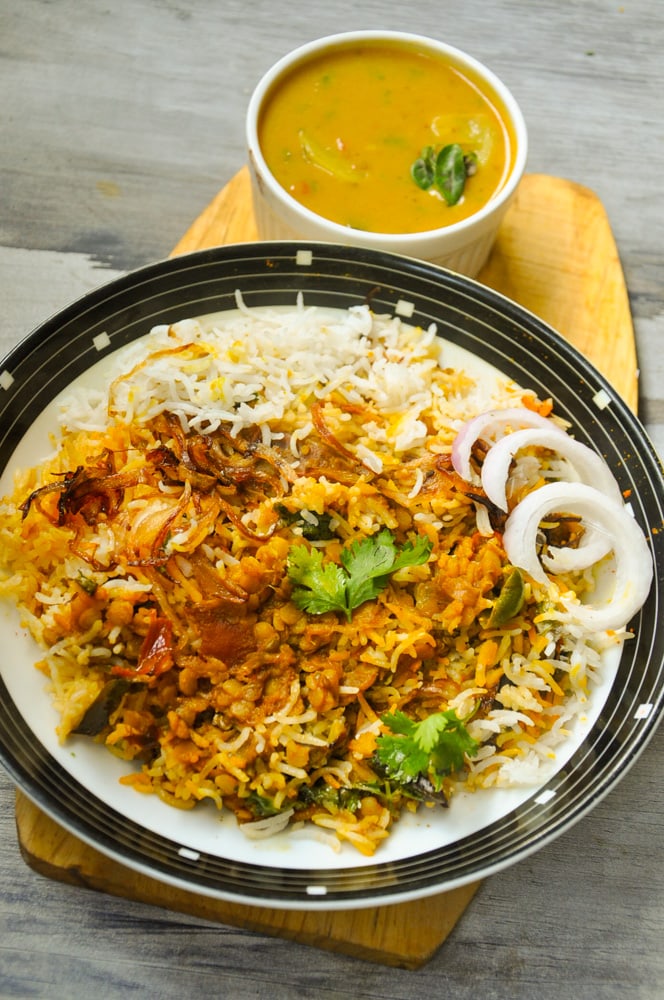 What makes Daal Chawal Palidu so special?
DCP has a very interesting way to cook. We boil the lentil and save the lentil water for lentil soup. Then, we use the boiled lentils to make gravy for rice. Finally, you layer the lentil and rice like Biryani and 'Dum' or steam it. You also smoked the rice along with the dum step.
Now, the Palidu is lentil soup made with lentil water and it tastes like gram flour curry but next level. I meant it, it has a sour tinge and very ethereal taste. This dish is an amalgamation of Daal Chawal and Koyla Biryani with pakora curry and papadum. Can't even imagine what it tastes like? Well, I can help you make it but can't help tasting it.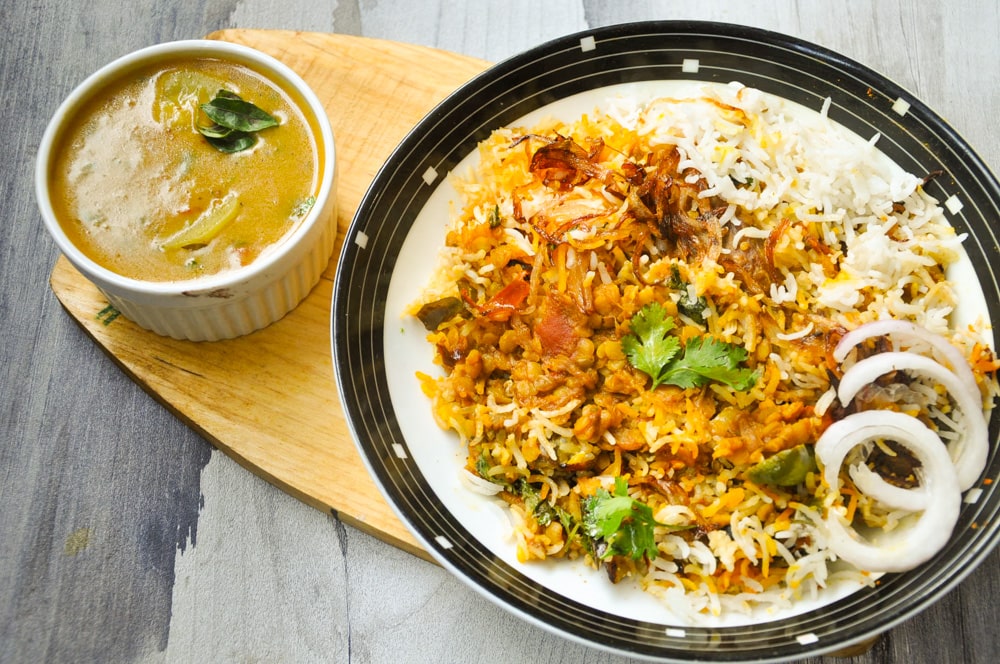 No, we are not finished yet. This dish is usually made on special occasions like Biryani in Bohra household like in Mahurat (Beginning) ceremony at a wedding and on the first day of every month and in other celebrations. It served with crispy Indian crackers (papadums), kachumber salad, and pickles making it a feast fit for a king, Ok, Indian King.
Since, I grew up eating always the non-veg version at home that my granny cooked with so much enthusiasm; I'm sharing the same recipe. I know she is proud of me today in the heavens. I think you can witness my excitement as I write this post. Do you?
How to make Daal Chawal Palidu?
Don't get intimidated by long list of steps. This is really easy and totally worth it. You just need to do some steps simultaneously to save time.
For Mutton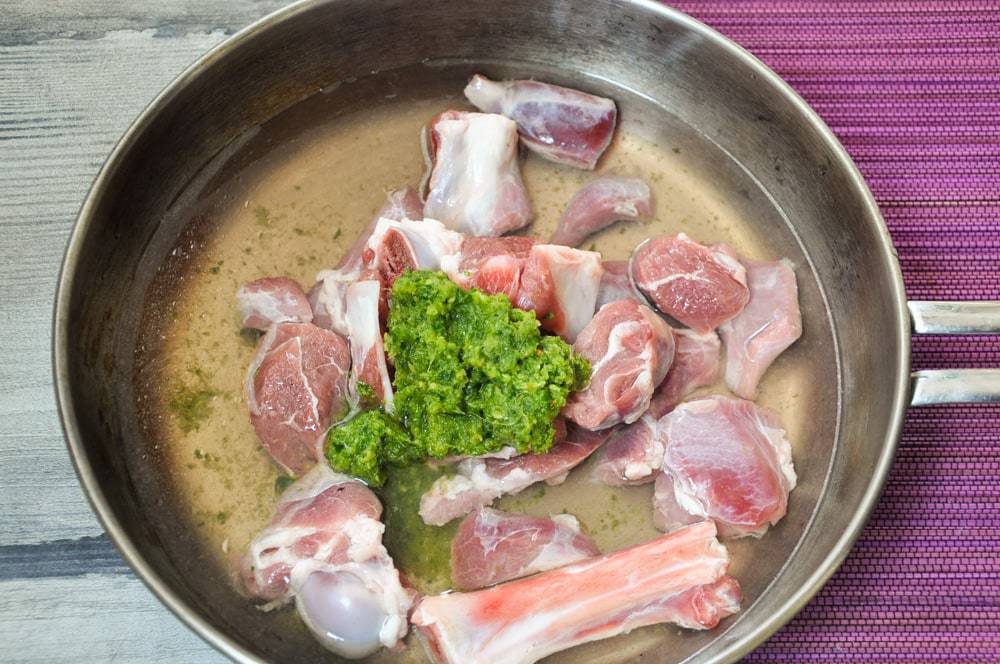 You may use any protein like lamb, mutton, or beef in this recipe. Boil it with Green Masala on low heat until tender. ( When green chilli, ginger, garlic, and salt are grounded together it is called green masala which is widely used in Bohra cooking. But to keep it simple, I have mentioned a separate quantity of ginger garlic paste and green chilli paste in the recipe card.) If you are using chicken in this recipe then just marinate in green masala at this stage and cook it in tomato gravy.
For Lentil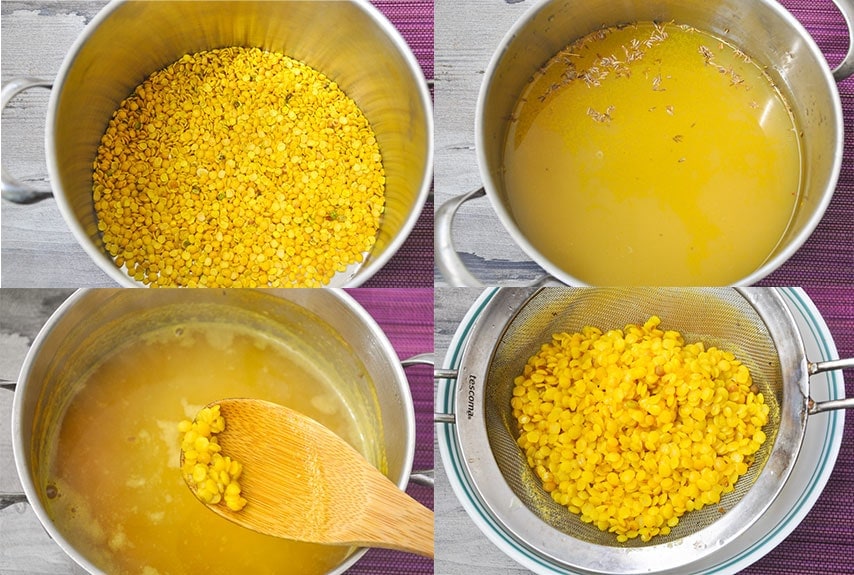 Split pigeon Pea, Arhar or Toor dal is yellow in color. You can find it in any Indian Store.
Steps for Boiling lentil: Wash toor dal 2-3 times. Soak it in 4 cups of water for 20 minutes. Then add salt, cumin, and turmeric to it and boil for 10-15 minutes until toor daal is fully cooked but not mushy. To test it, press a gran between thumb and index finger. If it mashes completely without any hard bits, it is cooked. (Do not overcook it or it will turn into lentil soup.)
When daal is cooked, strain the daal in a sieve placed on a large bowl. Save the delicious daal water for Palidu and set the daal aside for curry.
For Rice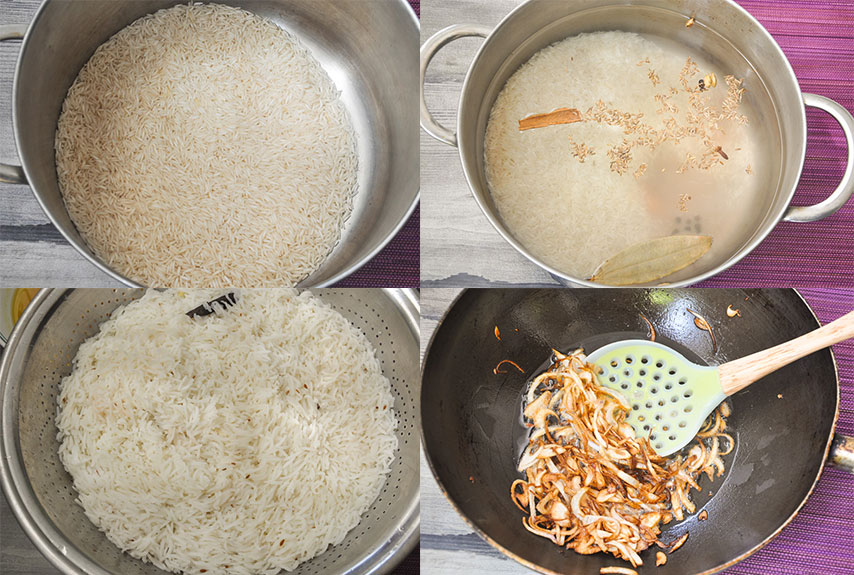 Simultaneously, wash and soak the rice for twenty minutes. Then fill a large pot ¾ with water and add salt and whole spices for rice. Bring to boil and add rice. Cook rice until 70 % cooked (2 kaani chawal ) Strain the rice and set aside.
In a vessel, take oil fry 1 onion until golden remove from oil and set aside. (You can skip this step if using pre-fried onions, you may do this step later after cooking the curry.)
For Lenti and Lamb Curry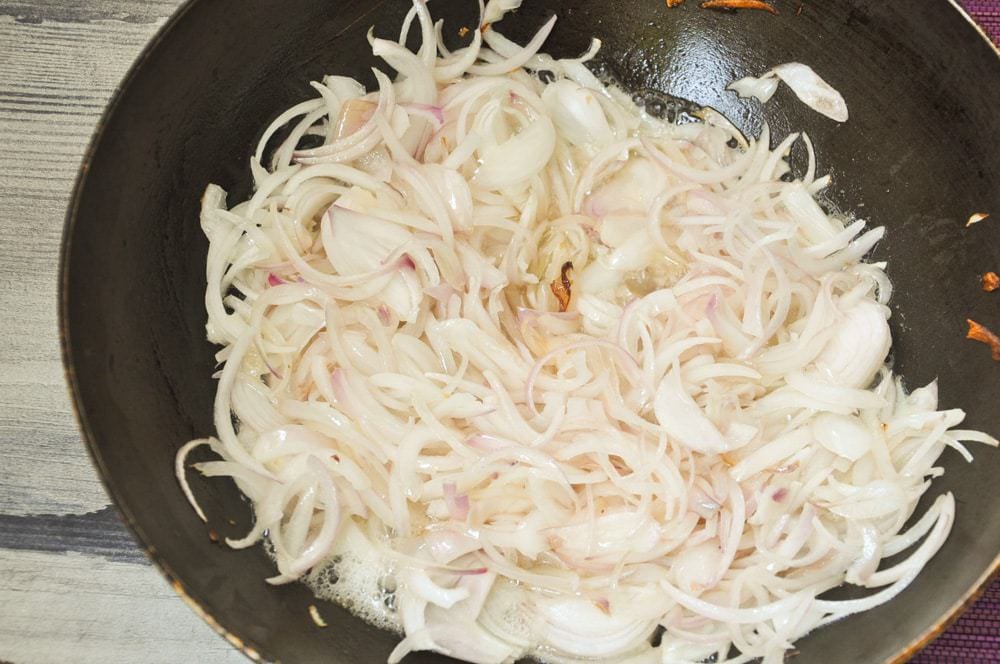 In the same oil, add 4 sliced onions for curry and fry on medium heat with frequent stirring until onion slices visibly separate and turn light golden as shown below. It takes up to 20 minutes so do this step simultaneously with rice and lentil step.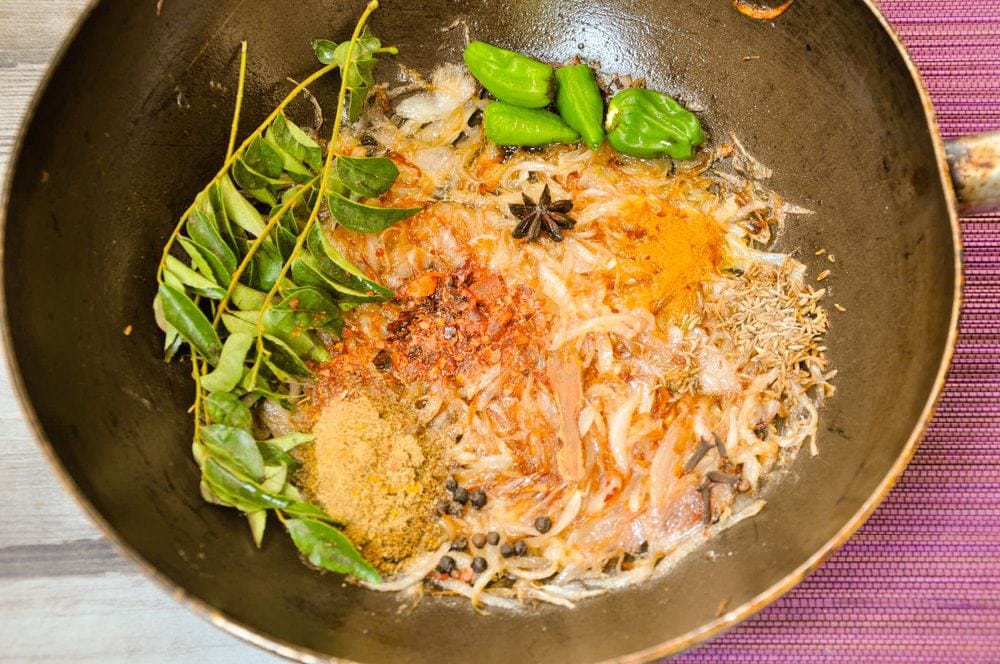 At this stage, reduce heat to lowest and add the spices and herbs for lentil curry. Bring heat back to medium and give it a stir until onions are golden as shown below.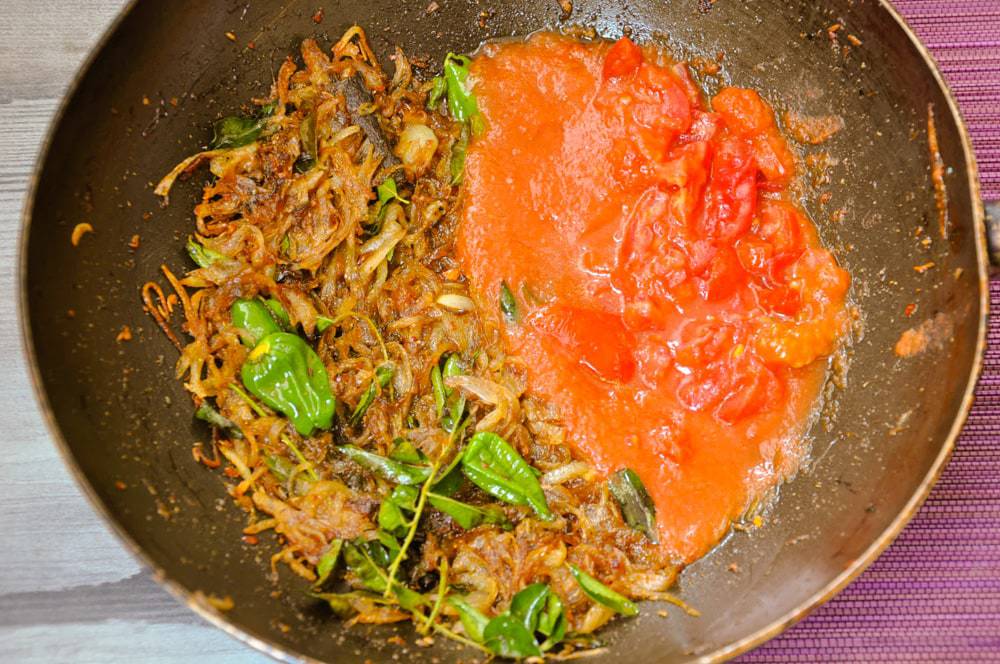 Now add the tomatoes, cover the wok and let it simmer on medium heat for 5 -7 minutes. I used both puree and chopped tomatoes (that I had in hand) You can use whatever you like.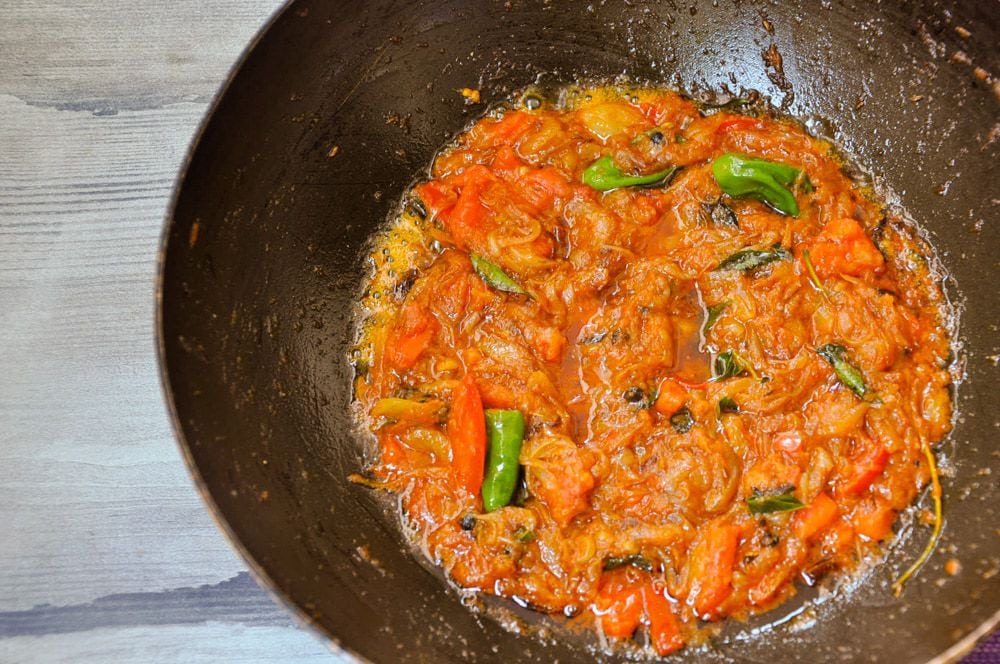 When tomato water has dried and you see oil on the sides of the pan or wok add the meat.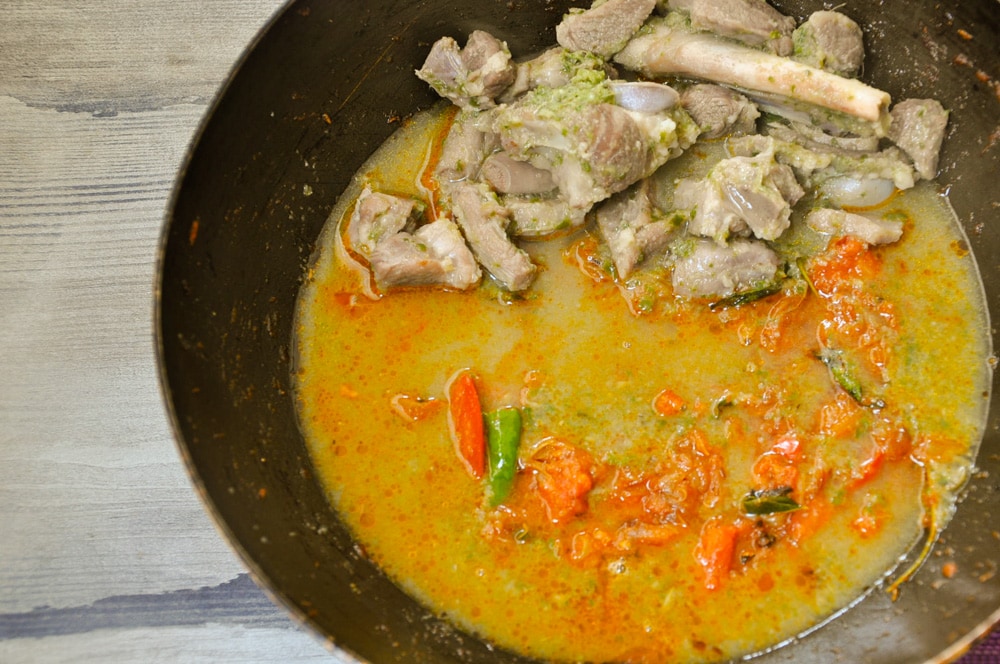 Cooking meat separately saves some time, so even if your meat is undercooked, as soon as your gravy is ready to add it to the gravy and continue cooking until tender and fully cooked.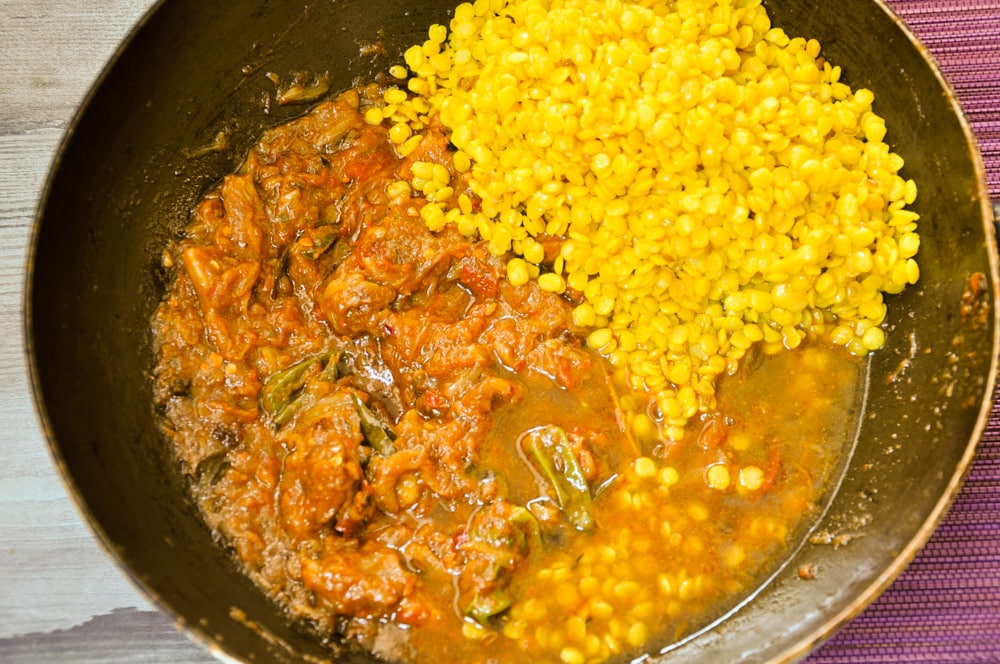 Add the lentils, stir well. and simmer the gravy for 5-7 minutes until most water has dried and gravy is thick. (At this stage also heat a charcoal for smoking.)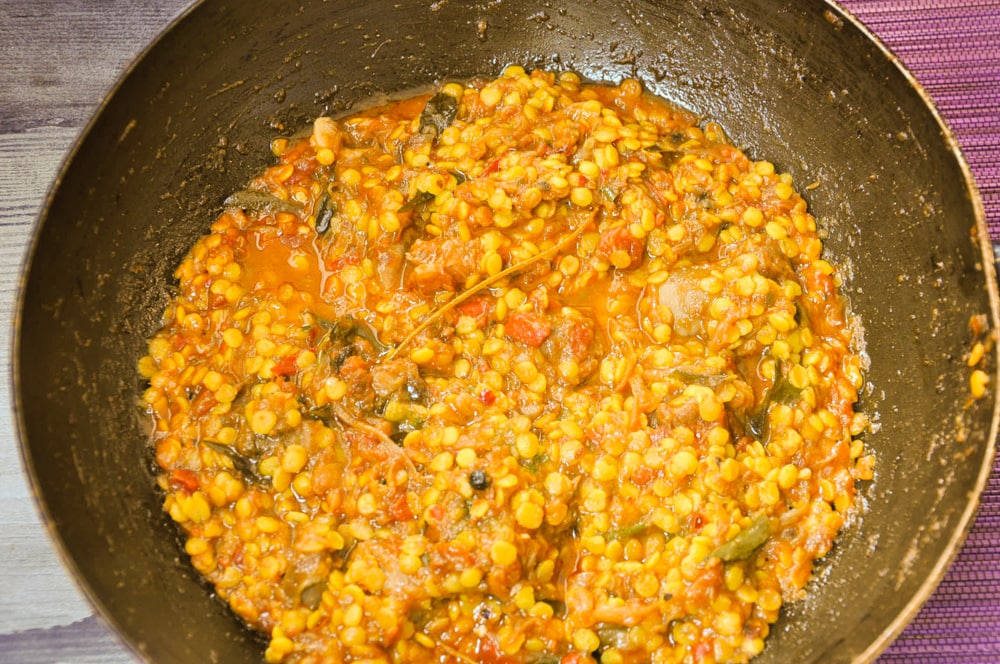 The gravy should thick but juicy not dry as shown above. Lentil curry is ready to assemble.
Assembling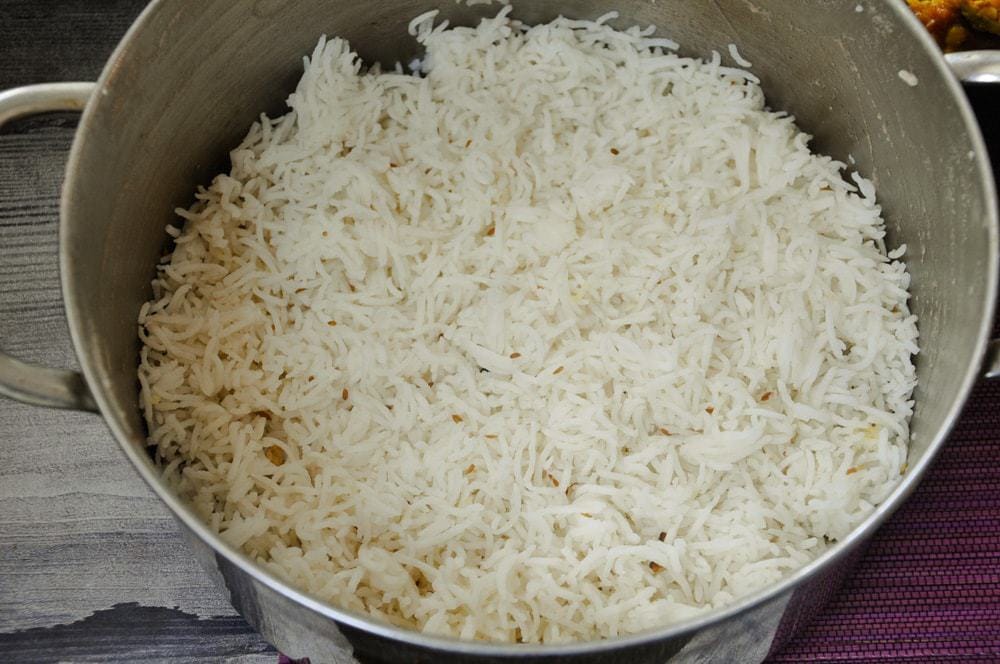 So, in a same rice pot, smear 2 tablespoons of oil at the bottom. Then layer ⅔ rice at the bottom.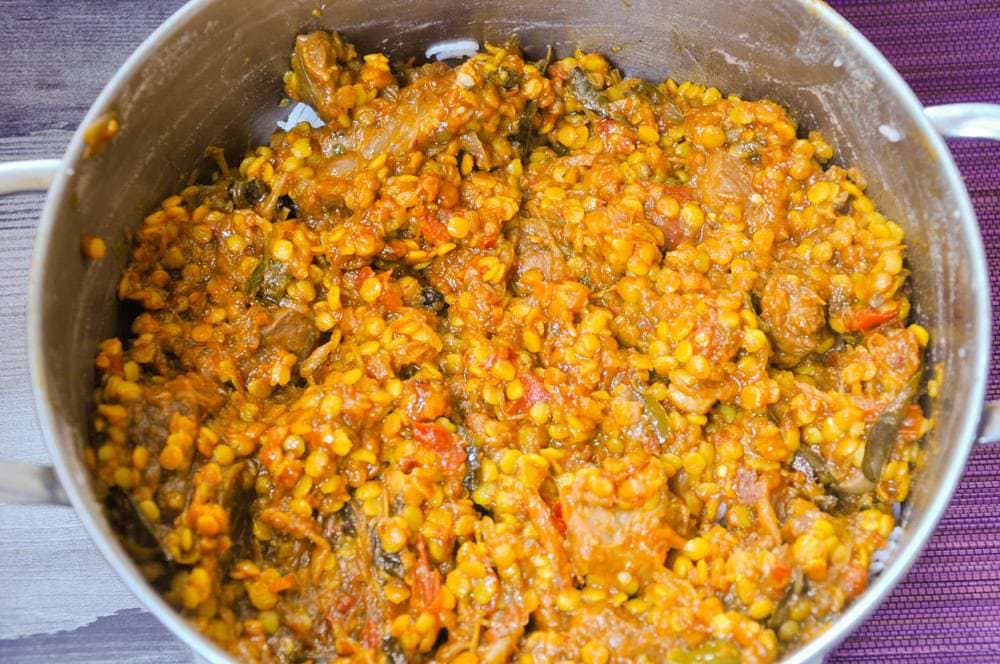 Add the lentil curry.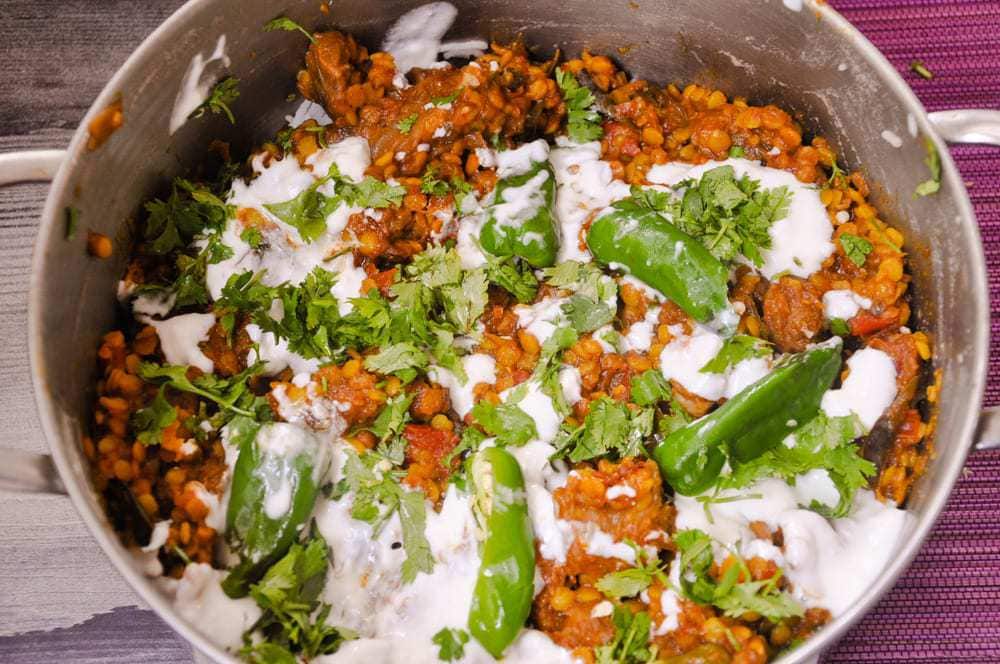 Spread the whipped yogurt, herbs, and chilies evenly. Also spread half of the fried onion for rice.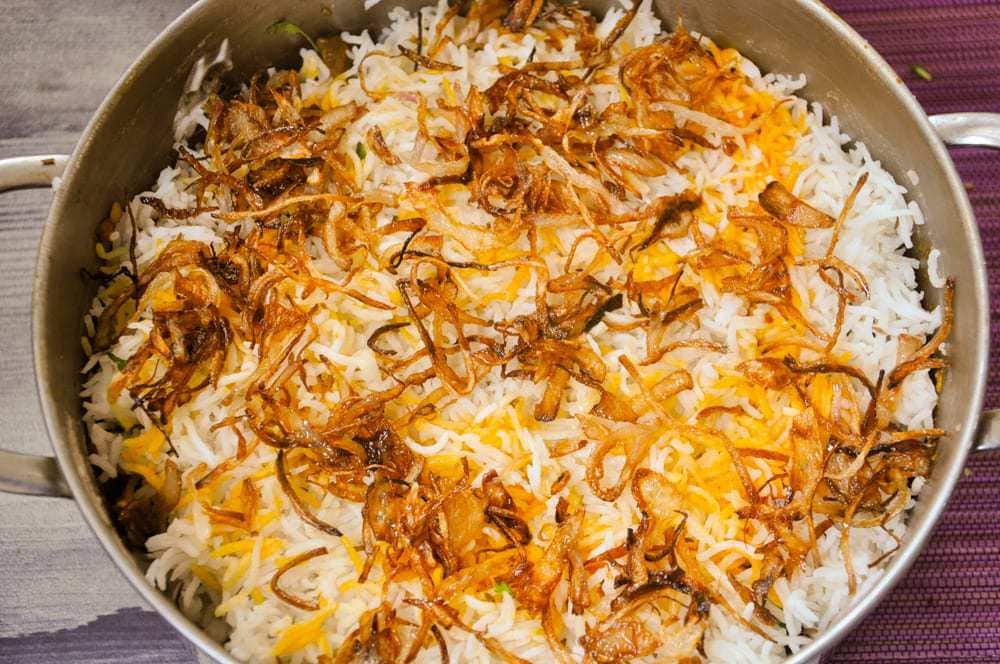 Add another layer of remaining ⅓ rice, fried onion and yellow color dissolved in water. Also, drizzle 1 tablespoon oil on the top.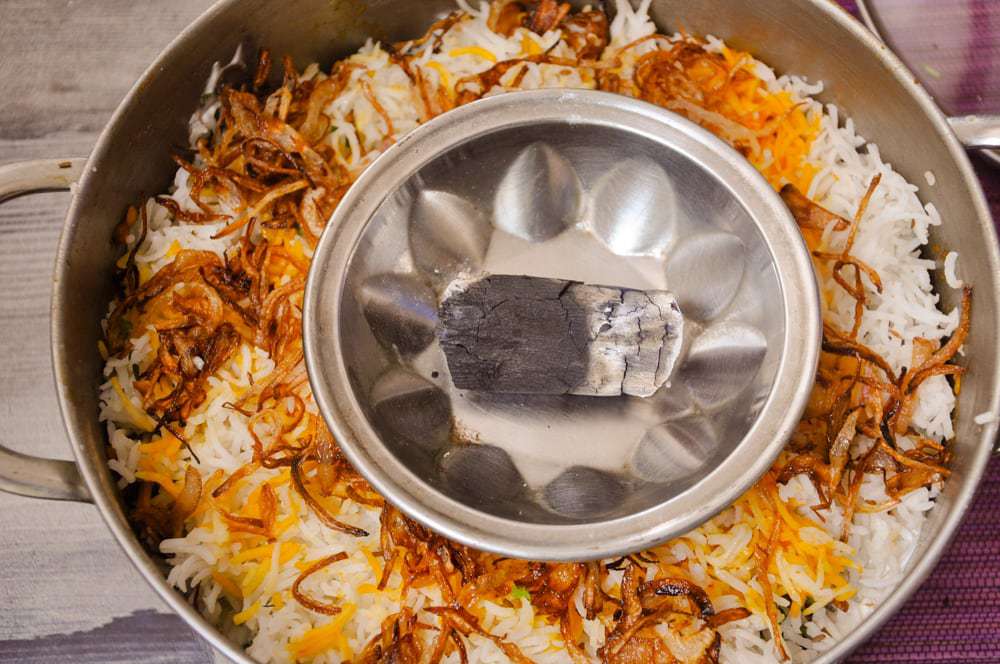 This smoking step is optional but recommended. Place red hot charcoal on the steel bowl or foil on the rice. Drizzle a few drops of oil and immediately cover the lid.
For Dum (steaming), place the pot of rice on medium heat for 7 minutes. Then reduce heat and cook further for 10 minutes on low heat until lots of steam rise on the top when the lid is removed. Toor Pulao is ready.
For Palidu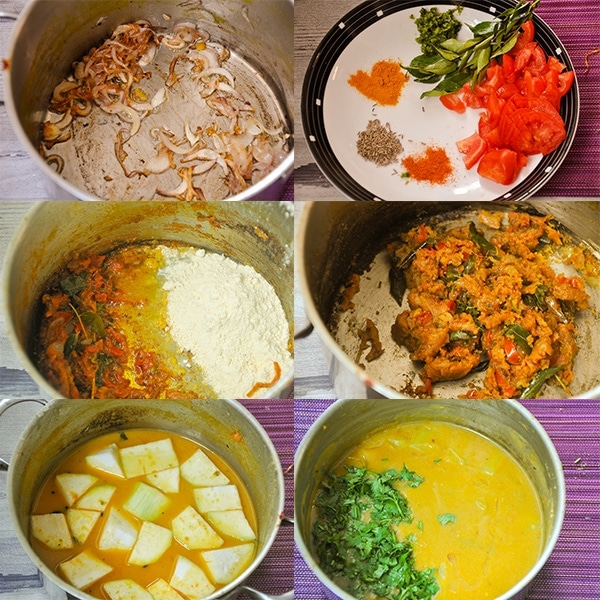 When Toor Pulao is on dum, fry onion in another until lightly golden.
Then add tomato and spices for palidu. Give it a stir and cover the pot. Cook for 3-4 minutes on medium heat until tomatoes are soft.
Stir in the gram flour.
The mixture will form a dough-like consistency. Keep stirring and roast the flour for 2 minutes until fragrant. Adjust heat as needed.
Now pour in the lentil water (saved in the beginning), bottle gourd or drumstick vegetables. Cook on medium heat until vegetable is tender. Add more water if needed to adjust consistency.
When Palidu is ready, mix in coriander and serve.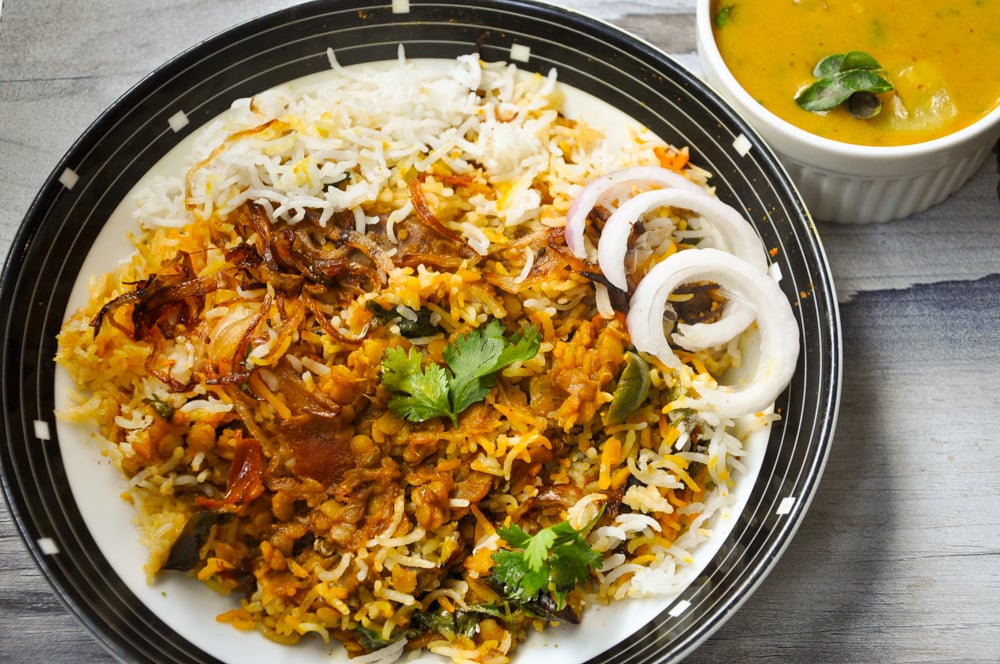 Hungry of Rice? Try these.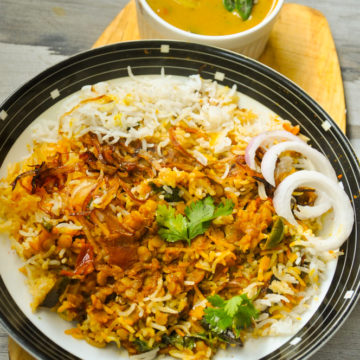 Dal Chawal Palidu
The long list of ingredients is intimidating but actually most spices are repeated.
Print
Pin
Rate
Ingredients
FOR MUTTON
500

gram

mutton or beef or chicken

,

with bones

1½

cup

water

2

tablespoon

green chilli paste

2

tablespoon

ginger garlic paste

Salt

,

to taste (not needed if already added in paste.)
FOR LENTIL
1

cup

Split pigeon pea

,

(toor or arhar daal)

1

teaspoon

salt

½

teaspoon

cumin seed

½

teaspoon

turmeric
FOR RICE
2½

cups

long grain basmati rice

,

about 560 grams

3

tablespoon

salt

,

or more
Whole spices
¾

teaspoon

cumin seed

2

inch

cinnamon

8

black pepper

3

cloves

4

green cardamom

2

black cardamom
other
½

cup

oil

1

medium

onion

,

fry onion for garnish
FOR LENTIL and LAMB CURRY
Spices and herbs
4

twigs

curry leaves

4

thick

green chillies

½

tablespoon

coriander powder

1

star anise

1

teaspoon

cumin

½

teaspoon

black pepper

5

cloves
Other
3

medium

tomatoes

,

pureed
Assembling
⅓

cup

yogurt

4

tablespoon

chopped corriander

3

green chillies

,

slitted

¼

teaspoon

yellow color

,

mixed in ¼ cup water
PALIDU
3

tablespoon

oil

1

medium

onion

1

medium

tomato
spices
½

tablespoon

green chilli paste

½

tablespoon

ginger garlic paste

½

teaspoon

fenugreek seeds

½

teaspoon

cumin

½

teaspoon

turmeric powder

½

teaspoon

red chilli powder

4

twigs of

curry leaves
other
6

tablespoon

gram flour

2-3

tablespoon

tamarind pulp

,

dissolved in water

½

bottle gourd or drumstick vegetable

,

peeled and cut to chunks

4

tablespoon

chopped corriander
Instructions
For Mutton
Boil meat with green chilli, ginger garlic paste, salt and water on medium-low heat for 30 minutes or until meat is tender. Set aside. (You can also pressure cook the meat)
For lentil
Wash and soak tuvar daal for 20 minutes in 4 cups of water.

Add salt, cumin and turmeric to soaked daal and boil for 10-15 minutes until soft and fully cooked but not mushy. (Lentil grain meshes completely when press between thumb and finger without any hard or undercooked bit.)

Strain the lentil in a colander with a pot underneath. Set the lentils aside and save the lentil water for Palidu.
For Rice:
Soak rice for 20 minutes, set aside.

Fill ¾ of a large pot with water, add salt and whole spices. Bring water to boil and add the soaked rice. Boil rice until 70% cooked it is on 2 kaani Chawal stage). Drain the rice water and set aside.

Simultaneously, In a large vessel heat oil and fry 1 sliced onion until golden. Remove from oil and set aside for garnish.
For Lentil Curry
In same vessel, fry remaining 4 onions until light golden. Add the spice and give it a stir. Then add the tomatoes and let it cook until tomato water dries and oil separates on the sides of the pan.

Add the meat along water to the tomato gravy. Dry out any excess water by cooking on high heat. (See notes 1)

Add the boiled lentil and cover the pot. Let the gravy simmer for 5 minutes. If gravy is too dry add a little water. (We want thick gravy but not dry.)
Assembling
Heat a piece of charcoal on direct flame until red hot.

Add 2 tablespoon of oil at the bottom of pot. Then layer ⅔ of cooked rice. Layer the lentil and lamd curry. Next add the herb, whipped yogurt, chillies and ½ of fried onion.

Finally, layer the remaining rice and cover with remaining fried onion and yellow color water.

Keep a steel bowl or foil on the rice. Place the red hot charcoal carefully over the rice. Drizzle few drops of oil over coal an cover the pot tightly.
Dum Stage
Cook daal Chawal for 20 minutes on low heat. (You'll see a thick steam rising from pot when lid is removed and rice grain will be puffed up too.)
Palidu
Heat oil and fry sliced onion until lightly golden. Add the spices and give it a stir. Cook for 2 minutes and add the gram flour.

The flour will make the gravy thick and difficult to mix. Reduce heat and sauté for 2 minutes, until fragrant.

Add the lentil water and mix well until smooth. Add the bottle gourd and 1 cup water or more as needed for a required consistency. Cover the pot. Let the Palidu boil until bottle gourd is tender.

Now, add tamarind paste and adjust salt as needed and simmer the palidu for 15 minutes on very low heat. Stir in chopped corriander and serve.
Notes
Serving Suggestion: Enjoy Daal Chawal Palidu with daal popadums and mango chutney.
Nutrition Information
Serving:
1
bowl
,
Calories:
627
kcal
,
Carbohydrates:
78
g
,
Protein:
21
g
,
Fat:
26
g
,
Saturated Fat:
4
g
,
Trans Fat:
1
g
,
Cholesterol:
28
mg
,
Sodium:
3052
mg
,
Potassium:
649
mg
,
Fiber:
9
g
,
Sugar:
10
g
,
Vitamin A:
670
IU
,
Vitamin C:
58
mg
,
Calcium:
110
mg
,
Iron:
4
mg