This Kiwi lemon cheesecake recipe is low-fat as it doesn't use cream cheese but relies on cream and condensed milk for the creamy texture. It is also no bake dessert.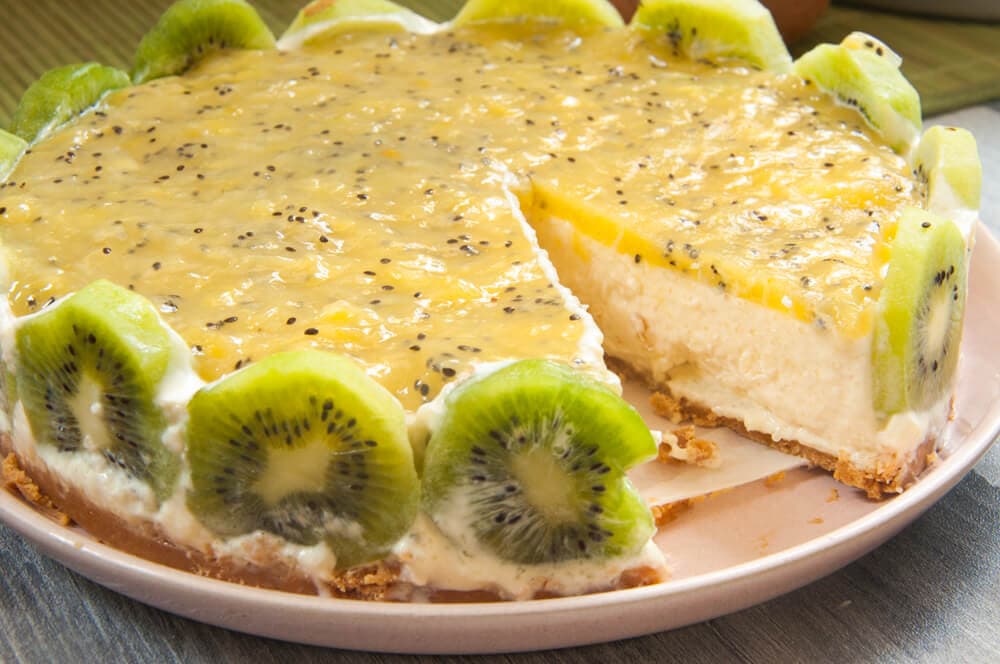 The taste
This dessert tastes delicious! The creamy lemon filling pairs amazingly with kiwi topping. Furthermore, the fresh kiwi slices on the sides give absolute fruit goodness to the dessert. The whole process is long as you need to chill at intervals but the overall active time is very low.
Kiwi is a fruit that is packed with minerals and vitamins. It is rich in vitamins E, C, K and potassium, and folate. It helps in asthma, diabetes, digestion, weight loss, and vision improvement. You can read more about the benefits of kiwi here at style craze.
How to make it?
Biscuit crust
You can use any hard biscuit, oreo, or similar biscuit. I prefer high-fiber wheat biscuits as they provide a depth of flavor. This biscuit base is super simple. Just crush the biscuit and mix the butter. The easiest way to do this is to put the biscuit and butter in a food processor and crush it until you have a coarse mixture. Then press this mixture in a springform pan. (If you do not have a springform pan, you can still set this dessert as a flat-based glass dish.
 I used thick slices of kiwi to decorate the sides of the cake. The fresh fruit tastes great with the cake. You can also use semi-circles if you wish to use fewer kiwis.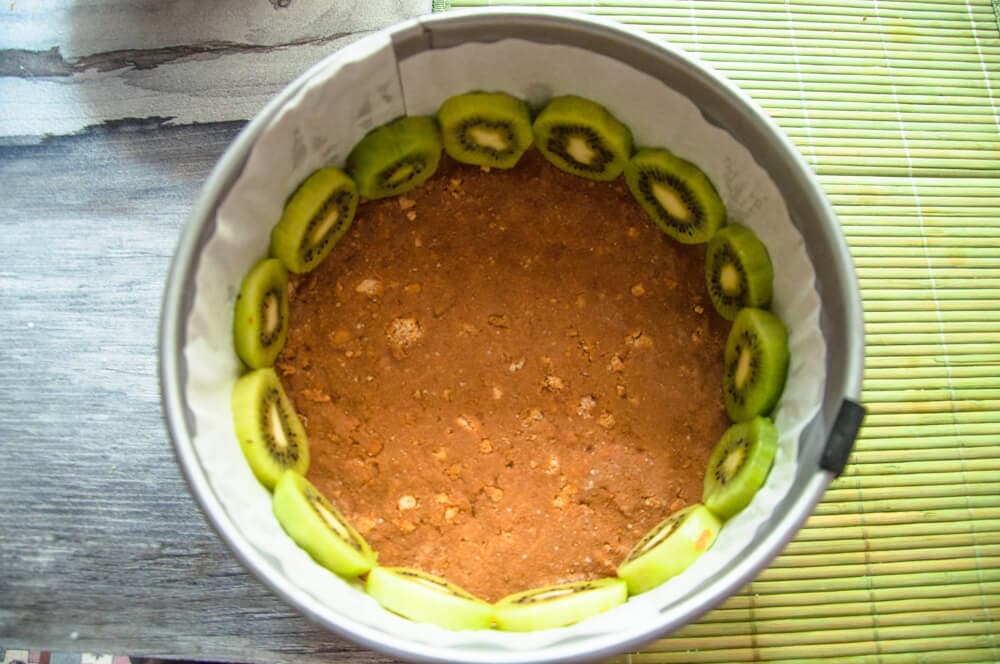 Lemon Cream Filling
Lemon cream filling is the easiest thing to make. Just bloom the gelatin crystals by mixing it with warm water. You'll need to keep mixing it for a few minutes at intervals to dissolve the gelatin powder completely. I prefer to keep bloomed gelatin in a hot water bath until I make my filling.
First, mix all the ingredients of lemon filling: condensed milk, cream, milk, and lemon juice. Then, add the bloomed gelatin and mix immediately and thoroughly. Pour filling over the biscuit crust in the pan and set it in the fridge for at least 4 hours. You can also make it a day ahead.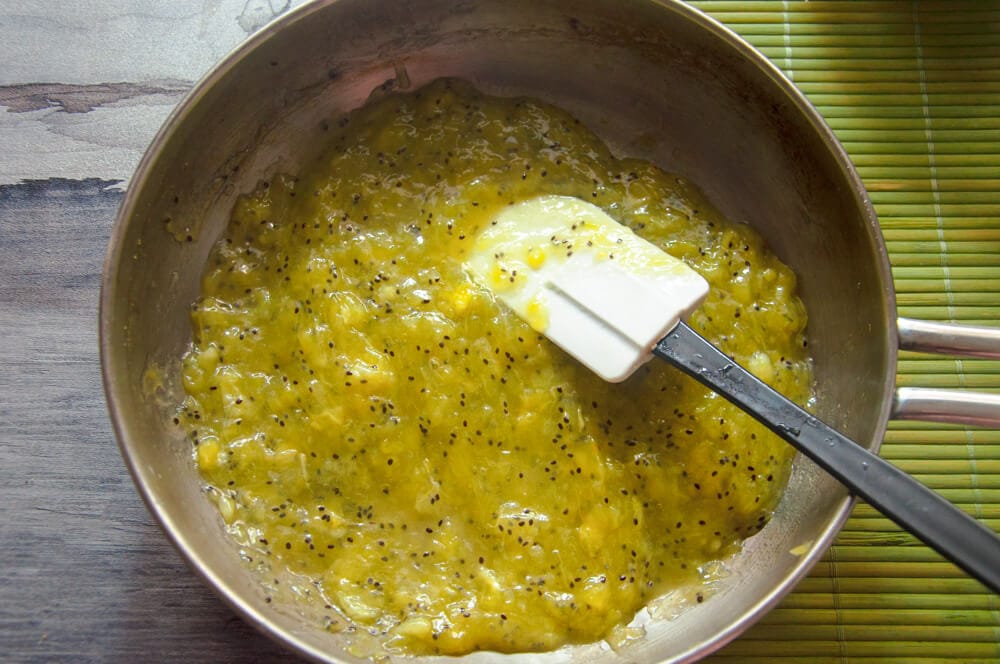 Kiwi Sauce
Use soft and ripened kiwi for the sauce so you can mesh it easily. To make kiwi sauce, we need meshed kiwi, sugar, lemon juice, and cornflour slurry. Just mix all ingredients of the topping in a pan. Then, we need to heat it until the cornflour thickens and the sauce gets translucent.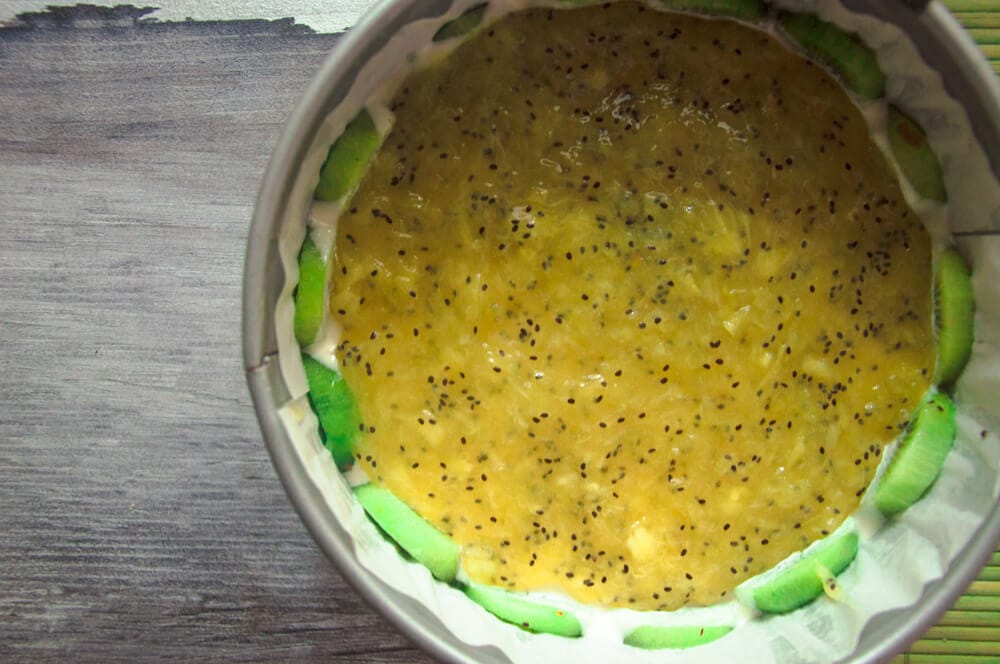 Now be careful here. Before you transfer kiwi topping over the lemon cream filling, your lemon cream layer has to be set. It usually takes 2 hours to set and chill in a refrigerator. So you'll make your kiwi topping at least after 2 hours. Let the kiwi topping cool for 15 minutes on a cool, dry surface. Then, transfer the warm filling over the lemon cream filling. DO Not let the kiwi topping cool completely or it'll set and make it difficult for you to transfer.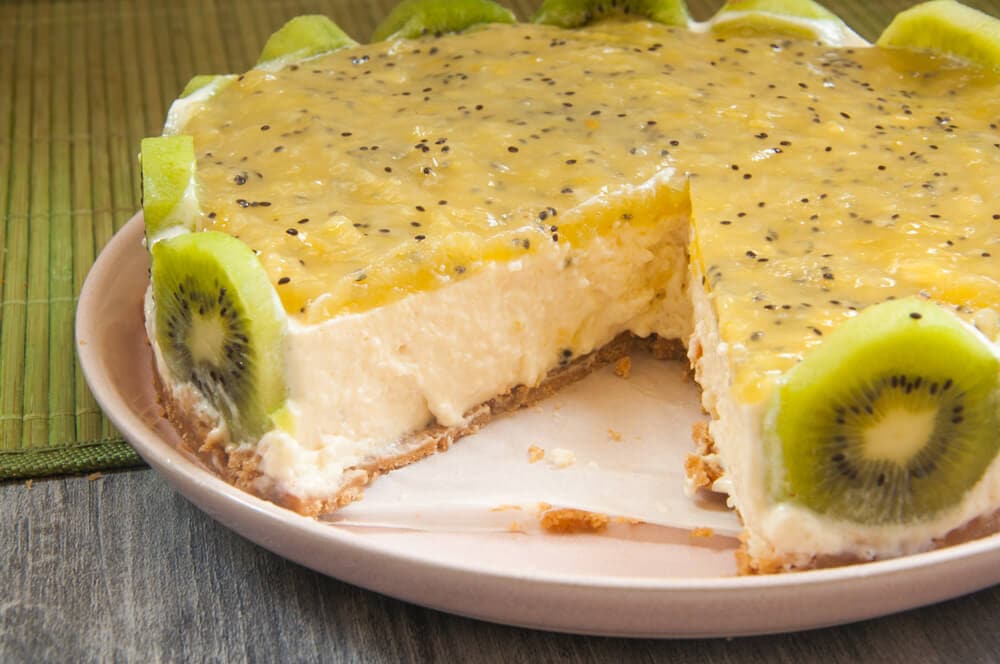 Want more desserts? Try these!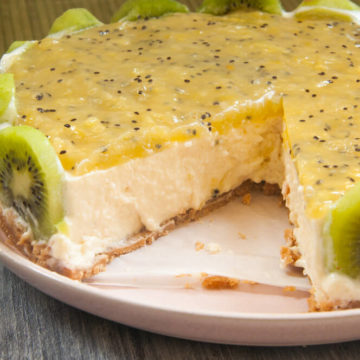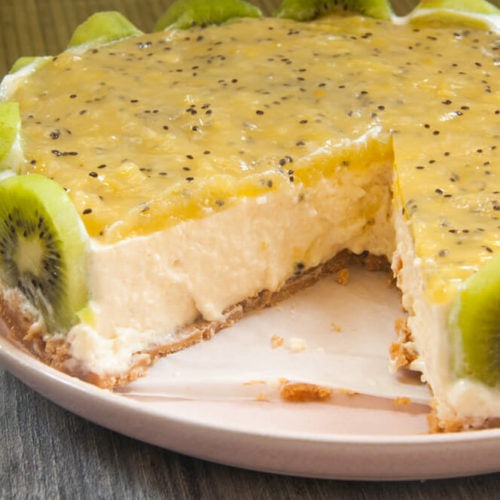 Kiwi Cheesecake Recipe
The lemony filling and kiwi topping taste great in this dessert. Watch the video for elaborate instructions.
Print
Pin
Rate
Equipment
Springform pan or Removable base pan of size 7 inch (18 cm) See notes*
Ingredients
For Biscuit Base
15

wheat biscuits

,

like digestives

3

tablespoon (50 grams)

butter

,

at room temperature

3

kiwi

,

thickly sliced for border
For Lemon Cream Filling
1

can

condensed milk

1

cup

cream

1

cup

milk

½

cup

lemon juice

2

tablespoon

gelatin powder

6

tablespoon

water
For Kiwi Sauce
2-3

medium

kiwi

,

preferably over ripened

2

tablespoon

sugar

,

, more to taste

1

tablespoon

lemon juice

2

tablespoon

corn flour

4

tablespoon

water
Instructions
For Biscuit Base
Cover the bottom of a springform pan or removable base pan of size 7 inch (18 cm) with butter paper. Grease the sides of pan with butter and also cover sides with 3 inch strips of butter paper.

Crush both biscuits in grinder. Add butter and pulse for again for 2-3 times until butter and biscuit make coarse mixture.

Place the biscuit mixture in removable base pan and press with a flat and heavy object to form an even layer of base. Place in the fridge for 20-30 minutes.

After base is set, place thick slices of kiwi on the sides of pan to form a border.
To Bloom Gelatin
Place a heat proof bowl over hot water bath. Mix 2 tablespoon gelatin powder with 6 tablespoon warm water. Stir at regular intervals until fully dissolved.
For Lemon Cream Filling
Mix condensed milk, cream, lemon juice and milk in a bowl. Now add bloomed gelatin and mix well immediately. Pour cream cheese filling over biscuit base.

Refrigerate again for at least 2-4 hours until set.
For Kiwi Sauce (Make this sauce after filling is set.)
Mix all ingredients of kiwi topping and heat in a pan for 30 seconds until thickened. Stir constantly.

Remove the kiwi sauce from heat and let it cool for 15 minutes.

When sauce is still slightly warm pour it gently over the cream filling and spread evenly.

Keep the dessert again in fridge for 30 minutes to set.

Slice the cake and serve chilled.
Notes
This dessert can also be set in a 1 litre casserole or similar dish if springform pan is not available.
You can add ½ cup cream cheese to it if you like it rich.
Nutrition Information
Serving:
1
slice
,
Calories:
403
kcal