Heya! ready to make easy peasy Lemon Mousse Cake Recipe? There is something special about this mousse recipe, it has 3 layers, and it is a no-bake. The zesty lemon glaze on the top makes it even more special.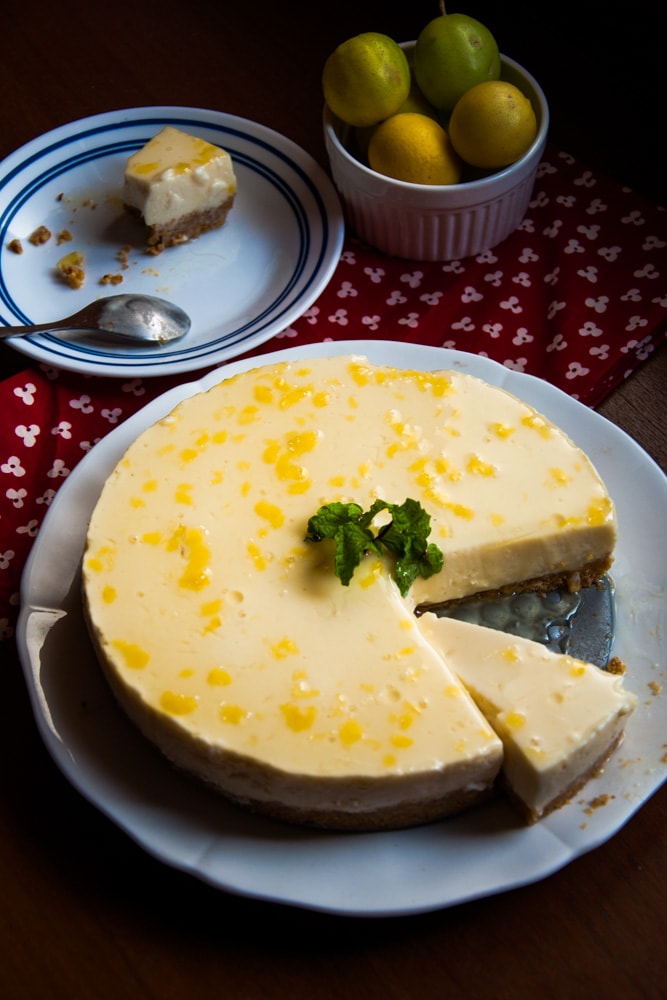 This is one of those recipes on the blog, I can hand down call them fool-proof. I've made this Lemon mousse cake number of times. In fact, I've been making this for 10 years. I use to make it in flan style. But making it in a springform pan is so easy. The steps are super easy, the overall process is simple and ingredients are easily available.
The half-cup lemon juice that we add in the mousse gives it a nice tarty flavor. The zesty lemon sauce gives this dessert a delicious punch in the mouth. I've also tried this dessert without lemon sauce. I used chocolate sauce and walnuts instead and it still tasted scrumptious.
One more thing I like about this mousse is that you do not have to eat that raw egg white that many people hate. With inspiration from this recipe, I also develop this lemon ice cream which is so easy to make.
The Biscuit base!
Lemon and butter biscuits are best friends, the base provides the perfect contrast to the sweet filling. You can use any caramel biscuit, or oreo, or wheat biscuit-like digestive. I prefer high-fiber wheat biscuits as they provide a depth of flavor. This biscuit base is super simple. Just crush the biscuit and mix the butter. The easiest way to do this is to put biscuits and butter in a food processor and crush them until you have a coarse mixture. Then press this mixture in a springform pan. (If you do not have a springform pan, you can still set this dessert as a flat-based glass dish.
Check the tips, I'm sure you'll get more insight into the Lemon mousse cake recipe.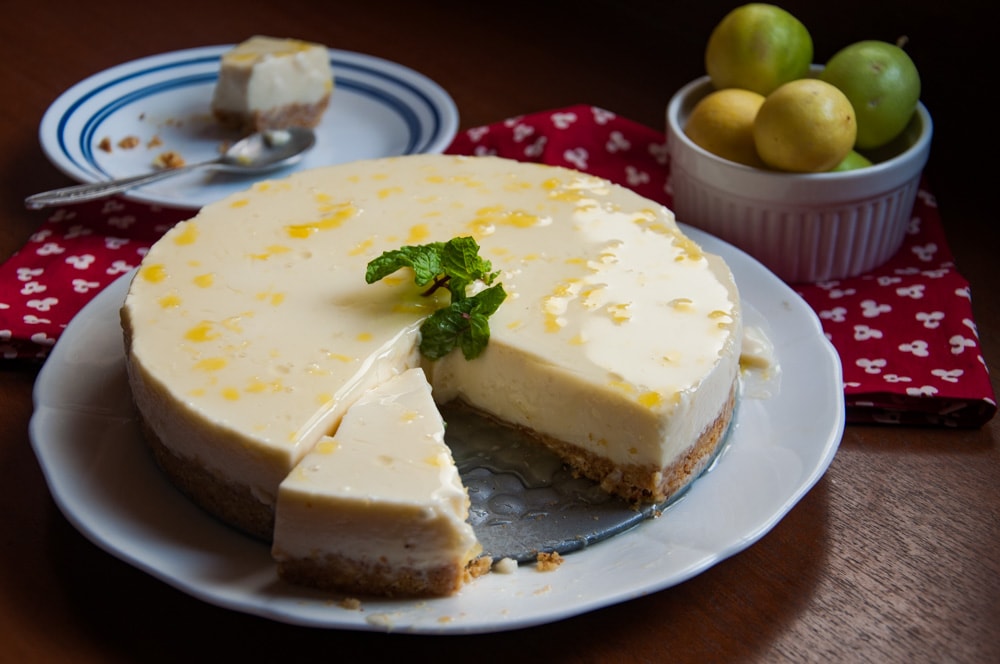 Quick Tips For Variations
The lemon mousse filling has a universal quality. It matches well with many toppings. Instead of lemon sauce, you can pour blackberry, strawberry, orange, plum, peach or other sauce with fruit pulp over the cream cheesecake once it is set.
So drive your imagination and play with ingredients in hand and create your own version. Also, send us a photo on our Facebook or Instagram.
You can also add ½ cup cream cheese to it if you like it rich. But I think it is just right.
This dessert can also be set in a 1-liter casserole or similar dish if a springform pan is not available.
You can make a biscuit base without almonds too but roasted almonds really give a crunchy kick to the plain biscuit and butter.
This recipe is eggless but if you wish to make it airier, add 2 egg whites whipped to stiff peaks.
I've made this lemon mousse cake in a pan for family serving but you can do individual servings in glasses too. So you can go with whatever works best for you.
You can check my post about tips for working with gelatin here if your gelatin won't set easily.
Want more easy desserts? Check these!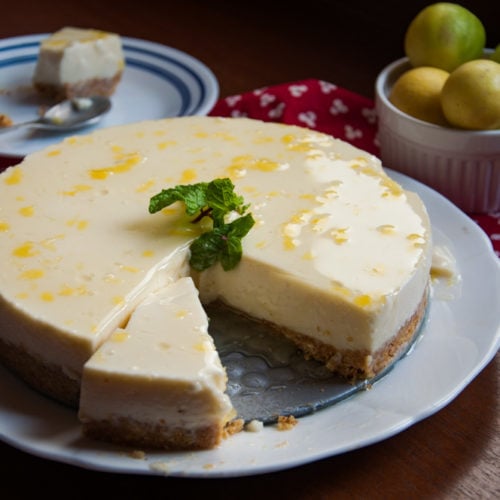 Ingredients
For Base
10

hard biscuit

,

like Marie or digestives

4

wheat biscuit

¼

cup

almonds

,

roasted and coarsely grounded

50

grams

butter
Lemon Sauce
2

tablespoon

lemon juice

¾

tablespoon

corn flour

¼

cup

sugar

¼

cup

water

zest of 2

lemon
Instructions
For base
Crush both biscuits coarsely in grinder.

Now mix crushed almond and butter in biscuit.

Place the mixture in a springform pan (7 inches) and press with a flat and heavy object to form an even layer of the base. Place in the freezer for 20-30 minutes.
To Bloom Gelatin
Place a heatproof bowl over a hot water bath. Mix 2 tablespoon of gelatin powder with ½ cup warm water. Stir at regular intervals until fully dissolved.
For Mousse
Mix condensed milk, cream, lemon juice, and milk in a bowl. Now add bloomed gelatin and mix well. Pour the lemon mousse over the biscuit base.

Refrigerate again for at least 2-4 hours until set.
For Lemon sauce
Mix all ingredients of lemon sauce and heat over a pan with constant stirring until thickened.

When the mousse is set, pour lemon sauce gently over the dessert.

Slice the cake and serve.
Notes
This dessert can also be set in a 1 liter casserole or similar dish if the springform pan is not available.
You can add ½ cup cream cheese to it if you like it rich.
You can make biscuit base without almonds too but almonds really give a crunchy kick to the plain biscuits.
Nutrition Information