Watalappan or vattalappam is a traditional Sri Lankan dessert recipe that is made with coconut milk and soft Kithul jaggery. This is a simple dessert and requires very basic ingredients like eggs, kithul jaggery , cardamom, and coconut milk.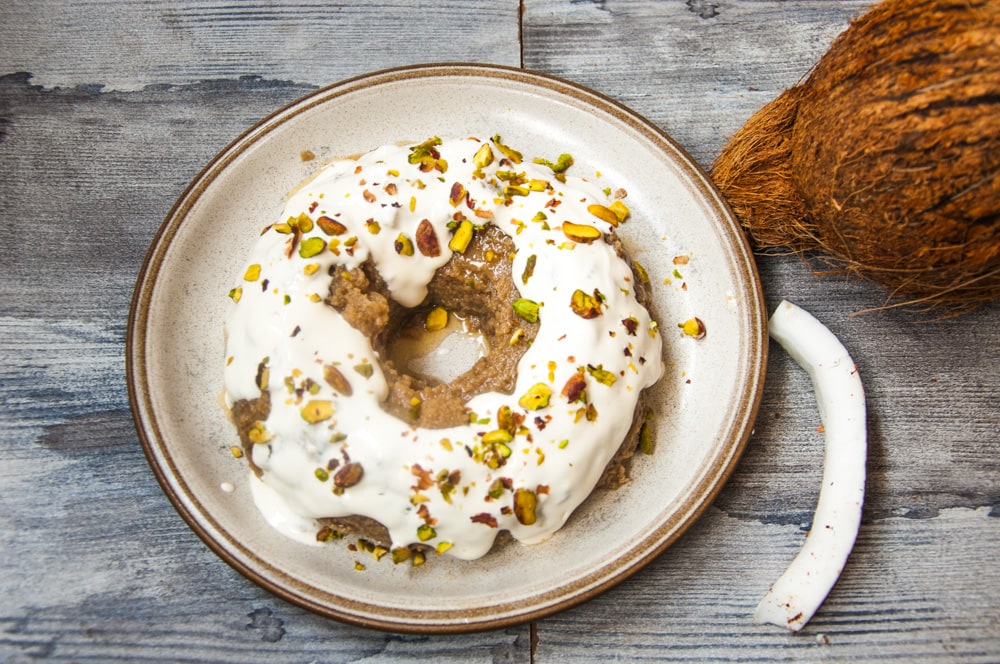 Taste of Sri Lankan Watalappan
It is a coconut pudding that tastes different from regular coconut pudding. This Sri Lankan Dessert has a very earthen and soulful taste. The flavor of cardamom is also is very eastern in the dessert. Cardamom is a staple in every Indian Kitchen but you can use vanilla extract too if you do not have cardamom in your American kitchen.
The taste of jaggery or brown sugar is very strong in this dish so people who love jaggery desserts like Malida are likely to enjoy it. Also, those who love egg pudding and coconut will enjoy this treat immensely.
My kids just love it. I came to know about this dessert on a cooking show. My mother in law watches this show regularly and she suggested me to try this recipe. And I'm glad, I did and so will you if you try it.
Kithul Jaggery
Kithul jaggery is syrup obtained from palm tree with grape-like fruit. The syrup is further cooked until it reduces to honey-like thick and sweet paste resembling a soft pure block of sugar cane jaggery. This kithul jaggery is widely used in Sri Lankan cuisine.
Now, I know you are wondering how to get your hand on this jaggery. No worries, I'm making this Sri Lankan dessert with brown sugar which is easily available everywhere. For more earthen flavors, you may add a tablespoon of molasses (not mentioned in the recipe card to keep recipe simple.) You can also use sugar cane jaggery in this Watalappan but of course, nothing replicates the authentic flavors of kithul jaggery.
Should I Bake or Steam?
You can either bake watalappan in Brian Marie (water bath in an oven) for 30 minutes or until pudding is just set. Traditionally, watalappan is steamed and I also found steaming easy and so I'm sharing the same method.
How to know Watalappan is set?
It is best to note the time of baking or steaming, watch the video for the best visual instruction. For more visual signs the watalappam will appear to be set when cooked. When you shake it will be still jiggly but it will have no creamy liquid. You might see a little water separating on the sides but that is ok. We don't want that water to dry. We want the eggs in the pudding to set.
One more important thing is not to over-cook or bake the dish. Otherwise, it will become dry and lose its light, soft, melt in the mouth texture.
How to garnish?
Watalapan, in usually garnished with roasted cashew but I used cream and pistachio in the garnish. The sugar-free cream gives a very tasteful combo with the sweetness of pudding while the green color of pistachio is also very tempting. Obviously, you can use any roasted nuts of your choice like cashew, almonds or pistachio.
Finally, this is a very nutritious dessert because it has eggs, coconut milk and just natural sugar in the form of brown sugar or jaggery. A great choice for kids.
My other similar recipe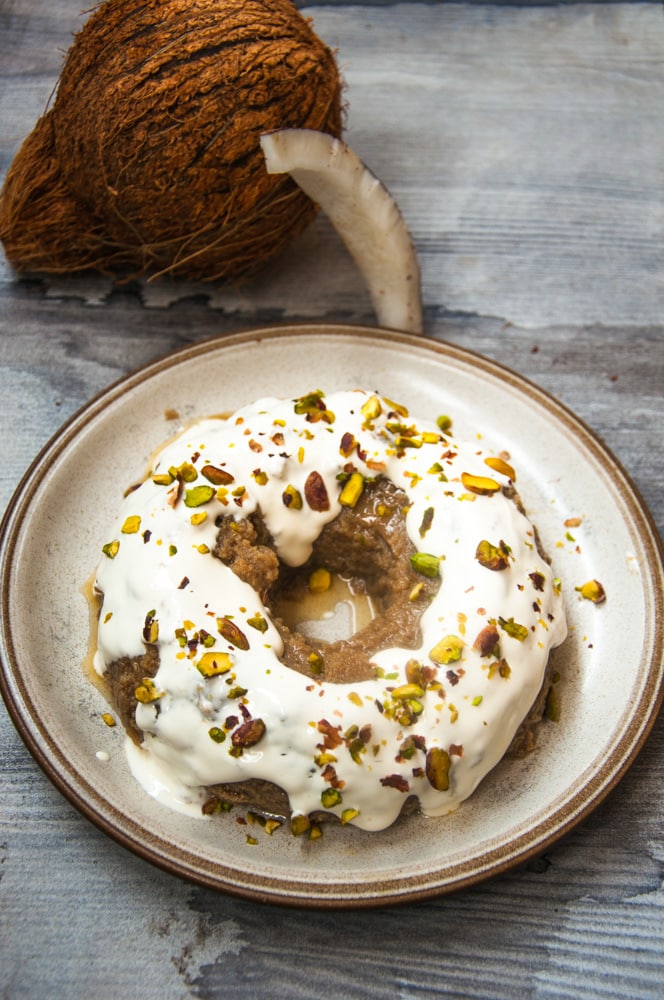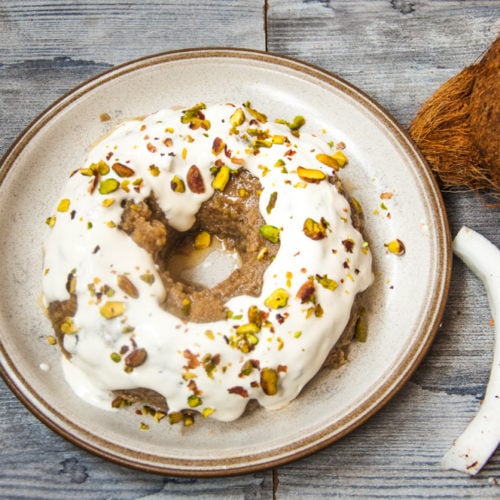 Watalappan
This coconut and brown sugar pudding will steal your heart. So yummy!( 200 ml cup is used.)
Print
Pin
Rate
Ingredients
2

tablespoon

butter

¼

cup

water

1¾

cup (or 250 gram)

kitul jaggery or brown sugar

,

, packed

1

cup

coconut milk

,

, canned

5

large

eggs

½

teaspoon

cardamom powder

A pinch

salt

½

cup

cream

Pistachio

,

or cashews to garnish
Instructions
Grease a 7.5-inch pudding mould with butter.

In pan heat water and brown on low heat with constant stirring. Cook for 2-3 minutes until brown sugar melts completely into a syrup.

Let the syrup cool to room temperature then add coconut milk, mix well and set aside.

In a bowl beat 5 eggs with a whisk and add the brown sugar syrup. Mix well.

Now place the strainer over the greased mould and strain the pudding mixture simultaneously filling the mould.

Cover the mould with a foil paper.

Fill a large pot ¼ with water and bring water to boil. Place the pudding mould in the pot and place a heavy lid on the pot so steam cannot escape. Cook for 40-50 minutes until pudding set completely but still jiggly upon shaking.

Remove mould from steam bath and bring it to room temperature. Then place it in the fridge to chill for 4-5 hours.

When Watalapam is chilled, run a knife across the edges to loosen the mould.

Place a plate on the mould then flip the mould to remove the pudding.

Spread whipped cream on pudding, garnish with pistachios and serve chilled.
Nutrition Information