Carrot cake is a true winter delight when the fresh juicy red carrot is plentiful in season. It is a great way to introduce carrots to kids who would not eat them in other foods. This carrot bundt cake is moist and rich with nuts and raisins. The cake is not very dense and not as a light sponge but gives a satisfying bite full of flavors. The bundt shape makes it very tempting, overall the recipe is versatile and can be adapted to regular cake or even cupcakes.
There is no absolute evidence about the origin of carrot cake but it is assumed that it evolved in Britain during medieval times from carrot pudding. In those days sweeteners like sugar were not easily available or very expensive. So, carrots were used to sweeten desserts.
Jump to:
What makes this cake so good?
To make a light carrot cake you need an airy batter. This can be attained by beating the eggs very well until foamy. Secondly, you must not skip the sifting of flour. Lastly, adding less or no nuts and less grated carrots than mentioned in the recipe can also give you a lighter texture. I used 1 and a half cups of grated carrots, you may use just 1 cup grated carrots for a lighter less dense cake.
If you like to make moist carrot cake, this is a perfect recipe since brown sugar and a plentiful amount of carrots both help give a moist texture to the cake. Another tip is that carrot cake tastes moister the second day.
Ingredients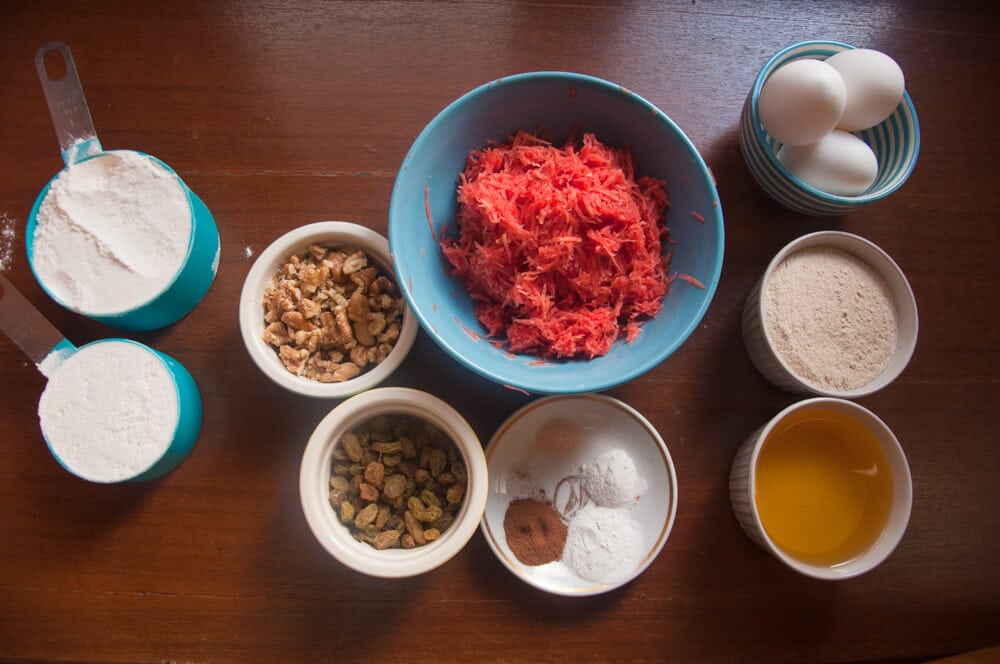 Eggs should be room at room temperature which helps beating more air in the eggs.
Brown sugar: You can also add little molasses for a richer taste. If you have jaggery available to you. You can switch brown sugar with jaggery in the same volume. Jaggery is naturally rich in molasses which makes it a better option for carrot cake. I tried this recipe number of times with brown sugar as well as jaggery and I like jaggery version better. To keep things simple for everyone, I used brown sugar in the recipe.
Vegetable Oil, traditionally oil is used in carrot cake. You can use any neutral flavor oil. I used sunflower oil to test this recipe.
Baking powder and baking soda are rising agents in the recipe which lifts the cake and gives it a lighter texture.
Cinnamon powder: Carrot cake is traditionally spiced with nutmeg, cinnamon and allspice powder. I used only cinnamon to keep it pleasant. I feel the overly spiced cake is too heavy on the senses. But you may add a pinch or two of any of your favorite spice like cardamom, clove, saffron or nutmeg. All are good choices.
Walnuts are often added to carrot cake for deeper texture and taste but you can skip it for a smooth cake.
Do you add raisin to carrot cake? Traditionally, raisins are not added and some people do not like tiny bits of a chewy raisin in carrot cake. So again raisin is optional in this recipe. Can I substitute raisins for pineapple? Pineapple cubes can also be added to this cake. If you wish, you can add ¼ to ½ cup tiny pineapple cubes in the cake instead of raisin.
Carrot: Yes, you add real carrots in carrot cake. But often, they are less visible as you finely grate it. And the carrot taste it also undermined by spices and cooking.
Flour sifted for more air in the cake.
How to make it?
Preheat oven at 350 F, 180 C, Gas mark 4. Grease a bundt pan of size 7.5 inches with a generous amount of butter.
Blend eggs with brown sugar until the mixture is light and airy.
On the plate, I have a pinch of salt, baking powder, baking soda, and cinnamon powder. Add to the batter.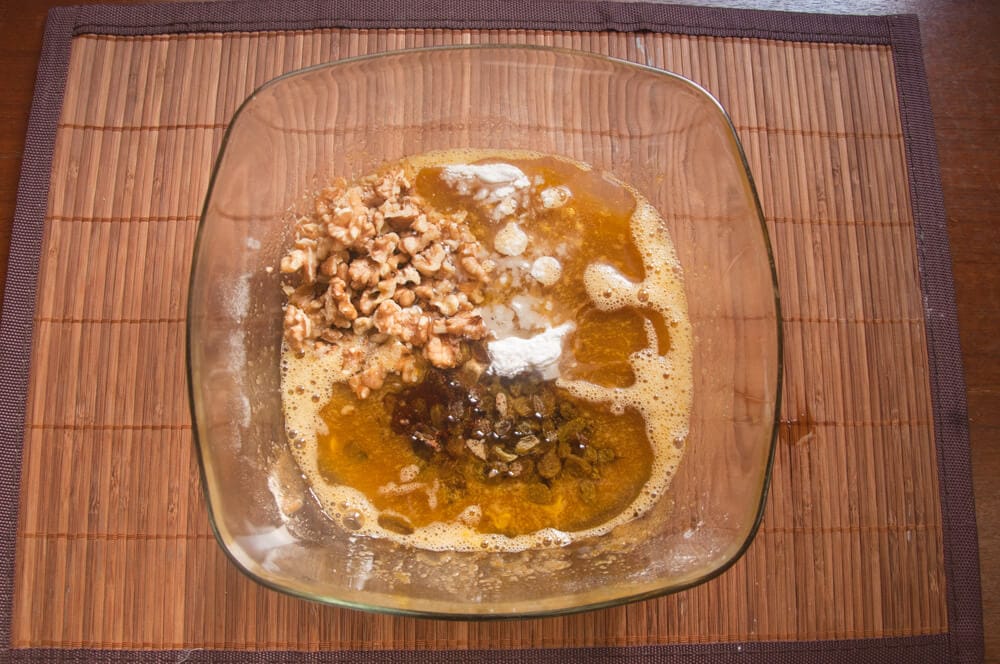 Also, add walnuts and raisins. Mix well with a whisk.
Add the carrots. (I used the fine grater to grate the carrots.)
Sift the flour directly in the bowl. Then fold the flour in the batter with help of a wooden spatula. (Do not over mix or gluten will form and will produce a tough cake.)
Transfer the batter to the bundt pan. Make sure to fill only ⅔ pan and the fluted tube should be visible and not covered in batter. Bake cake for 40-45 minutes in preheated oven at 350 F, 180 C, Gas mark 4. The cake is ready when a toothpick inserted comes out clean.
Bake cake for 40-45 minutes in a preheated oven at 350 F, 180 C, Gas mark 4. The cake is ready when a toothpick inserted comes out clean.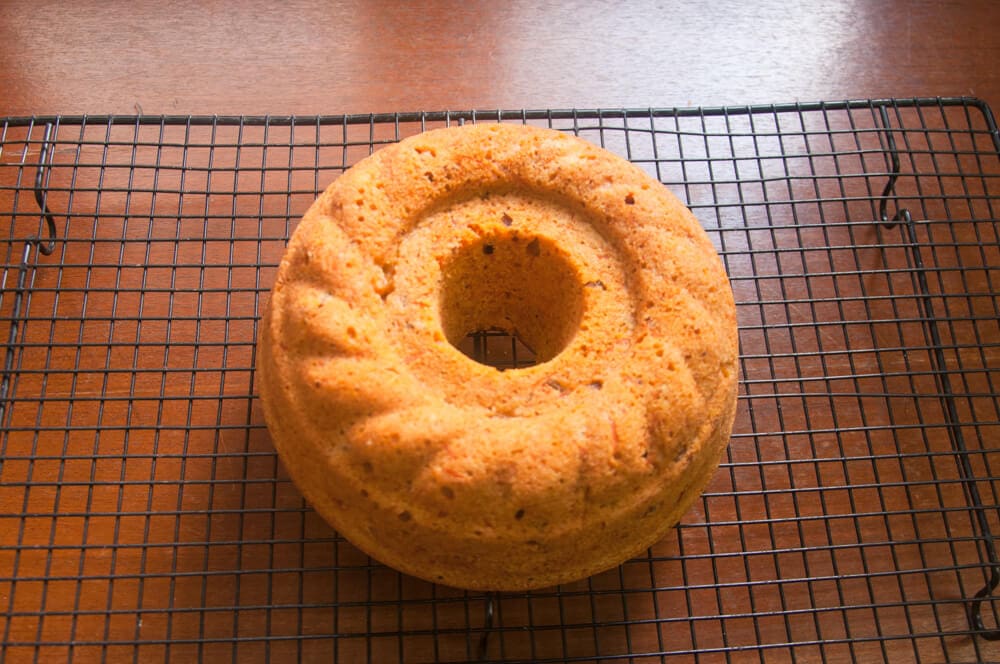 Let the cake cool in the tin for a few minutes, then transfer it to a wire rack. Cool the cake completely before frosting.
Prepare the frosting by beating butter with a beater for 2 minutes. Add sugar little by little and mix well. Add ½ milk at a time until the frosting is light and fluffy.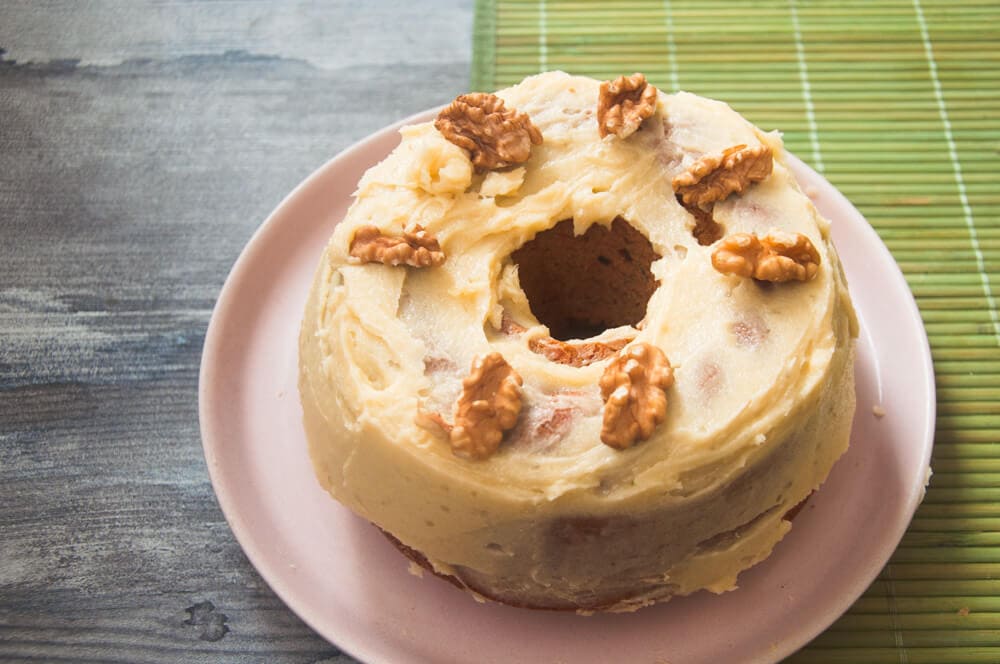 Apply frosting on the top and sides of the pan with a palette knife. Alternately, you can also use a piping bag and frost a thick line along the grooves of the fluted edges. Garnish with whole walnuts.
Frosting
Since a bundt cake has naturally fluted sides you can enjoy it as it is. The most common frosting is a glaze or chocolate sauce drizzled on the top that naturally flows between the edges. For this cake, I used buttercream frosting. However, carrot cake is most commonly frosted with cream cheese icing. I've also tried cream cheese frosting with this cake and it tastes great too.
Here's a quick recipe for cream cheese frosting. Take ½ cup cream cheese, ¾ cup confectioner's sugar, and 1½ tablespoon butter in a bowl. Beat all ingredients together until smooth frosting is formed. Double the recipe if you want a generous frosting for a round cake.
Always store carrot cake in an airtight jar on the counter at room temperature. Consume within 2-3 days. Or keep the cake in the fridge and consume it within 6-7 days.
Can you make it in a bundt pan?
Yes, carrot cake can be made in a bundt pan. You need to select the correct bundt pan size to change a regular carrot cake recipe to bundt cake recipe. A simple tip is you fill ⅔ of the bundt pan with batter. Check pan sizes details by brown eyed baker here.
Baking time
It takes 30-50 minutes to bake a cake depending on the size of the pan. When the toothpick inserted comes of clean your cake is ready.
Can I make this recipe in a normal cake pan?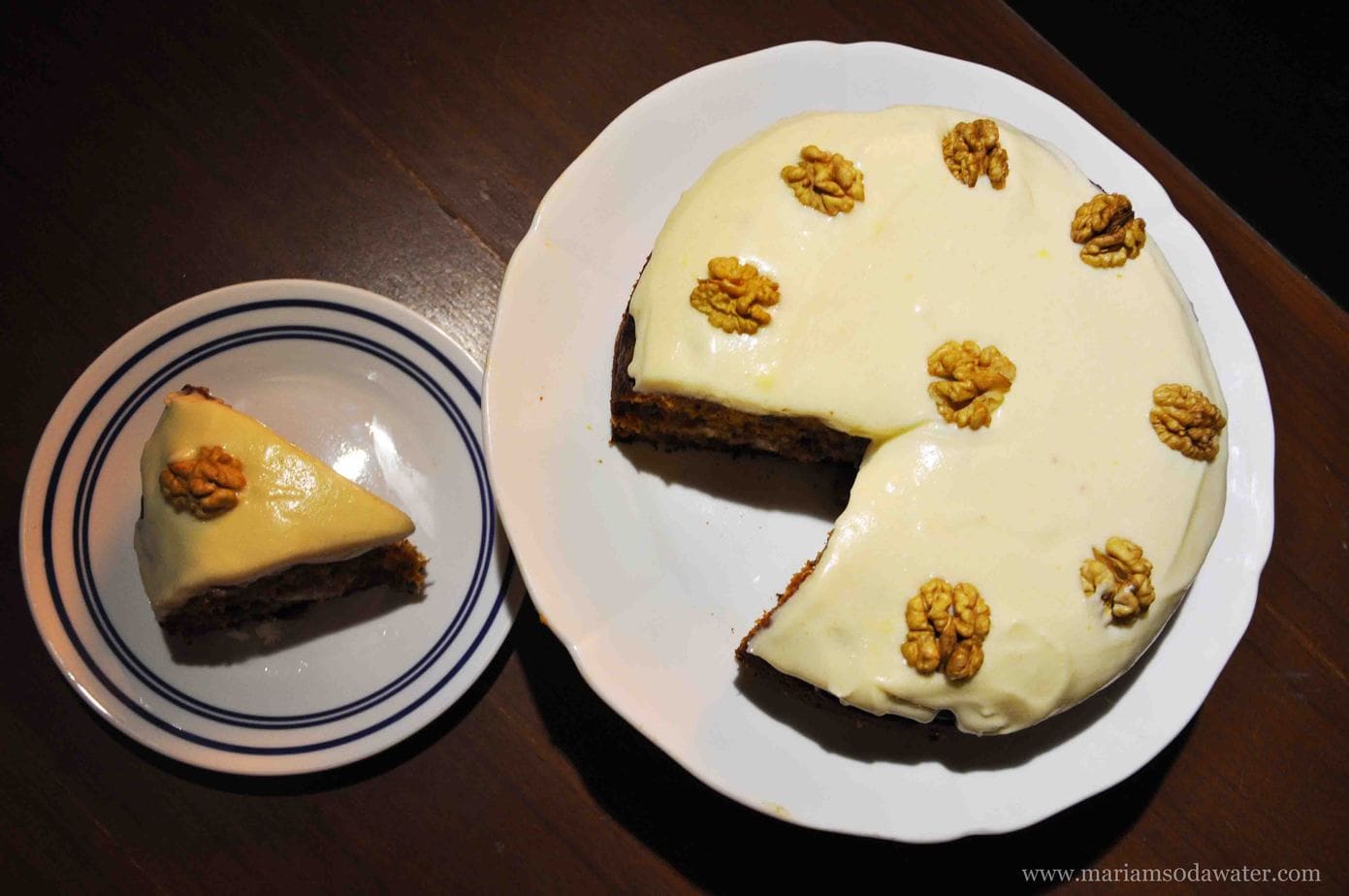 Yes, you can bake a carrot cake with the same recipe. Use 8 inch round pan or a 7-inch square pan to bake the cake. You need to double the frosting ingredients to make generous frosting for the cake. Divide the cake into two layers. Apply half frosting on the bottom layer and the remaining on the top layer. Garnish with whole walnuts.
Want to satisfy your sweet tooth?
📖 Recipe
Carrot Bundt Cake
Use fresh red carrots for best result. The cake is rich, wholesome and full of flavors. A great choice for tea party!
Print
Pin
Rate
Equipment
7.5 inch bundt pan, see notes for more pan sizes
Ingredients
For cake
3

egg

,

at room temperature

¾

cup

brown sugar

,

or jaggery, finely grated see notes

¾

cup

vegetable oil

,

I used sunflower oil

1

teaspoon

baking powder

½

teaspoon

baking soda

½

teaspoon

fresh cinnamon powder

¼

cup

golden raisins

¼

cup

walnuts

a pinch of salt

1½

cup

finely grated carrot

,

(170 gm)

1½

cup

flour
For Butter cream frosting
1

stick

butter

,

(113 grams)

½

teaspoon

vanilla essence

1½

cup

icing sugar

,

(200 grams)

1-2

tablespoon

milk or cream

,

as needed
Instructions
For Cake
Preheat oven on gas mark 4, 180 C or 350 F.Grease 7.5 inch bundt pan generously with butter and set aside.

Beat eggs and brown sugar in a bowl until light and fluffy.

Whisk in oil, baking powder, baking soda, salt, cinnamon powder, raisin, walnuts and shredded carrots.

Next, incorporate flour into the mixture with the help of a spatula just until combined.

Pour mixture in the greased bundt pan.

Bake for 45 minutes, until toothpick inserted come out clean.

Let the cake cool for few minutes then remove from tin and cool on wire rack completely before frosting.
For frosting
Beat butter until fluffy with a hand beater or stand mixer. Gradually add sugar to butter while mixing on lowest speed.

When all sugar is added, increase the speed of beater and add ½ tablespoon milk at a time to the mixture until it is form a soft frosting texture. Add just 1 or 2 tablespoon milk, as needed. Frosting is ready. You may cover it with cling wrap and store in fridge until cakes is cool and ready to frost.

Spread the frosting evenly by circulating the plate and spreading the frosting with a pallete knife. Garnish with walnuts and serve.
Notes
You can also bake this cake in 8 inch round pan or 7 inch square pan.
Jaggery has high levels of molasses than brown sugar which make it a good option for this cake. Make sure to use finely grated jaggery so it melts easily.
They cake is great for teatime when serve warm and freshly baked  even without frosting.
Nutrition Information
Serving:
1
slice
,
Calories:
463
kcal