Bajra roti or bajre ki roti is a delicious and crispy flatbread that can be enjoyed on its own too. Step-by-step bajra roti recipe with photos to warm your winters and give your numerous health benefits o this millet.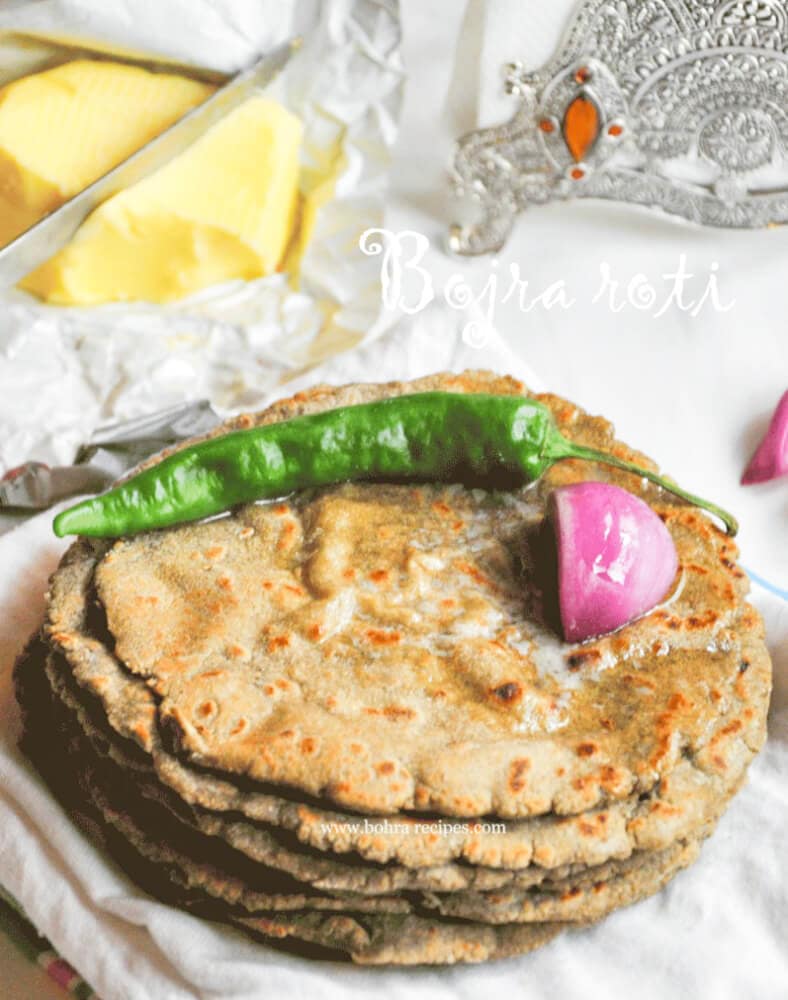 Bajra flour or bajra atta is made by grinding bajra grains (pearl millet). Bajra roti or pearl millet flatbread is a grey flatbread that is not very appealing in appearance compared to other flatbreads. This flatbread has a rustic and unique taste. The lack of elastic gluten protein makes it difficult to roll but, with this simple step-by-step, you can easily make it. Bajra roti is also called bajra ki roti or bajre ki roti.
Jump to:
My hubby loves bajra roti. This flatbread is quite filling so you can't consume it in large quantities like roti or chapati. But, the good news is you can freeze the leftovers. Although, fresh tastes best.
Nutrition and Benefits
Bajra or pearl millet is high in fiber, protein, calcium, phosphorus, magnesium, and iron.
It is good for diabetes because unlike other grains it slowly releases glucose in the blood, keeping blood sugar levels in control.
Bajra roti is specially eaten in winter as the consumption of bajra is capable of keeping the body warm. Therefore, many doctors advise consuming bajra in moderation during summer as it can cause digestive problems if consumed in large quantities regularly.
Bajra flour is not keto-friendly because 100 grams of bajra contains 67 grams of carbohydrates. While the keto diet is a very low-carb diet, bajra can add too much carb to your meal and kick you out of ketosis.
You can read more benefits here.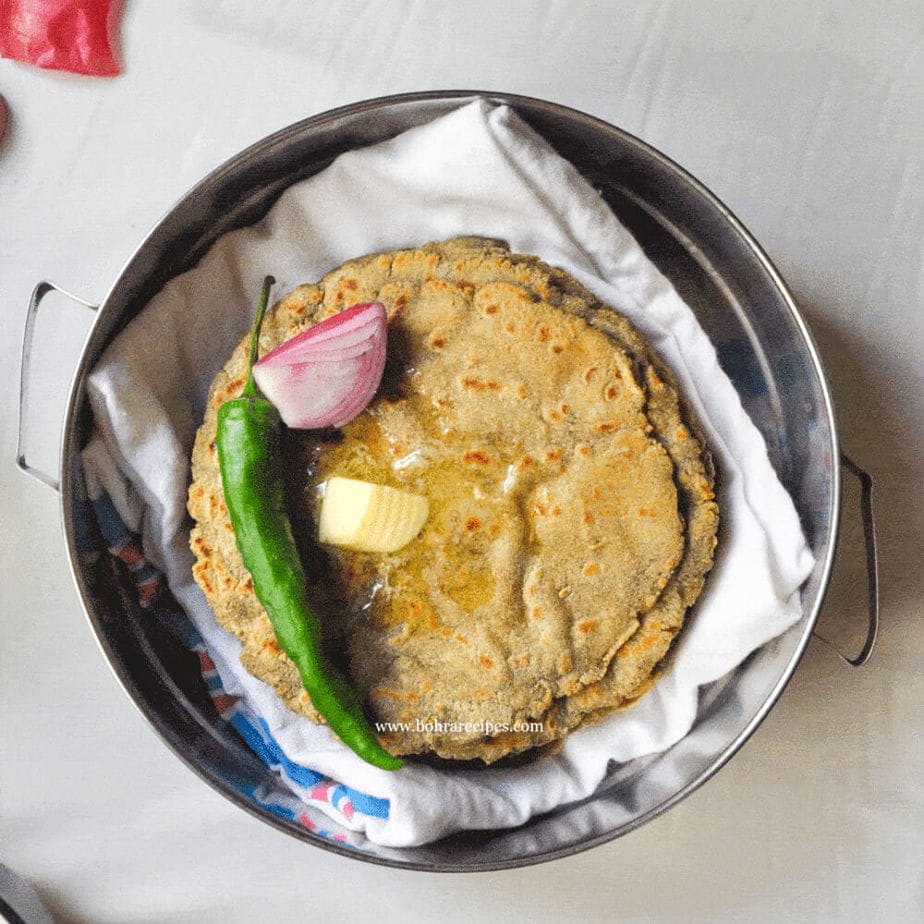 How to make it?
Bring water to a boil.
In a bowl take bajra (pearl millet) flour, oil and salt.
Pour ¾ cup hot water and mix with a spoon. Then mix flour and water with your hands to make a dough. If you need more water add it little by little. The dough will not need any kneading as it is gluten-free.
The dough is ready but it shouldn't be very hard or roti will be hard too. And very soft sticking dough will make it very difficult to make roti. So adjust by adding more flour or water if required. Quality of Bajra atta also is important.
Roll 10 balls out of dough. Shape the balls into a round disk. (At this step also place the tava for heating on the medium-high flame ).
Roll each disk into flat roti with hands using bajra flour, very little dusting will be required. You can use a rolling pin too. Lack of gluten makes the roti less elastic compared to wheat flour roti so few people find it difficult to make bajra roti. So I have made very small and thick rotis that are easy to handle.
When tava is hot put bajra roti on it. Cook First side half done.
Now flip and fully cook the second side.
Now flip again fully cook the first side( that was half cooked). See the roti puffs up. If your roti puffs up it mean you cooked it right and it will be soft. If it doesn't puff, no need to worry with practice it will start puffing.
The first side of roti is also cooked now. You can either smear some oil after removing from tava or you can fry roti with 1 teaspoon of oil or ghee. Serve hot with bhuna keema or bohra lasanyo.
For children and toddlers, you can make a slit in bajra ki roti with a knife. Then add a dollop of butter and some sugar. The sugar and butter will melt in hot roti. Then break this bajre ki roti into tiny bits. This is called choori. You can feed toddlers with this healthy food.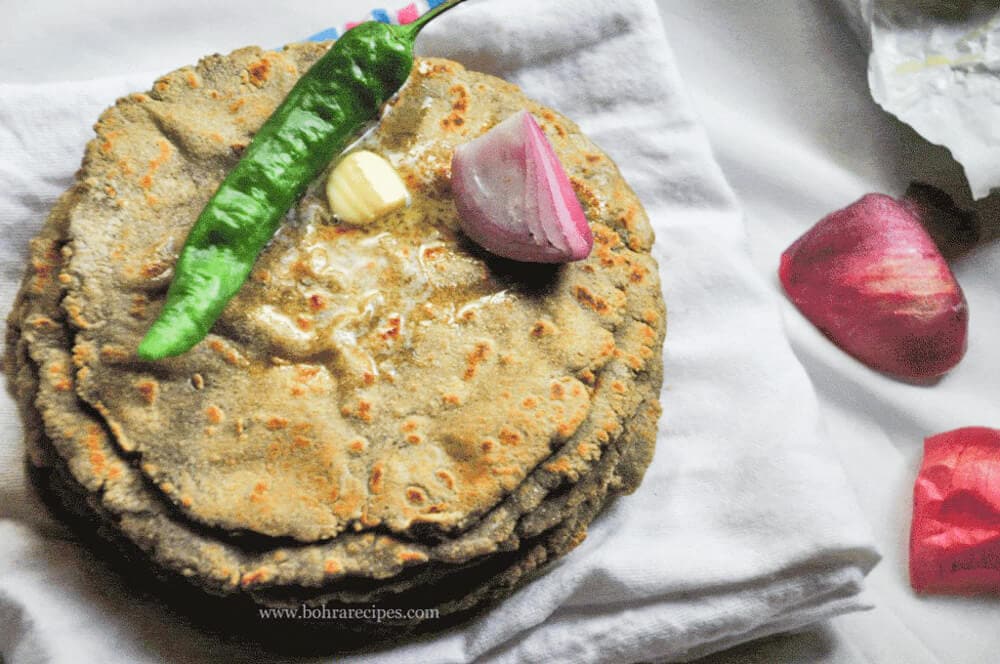 Recipe FAQs
Is bajra roti good for weight loss?
Bajra needs more time to digest compared to other grains. This makes it a good option for weight loss as it keeps you full for a longer duration.
What to eat with Bajra roti?
Bajra roti has a lot of taste on its own so you can have it as a snack too. It can be paired with any sabzi or Indian vegetable curry. We like to eat it with half-fried eggs and keema.
How to store Bajra roti?
You can store bajre ki roti in the fridge for 2 days. Or freeze immediately after cooling the fresh roti. You can store it in the freezer for up to 15 days. Remove from fridge 30 minutes before serving and fry on tava with little oil to reheat and they taste great.
Is Bajra Gluten-Free?
Yes, bajra or pearl millet is gluten-free and is a great option for gluten intolerant people. The gluten protein that is present in wheat and wheat derivatives is absent in bajra.
Try one of these veggies with Bajra roti
If you try this Bajra Roti Recipe, I'd LOVE to hear your feedback in the comments. Most 5-ratings motivate me to do my best. Stay connected for more recipes and videos on Facebook, Instagram, Pinterest, and Youtube.
📖 Recipe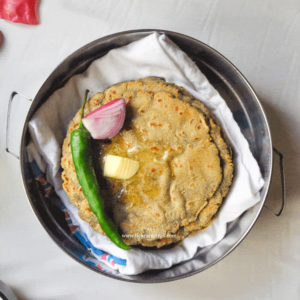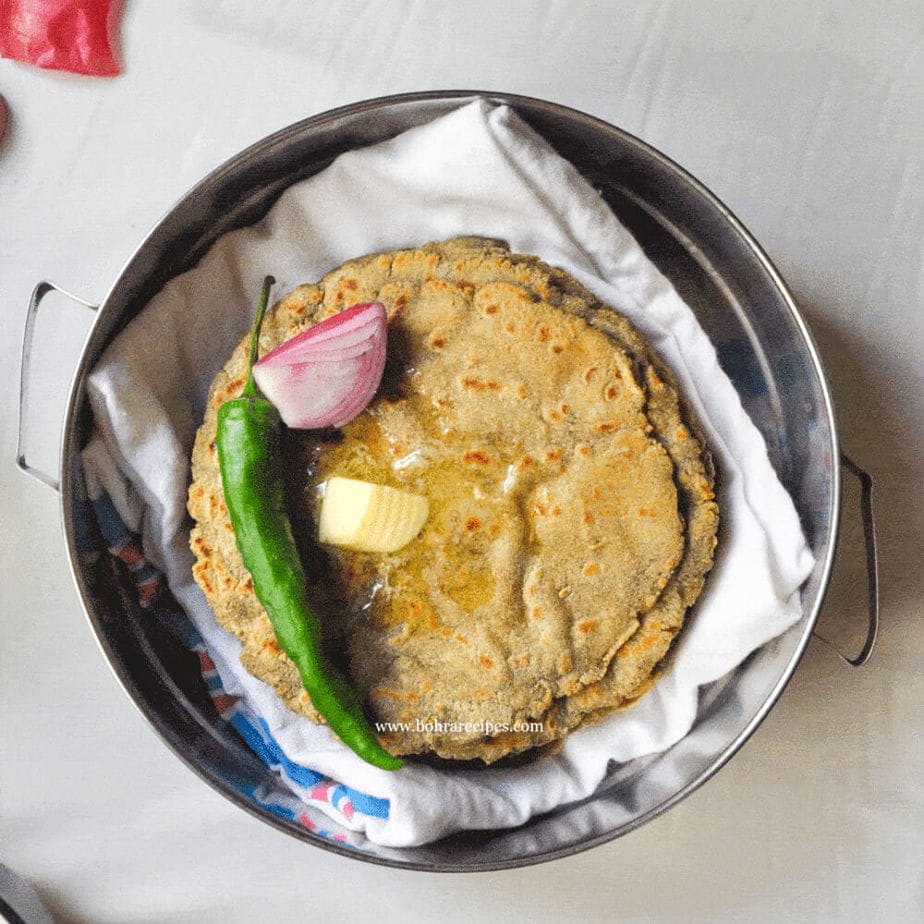 Bajra Roti
Serve bajra roti warm with jaggery and butter. Or pair it with any Indian veggie. And warm yourself in winters.
Print
Pin
Rate
Ingredients
3

cup

pearl millet flour

,

(or bajra flour)

1

teaspoon

salt

,

or to taste

1

tablespoon

oil or butter

,

more for frying roti or smearing on the top of roti.

1 to 1 ¼

cup

hot water

,

as needed.
Instructions
Bring water to boil.

In a large bowl, add pearl millet flour, salt, and oil. Add hot water little by little and keep stirring with spoon.

After adding ¾ cup, mix flour with hand. Add more water little by little and make a soft dough.

Keep the tava/ griddle t heat on stove.

Divide dough into 10 portion. Shape the portions into a disk.

With help of some flour, shape each disk into small and round thick flat bread by pressing with hands on a flat surface.

Cook roti on the tava, just like roti. (Half cook the first side and flip. Fully cook second side and flip to first and fully cook first side of roti).

Smear oil on the baja roti after removing from tava or after cooking roti you can fry the roti on tava to make it crispy.

Serve the roti fresh with a dollop of butter.
Notes
You can store bajra roti in freezer up to 15 day. Fry on tava with little oil before serving and they taste great. Freeze immediately after cooling the fresh roti.
Nutrition Information
Serving:
1
small roti
,
Calories:
60
kcal