It is the most common mince meat dish cooked in every Indian / Pakistani home. Keema literally means to mince anything. In broader terms, keema means Indian Pakistani curried ground meat.
Jump to:
Why does this recipe work?
The taste of this Pakistani keema recipe is absolutely rich because of the browning technique and then braising of the ground meat curry to accentuate the flavors. Bhuna means to stir-fry on high flame so when mincemeat is fried with spices on high flame, the result is bhuna keema.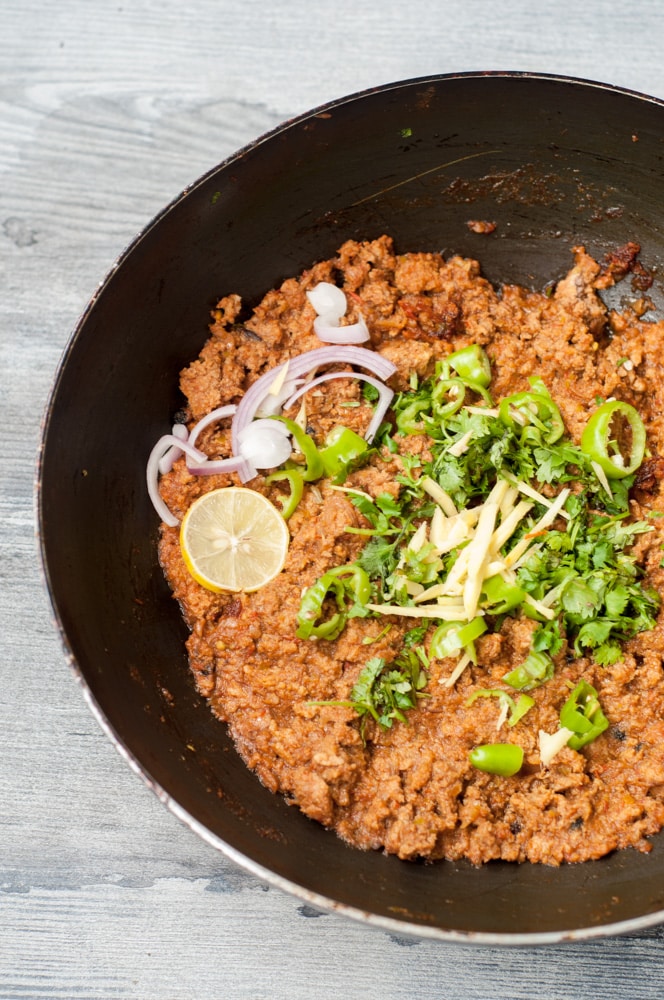 The flavor of bhuna keema is distinct and stronger than regular keema curry. I recommend cooking it in a wok or large bottomed vessel like a frying pan which allows plenty of searing surfaces. I used ground lamb to make lamb keema but you can use any red meat.
Ingredients
So we need just basic Indian curry ingredients for this keema recipe. What is important is the freshness of the ingredients.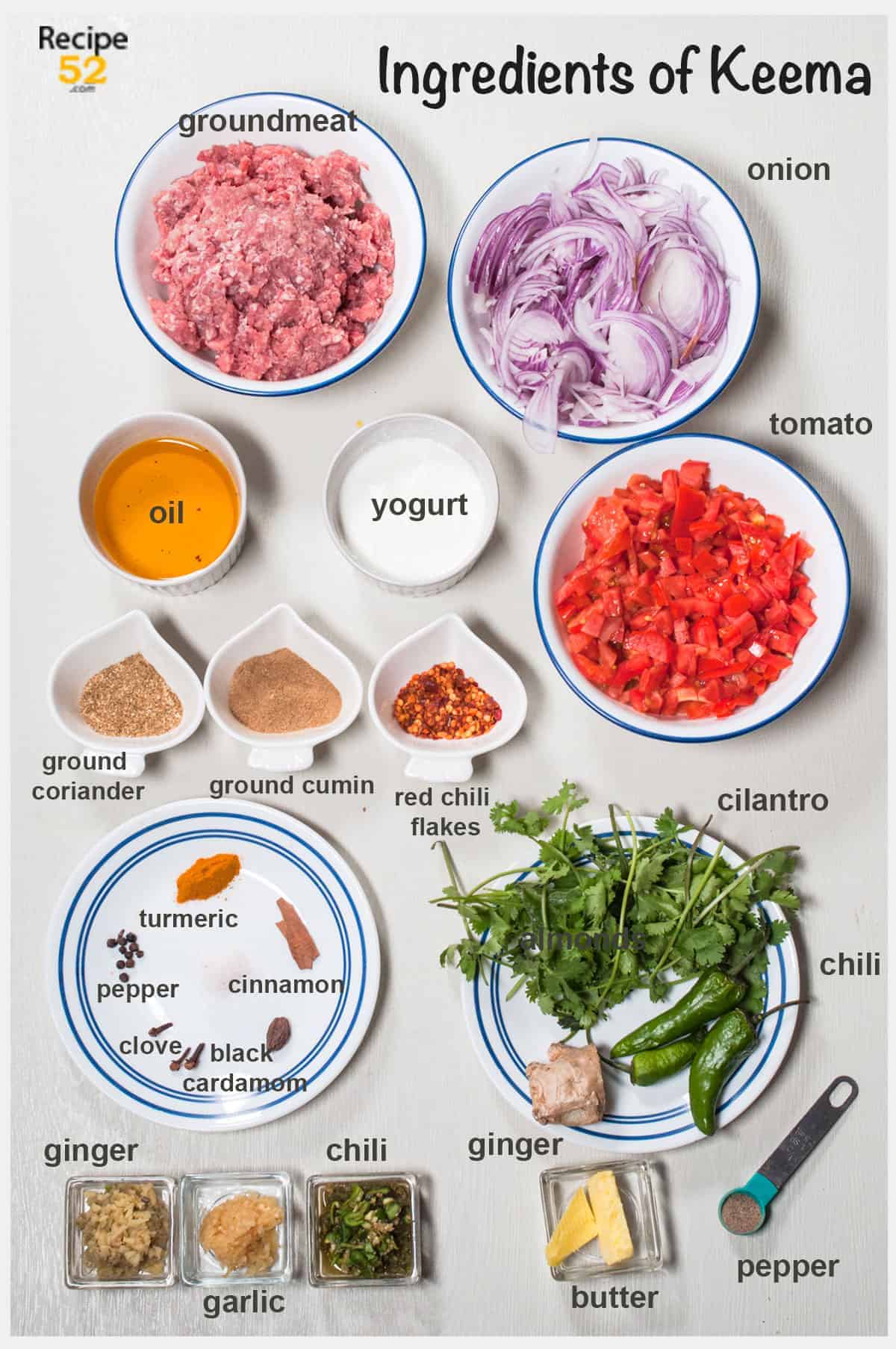 Ground meat: You can make this bhuna keema with ground lamb, beef, or mutton mince. Best tasting bhuna keema is made with beef mince that has 20% fat. However, for healthy options, you may take low-fat, lamb leg mince. (That's what I used.)
Onions: I fried freshly sliced onion for this recipe. But if you have pre-fried onions in hand, you can use that too. You'll need about half a cup of fried onions.
Tomatoes: I used fresh tomatoes, you can use packed tomato puree or paste. The cooking time will be reduced
Ginger, chilies, and garlic: If you want the best-tasting keema bursting with Indian flavors, use fresh spices.
This means using freshly minced ginger, garlic, and chilies. You can combine ginger, garlic, and chilies and mince them together in a processor.
Red chili flakes: I like the taste of red chili flakes, you can use red chili powder too.
Cumin and coriander: I always keep a bottle of pre-roasted and grounded cumin and coriander in my pantry. The flavor is greatly enhanced by roasting.
For this, you can dry roast cumin and coriander separately in a pan on medium heat for a few seconds until fragrant.
Then grind it into a fine powder and store in air-tight jars at room temperature for up to 30 days. You can use this powder in other Indian chicken curries as well. If you are in hurry you can use regular ground cumin and coriander but roasting is recommended.
Indian spices: Other Indian spices are common. You can skip if do not have 1 or 2 spices. We need turmeric, whole cinnamon, whole black cardamom, cloves, and pepper. You can also sub ground spices for the whole.
Cilantro and julienne ginger: are almost always used to garnish.
Lemon wedges: These are personal preferences, so I'd prefer to serve along.
How to make it?
Below is an easy pictorial to make lamb keema recipe in 6 steps. (You can use beef or mutton keema too.)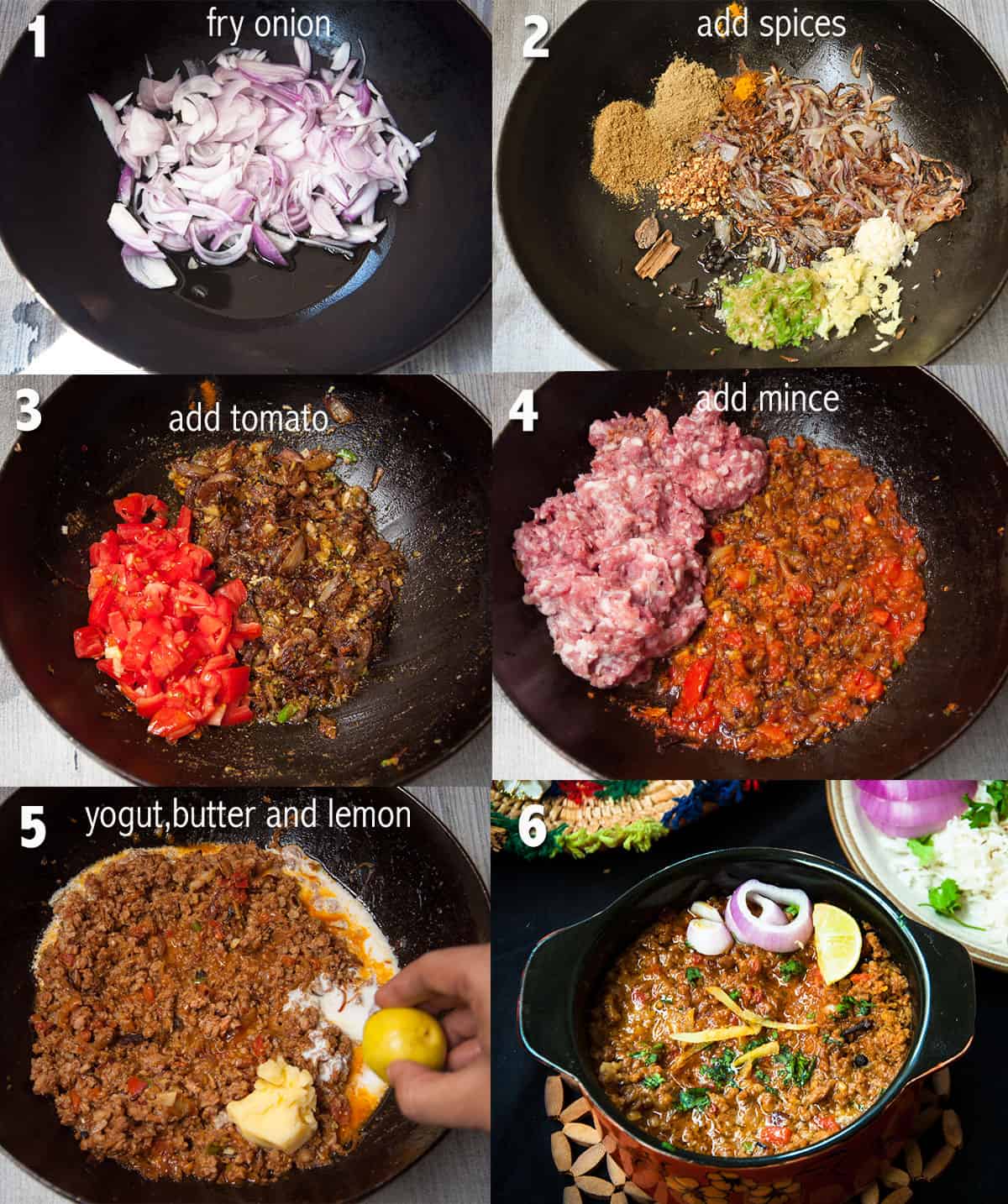 Fry thinly sliced onions in little oil on medium-low flame until golden brown.
When the onion is golden and crispy, add dry spices first, give it a stir then add wet spices like chili, garlic, and ginger. Stir well for a few seconds. (Try to use fresh spices for the best taste. See the ingredients section above for more details.)
Add tomatoes and salt, stir well, cover, and cook for 5 minutes until tomatoes are soft and melted. You should see some oil separating on the sides of the pan.
Add ground meat, and stir well. Cover and cook for 10-15 minutes. I used ground lamb but any ground red meat is good. The ground mince color changes. Let some of the water evaporate. Keep stirring at regular intervals.
Add yogurt and lemon, butter, and fry (bhun-na) qeema on a medium-high flame, until oil separates and the ground meat turns brown.
If you like a little gravy, you can add ½ cup of water and bring the keema to a full boil.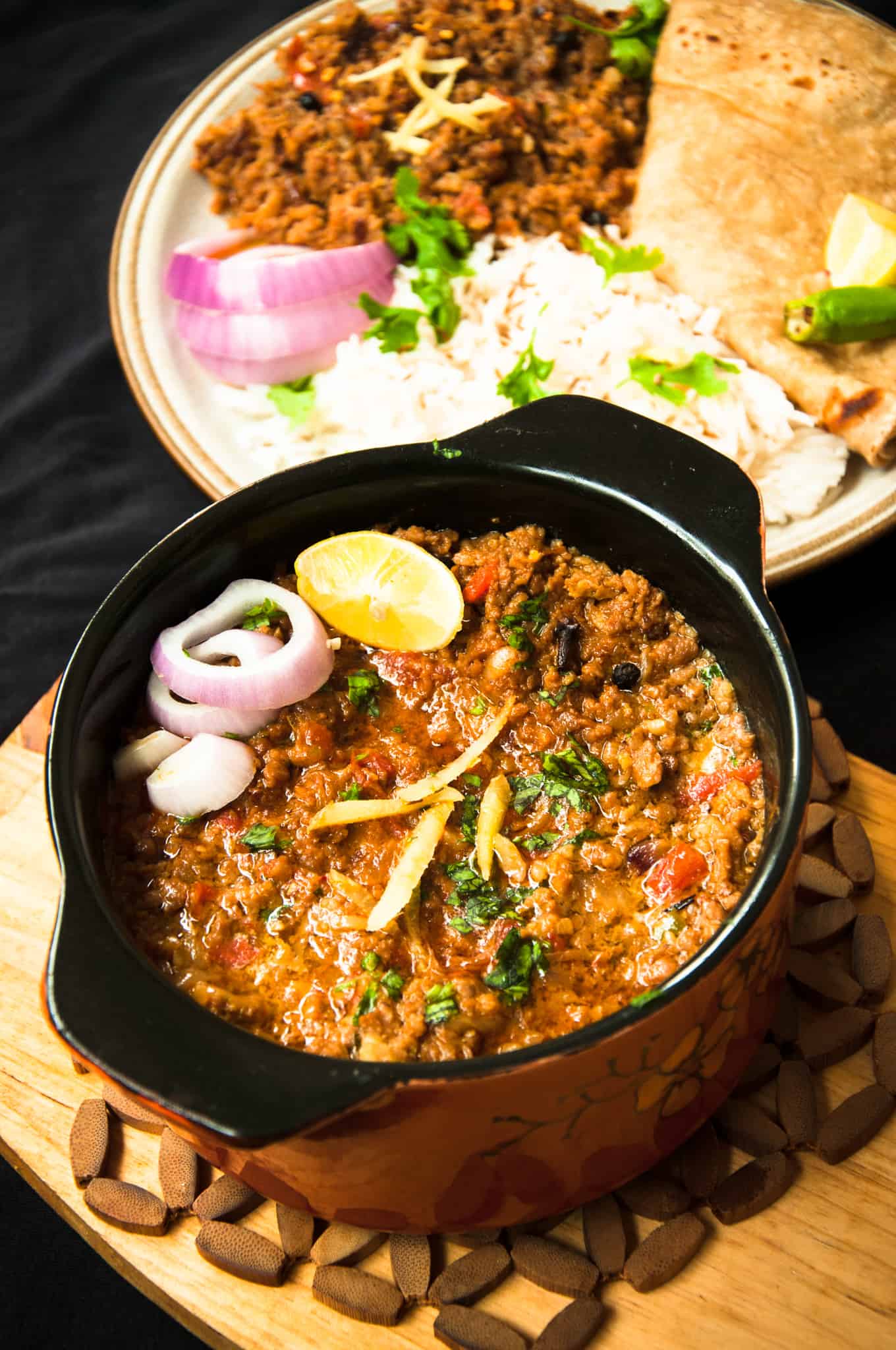 Tips
The bhuna keema recipe has high-fat content and low water content which makes it ideal for preservation. It is also great as picnic food; ideal for canning food on travel and stays good at room temperature for several hours.
The trick to best keema is to fry the mince until you see a golden browning in qeema (browning) and the oil separates profusely. This is like searing and is called bhuna ( bhun-na) in Urdu.
This is soul survival food that is very adaptive and can be added to pies, like making a base of this keema in shepherd's pie. Or add this bhuna keema in mince lasagna, paratha rolls, sandwiches, samosa filling, Bohra lasanyo, or aloo patties. Plus it is super easy and simple to cook.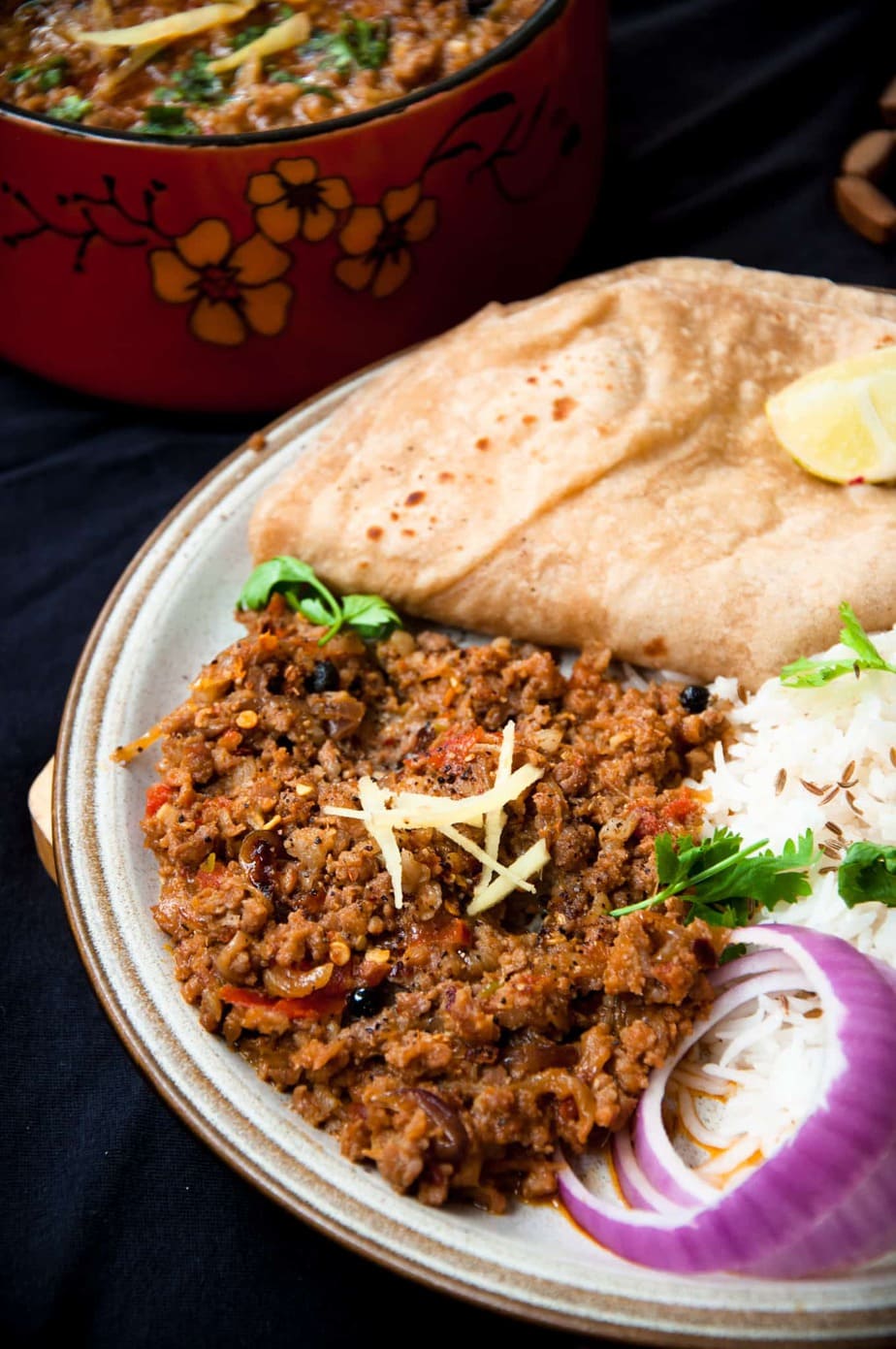 Recipe FAQs
What to eat with keema curry?
Keema is best eaten with any flat bread-like, roti, chapati, naan, or karak double roti. You can pair it with bread, buns, pita bread, or rice too.
What else can I add to Keema?
If you love a combo of veggies, you can add green pea to make Keema Matar curry or potato to make Aloo keema curry. Some readers also suggested adding herbs like fenugreek leaves, garlic chives, and dill leaves.
Hungry for keema recipes? Check these out here!
If you try this keema recipe, I'd LOVE to hear your feedback in the comments. Your 5-ratings motivate me to do my best. Stay connected for more recipes and videos on Facebook, Instagram, Pinterest, and Youtube.
📖 Recipe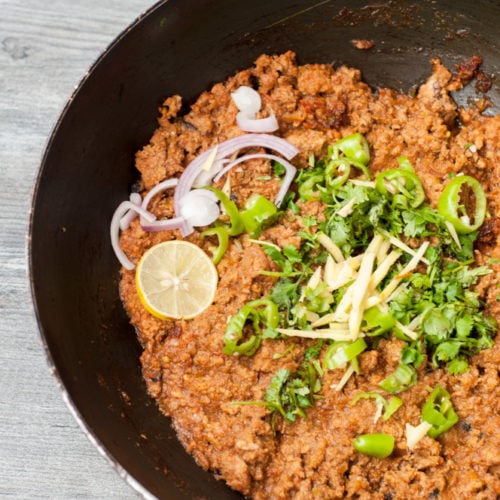 Pakistani Keema (Bhuna)
Some keema and hot chapati can make a hearty lunch. I've tried this recipe with ground beef and lamb, it works well with both.
Print
Pin
Rate
Ingredients
500

gm

ground meat / mince

,

beef / mutton / lamb

½

cup

oil

,

see notes 1

2

medium (325 gm)

onion

,

sliced, about 2 cups)

3

medium (300 gm)

tomatoes

,

chopped
Spices
1

tablespoon

cumin powder

,

preferably roasted and grounded

1 ½

tablespoon

coriander powder

,

preferably roasted and grounded

½

tablespoon

red chilli flakes

,

less or skip to reduce heat

4

cloves

8-10

black pepper

,

or less

½

inch

cinnamon stick

1

whole

black cardamom

1

tablespoon

minced green chili

,

or less

½

tablespoon

minced garlic

½

tablespoon

minced ginger
Other
2

tablespoon

lemon juice

½

cup

yogurt

,

whipped

2

tablespoon

butter

,

optional
Garnish
3-4

jalapeno peppers

,

thick slices

2

inch

ginger

,

cut in julienne

¼

cup

fresh coriander

,

chopped

¼

teaspoon

black pepper powder

,

preferably freshly grounded
Instructions
In a wok or large pan fry the onions in hot oil for 10 minutes on medium heat until light golden. Stir occasionally in the beginning for even cooking then more frequently as onion slices start to separate as threads.

Reduce heat and add whole and ground spices first, give it a stir then add ginger paste, green chili paste and garlic paste. Fry for few seconds.

Then add chopped or pureed tomatoes and salt, mix well, and cover. Cook for 3-5 minutes until tomatoes are soft.

Next, add mince meat, mix well and cover again. Cook for 12 minutes on medium heat.

Add whipped yogurt, butter, and lemon juice and fry (bhunna) qeema on medium-high heat, until oil separates and you see a brownish tinge.

(For gravy: At this stage you may keep it dry or add up to ¾ cup water and cook for another 15 minutes on low-heat for bhuna keema gravy.)

Add pepper powder, sliced jalapeno, fresh coriander, and ginger slices for garnish.
Notes
Oil: Bhuna means to fry and you need to add ½ cup to fry onion and have the best taste. However, you can skim a layer of oil from the top once keema is cooked to reduce the oil. You can add less oil if ground meat already has high fat.)
Corriander and cumin: Use roasted and grounded coriander for best taste. See the tips section above for how to do it from coriander seeds.)
Use fresh spices like freshly minced ginger, garlic, and green chilies for the best taste. If in hurry you can substitute with ginger paste, garlic paste, green chili paste.
If making kheema for picnic or travel or canning, add more oil while cooking. You can always remove the extra layer of oil from the top after heating, the oil layer on top protects food from spoiling and increases shelf life.
With some leftover keema you can make a tasty Bohra Lasanyo breakfast.
Nutrition Information
Calories:
302
kcal
,
Carbohydrates:
8
g
,
Protein:
3
g
,
Fat:
30
g
,
Saturated Fat:
3
g
,
Polyunsaturated Fat:
8
g
,
Monounsaturated Fat:
19
g
,
Trans Fat:
1
g
,
Cholesterol:
5
mg
,
Sodium:
44
mg
,
Potassium:
225
mg
,
Fiber:
3
g
,
Sugar:
3
g
,
Vitamin A:
558
IU
,
Vitamin C:
17
mg
,
Calcium:
94
mg
,
Iron:
2
mg