Are there any fried chicken lovers here? Well, this Bohri fried chicken is not crispy-crusted chicken like most other chicken. It has a soft, succulent coating made with bread crumbs, cooked chicken, and eggs.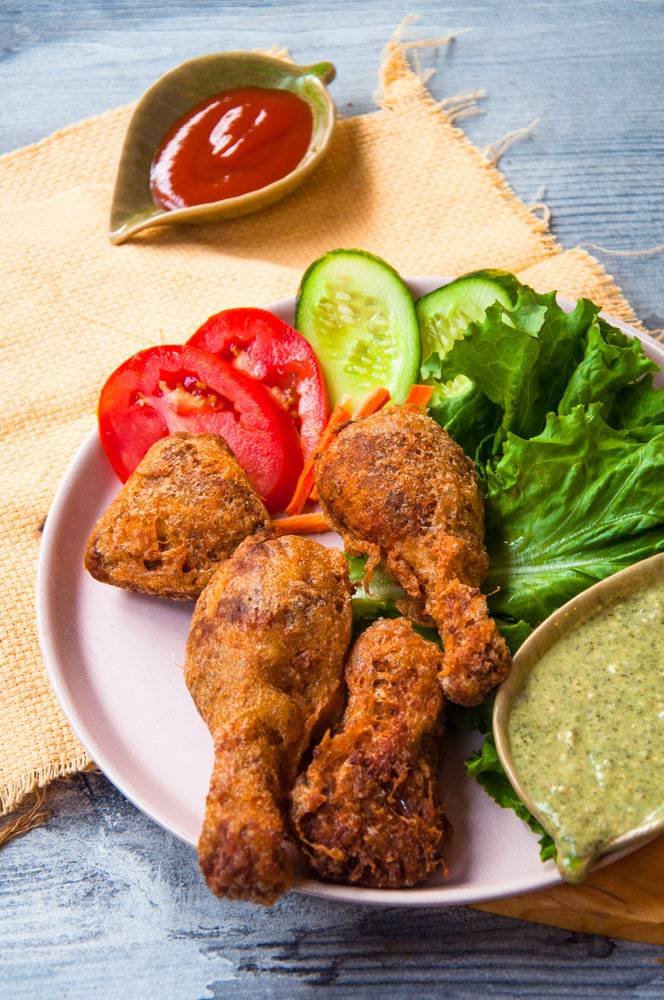 This Bohri fried chicken is pretty unique of its kind. I'm super excited and elated to share this recipe as I had tested it 3 times and failed. I was good every time but not like the one you get at Bohra's wedding. I wanted it to be just like caterers, so here's my version of this chicken.
Jump to:
How to make it?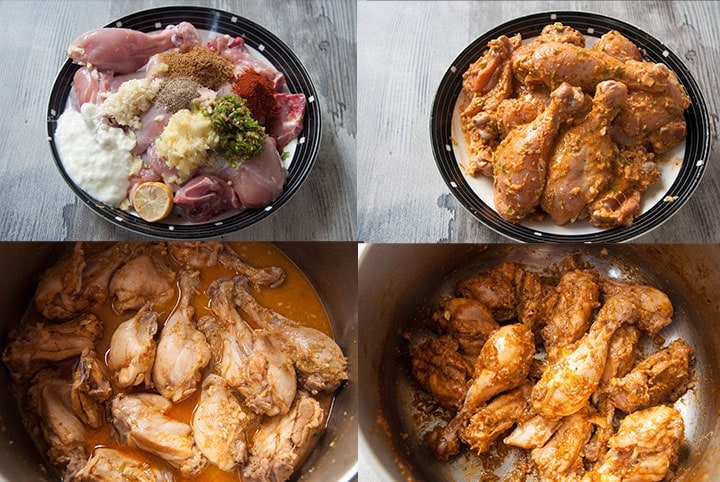 Steps to make Cook Chicken
In a large bowl take all the ingredients to marinate chicken and mix thoroughly.
Let it rest for 30 minutes or preferably overnight in the fridge. This helps the chicken absorb the flavors. I used chicken thigh pieces only.
Then transfer chicken to a wide pot and add ¼ cup water if needed. Cook on medium heat for 20 minutes until tender. We want the chicken to be fully cooked but not over-cooked or it will be difficult to coat.
Now dry out excess water on high heat. Stir constantly, and do not burn the "masala gravy". Dry out most of the water until you have very thick juicy bits of sauce that coat the chicken, check the bottom right photo in the above picture.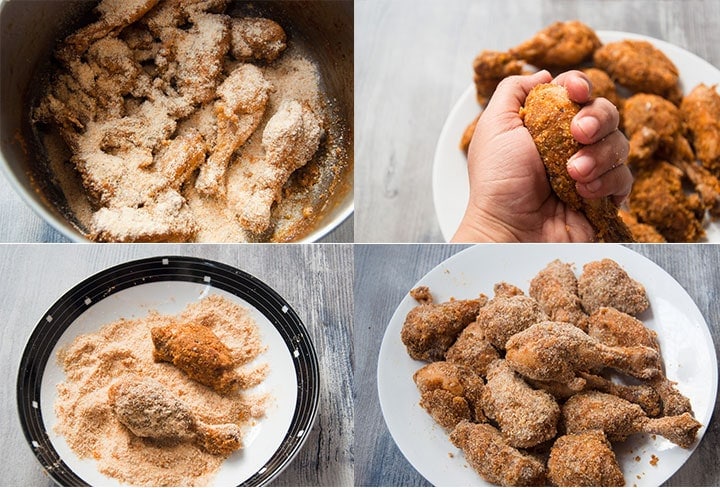 Steps to Coat Chicken
While the chicken is still warm but cool enough to handle. Add about ½ cup bread crumbs directly to the pot. Mix it by shaking the pot.
Coat the chicken with wet crumbs from the pot. Press the chicken lightly between the fist to coat it firmly. Do not waste any bit of "Chicken masala" in the pot and try to use all of it in the coating. (This might need some skills but you can't go wrong with this. Wear gloves, as the spices in chicken can burn your hands.)
Then roll the chicken in dry crumbs,
and gather it on a plate. At this stage, you can freeze the chicken.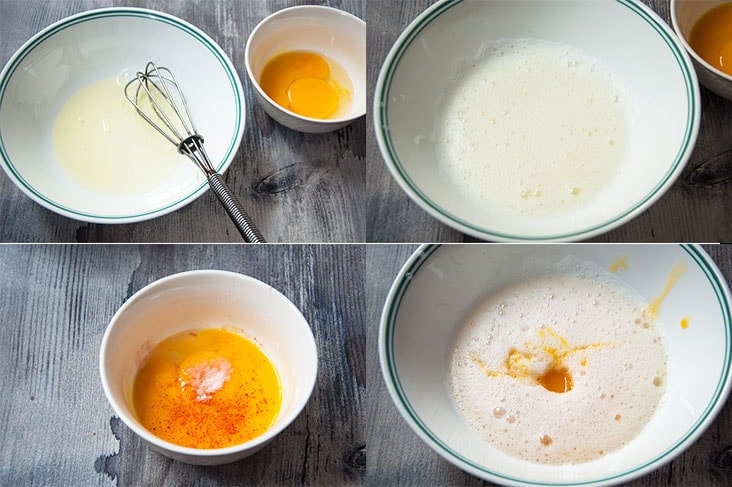 Separate egg yolks and whites.
Beat the whites for a minute with your hand until fluffy and doubled.
Beat the yolk with water, salt, and chili powder.
Mix white and yolk together. This makes the egg coating light and creates egg threads. You may add 1-2 tablespoons of extra water for more egg threads. (But this can cause oil splutters, so be careful.)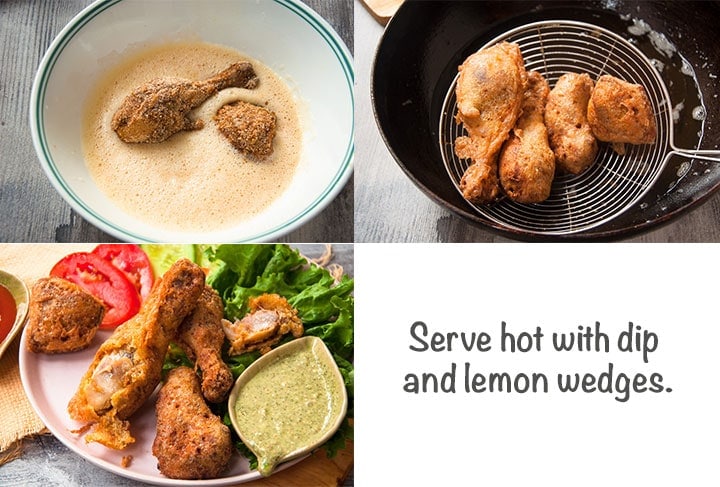 Just before serving, dip chicken in egg wash.
Fry chicken in hot oil on medium heat until golden. Bohri fried chicken is ready. Check the re-heating and steaming tips above the step by-step.
Serve with ketchup, green chutney, or sweet chili sauce.
Storage
This bohri-style fried chicken is very forgiving and easy to make. After coating it with bread crumbs, you can freeze it. Place coated chicken separately on a tray in the freezer.
Let it freeze for 2 hours then transfer it to an airtight container or freezer bag and this chicken stays good for up to 2 months. Thaw it, for 20 minutes before frying.
Dip in egg wash and deep fry on medium heat so the chicken is thoroughly heated to the core. You can also heat the fried chicken in the microwave to heat the cold core of the frying frozen chicken.
The chicken is cooked and fried, it stays good at room temperature for 24 hours if kept in a cool dry place. Ideally, place it in the heat-insulated bag with ice cube packs.
Expert Tips
Secret to juicy steamed chicken
The caterers usually use this method. They fry chicken a little ahead of time then wrap about 8-10 pieces in each foil and then they place the foil in a steamer for 30-60.
The chicken absorbs moisture and the bread crumb coating is super soft and moist. I didn't add the steaming step to the recipe card to keep it simple.
Steaming and Reheating tips
To steam Bohri fried chicken at home, fry the chicken first, and set it aside.
Method 1: Then boil a pot of water and place the metal colander over it. The colander should be at least 2 inches above the boiling water. Place fried chicken in the colander and cover. Let it steam for about 7-10 minutes until thoroughly heated and juicy, (but not soggy). Serve immediately. Steaming can also be used to reheat the leftover chicken.
Method 2: Take a 12-inch square of foil. Place a 12-inch place of butter paper over it. Place chicken over butter paper and make a pack by bringing all ends of foil to the center. Steam this pack in the colander for 30 mins to 1 hour. This method is good for large gatherings to keep chicken hot and soft.
If you are not sure about the steaming steps. I recommend testing it by steaming a single piece of fried chicken before placing a whole batch of fried chicken in the colander.
Hungry for fried chicken? Check these!
If you try this Bohra Fried Chicken recipe, I'd LOVE to hear your feedback in the comments. Your 5-ratings motivate me to do my best. Stay connected for more recipes and videos on Facebook, Instagram, Pinterest, and Youtube.
📖 Recipe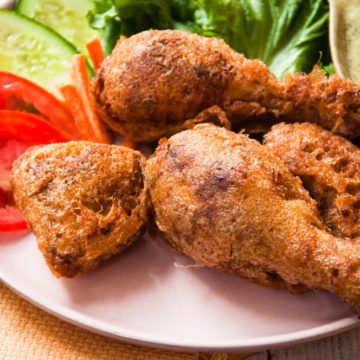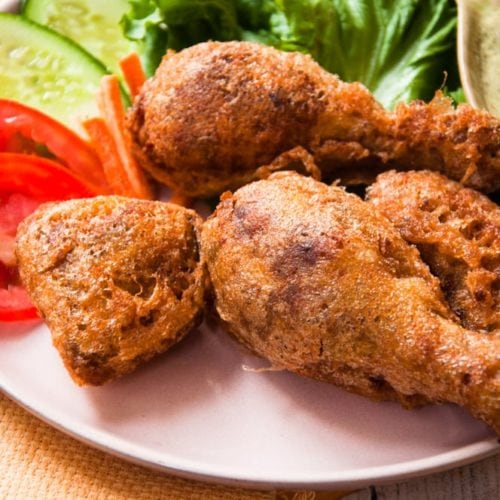 Bohra Fried Chicken
It has a soft, succulent coating made with bread crumb, cooked chicken, and eggs. Use steaming to re-heat the fried chicekn. Check steaming steps above in the post. (above step by step)
Print
Pin
Rate
Servings :
6
servings (12 pieces)
Ingredients
Marinate Chicken
750-

grams

skinless chicken

,

bone-in ( preferably thigh and drumsticks)

1

medium

tomato

,

pureed , notes 1

5

tablespoon

lemon juice

,

or 3 tablespoon vinegar

2

tablespoon

yogurt

2

tablespoon

oil

1-2

tablespoon

minced green chili

,

serrano or other spicy chilli, notes 2

1

tablespoon

minced ginger

1

tablespoon

minced garlic

1

tablespoon

cumin powder

1

tablespoon

corriander powder

½

tablespoon

Kashmiri chili or paprika

¾

teaspoon

salt

,

or to taste

½

teaspoon

turmeric

½

teaspoon

black pepper powder
For Coating:
½

cup

bread crumbs

,

more for coating

2

large

eggs

,

yolk, and white separated

a

pinch

salt

¼

teaspoon

red chilli powder

2

tablespoons

water

Oil

,

to deep fry
Instructions
Marinate Chicken
Put all the ingredients to marinate the chicken in a pot and mix well. Marinate for 30 minutes on the counter (or preferably overnight in the fridge).
Cook chicken
Cook marinated chicken on medium heat for 20 minutes until fully cooked and tender (but not falling off the bones).

Then burn excess water on high heat with frequent stirring until you have a very thick gravy coating the chicken. Remove from heat and let the chicken cool enough to handle.
Coat Chicken
Now, add breadcrumbs to the pot and shake the pot with handles to mix all. Coat chicken with wet crumbs from the pot and coat firmly by pressing chicken lightly in the fist. (Wears food handling gloves to avoid chili burns)
Prepare Egg Wash
Whisk egg whites in a bowl for a minute with hand whish until fluffy.

Then beat egg yolks with red chili, salt, and water. Now mix egg yolks and egg whites together.
Fry Chicken
Heat about 2 inches oil in a pot. Dip each piece in egg wash then deep-fry chicken until golden brown. Serve hot with any dip or chutney.
Notes
The recipe is tested with and without tomato. Tomato keeps the bread crumb coating juicy and flavorful, so I recommend adding a pureed tomato, so it not visible and gives background flavor. You can replace tomato with 1 tablespoon tomato paste or ketchup too.
I used small and thin green chilies that are very spicy. The bread crumbs coating will absorb the masala and undermine the flavors so start with a strongly flavored gravy.
Nutrition Information