Chapli kabab recipe Pakistani| Step by Step with photos of each step.
Chapli kabab is speciality of Pukhtun Cuisine, the food of Khyber Pukhtunkha, a province of Pakistan. These kababs are also called Peshawari kabab named after Peshawar, capital city in same province. You can learn more about Chapli kabab here.
These kabab has strong aroma of various spices. Unlike, other kabab the usual binding agent is flour, usually wheat flour or corn flour. While other kababs mince is grounded twice for fine texture, for these kabab, mince is grounded only once.
These are high fat kabab, usually animal fat is added to mince, I didn't have animal fat in hand so I used, clarified butter which will keep the kabab moist.
Some people also add scrambled eggs in the raw mince to mimic fat like taste. I just found it an extra step that doesn't make a lot of difference in taste.
My other Kabab recipes
How to make Chapli kabab Recipe Pakistani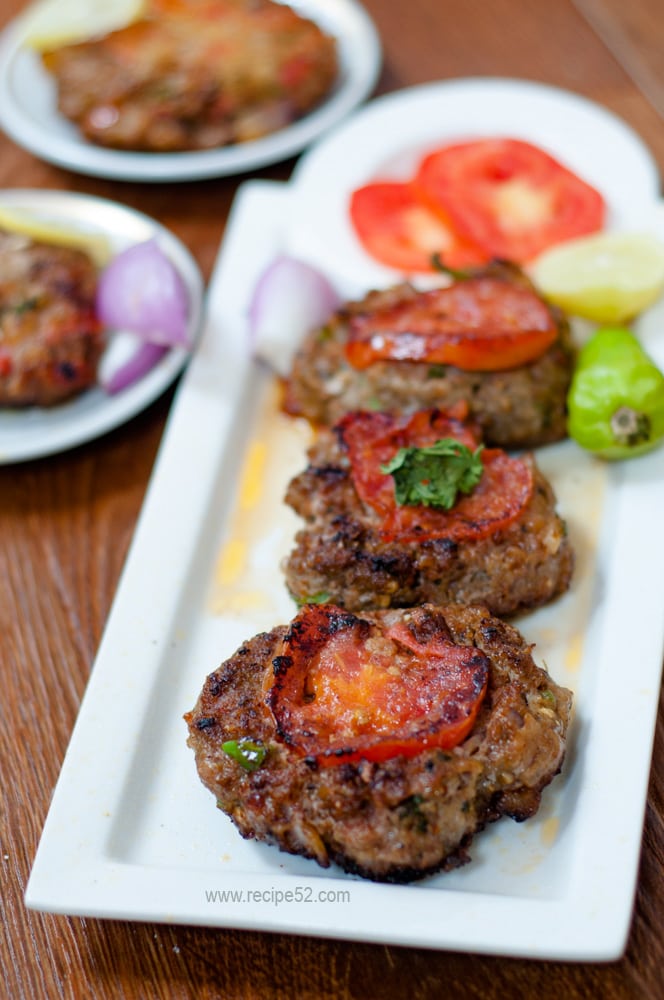 Chapli Kabab Recipe Pakistani
Delicious mince meat cutlets bursting with spices and fragrant aroma.
Course:
Main Course, Side Dish
Cuisine:
afghan, Pakistani, Peshawari
Ingredients
Spice mix
1

tablespoon

cumin seeds

1

tablespoon

coriander seeds

1

tablespoon

dried pomegranate arils

(anar dana)

½

tablespoon

fennel seeds

½

tablespoon

red chilli flakes

½

tablespoon

Kashmiri chilli powder

for color

1

teaspoon

ginger powder

1

teaspoon

red chilli powder

½

teaspoon

garlic powder

½

teaspoon

black pepper

½

teaspoon

black salt

Salt

to taste
For Kabab
½

mince

(mutton or beef)

1

large (150 gram)

onion

, finely chopped

3

tablespoon

corn flour

, more for dusting

2

tablespoon

ginger garlic paste

2

tablespoon

chopped fresh coriander

2

tablespoon

chopped green chilli

2

tablespoon

butter

1

tablespoon

cream

1

large

tomato

Oil

or clarified butter to fry
Instructions
For Spice Mix
Roast cumin, coriander, dried pomegranate aril and fennel seed in a pan for 1 minutes until fragrant, crushed them lightly to get a coarse powder. Set aside.

Next, roast remaining spices red chilli powder, kashmiri chilli powder, red chilli flakes, turmeric, black pepper, ginger powder and black salt for few second. Mix crushed and powder spices together to make chapli kabab spice mix.
For chapli kabab
In large bowl take mince, spice mix and ingredients of chapli kabab except tomato. Mix well until mince gets a dough like consistency. Marinate for 30 minutes.(Preferably 4-6 hours.)

Roll out balls of kabab and flatten with hands. (Remember kabab will shrink upon frying.)

Slice a tomato and embed a tomato slice on each kabab.

Alternately, you can chopped tomato and embed chopped tomato in kabab. (Recommended)

Dust each kabab lightly in corn flour.

Shallow fry kabab in oil or clarified butter for 2-3 minutes on medium flame until crispy.
Step by step Chapli Kabab recipe.

Roast whole spices (coriander, cumin, pomegranate and fennel seeds) for 1 minutes. Then crushed them coarsely in a mortar or in a grinder.
Also roast powdered spices (red chilli powder, red chilli flakes, turmeric, ginger powder, garlic powder and black salt) for few seconds. (Kashmiri chilli and black pepper not visible in photo please add it as well.)
Mix coarse powder and fine powder together to make your chapli kabab spice mix.
That's the mince.
Add onions, clarified butter, cream, chapli kabab spice mix, corn flour, green chillies, ginger and garlic, fresh coriander to the mince.
Mix well, I added pepper and Kashmiri chilli and salt at this stage. (You can add it to spice mix.)
Marinate for 30 minutes at least. (Preferably 4-6 hours in fridge.)
Do a taste test on a pan or tawa and adjust spices and salt if required.
Just before frying kabab, roll out a patty (kabab) from mince dough and embed a slice of tomato in each patty.
Roll each kabab patty in corn flour. (Remember the patty will shrink upon cooking. Chapli kabab are usually thick and big kababs, we prefer a medium single serving size.)
Alternately, you may chop a tomato and embed chopped tomatoes in kabab. (I prefer this method as tomato slice slips out of kabab easily.)
Fry kabab on medium heat for 2 minutes on each until golden, then turn heat to high and cook further for few second for crispy edges.
Serve hot with naan and chutney.