When creamy mince stuffed potato balls and enveloped in a bread crumb crust, the resulting delicacy is called Aloo keema cutlets or aloo keema Patties or aloo keema Tikki and sometimes also aloo keema kabab.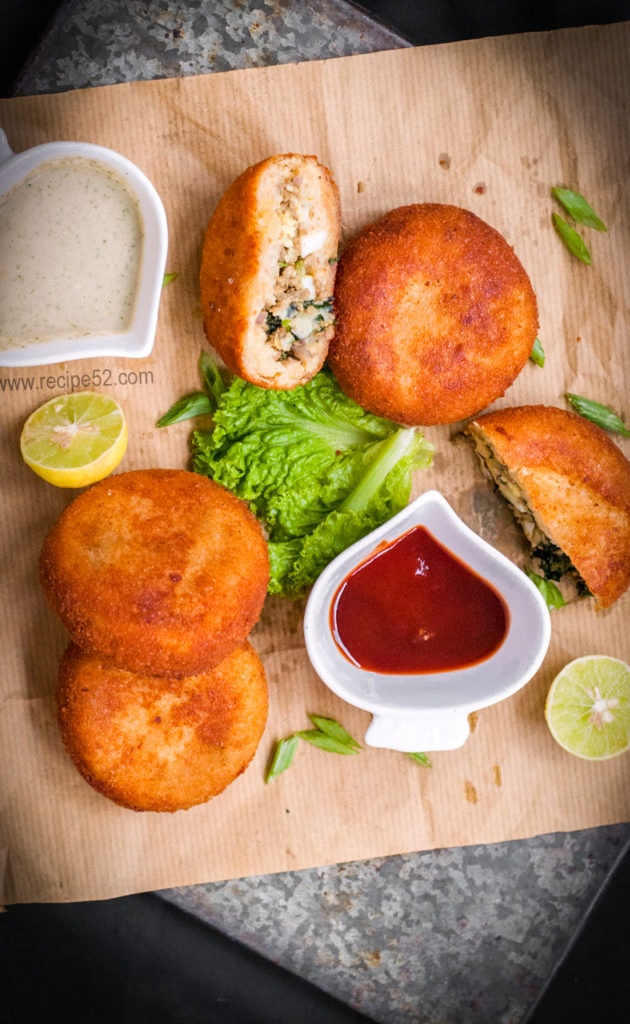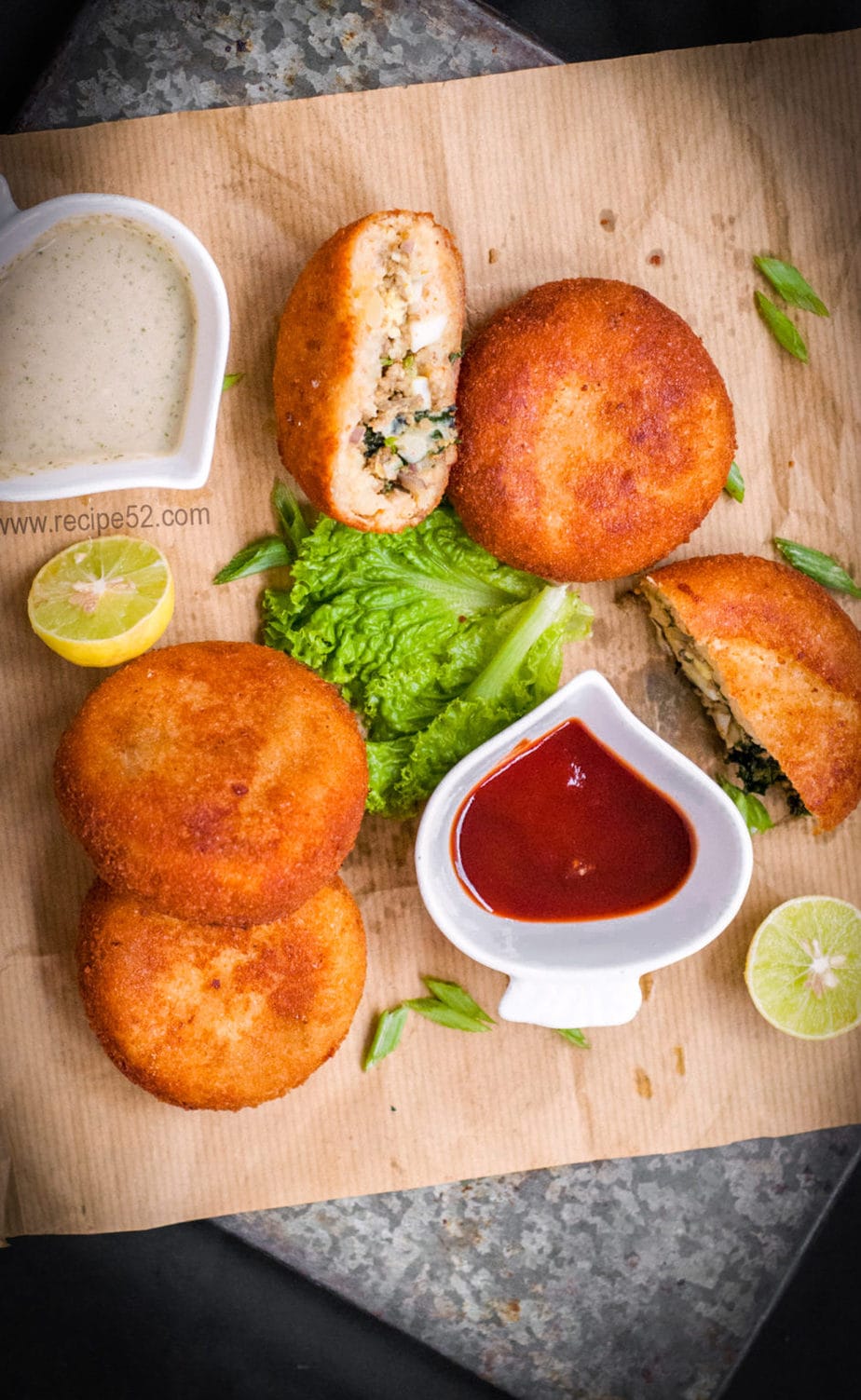 Amongst Gujarati communities, it is called Bateta champ or batata chanp. So whatever you may call it, these are the most satisfying treat on any occasion, especially on Iftar spread. Kids and adults love it alike. Get more ramadan iftar recipe here.
Jump to:
So presenting your most delicious stuffed potato balls recipe.  Aloo (potato) keema (mince) patties Cutlets or Tikki or kabab are my childhood delights. And, it is so simple to make. 
Although, it has many steps you can go slow like boil potatoes in the morning and making qeema whenever you get time around midday and simultaneously mashing and seasoning potatoes.
Then around teatime season keema and form patties and fry around night for dinner. That's how my Dadi would make stuffed potato balls with ease and convenience. Of course, you can make it in one go. Cooling the mince and the potato will require some time while all other steps are quick and easy.
Stuffed potato balls with spicy keema inside and wrapped with crispy breadcrumb coating refresh the childhood memories of living in a joint family with cousins and siblings.
Dadi (grandma) use to make Aloo qeema patties with lots of love. For me being lucky is having a childhood close to grandparents (in my case also great grandparents) and being nurtured under the shadow of their wisdom and blessings.
How to make it?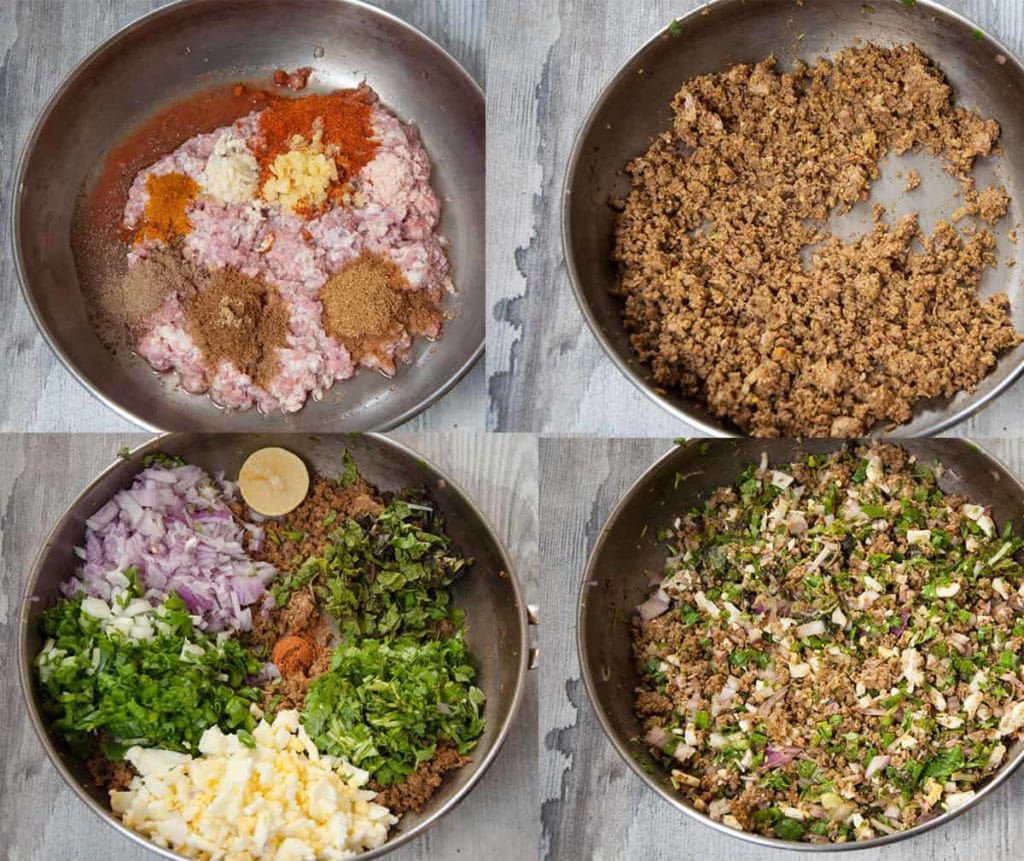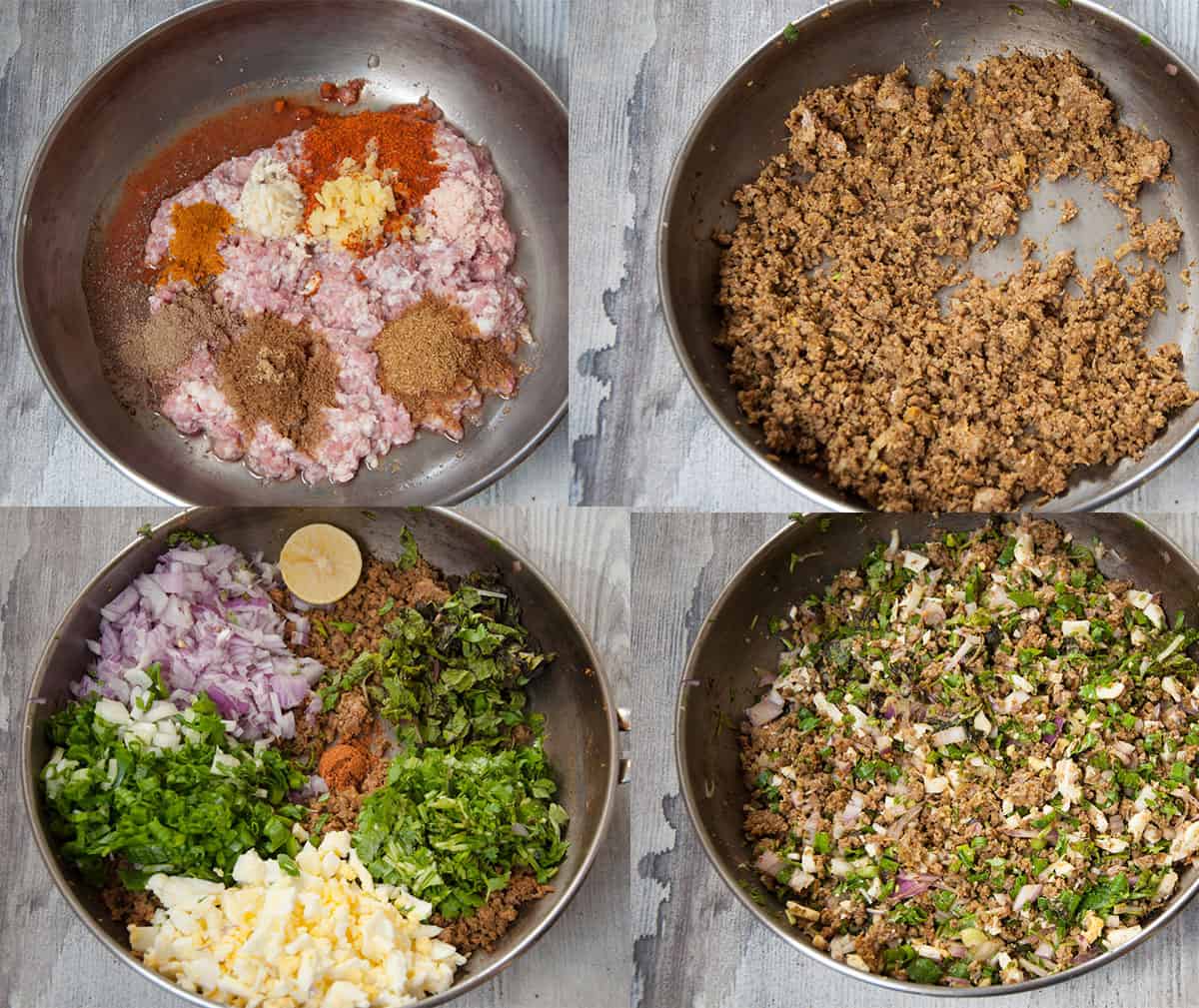 For Keema Stuffing for aloo keema tikki
Boil keema with all spices and little water on a medium flame for 20 minutes.
Dry any excess water on high flame.
Add boiled eggs, green onions, mint, and green coriander, lemon juice, and chat masala to the mince.
Mix well, the filling is ready. Do a taste test and adjust if needed.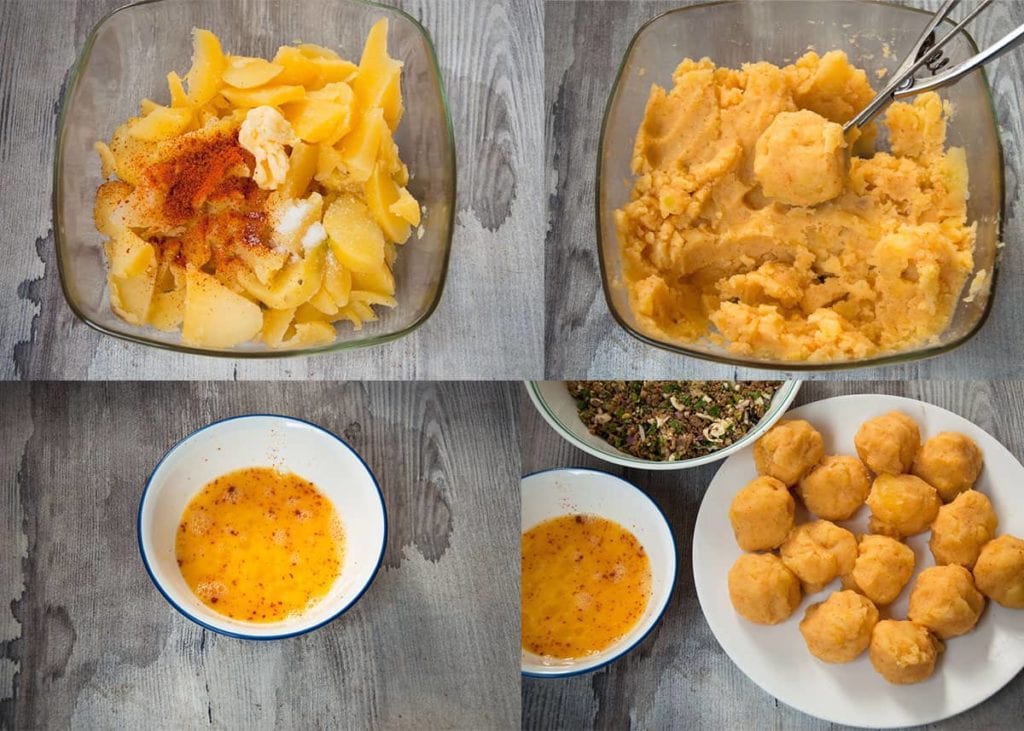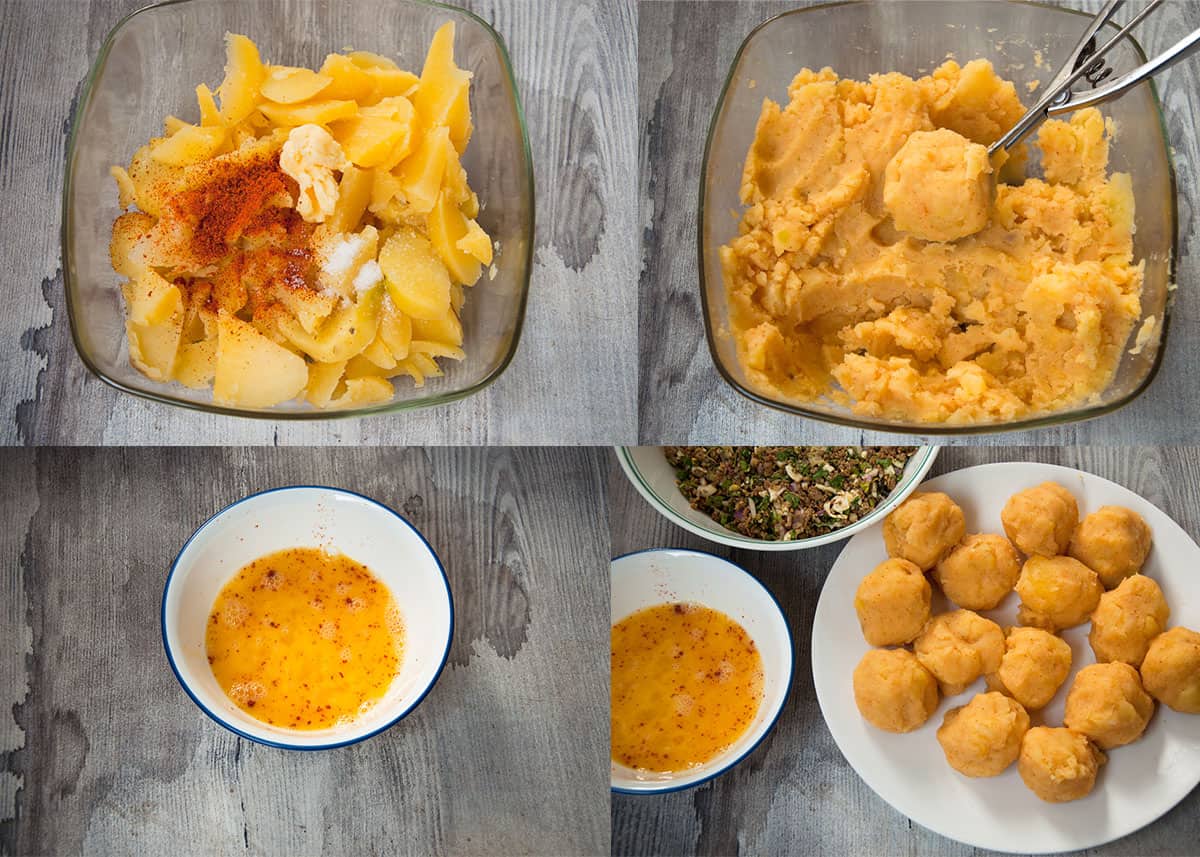 Mashed potato coating for balls
Boil potatoes with salt until cooked thoroughly. Insert a knife to check potatoes are tender then drain the water and let potato cool naturally. Peel and dice potatoes, add butter, salt and red chilli powder. Adjust red powder to heat preference. Butter is added for a creamy texture and provides a lovely taste.
Mash potatoes until smooth and make about 14 balls. You may use an ice cream scoop to make balls.
Prepare egg wash by beating egg with a pinch of salt and chili powder.
Now set the breading station for rolling aloo keema patties.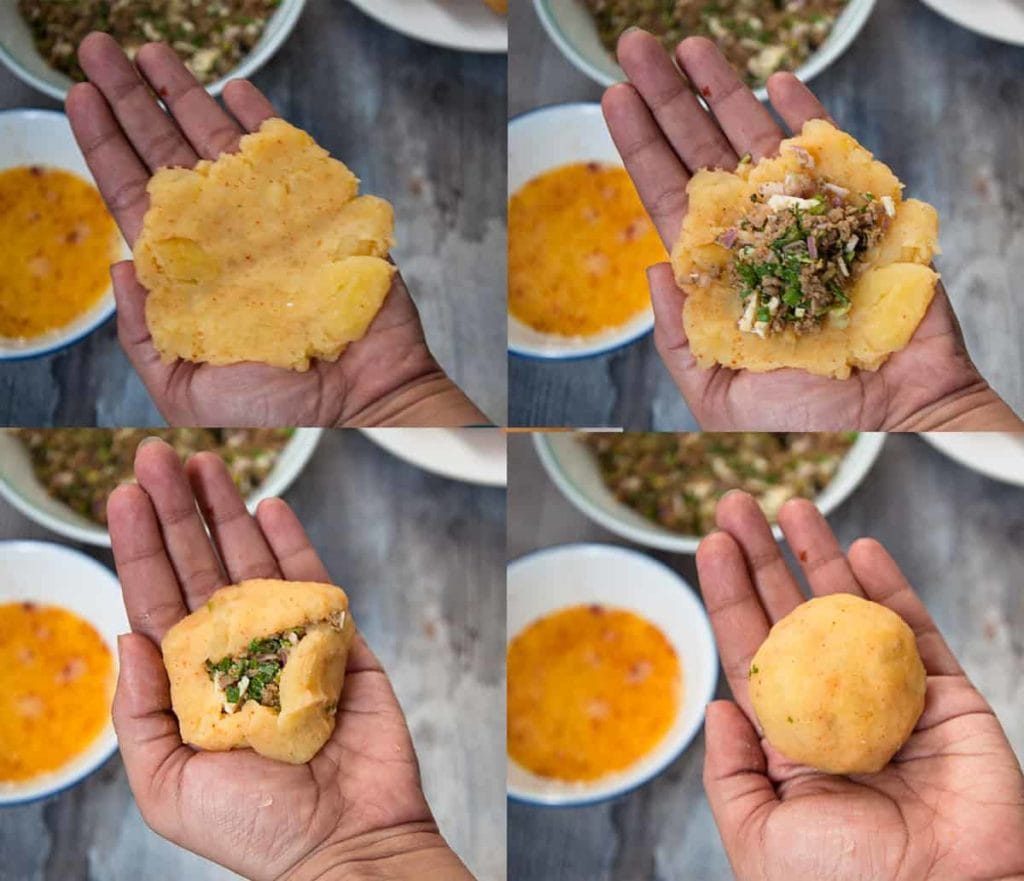 Rolling the aloo keema pattise
Flat each ball on the palm.
Put about 2 tablespoons filling in the center and pull the sides of the potato together to form a ball.
Now, close the balls needs some practise but it is easy. Just make sure mince is completely covered. Use less filling if needed to roll easily.
The ball is round and smooth. Make small ball as it will become bigger as you double coat it in bread crumbs.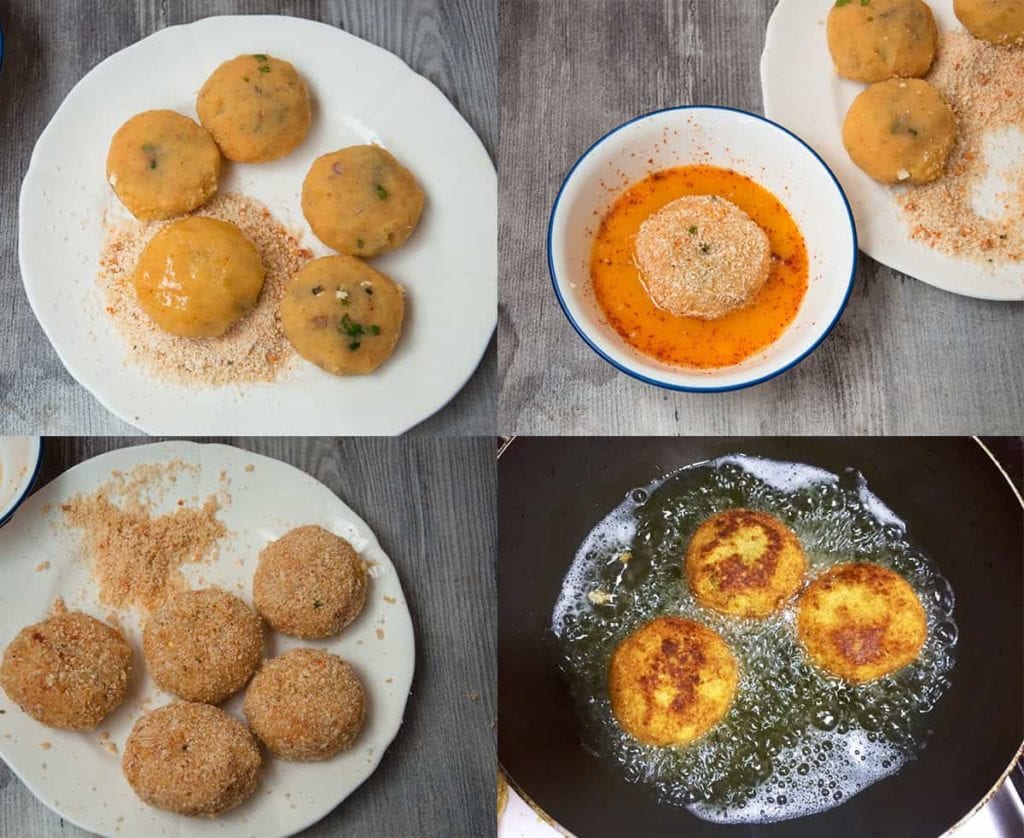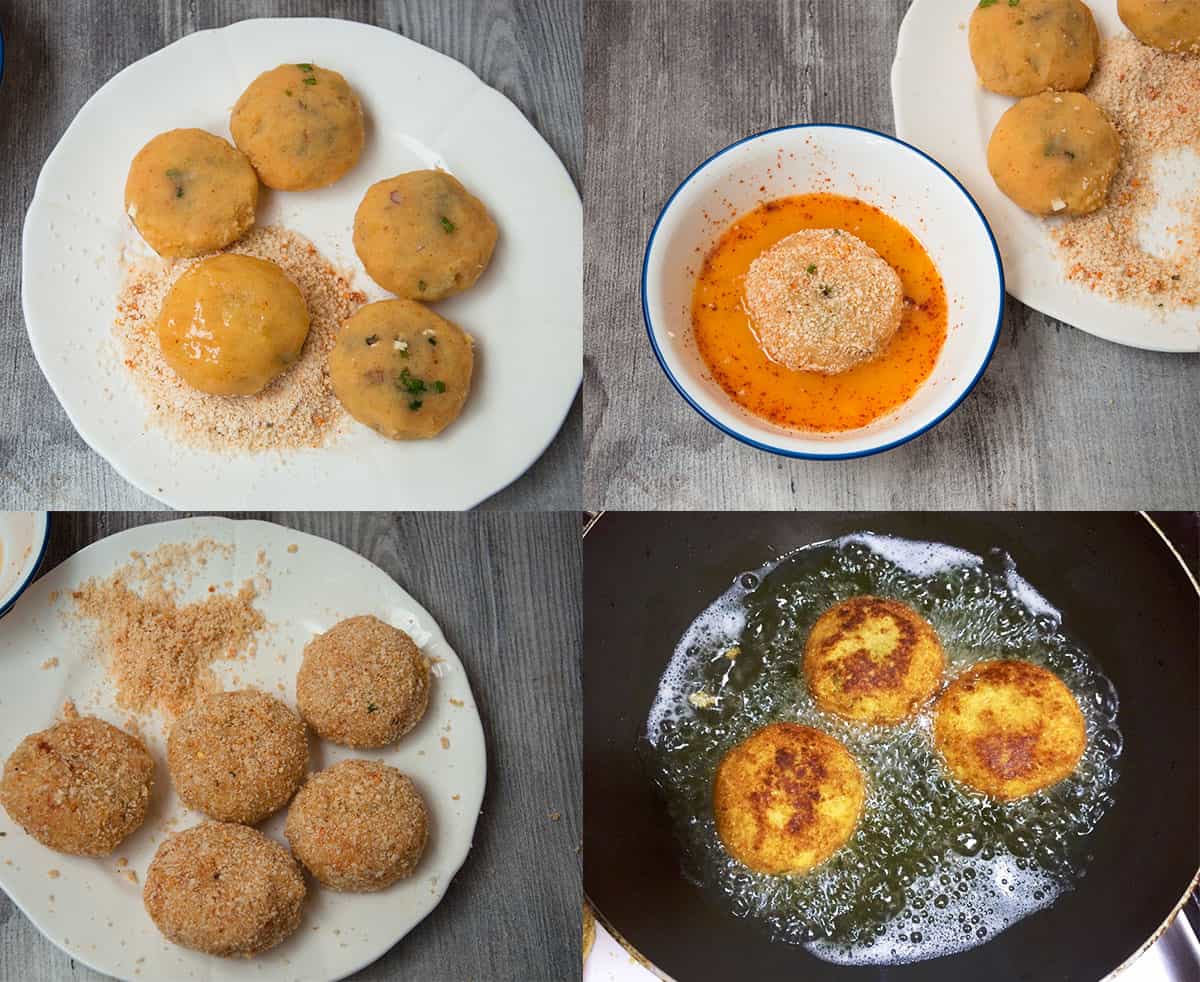 Double coating the aloo Keema cutlets with bread crumbs.
Roll each potato ball in eggs then in bread crumb to finish the first coat. (If the mashed potato is mushy then directly roll in bread and skip dipping in egg wash.)
Make a second coat by dipping in egg wash.
Then rolling again in bread crumbs to finish the second coat of bread crumbs. (Doubling coating not only provides crispy coating but assures that the balls wonts break while frying.)
Heat about 2-3 inches deep oil in a wok and fry Patti on medium-high heat. Do not touch the patty for 1 minute. Let firm a bit. Then flip to cook the other side.
Fry the ball until golden from all sides.
Serve crispy hot stuffed potato balls with Ketchup and Green chutney or Tamarind chutney.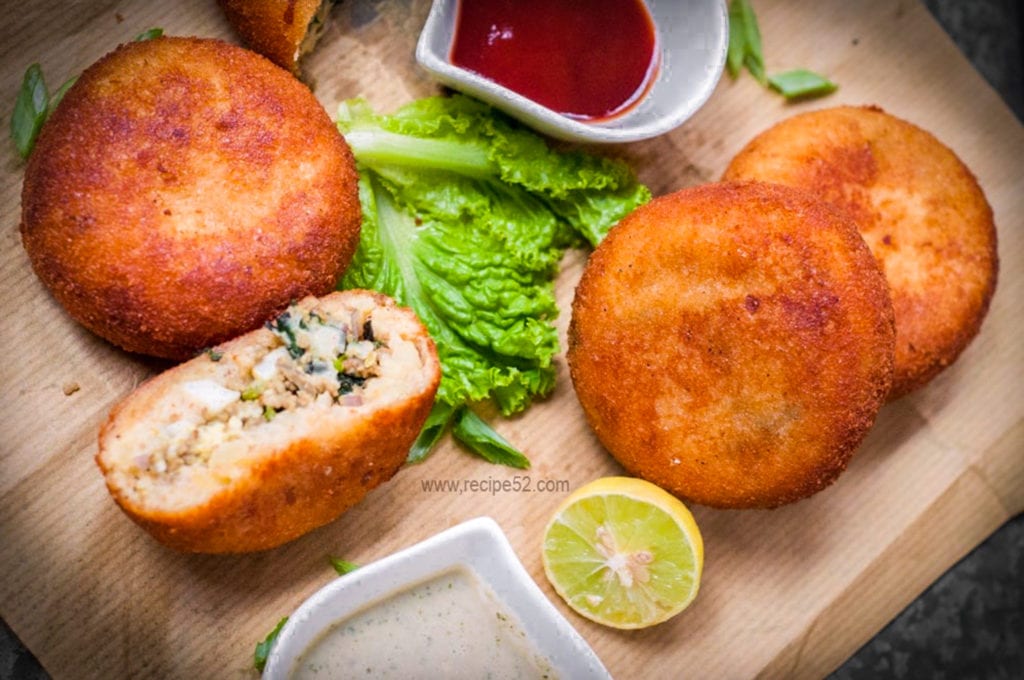 Tip to boil potato
Make sure the potatoes are boiled until cooked through. Check each potato by inserting and knife. If it slides in and out through the potato-like in butter. They are al dente. If the potatoes are undercooked, you'll have un-cooked lumps in aloo keema Cutlets or patties.
Remove potato to a strainer as soon as fully cooked and let it air dry. Do not immerse in cold water for more than a few seconds or potatoes will absorb too much water and will be mushy.
Some varieties of potato get mushy even with precautions. Add 2-3 tablespoon of bread crumbs in the potato to make it firm enough to roll the mashed potato ball or aloo keema patties.
Variation in keema stuffing for potato ball
This is most authentic filling for aloo keema Patties and I love the original taste. But here few variation that are also great.
Substitutes boiled eggs for boiled green peas.
Add your favorite spice mixes like Tikka or tandoori masala in filling for aloo keema kabab. 
Smoke the filling for an extra burst of taste in Bateta champ. 
Want more Kabab recipes? Check these!
If you try this chapli kebab recipe, I'd LOVE to hear your feedback in the comments. Your 5-ratings motivate me to do my best. Stay connected for more recipes and videos on Facebook, Instagram, Pinterest, and Youtube.
📖 Recipe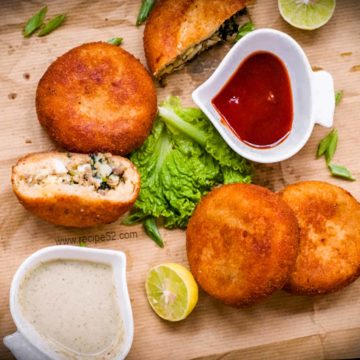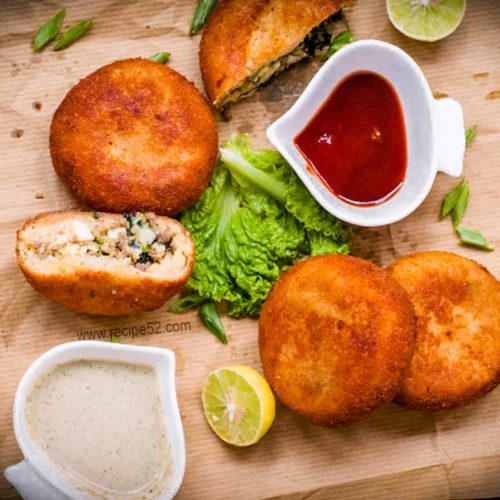 Aloo Keema Patties/Cutlets recipe
Great for iftar or teatime snack. Also works as a sandwich petti. Serve hot and crispy.
Print
Pin
Rate
Ingredients
For Qeema filling
½

kg

mince

,

20% fat (mutton or beef or lamb)
Spices
1½

tablespoon

ginger garlic paste

1

tablespoon

coriander

,

prefferably roasted and grounded

¾

tablespoon

cumin powder

1

tablespoon

red chilli powder

,

or to taste

1

teaspoon

Garam Masala Powder

½

teaspoon

turmeric powder

1½

teaspoon

salt

,

or to taste
Other
1

onion

,

chopped

3-4

medium

green chillies

,

finely chopped

2-3

egg

,

hard boiled and cut into small pieces

¾

cup

green onion

,

finely chopped

¼

cup

green coriander

,

chopped

¼

cup

mint leaves

,

chopped

1

teaspoon

chat masala

,

or as per taste
For Potatoes
2

kg

potatoes

,

boiled and peeled

2

tablespoon

butter

2

teaspoon

red chilli powder

Salt

,

to taste
For coating
4-6

eggs

½

teaspoon

red chilli powder

Salt

,

to taste

2

tablespoon

water

4

cup

bread crumbs

Oil

,

to deep fry
Instructions
For Mince stuffing
Boil mince with spices and ½ cup water on medium heat for 20 minutes. When the mince is tender, dry any remaining water on high flame with constant stirring.

Then mix boiled eggs, green onions, green chilies, green coriander, onions, and mint in the hot mince and mix well. The stuffing is ready.
For Potato
Mash potatoes and mix red chili powder, salt, and butter until creamy.
Making Patties
Make small potato balls. Then press each ball on the palm of the hand and put about 2 tablespoon mince filling in the center. Now pull the edges of mashed potato together to form a Patti or cutlets. Makes all patties similarly.
Double coating of bread crumbs
In a deep bowl beat eggs and season with red chili powder and salt. Also, beat 2 tablespoons of water to make a thin egg wash.

First, dip each patty in egg wash then coat with bread crumbs to complete the first coat. Again coat each patty with eggs and then with bread crumbs for the second coat.

Let the patty rest in the fridge for 30 minutes to firm up. (If storing for a few hours, keep covered in an air-tight box.

Fill a wok with 2-3 inches of oil. Heat oil thoroughly then and fry each patty carefully. Dip 3-4 patty in oil and let it firm up. Do not stir for 1 minute. Then flip carefully with a flat spatula to fry the other side. When the patty is crispy golden from all sides. Remove to a kitchen towel and serve hot.
Nutrition Information