Step by step Dried date dessert recipe | Kharak
Kharik or Chuara means dried date. Today, I'm sharing our secret family recipe of bohra style Kharak. These are served to guests on Eid ul Fitr. This is the best recipe for delicious kharak but it requires some patience and time to cook. The soft melting kharak that comes as a result is all worth it.
It's an age old bohra tradition to make kharak on Eid ul Fitr and eat first thing on Eid ul Fitr morning to rejoice eating in morning after 1 month of Fasting. It is also served to guests that visit during Eid Celebrations.
As I always insist create your own best recipe, here are different ways I know to make Kharak and below is the best recipe I know. Follow that recipe, if you are making kharak for the first time, or experiment with these methods, I have mentioned below if you like. Do not hesitate to double the recipe, these will be gone in no time.
Different ways to make Kharak, Dried date dessert.
Soaking Methods:
You can soak dates in diluted rose-water (rose-water is discarded later) or milk or milk and water mixture.
Timing:
You can heat milk or rose-water to boiling point and then soak overnight.
You can soak in cool milk or rose-water over night.
Or you soak in milk or rose-water and keep in fridge for two days.
Filling:
There are many ways to make filling for kharik.
Deseed dates and fill in kalakand, pera, sweet khoya, gulkand or nuts filling. No cooking is required is this method. But as dates are not cooked, it has stiffer flesh compared to cooked dates.
Another method is to soak dates in milk and cook dates all the way for hours until soft. Then fill it with khoya, kalakand or pera filling. Or make filling out of milk used in the cooking of dates. I like using that milk to cut wastage and also because that milk has flavours and nutrients of dates. Then, I like to enhance flavours by adding condensed milk, milk powder and cardamom powder.
If you want to make filling from milk only, then you can take more milk. Make sure milk layer is 2 inch above the soaked dates layer. Cook the dates on low flame until tender. After removing cooked dates from pot. Add 1-2 tablespoon sugar and cook milk all the way making khoya (crumbled sticky milk) and drying as much water as possible without burning. Cook on slow flame and keep stirring with short intervals. Let the khoya cool, then add crushed nuts and use as filling.
Other similar desserts
How to make Dried Dates Dessert, Kharik for Eid ul Fitr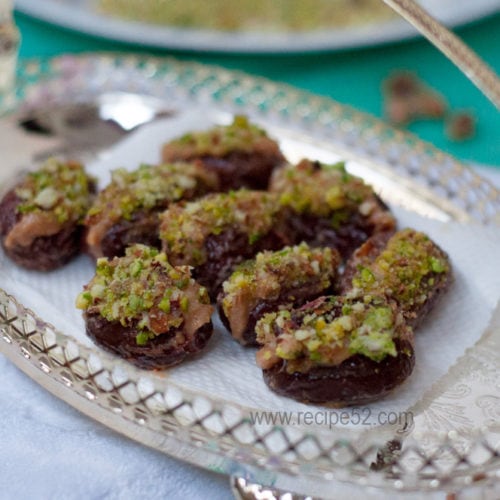 Kharik Recipe
Serve chilled! A true taste of traditional genius.
Print
Pin
Ingredients
250

gram

dried dates

,

about 36 (kharak, chuaara)

1 ½

cup

milk

,

(I used tetra pack,) more as required

½

cup

water
For Filling
¼

cup

milk powder

3-4

tablespoon

condensed milk

2

tablespoon

powdered nuts

,

(pista, cashew, almonds)

¼

teaspoon

green cardamom powder
Garnish:
1

tablespoon

crushed almonds

1

tablespoon

crushed pistachio
Instructions
Wash dates throughly.

Take milk and water in thick bottomed pot. Heat the mixture to bring a boil. Now, soak dried dates in it for 8 hours. Keep in a cool place.

Add more milk (about ½-1 cup) as required to dip the dates fully in milk. Cook soaked dates for about 4 hour until soft and tender. (Cook the dates on high heat for 1 minute then reduce heat to very slow flame. Keep the lid covered until dates become soft for about 2 hours. Then remove lid and cook further until milk become very thick and water almost dries.)

Remove dates from the pot with a spoon leaving the thick milk in the pot. Let milk and dates cool.
For filling
Mix all ingredient of filling in the milk pot to form a filling. Keep filling in fridge for 10 minutes or more so it thickens.
Assembling
Slit the dated with a knife and remove seed. Wipe off any excess milk (mava) from dated skin and mix with filling.

Slip a generous portion of filling inside the date and garnish with crushed nuts.
Notes
Store in air tight container in fridge for 1 week or freeze for a month or more.
Nutrition Information
Serving:
1
date
,
Calories:
43
kcal
,
Carbohydrates:
7
g
,
Protein:
1
g
,
Fat:
1
g
,
Saturated Fat:
1
g
,
Cholesterol:
3
mg
,
Sodium:
10
mg
,
Potassium:
87
mg
,
Fiber:
1
g
,
Sugar:
6
g
,
Vitamin A:
32
IU
,
Vitamin C:
1
mg
,
Calcium:
29
mg
,
Iron:
1
mg
Step by step recipe of Kharak, Dried dates dessert.
Wash dried dates thoroughly.
In a heavy bottomed pot take water, milk and dates. Heat to bring a boil. Let it cool and soak dates for 8 hours in a cool place.
Dates after 8 hours.
Add more milk in pot so the date dip in the milk completely. Bring the milk to boil. (The milk might curdle. It's ok, but the taste should be nice.) Then, reduce heat to very low flame and cover the pot. Cook for 2 hours until dates are soft.
Dates are soft and tender now. Remove lid and continue cooking on low flame.
The milk reduces further. Keep checking and stirring after every 20-30 minutes. Do not let milk stick to bottom on pot.
At this level, remove dates from pot.
Here are the dates.
Now cook the curdled milk (khoya, mawa) on slow to medium flame with constant stirring.
That's how thick it should look like. It ready. Let it cool.
Mix in condensed milk and milk powder.
Also add green cardamom powder and grounded nuts. Mix all well and store in freezer for 10 minutes to set and thicken.
With a knife slit the dates and remove the seed. Also remove the stem head of each date.
Set the plate and find a relaxing spot to fill these dates.
Fill the khoya filling in the dates, be generous. And garnish with nuts.
All set and ready!
Fill all kharik in an air tight box store in fridge. Kharik can soak all bad smell in fridge so keep them covered all the time.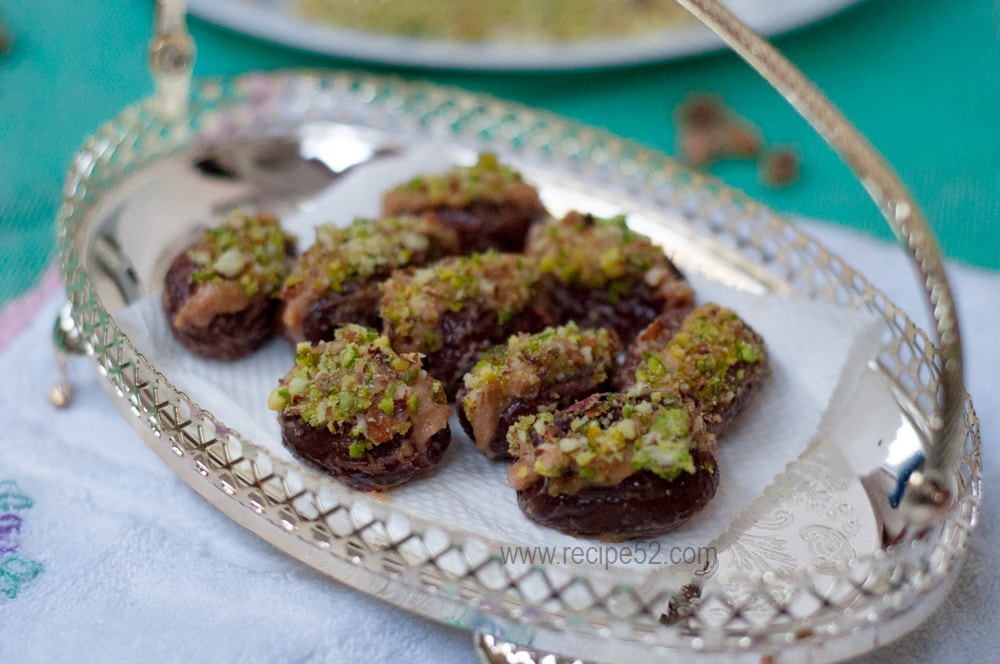 Serve them chilled!