Eid brings joy and festivity! Food is the most integral part of any festive celebration. This collection includes special dishes and medu ideas for Eid recipes for the auspicious occasion Eid ul Fitr and Eid ul Adha.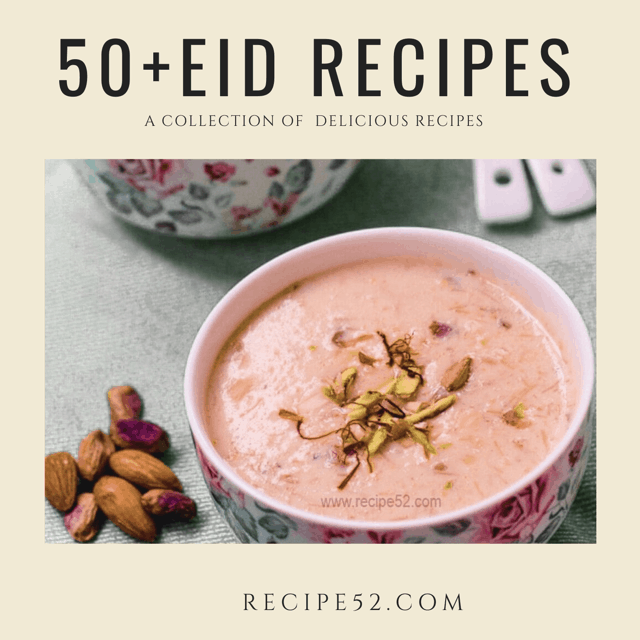 Jump to:
Eid literally means festive in Arabic. Muslims around the world celebrate two Eid. Eid fitr and Eid ul Adha.
Eid ul Fitr food
Eid ul Fitr or sweet Eid marks the end of Ramadan the holy month of fasting. It is a festival to celebrate the breaking of the fast. Family and friends visit and greet each other and exchange sweets. Often Money or "salami" is given to children by oldies as an Eid gift. Vermicelli and milk dessert Sheer Khurma also called seviyan is the most widely made Eid dessert. Other Eid sweets and treats are Gulab jamun, Cham cham, and barfi. Find more desserts here.
Eid ul Adha food
Eid ul Adha marks the historical event of the sacrifice of Prophet Ibrahim A.S and the sacrifice of the lamb. So on the same date Muslims all over the world sacrifice cattle in the way of Allah. The meat of the sacrificed animal is shared with the needy or poor; family, and friends. So the meat is plenty on the Eid ul Adha, hence more red meat recipes are part of Eid Adha food like Lamb's leg, Nihari, Korma, Biryani, kabab, and Karahi. You can find my all Mutton recipes here.
While Eid is a religious celebration, food is a culture. So most Eid foods are regional and have variations of that region. This post has more Pakistani Eid recipes along with fusion and world recipes loved by Pakistani.
Eid Dawat Planning
Eid Food Menu Planning can be critical as festive are busy times. And planning ahead is essential for true enjoyment of the occasion. I prefer sending Eid dawat invites before the mid of ramadan. And, I prefer freezing or marinating foods and dessert ahead to cut the workload. I usually prefer a five-course meal,
Dessert
High-carb sides like roti and curry or any baked dish
High protein sides like a kabab or tikka
The rice-based main course like biryani
and a Salad to match the main course.
Another menu planing basic is not to mix desi item with another cuisine like chow mein with biryani. Always keep a balance of carbs. If your dessert is high carb like shahi turkey or sooji then go for lighter sides like kabab and chapati, skipping the paratha.
I have divided recipes in sections so you easily find recipes. Since this collection has the best of eid recipes, below each section is suggestion of more recipes from the blog. Take the help of table of content to look for recipes easily.
Chicken Recipes
Chargha is soft succulent fried chicken marinated overnight in the spicy and tangy rub and steamed. Steaming is followed by deep-frying which the authentic way. In another healthier version marinated and steamed chicken is baked in a tandoor and it is called tandoori chargha.
This is the creamiest Indian butter chicken recipe you ever had. This is made with store-bought tikka masala and then smoked for intense flavors, this is a family favorite and great for dawat.
These are kids-friendly, soft, Reshmi tikka that has a creamy moderately spicy taste. These turn out better than restaurants and you will never order them again because they are so easy to make.
Ready for a smokey succulent authentic Pakistani chicken tikka? It tastes just like a restaurant and as if just came off the barbecue pit. This is one of the most tested recipes on the blog. The tandoori chicken is often referred to as Chicken Tikka Thigh or Breast in Pakistan.
This Chicken Seekh Kebab recipe is a crowd pleaser and is inspired by my uncle who marinated and barbecued these delicious kabab Eid after Eid and cherished the festival. This will be the best seekh kabab recipe from scratch you ever came across.
An easy and simplified recipe of authentic Chicken korma, that is finger licking good.
This is home-style, hearty biryani with delicious flavors full of herbs and aroma. I suggest, serve it hot right after dum (steaming) with raita and kachumber salad for best taste.
Find more Pakistani Chicken Recipes here for dawat.
Beef and Mutton Recipes
This section has recipes of both Beef and mutton recipes and in most recipe beef can be switched for mutton with slight change in cooking time.
This is a super easy and delicious Roast leg of lamb recipe or simply Raan roast AKA mutton leg roast. The recipe is simple, the trick in making raan roast is the soft melt in the mouth meat. This is true festive food.
This is a simple home-style Lamb Karahi with homemade spices. If you love tomatoey gravies, you'll be in love with this and the aroma of this Karahi Gosht is just like a restaurant and just like how authentic Karahi should be.
Yakhni means bone broth while 'Pulao' is an aromatic rice dish in which rice is cooked in bone broth. The yakhni pulao turns out very flavorful and delicious.
Chinioti Mutton Kunna gosht recipe that is delicious and meaty flavourful. This is a very simple recipe with few steps and very easy to cook. Kunna gosht is traditionally made in an earthen pot so it is also called Matka Gosht.
Are you ready to enjoy the most delicious kebab in the world? Yup beef or lamb seekh kebab is most juicy when it comes to ground meat kebab. I'm particularly big fans of these kebabs and here is my version of Pakistan's most famous mince kebab.
A warm bowl of Pakistani Beef Haleem with fried onions, lemon wedges, mint, and chat masala can win anyone's heart. Although the Hyderabadi haleem recipe is a complete meal and a charm on any occasion, it is fervently made in the holy month of Ramadan and Eid.
Ready for a spicy flour-based beef stew? I know the description of Pakistani beef nihari recipe is really unique and difficult to imagine. But I can tell you this will be best the curried beef stew you ever had.
Kaleji fry recipe Pakistani, soft and juicy with photos of each step. Making Kaleji Masala AKA liver fry is one of those recipes where spices are less important. What matters is technique. The trick is to make it soft and juicy. This is most favourite Eid Adha speciality.
Find More Mutton Recipes here
Snacks Ideas
Eid is the time when people visit each other to greet. At those times quick Eid snack are super handy to serve. Plus you can make these ahead and freeze. What more they work as a great side in dawat.
Shami Kabab
Time to share the most hearty, most satisfying Pakistani kabab, one and only SHAMI KABAB. These kebab are delicious fried petty that allow a load of room for variations and creativity.
This recipe of Chicken dynamite is fail-proof and super easy. This chicken is perfect for the appetizer and loved by kids and adults alike. While dynamite shrimp is made with bang band sauce, this dynamite chicken uses a comparatively more sweet and sour sauce, aptly referred to as dynamite sauce.
This keema samosa recipe is just like the one you get on streets on India of Pakistan. Keema means mince and you can make the filling of samosa with lamb/mutton or beef mince.
Any fried chicken lovers here? Well, this Bohri fried chicken is not crispy crusted chicken like most other chicken. It has a soft, succulent coating made with bread crumb, cooked chicken, and eggs.
Beef or mutton kheema cutlets are the most loved Ramadan food in every bohra or bohra home. These soft, juicy, and flavorful keema cutlets will melt in your mouth and you are most likely over-eat these.
When creamy mince stuffed potato balls and enveloped in a bread crumb crust, the resulting delicacy is called Aloo keema cutlets or aloo keema Patties or aloo keema Tikki and sometimes also aloo keema kabab. Amongst Gujarati communities, it is called Bateta champ or batata chanp.
Chapli kabab is the king of all kababs, full of flavors, texture, tangy and nutty taste. It is full of aromas and bursting with taste. Overall the kababs are quite easy to make. I know, the making of spice mix is a bit of extra effort but you can make it ahead. And the taste of freshly roasted spices is bursting with flavors.
Find more snacks recipes here.
Traditional Eid Sweets
Eid ul fitr is all about sweet and celebration. No dawat or get-to-gather is complete without satisfying your sweet tooth. Here are few most popular Eid recipes.
Making Sheer Khurma is always a joyous experience. The dish truly represents the essence of Eid-ul-Fitr and is made in India, Pakistan, Afghanistan, and many parts of Central Asia on Eid.
Shahi Tukray or Indian bread pudding, whatever you call it, is simply deliciousness in one bowl. Follow recipe step by step and you'll literally end up licking. It is super easy to make with just 5 main ingredients. Shahi tukda not only makes a quick dessert, but it is also a great way to utilize leftover slices of bread.
The taste of Om Ali is very rich and typical of Middle Eastern dessert. Although very different from baklava or kunafa yet it will remind you of it. The buttery puff pastry texture soaked in milk and the dense nut garnish gives this dish a royal grandeur.
This Date roll recipe will steal your heart and is perfect for any festive celebration like Christmas, Easter or Eid. What makes this date nut roll even amazing is that it has, no gluten, no eggs, no sugar. It is absolutely vegan, healthy and nutritious.
Sooji halwa is a popular dessert and is a mark of happiness and good omen. This makes it a perfect dessert for Eid celebration. It tastes great alone too but it is amazing when paired with poori.
This halwa is a winter delights as fresh, sweet and red carrots are profuse in winters. The recipe of this carrot halwa is very balanced and gives you perfect halwa that is neither too sweet nor bland. This halwa is not too heavy with ghee and khoya and has a perfect combination.
This is the best mango kulfi recipe without cooking, I claim that! Yes, you heard it right because it has a delicious mango flavor and very similar to authentic kulfi texture with few icicles. And, at the same time, it is creamy and not too hard to bite.
Eid Food Ideas
This section includes Eid food ideas and recipes that are less traditional but famous amongst Pakistani for a festive celebration.
New Eid desserts
Dulce de leche lovers get all their attention here because this is the most decadent Dulce de leche mousse you'd ever taste. It's so delicious and full of flavor with a recipe that is almost made from scratch and pretty impressive to present with three layers on Eid.
This Strawberry Mousse is soft, spongy, and airy as any Mousse should be. The Jelly or jello helps to set the sweet dish. This Mousse has a deliciously sour tinge and lovely pink color. The layer of crumbs underneath the soft spongy soufflé gives a delightful depth to this dessert. You can make this recipe with other seasonal fruit too like kiwi, plum, peach, and pineapple.
Watalappan or vattalappam is a traditional Sri Lankan dessert recipe that is made with coconut milk and soft Kithul jaggery. This is a simple dessert and requires very basic ingredients like eggs, kithul jaggery (substitute with brown sugar) , cardamom, and coconut milk.
This is a simple dessert since dates are dried the soaking takes some time. Otherwise, the process is super simple. The pudding tastes great and it doesn't have an overwhelming date taste.
This chocolate salami is one of those recipes that makes me very excited. I just can't have enough of these. I make these before the festive season of Eid for guests. They are super hit!
This recipe is truly worth the effort of making homemade coconut ice cream. You need just 6 ingredients to make this no-churn ice cream. It is so easy & tastes heavenly.
Find all Easy No-churn Ice Cream recipes here!
New Eid Recipes
While traditional food is unbeatable. Sometimes, you look for some innovative variety to mark impressive impression on your guests. Even when hosting a younger group full of youth, you need to come with new and appetising food. These recipe are delightfully tasty and you can prepare some of these a day head to reduce work load on Eid day.
The tandoori chicken is smoked and served on seasoned rice sautéed with smoked veggies on the side and a yummy sauce. The rice dish is finally grilled for a charred look. The taste of the Bbq rice platter is just like having a charcoal-grilled tandoori chicken with salad, sauce, and rice. All of that without much of the hard work. It's a complete platter bursting with flavors and something that cannot fail to please.
The dish sounds like a medley of flavors with super juicy bite and that's exactly what it is. A burst of flavors in every bite. The rice tastes great with the sauce and chicken. The burnt garlic and chillies make it taste more delicious.
This Chicken Tikka Karahi is the epitome of fusion like Tikka cut wedded with Karahi masala and fried spices; a recipe to absolute deliciousness in every bite. This is a typical Balochi style Karahi served on Dhabas near the highway.
If you love your beefsteak and some chilies in your food, this beef chili dry recipe will charm you with its deliciousness in every bite. This is a hot and spicy Chinese beef recipe with very few ingredients.
These are super easy to make and absolutely delicious Mongolian meatballs, these are also called Asian or glazed meatballs. The moist and juicy meatballs are wrapped in a sticky glaze. They taste like sweet and spicy bites that you would gobble one after another.
Savory Chicken Crepe With White Sauce
Savory Chicken Crepes recipe with bechamel sauce. For a long long time, I had been playing with this recipe through testing. This dish was born when French chicken crepe wedded bechamel sauce.
What makes this bread lasagna pie absolutely yummy is the variety of sauce. The ketchup-mayo sauce on soaked bread makes a soft base for the pie. Then almost any leftover chicken pairs well with the dish. Finally, the creamy cheesy veggie sauce. When you dig your spoon into the dish you feel going through so many layers and each with a distinct taste. Overall, tasting so much in one bite is so delightful.
For us, lasagna is a cheesy affair! Some chicken, some veggies, some white sauce, and a load of cheesy business with the golden broiled tempting crust. Yes! we are talking about a creamy, cheesy, bubbling white chicken spinach lasagna right out of the oven.
Paneer Reshmi Handi Recipe is a merry fusion of east and west. It is super quick and easy to make. Paneer is cottage cheese in Hindi and Urdu. Reshmi means silky, it refers to the silky smooth texture of the gravy. Handi means earthen pot.
Easy and quick whole chicken cooked in tikka masala and rolled in ketchup and cream sauce. So yummy!
Shepherd's pie is an Irish classic dish. The dish has cooked lamb mince with vegetables as a base and mashed potatoes are served on top of it. The dish is usually finished some cheese and herbs.
Dabba Chicken Pie Recipe is a fancier chicken version of traditional Bohra Dabba Gosht. This is one pot quick pie that is very easy to make and delicious. The detailed video tutorial is also present in the post.
Tikka paratha roll bake recipe with frozen paratha with photos of each step. This is a tempting juicy dish and this version of the recipe is more eastern, the spices and flavors of paratha roll are blended with Mexican wet burritos serving style and so that's a fusion recipe.
If you try any of these recipes, I'd LOVE to hear your feedback in the comments. Your 5-ratings motivate me to do my best. Stay connected for more recipes and videos on Facebook, Instagram, Pinterest, and Youtube.
MORE SIMILAR POST:
📖 Recipe