Here's how to make an easy 3-ingredients Mango jam without pectin. I just loved the taste, so tropical and as mangoes are naturally sweet, despite the low sugar the jam tastes perfectly sweet. You'll find the best mango preserve.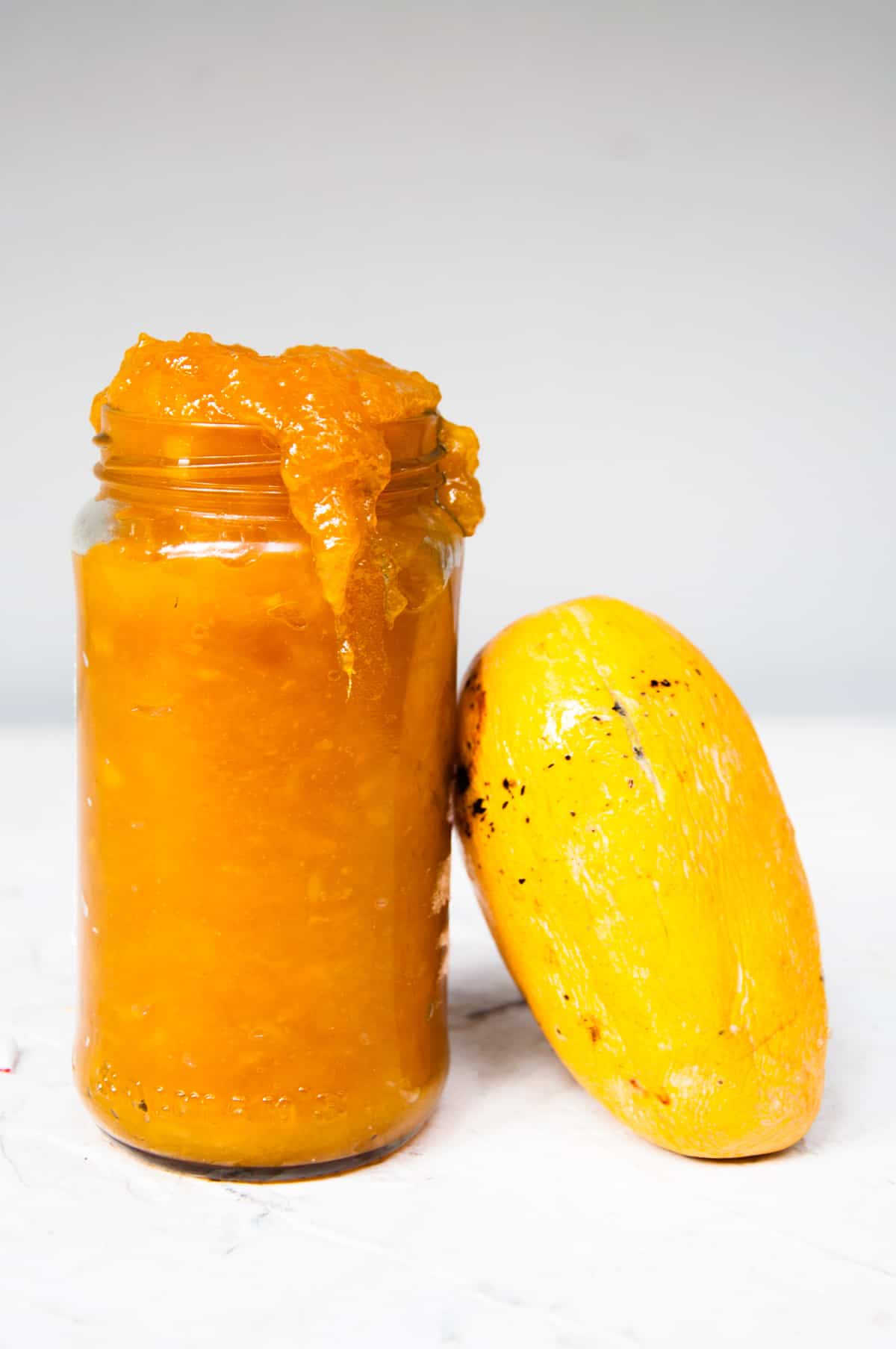 Mango jam is a sweet and thick condiment with spread-like consistency. It is made of mangoes, lemon juice, and sugar. Mango jam is a great way to preserve the sunny tropical flavors of the king of fruit.
Jump to:
As soon as fresh mangoes hit the market, I start planning mango foods like Mango chutney, Mango salad, Mango kulfi, and the list goes on. I just can't have enough of mango goodness. The season lasts barely two months and you just want to have more and more of it. You can also make this Mangonada drink with frozen mangoes.
Ingredients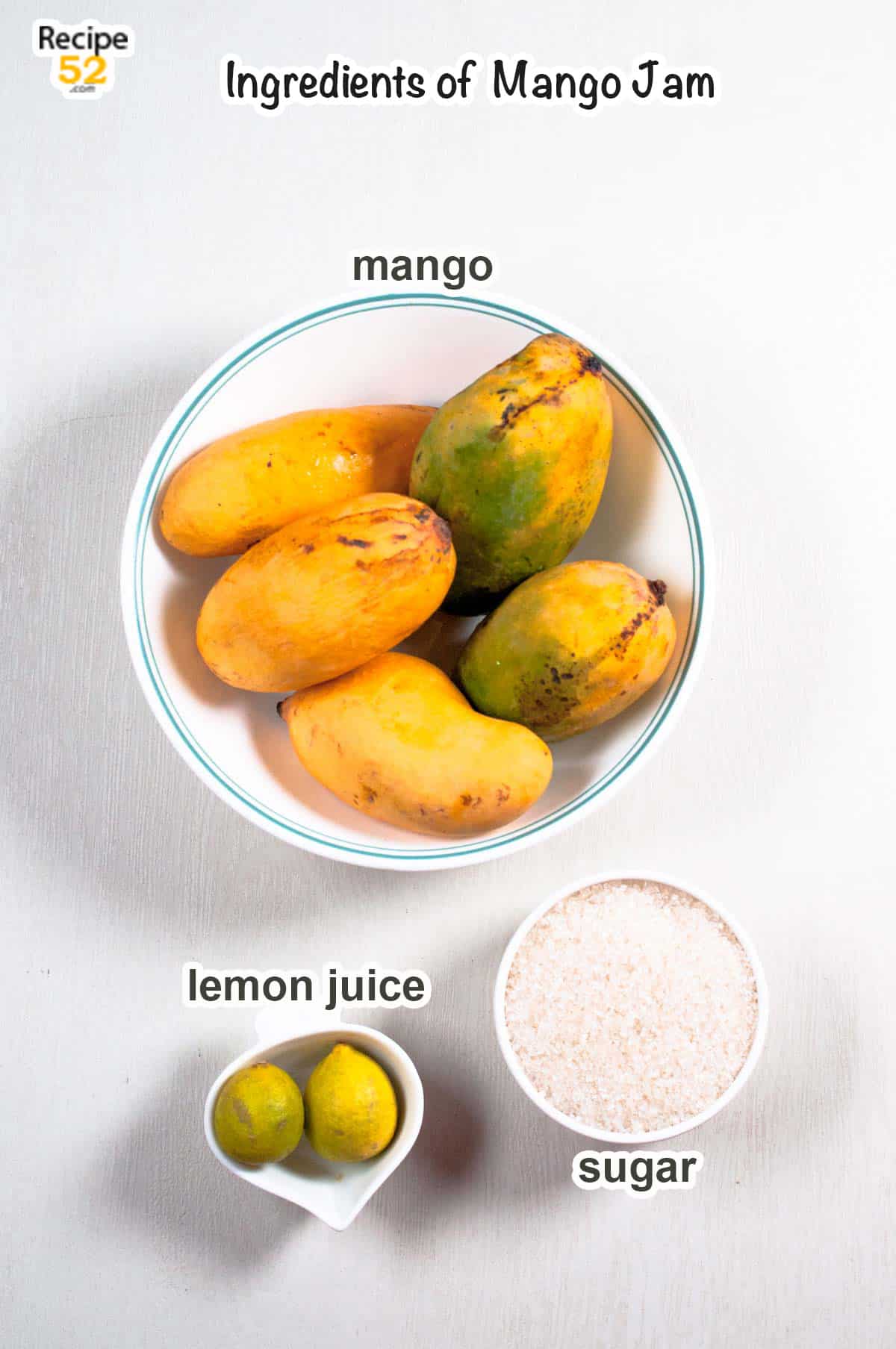 Mangoes: Mangoes are the main ingredient and I can't stress more choosing sweet and sour mangoes that are flavorful and firm. BUT if you have tart mangoes, you might need extra sugar to balance the taste.
Variety of mango: Chausa, Anwer retol, is my personal favorite. You can choose any variety that is fleshy and non-stringy. Find more information about mangoes here! If your mangoes are stringy, you'll have to pass the puree through the sieve to remove the strings.
Sugar: The amount of sugar depends on the sweetness of the mango. If your mango is sweet and you don't intend a canning jam then ¾ cup sugar should be good. If your mango is not sweet and tarty then consider adding more sugar to taste. Start by adding 2 tablespoons at a time. 
Taste test tips: Always taste test jam by applying a dollop to a small piece of bread. That gives you accurate ideas of taste otherwise jam would always seem too sweet to be eaten alone.
Lemon juice: You may add 1-2 tablespoons of extra lemon juice if you like your jam to be sweet and sour. Avoid adding too much or your jam will have a prominent lemon taste. You can switch lemon juice with Orange juice and zest. It is a great way to add depth and pectin to the jam.
How to Make it?
Find a pictorial step-by-step of how to make a Mango jam below with pro tips.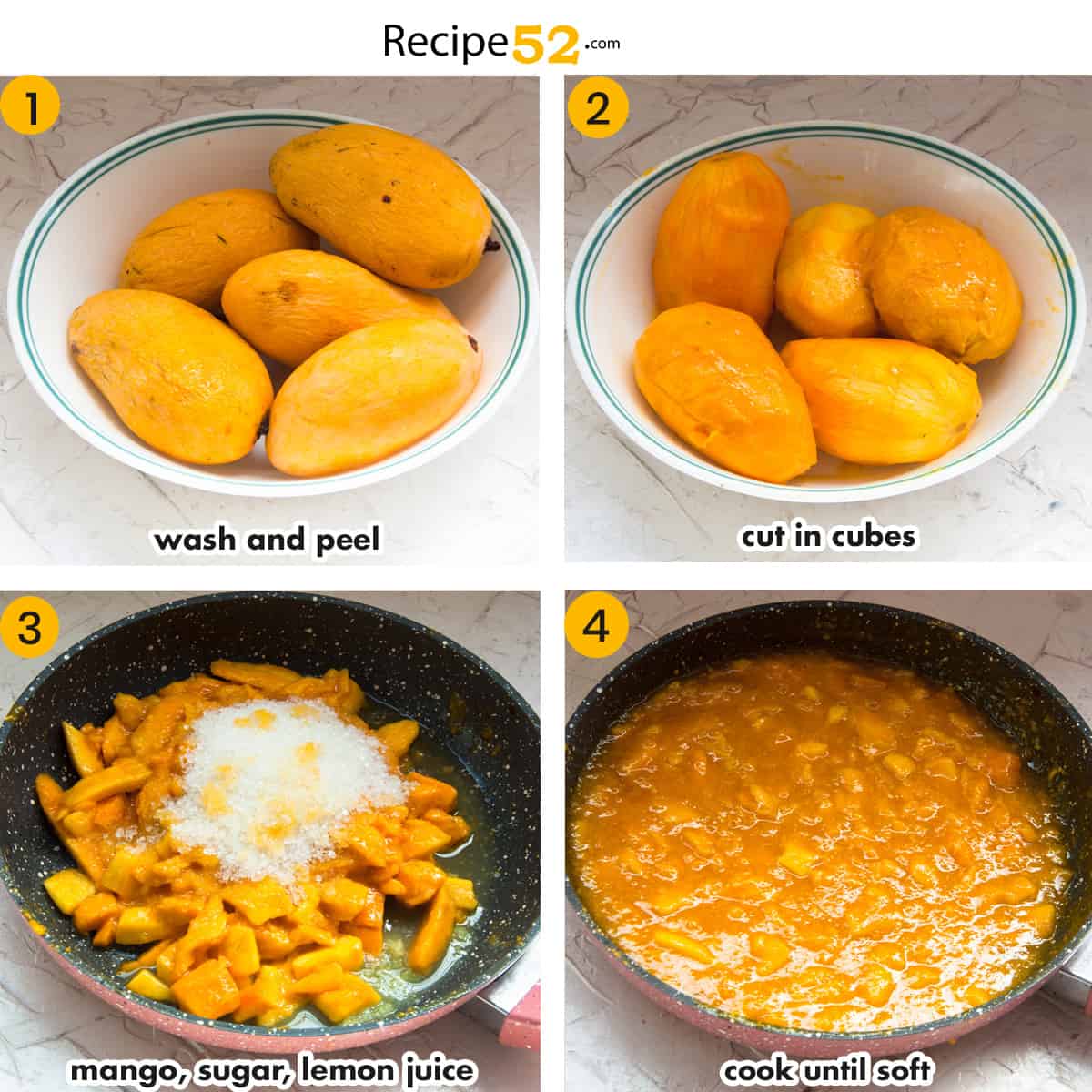 Choose a good variety of fully ripened mangoes. Wash thoroughly and peel it, like you peel a cucumber.
Slice off flesh from the seed. You can also squeeze the seed between your palm you remove the remaining flesh and juices. Cut the mango roughly into chunks.
Transfer mangoes into the thick and wide-based pot. Add sugar and lemon juice. Lemon juice adds both flavors and helps to set the jam. Avoid adding too much as mangoes have a mild flavor and lemon can get over-powering.

See

Sugar

above for details of sugar.

Cook jam for 15 minutes on medium-low heat until soft.
Mash the mangoes for a pulpy jam or blend it for a smooth consistency.
When you see the jam has thickened, remove the jam from heat. Wait for a minute. Now make a line with the spatula. If the line stays and your jam is ready.
Another more accurate way to check is to keep 2 plates in the freezer to chill. Transfer a little jam to the cold plate and that will show you the consistency of the finished jam. If it is thick and holds its shape. Jam is ready. If not continue to cook for a few more minutes.
Ladle hot jam to clean dry jars. Let the jam cool completely before placing the lids. If storing jam in a fridge or freezer, sterilization of jars or canning is not needed.
Ideas to use
Mango jam is nothing but mango preserved with more sugar and thicker consistency. As the mango season is short, this jam allows for enjoying mangoes later in the fall. So it is totally worth doubling the recipe and freezing the excess.
Spread it on toast or on the biscuit.
Make a mango sauce to drizzle on ice cream or desserts.
Add it to mango ice cream, just reduce sugar or condensed milk in ice cream to adjust sweetness.
Make a mango lemonade, smoothie, or mango milkshake.
If you use less sugar in jam you can also add this to pie fillings.
You can enjoy this mango jam spoon after spoon on its own.
Use it to make mango glaze for your cakes.
Tips
If you consider making a 2x or 3x batch of the recipe, the cooking time will increase. Cook on lower heat to be safe and avoid caramelizing sugar.
To add depth of flavor you can switch some of the mangoes in the recipe with peach. papaya and pineapple to make mango peach jam, mango papaya jam, and mango pineapple jam respectively.
If spices are your thing add chilies like habanero or jalapeno, along with ginger and cinnamon to make spicy mango jam.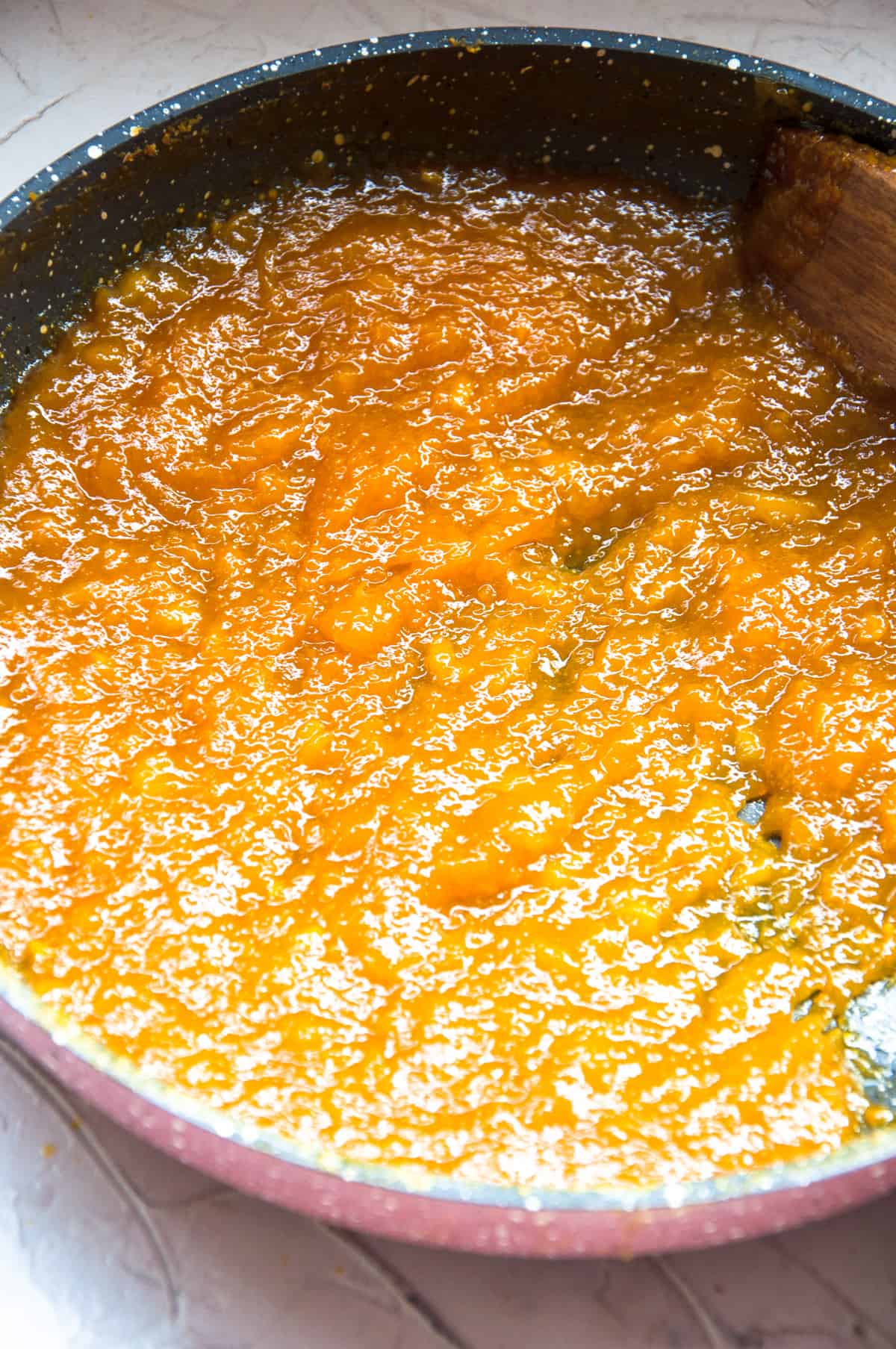 FAQ
Does mango have pectin? 
Yes, mango has pectin but they are low in pectin. So you need some lemon juice and some patience to allow the jam to thicken itself. Mangoes are quite fleshy fruit so jam thickens easily.
Why mango jam is not set?
Your mango jam might not be set if you used over-ripened mangoes. You didn't cook it enough. Just cook it longer.
How long does mango jam last?
You can use this mango jam recipe for canning, and it should last for a year. But this is a small batch mango jam recipe, you can store the jam in the fridge for up to two months. You can always freeze it for 6 months.
Hungry for jams? Check these!
If you try this mango jam recipe, I'd LOVE to hear your feedback in the comments. Your 5-ratings motivate me to do my best. Stay connected for more recipes and videos on Facebook, Instagram, Pinterest, and Youtube.
📖 Recipe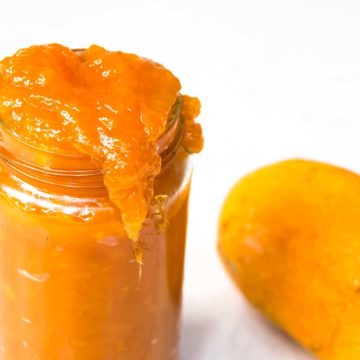 Mango Jam
This easy, quick, just 3 ingredients Mango jam is rich, thick, low-sugar, and made without pectin. I just loved the taste, so rich and as mangoes are naturally sweet, despite the low sugar the jam tastes perfectly sweet. 
Print
Pin
Rate
Servings :
24
servings (2 cups)
Ingredients
2 ½

cup (600 g)

mangoes chunk

,

You will need 4-5 medium mangoes, (1kg by weight)

1

cup

sugar

,

(¾ cup for low-sugar jam, 1¼ cup for sweet jam) see notes

4

tablespoon

Lemon juice
Instructions
Keep 2 plates in freezer for cold-plate test.
MAKING JAM
Place all ingredients in a thick bottomed and wide-based pot. Cook for 15-20 minutes on medium flame until soft.

Then mash mangoes with a potato masher. Cook further on slow heat for about ten minutes until thick.

Protip: You can blend mangoes for smooth jam.

To test consistency put a large drop of jam on a cold plate. Wait for 30 secs to cool then hold the plate horizontally. If the jam is flowing through the plate immediately continue cooking for 5 more minutes and test again. And if it sets then stop cooking. Jam is ready.

Then ladle the hot jam to clean dry jars. Wipe off the rims neatly. Let the jam cool completely to room temperature then place the lids. Store jam in the fridge or freezer. See notes for storage and sterilization instructions.
Notes
Canning Process: Sterilize two small 250 ml jars and their lids in boiling water for 8 minutes. Remove jars and transfer on a clean towel and let it dry naturally. When the jam is ready, ladle the hot jam into sterilized jars, leaving ½ inch at the top. Place the lids and seal. Follow the steps for canning. 
Storage: This recipe will make two small jam jars (250 ml each). I recommend freezing one and storing another in the fridge. The freezer mango jam will last for a year while you can store it in the fridge for 1 month.
Follow canning steps if storing at room temperature in the pantry. Always use a clean spoon to serve the jam and do not linger your finger inside or around the rim of the jar. A little care and your jam will be good for many months.
Variation: Add one green apple (like granny smith) to the ingredients. The taste and texture both are enhanced. High pectin in green apples helps to set jam better.
Nutrition Information
Serving:
1.5
spoon
,
Calories:
48
kcal
,
Carbohydrates:
12
g
,
Protein:
1
g
,
Fat:
1
g
,
Saturated Fat:
1
g
,
Polyunsaturated Fat:
1
g
,
Monounsaturated Fat:
1
g
,
Sodium:
1
mg
,
Potassium:
44
mg
,
Fiber:
1
g
,
Sugar:
12
g
,
Vitamin A:
267
IU
,
Vitamin C:
10
mg
,
Calcium:
3
mg
,
Iron:
1
mg