The taste of Om Ali is very rich and typical of Middle Eastern dessert. Although very different from baklava or kunafa yet it will remind you of it. The buttery puff pastry texture soaked in milk and the dense nut garnish gives this dish a royal grandeur. Hubby loved this Egyptian dessert.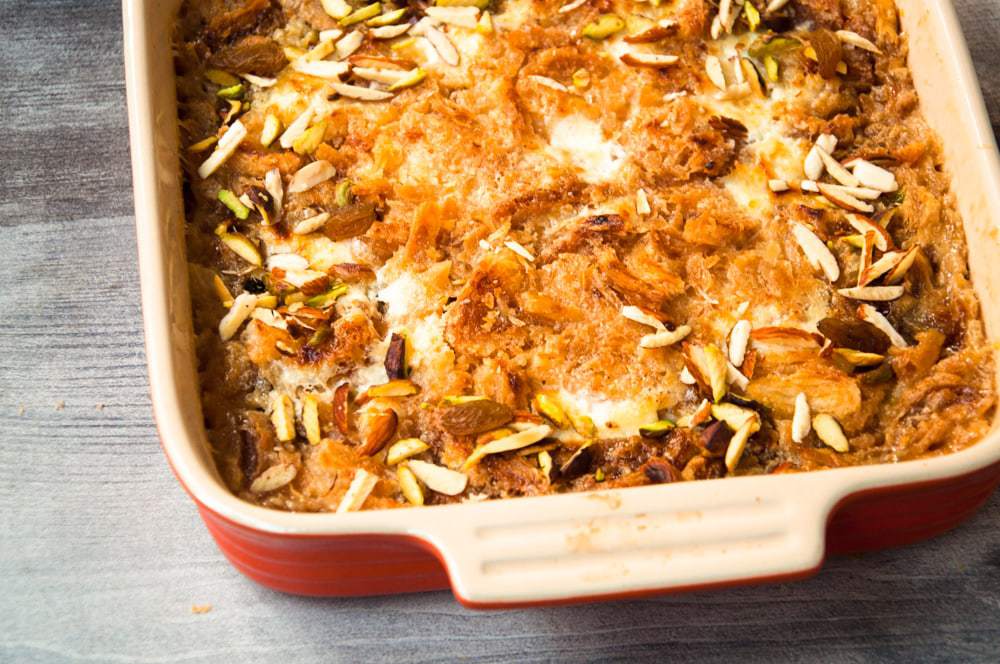 Om Ali is a traditional and national Egyptian Dessert. It is basically a bread pudding in which Egyptian bread is soaked in milk with nuts and baked with clotted cream topping. Om Ali is sometimes also spelled as Um Ali or Umm Ali, all these are the same dessert.
Jump to:
This is not an authentic recipe for Egyptian dessert that requires traditional Egyptian bread Rooa and Egyptian clotted cream. But I can promise this is the most delicious version of Om Ali. Like always, I tried to keep recipe simple with easy to find ingredients and best taste that is close to authentic flavors.
What I love best about any bread puddings is it is integral in most cultures as the bread itself. In ancient times, when home bakers and chefs would dig innovative ways to use stale bread, bread pudding came into being as a poor man's dessert. The English version of bread pudding has eggs while this Om Ali is lighter with no eggs and doesn't set well. You can eat it with a spoon.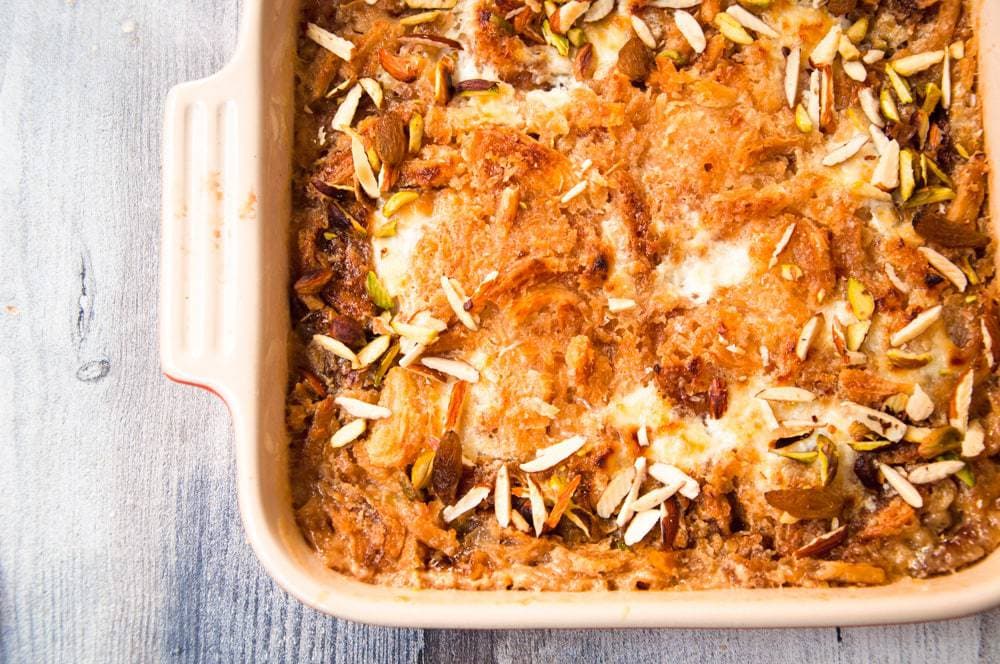 The Indian bread pudding, Shahi Tukray is also inspired by Om Ali and was formed in the hands of Mughal chefs with local ingredients and spices like cardamom and saffron. Some cultures add caramel sauce, chocolate chip, and fruit to their bread puddings.
What does it mean?
Om Ali means the mother of Ali. The dish is named after the wife of a ruler from the Ayyubid dynasty in Egyp. She made this dish to celebrate her victory and distributed this dish throughout the country. The victory was a revenge story popular in Egypt but here's we would just like to dwell in the sweetness of the dessert and forget about bitter parts of history.
Ingredients
This is a super simplified but delicious recipe of Om Al.i Om ali is made with rich creamy spiced milk and dry fruits. We need
Milk: Full fat milk works best, but you can substitute little milk with evaporated or milk powder to make is rich and reduce cooking time. However, the butter in palmiers makes this pretty heavy so I recommend not to over-do fats.
Sweetener: You can replace sugar with condensed milk if you caramel taste of condensed milk. You can reduce milk in the recipe too.
Dry Fruit: Any dry fruits like nuts, dates, raisin that you like can fit in this recipe.
Variations
Om Ali is basically made with crushed puff pastry. Palmiers and croissants are also made with puff pastry so by using any of these you skip one step of baking puff pastry. Find the variation below.
With Puff Pastry: If you have puff pastry in hand, you can make Om Ali by baking puff pastry first. Cool and crush the puff pastry into bits. Puff pastry is not sweet as palmier so you need to add ¼ cup extra sugar in the milk. Follow the rest of the recipe as it is.
With croissant: Similarly, you can use croissants in this recipe. Just break croissant and use it instead of palmiers. Add ¼ cup extra sugar in the milk.
With palmier: Palmiers have a different name in different places like Lunette and bakar khani. As palmiers are crispy, they make the best choice for making Om Ali.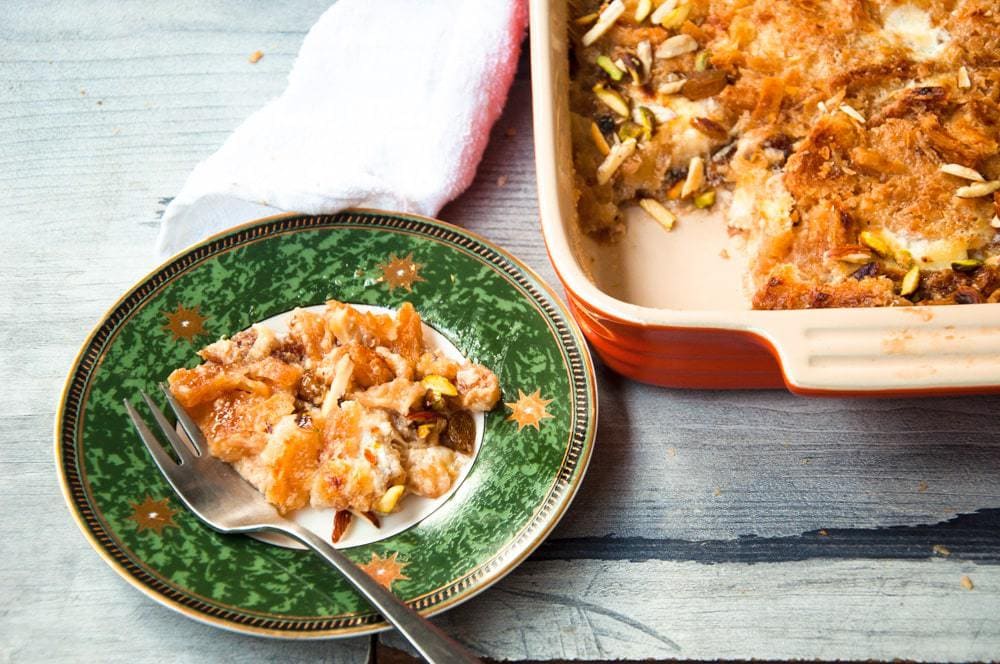 Tips
This is not the time to go skinny. Use full fat and rich creamy milk. Use good quality fresh palmiers that are made with real butter. Get full-fat whipping cream and finally garnish with premium quality fresh nuts and raisins. The recipe is simple and the taste is trapped in the ingredients.
How to make it?
This is the easiest Om Ali recipe, just make sure to use premium quality, rich ingredients.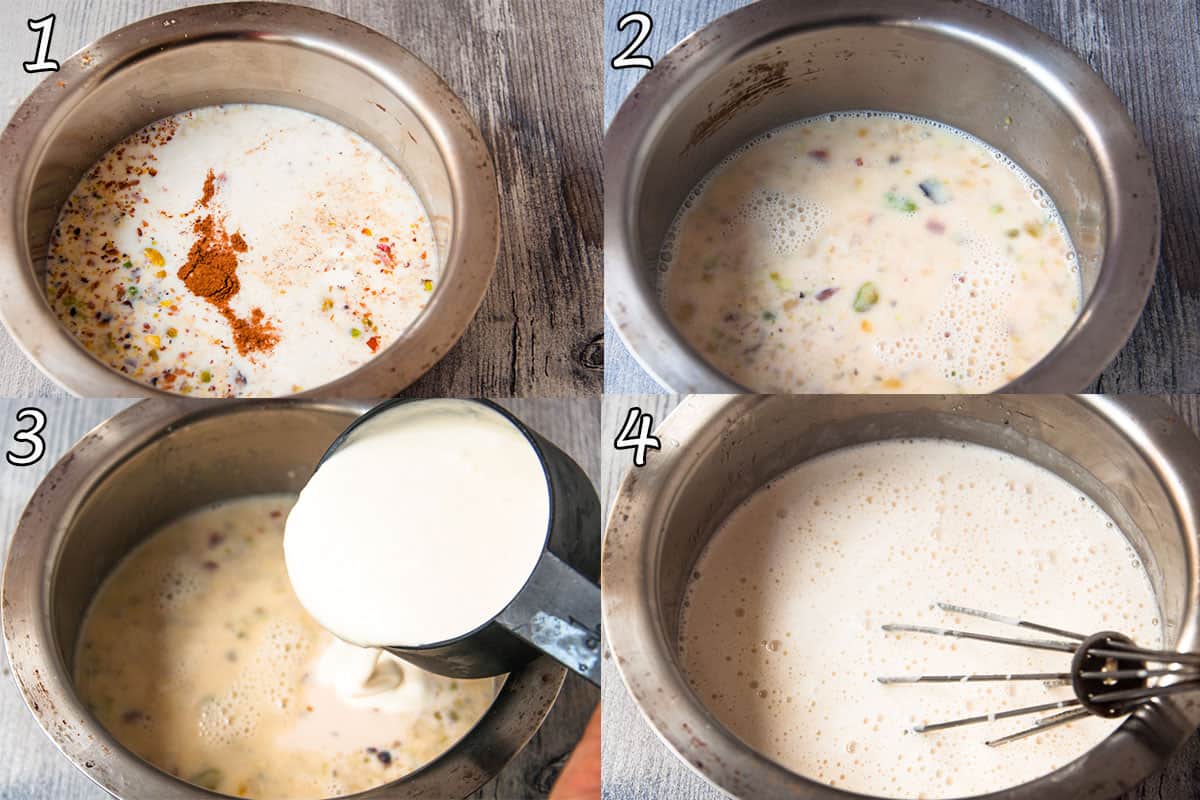 Heat milk, cinnamon, cardamom, sugar, pistachio, and almond in a saucepan on medium heat until it comes to a boil. Keep an eye over milk and do not let it overflow. Reduce heat to a level where it simmers slowly. Visually mark the level of milk and cook for 20 minutes until the milk is reduced to half. ( I used crushed nuts if you like smooth texture used ground nuts.)
In the second photo, you could the dark lines that help you judge that milk is reduced to half.
Add cream to the milk. I used whipping cream. (Tetra pack of all-purpose cream, heavy cream will work too.)
Mix well and your milk-cream syrup is ready.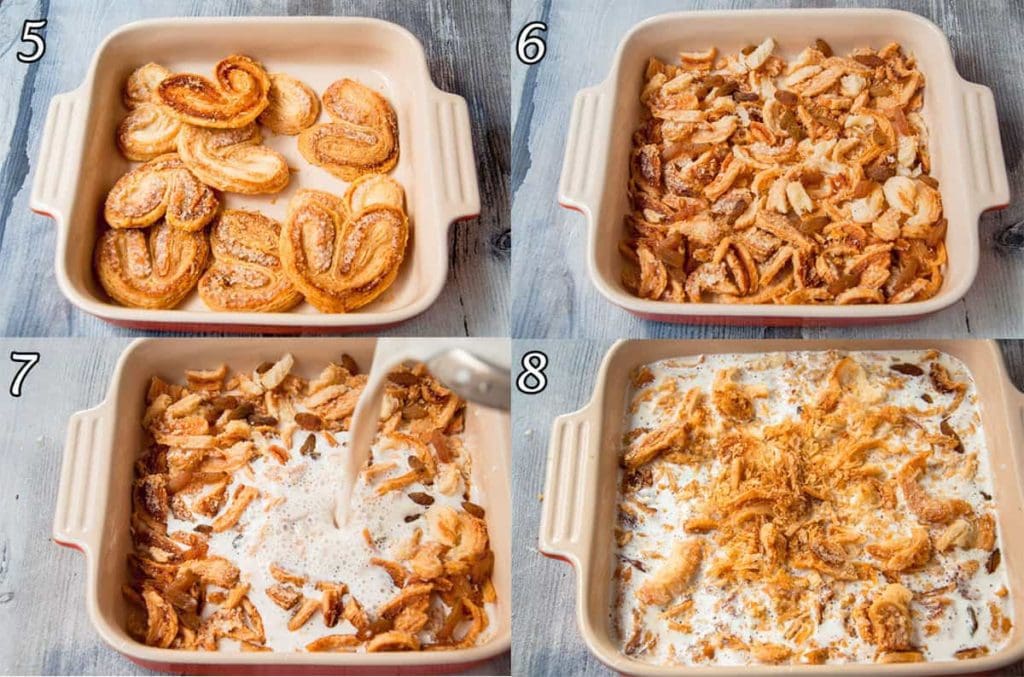 Take 8" square casserole. Break 10 palmier biscuits in it. Make sure to break into large bits. Save 3 three extra biscuits for later.
Also add raisins in it, optional step.
Pour milk-cream syrup over the biscuits.
Top with remaining 3 broken palmier, break into larger bits for a crusty top.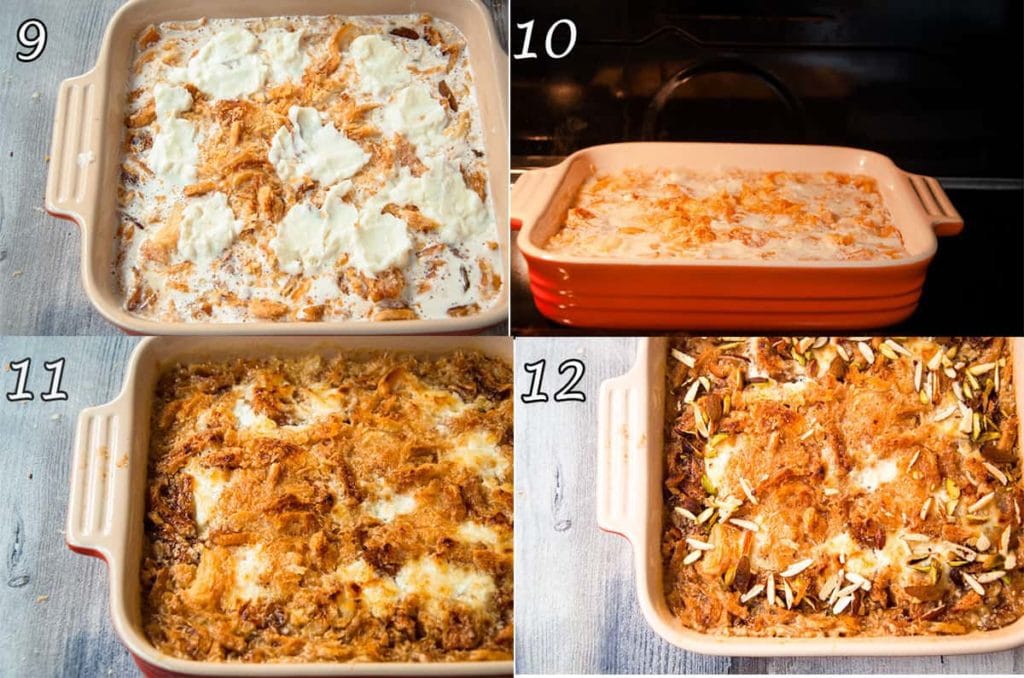 Dot with whipped cream. (whipped to stiff peaks). (Authentic Om Ali is dotted with clotted cream which is available in Egypt. We are substituting clotted cream with whipped cream.)
Place the casserole on a medium shelf. Bake for 15 minutes in a pre-heated oven at 350 until bubbling hot.
Then broil for 15 minutes until you see a few brown marks.
Garnish with nuts and serve warm.
FAQ
How to store?
Om Ali tastes great warm and fresh. You can store leftovers in an air-tight container in the fridge for 3 days. Enjoy cold or reheat in a microwave. You can freeze it too for 2-3 months.
Can I make it with condensed milk?
Yes, if you like the condensed milk taste you can replace ½ sugar in the recipe with condensed milk. Reduce milk in the recipe to 2 cups. Also, reduce cooking time. And it should taste delicious.
Hungry for more sweetness? Check these!
📖 Recipe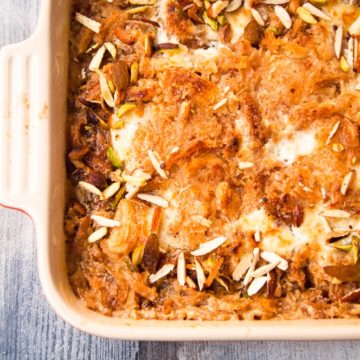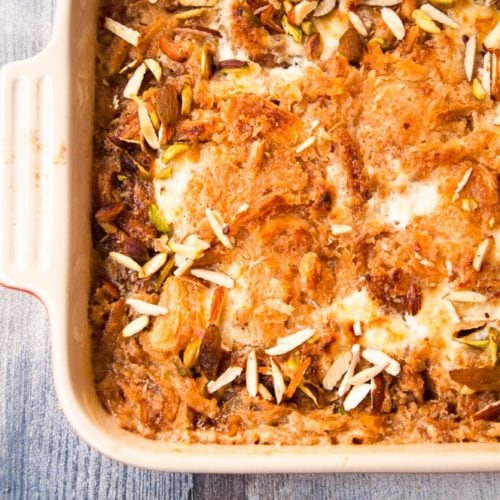 Om Ali
Use full fat and rich creamy milk. Use good quality fresh palmiers that are made with real butter.
Print
Pin
Rate
Ingredients
For milk
2½

cup

milk

¼

cup

sugar

½

teaspoon

cardamom powder

¼

teaspoon

cinnamon powder

1

tablespoon

crushed almond

,

more for garnish

1

tablespoon

crushed pistachios

,

more for garnish
Other
¾

cup

cream

,

heavy, whipping, tetrapack

13

Palmier biscuits

,

, see notes 1

2

tablespoon

golden raisins

,

optional

6

tablespoon

whipped cream

,

whipped to stiff peaks
Instructions
In a saucepan heat milk with all ingredients for milk. Bring it to boil then let it simmer for 15-20 minutes until the milk is reduced to half.

Let it cool a bit then add cream and mix well. Set aside.

In an 8 inch casserole break 10 palmier into large bits. Also, sprinkle raisins.

Pour milk-cream syrup over broken palmiers.

Now break the remaining 3 palmiers and sprinkle over the milk.

Dot the casserole with whipped cream.

Bake in a pre-heated oven for 15 minutes at 350 F until bubbling hot.

Then broil for 15 minutes until golden and you see few dark spots on a biscuit.

Garnish with freshly toasted nuts and serve. (Skip garnish if you don't like nuts.)
Notes
Palmiers: Palmiers are heart-shaped cookies made with puff pastry. 10 cookies are of about 250 grams that will do in the dish. 3 cookies for topping would make 75 grams.
Nutrition Information