Here I present a collection of Mutton or Lamb Recipes. For easy navigation, I divide the collection into mutton cuts and mutton mince.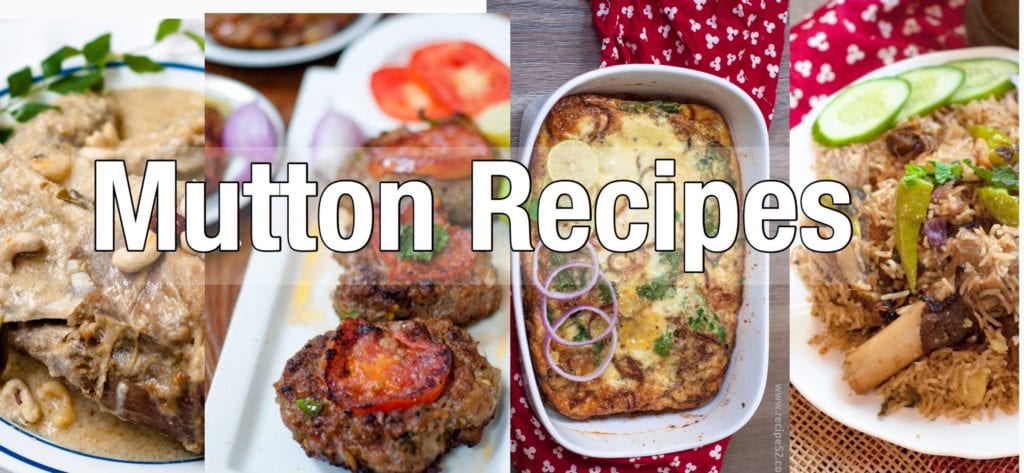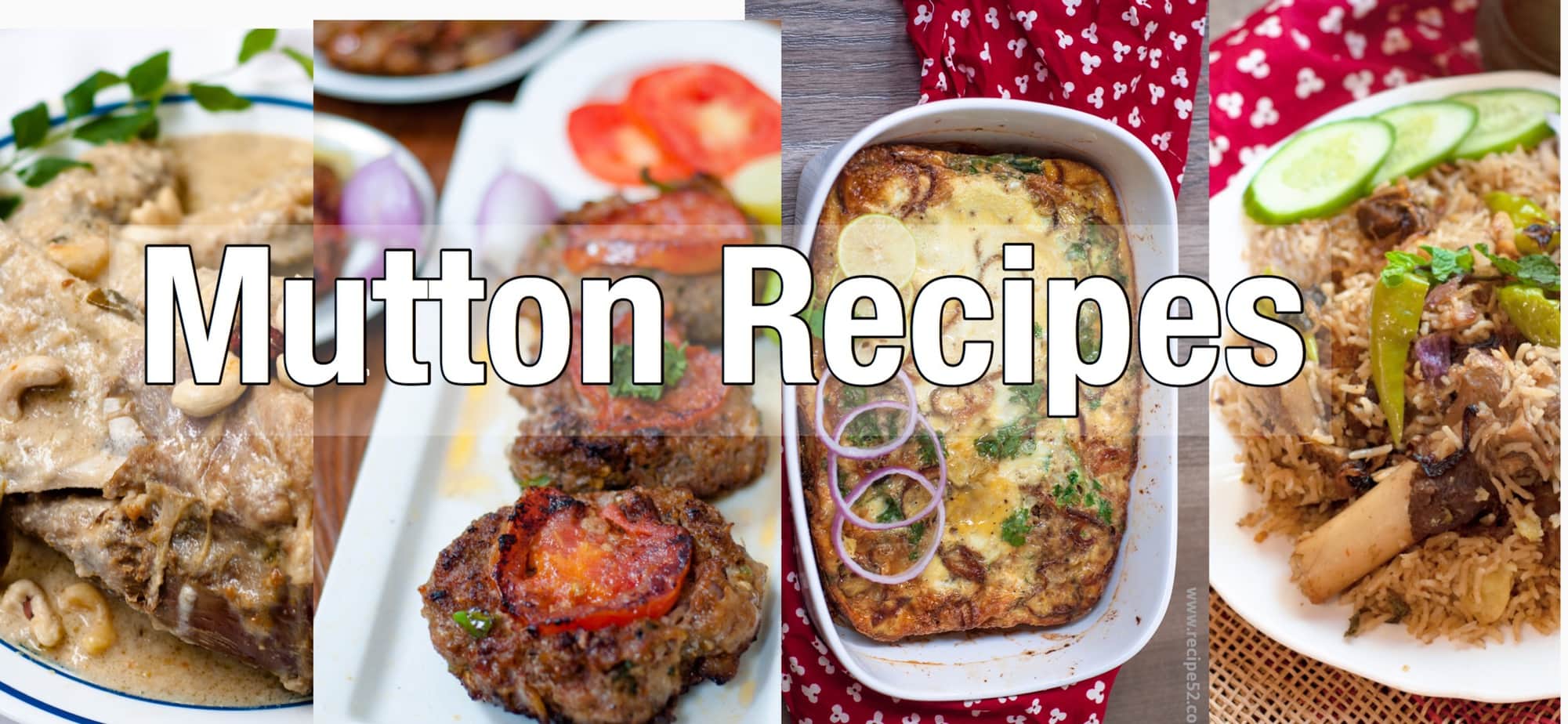 Mutton or Lamb?
First of all let's clear little confusion, in India / Pakistan mutton is the meat of a goat, usually a young goat. Lamb is considered the meat of sheep. While internationally, lamb means the meat of a young goat (kid), and mutton means the meat of an old goat. That's why I used both terms.
Honestly, I wished to post these Pakistani Mutton recipes round-up next year with many more recipes but then I changed my mind as seasonal roundups really help easy navigation of the site. Please mention your favorite mutton recipe requests in the comment.
Jump to:
Mutton Recipes
A classic North Indian curry made in tomato-based gravy. It is very aromatic with fenugreek leaves and is delicious. This is super easy to make and is a family favorite recipe.
This is a classic Pakistani curry loved by all and a staple in every Pakistani home. This is one pot, slow cook recipe of aloo gosht that is so easy to make and still tastes so good. The recipe is an easy peasy and traditional style, do give it a try.
This is an easy version of Chinioti mutton kunna recipe. You'll need mutton leg cut into pieces for this recipe. The mutton shanks also taste so yummy as the fat juices released by the bone in the curry make it a delicious stew. The aroma of black cumin is key to the taste. This is a very easy mutton recipe.
Kaari Chawal is a traditional Bohra curry made with a special spice blend. The spice mix is made of peanut, cashew, almond and coconut milk. It is so rich in taste and so unique in taste, you must give it a try if you love coconut curries.
Kali Mirch Gosht With Shoulder cut for Eid ul Adha
Kaali mirch gosht or peppered mutton is all about the right meat cut and super soft melt in the mouth meat. Shoulder cut of lamb is perfect for making this dish. Try this recipe and you would love it.
This is lentil free Haleem recipe. It has only wheat and barley. The rich taste of mutton and the sticky texture of barley gives it distinguished Haleem flavour and sticky texture. Unique and delicious recipe.
Yakhni means soup. In yakhni pulao, the rice is cooked in the aromatic and spiced soup and the soup absorbs all the juices of meat and spices. This is a delight for any rice lover and a great pleasure on Eid ul Adha.
Is there anything that can beat Lamb/mutton leg's softness, and taste. This recipe is made with cashew, roasted cumin and coriander seeds. And the combination is just unbeatable. The meat is marinated then cooked till it is falling off the bones. YUM! This will definitely brighten your Eid ul Adha spread.
Want the spicer red lamb leg, the masala raan type? This recipe will end your search, the detailed recipe and steps get you masaladaar raan with super soft meat. This is the best of all Pakistani mutton recipes.
This recipe is charm and I highly recommend it. It is an amalgamation of mutton biryani, daal chawal and curried soup. The biryani is smoked too. You can't imagine that amazing taste? Click the button to check the recipe.
This is a soupy Mutton Trotter recipe made with green chili and onions. This curry is not very spicy like Punjabi paya. It has subtle flavors of paya and coriander. (These are also called kachi piyaz ka paya).
The photo doesn't do justice to the yummy kaleji that comes out as a result of this recipe. The post also shares all tips related to making mutton liver. This is a must-eat recipe.
This is a traditional Shami kabab recipe that can be made with boneless mutton or beef. The step by step recipe makes it so easy to comprehend.
The mutton broth is flavoured with whole spice and mint. Flour and milk is used to give the broth creamy touch. The soup is even loved by picky eaters who dislike bone broth. Find more details in the post.
Keema Recipes
We at home love keema in all forms, where it be simple keema curries or keema kabab or kofta. Here's is the list of delicious Pakistani mutton mince recipes.
Heya! Are you ready to enjoy the most delicious kebab in the world? Yup beef or lamb seekh kebab is most juicy when it comes to ground meat kebab. I'm particularly big fans of these kebabs and here is my version of Pakistan's most famous mince kebab.
This is Indian / Pakistan classic mincemeat recipe. This just can't disappoint anyone. The spice, gravy and herbs are quite balanced in this recipe. Try it, this will become your go-to mince recipe. In fact, this bhunna keema tastes great in/on everything. Whether it keema be a keema sandwich, keema lasagna, Keema pasta or keema with rice and chapati.
This is another classic curry staple in most south Asian non-vegetarian homes. This version is one pot and slow cook. Just right for those busy days when you dump everything in a pot. Take shower or do other chores the mince will cook alone. Just stir fry it for a few minutes as the last step and serve.
This is a traditional Punjabi keema recipe, this is best enjoyed in winter when seasons fresh green pea are plenty. This is a true delight. You can also add potato to this recipe to make aloo keema matar.
These will be the best kabab you ever had. Chapli kabab is an Afghan dish. It is made with thickly grounded spices and pomegranate seeds. The juicy tomato added in the end is an absolute delight to the palate. The kabab ae so easy to make and can make a juicy and spicy burger patty. A must make Eid ul Adha kabab.
The mince filling of this recipe is very tasty. When a yummy filling is wrapped in mashed potatoes and coated with bread crumbs, the filling taste even better.
Mince filling is wrapped in flour flatbread strips then fried for a crispy coating. And it tastes so good with imli chutney.
Shepherd's pie needs no introduction. This is a slightly desified version in which bland spices of shepherd's pie mince are boosted but not so much to lose its originality. The mashed potatoes are also garlicky and yum.
Can anything really beat meatballs? How about having it in spicy yoghurt and cashew curry? Give it a go, it tastes so yummy! Easy pictorial recipe makes it very easy to follow.
Don't want to roll or fry kabab. This soft and juicy mincemeat pie will give you a taste of kabab without much effort. It also has a layer of oven fried eggs on top. This is so yummy and easy to make.
This is a traditional mince cutlets recipe. What makes it different is that it is super soft and juicy. It tastes so well alone or in buns or sandwich. Can be frozen ahead as well.
A layer of half fry eggs served over the mince and green garlic also called garlic chives. It tastes so well. You can also use your leftover mince in this recipe and make your breakfast special.
In this dish, stir-fried mince is served with yellow lentil rice along with boiled eggs, fried potatoes and fried onions. All this is wrapped in a yummy layered biryani. The step by step makes it super easy to follow this recipe.
If you try any recipe, I'd LOVE to hear your feedback in the comments. Your 5-ratings motivate me to do my best. Stay connected for more recipes and videos on Facebook, Instagram, Pinterest, and Youtube.
Recipe Collections
📖 Recipe